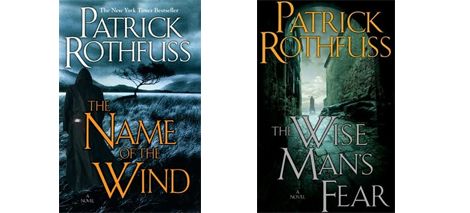 Lists
15 Books Like the Kingkiller Chronicles By Patrick Rothfuss
If you're looking for more comics and books like The Kingkiller Chronicles, you've come to the right place.
Why I love The Kingkiller Chronicles
I heard of The Kingkiller Chronicles from webcomic artist Greg Dean. He recommended the book intensely, to the point where he buys all of the author's books. This was also when I was in high school, and when I devoured fantasy. Naturally, I read book one, The Name of the Wind, and got hooked.
The story, as former hero and innkeeper Kote tells a Chronicler, is his life, under a different name. Kvothe started life as a budding Bard, ready to sing narratives. Then a mysterious villain wipes out his family, and he decides to study magic after grieving for a long while. In between he attends University, falls in love, and fights bullies who want to destroy him for his arrogance. He travels to see the world. Obviously, we wait for book three to wrap up all the knots and turn Kvothe into the famed hero his world knows.
What We Like About Kingkiller Chronicles
First, readers enjoy a good fantasy story with deep lore. We certainly get lore, from the various stories that Kvothe weaves into his narrative. There's a giant world where dragons are flightless, yet magnificent creatures, where moneylenders can take your blood as collateral, and where you can lose your hands for bringing candles into a library.
The Chronicles also establish some story points we haven't reached: Kvothe will be expelled from his University at a younger age than most men even start to attend, he will burn down a town, steal princesses, and kill a king. We don't know the king that Kvothe will kill, or why he goes into hiding. We want to know what happens next. Each book contains a compact story, but we don't have the whole. Patrick Rothfuss achieves gestalt, or the whole being greater than the sum of its parts, with this style.
So what stories have intriguing lore, have dangling story threads but self-contained narratives, and make us follow the main character despite their flaws? What are books like the Kingkiller Chronicles? I will include manga and comics with these recommendations.
What other books like the Kingkiller Chronicles would you peruse while waiting for Book Three?