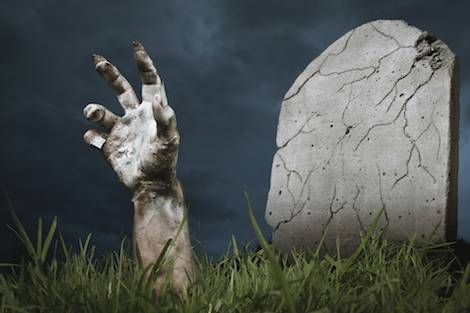 Children's
25 Fun and Frightening Zombie Books for Kids
This content contains affiliate links. When you buy through these links, we may earn an affiliate commission.
Zombies are, oddly enough, a favorite topic of ours. They are a staple of monster movies. They have inspired a number of popular TV shows, from the post-apocalyptic hits The Walking Dead and Z Nation to less traditional takes on the genre, like iZombie and Santa Clarita Diet. They are staples in comic books and novels. There's a trend here: these things are all aimed at adults and teens, and that kind of makes sense. Zombies are meant to be scary, and we have a natural urge to protect kids from things that are scary. But kids like to be scared, too. Here's a list of 25 zombie books for kids that will let them get in on the zombie-loving action.
Zombie Picture Books
The zombies in Quirkville, like most, want nothing more than to eat brains. Except for Reginald. He craves peanut butter and jelly, and he thinks that everyone would be a lot happier if all the zombies felt that way.
Imagine walking down the hall at school or looking up from your desk and being sure that you see a zombie. Would you be scared? You shouldn't be! These zombies are looking for books, not brains.
Most kids have cats, dogs, hamsters, fish, or any number of other animals as pets. Abigail is not most kids. She has a pet zombie. First in a series.
Roscoe is a zombie, but he's not real. He's one of those zombies you hear about in stories, and his job is to tell the reader all about zombies—where they come from, what they look like in different parts of the world, and how they're made.
Nick's mom doesn't remember his favorite flavor of ice cream, so how can she be trusted when she says there's no such thing as monsters? This is a classic that many parents will remember from when they were kids.
An award-winning rhyming book for young readers about a little zombie who just wants to make friends. It's funny, whimsical, and "infectiously charming."
Witch Wizzle and Witch Woodle have all kinds of stories about the bad behavior of zombies, ghosts, vampires, and other monsters. They're planning a Halloween party, but they aren't sure who they will invite.
The first in a series, this is a fun Halloween book, complete with educational activities and coloring pages. Eddie finds a zombie in his backyard, and invites Harley in to celebrate Halloween with him. Eddie intends to show him the ropes and becomes fast friends with Harley.
Zombelina by Kristyn Crow, Illustrated by Molly Idle
Zombelina loves to dance, and she does it every chance she gets. She decides to take a ballet class with real girls, and she is so good that no one even notices that she's a zombie. At her first recital, though, she gets a bad case of stage fright, and her zombie groans give her away. With the support of her loving family, she's able to go out on the stage and wins over everyone. First in a series.
This is the second book about a very lucky calico cat called Toos. When his human family fly to Chicago to help stop a zombie outbreak, Toos slips out of his crate to help whenever he can.
If I Were a Zombie by Kate Inglis, Illustrated by Eric Orchard
In this story, two kids take turns trying to one up each other by describing what they'd do if they were zombies, robots, or ninjas. And it rhymes.
Milo's afraid of the monsters that he is sure are hiding in the basement, and he cannot fall asleep, and if he can't sleep, no one is going to sleep.
Just like its inspiration, this zombie eats his way through his favorite foods, including clowns, astronauts, and, of course, brains. It's all in good fun, with jokes that adults will appreciate and bright, vivid illustrations and amusing text that will appeal to even the youngest of readers. It's family-friendly fun for all ages.
Zombie Chapter Books
The first of the School Zombies series, this book chronicles a field trip that Trevor and his classmates make to an aquarium. There, they meet Dr. Brainium, and there's definitely something fishy about him. He turns all of the students into radio-controlled zombies, and it's up to Trevor to save them all. It won't be the only time, either.
The Zombie Chasers by John Kloepfer, Illustrated by Steve Wolfhard
This series is a perfect fit for reluctant readers! During a sleepover at Zack Clarke's house, a zombie epidemic breaks out. His sister is a victim, as are the neighbors that are destroying his house. He is left to fend them off with only his sister's best friend Madison and his pal Rice. They have a plan, but it will all depend on making it out of his house alive.
Tom is convinced that zapping his goldfish Frankie back to life with a battery is the smartest thing he has ever done. His older brother is a mad scientist, so it never hurts to have backup when they butt heads, especially if that backup is in the form of a hypnotic zombie goldfish. This is just the first book in a super-fun series.
The popular game has become a popular series of books. Brilliant inventor Crazy Dave, his niece Patrice, and adventurer Nate Timely are up against a "fun-vasion" of the neighborhood, fighting off the zombies that threaten to bring about Lawnmageddon. In book 2, they'll be joined by an unlikely plant hero to help save Neighborville. This is not a quest that they'll finish anytime soon. There are plenty of books to keep kids reading for a good while to come.
The Last Kids On Earth by Max Brallier, Illustrated by Douglas Holgate
Jack Sullivan has been living in his tree house, living off a diet of Oreos, Mountain Dew, and video games, while his town has been overrun by a monster-filled apocalypse. Alone, he's no match for the zombies and other creatures that occupy his streets, so he assembles a team with his best friend, a former school bully, his pet monster, and, of course, his crush. Together, they will go up against the monsters and take back their town. Of course, it will take more than one book to do it.
Middle school is tough enough, but Bill Stokes has it especially hard. His dad's in jail, and mom is struggling to make ends meet. She's even been volunteering for medical research projects for extra cash. That's how she brings home a highly contagious zombie virus. Now Bill has to deal with being undead. And he thought puberty was hard!
It's another story of another town that suddenly finds itself overrun by corpses. Will Ritter searches for a safety, and finds himself with the Undertakers, a group of teens that have built their own sort of army to fight the walking dead that have invaded their town. It's the first book in a series.
Runway Zombee (Science Squad) by J.A. Watson (Amanda Humann), Illustrated by Arpad Olbey
Raksha hasn't done much relaxing during her summer vacation. She's busy working on the Science Squad's last badge and earning a trip to Hawaii. But she's given the chance to attend a fashion camp that is too good to pass up. She has to find a way to balance her search for zombie bees with finishing her collection in time for the camp runway show. She's determined to show she do it all, from fashion queen to science geek.
From the creators of the Judy Moody series comes Stink. This is book 7 in the series. Stink and his friends are eagerly awaiting the next book in the Nightmare on Zombie Street series, and they're all making plans to be at the bookstore at midnight to pick up their copies. They're busy making zombie costumes for the Midnight Zombie Walk to follow. With all this talk of zombies, Stink is starting to worry that they're really out there and they're looking for him.
Adrian Lazarus had a bad bike accident and he wasn't wearing his helmet. But (as his name might suggest) he doesn't let death stop him. He goes back to school and fades back into the background, like always. Little has changed—except that bees are disappearing, forests are burning, and a super flu is spreading through the population. Adrian and a few unexpected friends notice that a drone has been following him around. They are sure the answers are on the other end.
Kate may only be in 7th grade, but it's never too early to work on what she hopes will be her breakout film. Her best friend, Alyssa, is the star, and she's great at figuring out new and exciting ways of killing the zombie chickens that she's up against. But then Alyssa turns into an actual zombie and everything changes. Kate becomes an outcast, and she has to hope that a little movie magic will set things right.
Mike and Karen love monster movies, and they're having a good time watching Zombie Town up on the big screen—until the zombies start walking out of the screen and chasing them out of the theater! They run through the streets of town, coming across zombies at every turn. Mike hopes if they can just get to his house, they'll be safe. But he's wrong. So wrong. A genuinely creepy tale from one of the masters of horror.
---
Got any good zombie books for kids you can recommend? What should we add to the list?