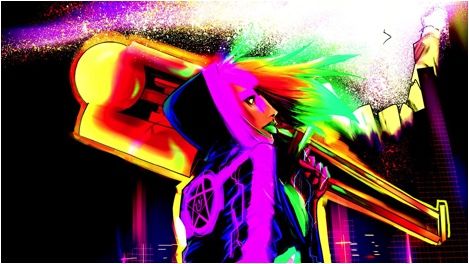 Comics Newsletter
Rebellions are Built in Zöe Quinn and Robbi Rodriguez's 'Goddess Mode'
This content contains affiliate links. When you buy through these links, we may earn an affiliate commission.
Ugh. Adulting. Eating right. Exercising. Finances. Scheduling. Time management. Be nice to have something to take care of all those nuisance chores for you. It 'd have to be something fancy. An AI perhaps? But of course we couldn't. Or, at the very least, shouldn't…It never ends well, cyberpunk says so. In the end, the machines are always out to get us and they almost always win. Right? Right?! Well…It's the fallacy inherent in that thesis which forms the crux of Zöe Quinn, Robbi Rodriguez, Rico Renzi, and Simon Bowland's forthcoming DC/Vertigo book, Goddess Mode.
Let's do some mental gymnastics here: imagine you're Cassandra, the young woman running tech support on that AI. Let's say that in the course of your duties, you discover a group of super-powered women inside the AI's programming trying to break through into reality. They're not coming to destroy, however; they're bringing rebellion, sure, but they're also bringing hope to humanity, a hope people doesn't even realize they've lost.
Not to conquer.
To save.
This is one to watch, comic-friends. Not only is the entirety of Goddess Mode's primary cast female, Quinn and Rodriguez made the choice for the best of reasons:
"The chains are finally off," Rodriguez said in July at SDCC. "I grew up in in a single-mother home in a house full of sisters…and I wanted to give this to them."
"Why not have a story that's all about women?" Quinn continued at the round-table.
"How many stories are all about men and it's never commented on? I feel like there are too many stories where there's one chick or you end up having to tell a story where there's one chick and you have to tell a story that's explicit about gender instead of letting women have breadth because if there's one character of a certain demographic, there's too much pressure shoved on that character to be representative of that demographic…give me a cast full of Harley Quinns who are dealing with their stuff, let them have that depth, let them be interesting, let them be struggling with stuff and not have to carry the weight of being a model minority in a medium on top of that…and I don't want to be prescriptive about what femininity looks like…for there to be strength in people's personalities whether they choose to be…physical or stubbornness or willingness to endure or to refuse everything that's foisted on them including the strength of refusing to let the world take your heart and make it hard."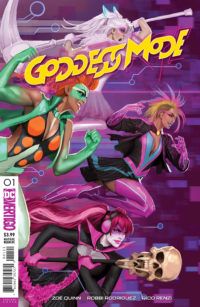 Characters who get to be real people with depth, women who choose how they want to be women and to whom being female is only one of many attributes? Count me in.
On top of that we have women in tech, both literally and figuratively in that, for Cassandra, AI is a career path and for the others, well, they're literally ghosts in the machine deliberately messing with outdated power structures and the traditional role of technology in the dystopian narrative.
"There's a lot of power in tech," Quinn, a video game developer pointed out, "to be used buy people who are disenfranchised but we have to be careful not to use it to enshrine outdated power structures but to help people liberate…Goddess Mode is fundamentally a story about examining power dynamics…you can get all this progress but you won't be able to just let it go. Society can't be devoid of human oversight."
"There are scare tactics happening. That AI is going to take over, become a robot overlord…but the working class has more in common with AI because we're doing all the crap jobs. Silicon Valley is worried that computers will treat them the way they treat everyone else."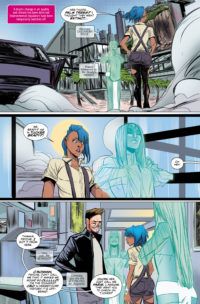 On first examination it might seem a little far fetched. But as you see the first issue of Goddess More unfurl, all of a sudden it seems a little less so. And this cyberpunk dystopia? From a tech perspective, it's still in the future, but from a political perspective? An emotional one? A social one? Maybe not so much. And we could really use some hope and a few kick ass lady heroes right now.
Goddess Mode #1 drops 12/12 from DC/Vertigo.