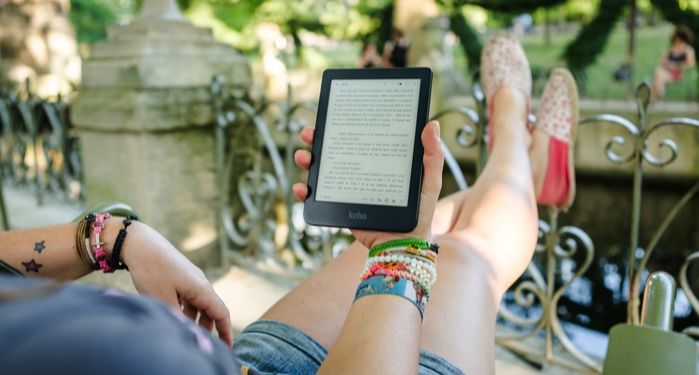 How To
Your Ultimate Guide on Where to Buy Ebooks
With so many electronic devices at our fingertips, knowing where to buy ebooks can be both exciting and overwhelming! Luckily there are many options for readers of every type, genre, and budget, so we've rounded up this list of some of the best places to find and buy ebooks!
The largest online book retailer in the world, Amazon has many options for purchasing ebooks via their Kindle platform. Kindle books can be purchased individually from anywhere between $1-15 per book, which is how you're most likely be able to buy bestsellers and new releases. Or, if you're a mega reader, you can subscribe to Kindle Unlimited for unlimited access to over a million titles for $12.99 per month. Kindle Unlimited won't have all of the new releases you might be looking for, but they have more than enough to keep you reading. Plus, Amazon Kindle is also one of the world's largest self-publishing platforms, so you can download loads of indie books in addition to titles put out by major publishers. Kindle books can be read via the Kindle app, available on all major devices, or on Kindle Readers and Amazon tablets, available exclusively from Amazon. The only downside to Kindle ebooks is that they can only be read on Amazon devices or in the Kindle app, and they cannot be transferred to other apps or devices.
You can be an ebook reader and a supporter of the largest brick-and-mortar chain bookstore in the U.S.! NOOK selections are very similar to what's available on Amazon Kindle, and most books put out by major publishers will have very similar pricing. NOOK does offer some deals that are exclusive to their platform and they boast over 75,000 free titles, but they don't have a subscription-based program like Kindle Unlimited. NOOK ebooks can be read on the NOOK app, which is available to most electric devices, or on the Barnes & Noble NOOK reader, which is available for purchase online and in Barnes & Noble stores.
Owned by the same company that operates Overdrive for libraries, Kobo is another great ebook source similar to Amazon Kindle and B&N NOOK. It's a global company, which means that Kobo is a great option if you live outside of the United States, or if you travel a lot, since you can choose your location from a list of 35 countries. Kobo's selection to buy ebooks is broad, and they carry audiobooks and self-published books as well as ebooks from all major U.S. publishers. You can read Kobo books on the Kobo app, which is available on most electronic devices, or you can shop the Kobo store for a variety of Kobo reading devices.
If you are an Apple user, then Apple Books is a great app for you! It works exclusively with Apple devices, and your account and all of your purchases sync across your iPhone and iPad. However, Apple Books doesn't work with your desktop or laptop. Their selection is on par with most of the services already listed, but they do not have a subscription-based program.
Android users, Google Play Books is a great service for where to buy ebooks! It's owned and operated by Google, but functions similarly to iBooks in that it is app-based and will allow you to access your books across multiple Google and Android devices. However, you cannot download Google Play Books onto your PC — you'll have to read them in a browser. But, with over 5 million titles, including access to the free digital Google Library, it boasts one of the largest selections in the world.
While Scribd was first recognized mainly as an open publishing platform, it has since morphed into a great subscription-based source for books, audiobooks, magazines, and other documents. For only $8.99 per month, you can access their full collection of ebooks and other available content. The selection is pretty wide, but not everything is available on this platform — like Netflix, some things may come and go. However, there are also thousands of free, self-published books to download. You also do not get to keep the books you access on Scribd, but you can return to the books you love as long as your subscription remains active. At less than $10 per month, Scribd is a great option for voracious readers who may not have access to a public library with a robust digital collection.
If you are all about those ebook deals, BookBub is a great service for you to know about! While they don't sell ebooks themselves, per se, they are a website that finds you great deals on ebooks, both independently and traditionally published. You can browse ebooks by category, price point, and genre in order to find trending deals, and then BookBub gives you links to the retailer of your choice — Amazon, Barnes & Noble, Apple iBooks, Google Play Books, or Kobo. They will also help you find free ebooks in your chosen genres.
If you are looking for ebook recommendations that are handpicked for you by an expert, then check out TBR: Tailored Book Recommendations! Here's how it works: Readers start out by taking our reading survey and answering questions about what kind of books they're looking for, what genres they love, and their most recent favorite books. You can even share your Goodreads page! Then, each reader is matched with a Bibliologist who makes three personalized book recommendations. Readers can choose to have these books delivered in hardcover for $79 per quarter (plus shipping), or get recommendations only via email for only $15 per quarter and buy ebooks themselves! If you're looking for your next great ebook recommendation, get started now!