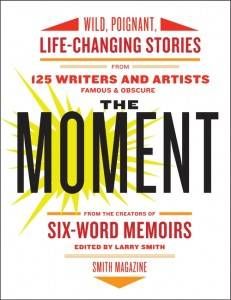 For this giveaway sponsored by The Moment, a new book of essays from Jennifer Egan, Dave Eggers, Elizabeth Gilbert, and other writers both famous and obscure, we asked you to tell us about the decision, happenstance, accident, call, conversation, letter, or tweet that had a profound effect on your life, and HOO BOY did you deliver!
We picked our three favorite, and Book Riot readers voted by clicking the Facebook "like" button to show support for their favorite post. Aaaaaand Kristin Kane won with her six-word submission:
"Bookworm mom finds son's dyslexic. Advocate."
Join us in congratulating Kristin Kane on her $50 bookstore gift card win and her own copy of The Moment, edited by Larry Smith. Not to be left unrewarded, both runners up will receive a copy of The Moment, too. Big thanks to all Riot readers who submitted stories, voted, and jumped into conversations on Facebook and Twitter.