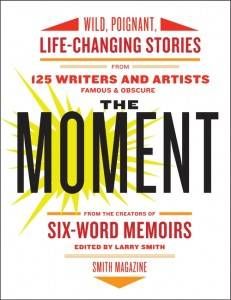 We've got swag. For the winner, a $50 gift card to the bookstore of your choice and a copy of The Moment edited by Larry Smith of Smith Magazine, the people who brought you the six-word memoir books.
Everyone has a story. In this giveaway sponsored by The Moment, a new book of essays from Jennifer Egan, Dave Eggers, Elizabeth Gilbert, and other writers both famous and obscure, we want to hear from the Book Riot community about the decision, happenstance, accident, call, conversation, letter, or tweet that had a profound effect on your life.
Jennifer Egan's moment:
In the summer of 1981, at the tail end of a year off between high school and college, I flew to Europe alone, with a backpack and a Eurail pass, determined to cure my absurd lack of worldliness in one grand voyage. Two weeks into the trip, I began having panic attacks that I mistook for drug flashbacks (having read, like the rest of my generation, Go Ask Alice), which I feared were a first step toward real insanity. I stuck it out a few more weeks, but eventually called my mother, weeping, from Rome, and went home early. And yet it was during that short time in Europe that I decided to become a writer.
Now it's your turn!
Entries may take any shape and can consist of words, collage, illustration, comics, video or a mashup of them all. Most importantly, the entry should capture the essence of the moment-that single instant that had a profound effect on your life. So make like Hemingway ("For sale: baby shoes, never worn"), tap into your inner Picasso, fire up your webcam, whatever.
Here's the deal:
Email your entry to community (at) bookriot (dot) com by January 17, 2012, 11:59PM EST. Put "The Moment Giveaway" in the email subject line.
We will pick our 3 favorites, and post them individually on Book Riot on Friday, January 20.
Voting will be by Facebook "Likes." The post with the most "Likes" on Friday, January 27, 11:59PM EST wins. As thanks, both runners up will receive a copy of The Moment, too.
That's it.
Do it in 6 words if you can, but no more than 600. For images, submit JPEGs, max 1MB per entry. For video, keep it under 3 minutes on YouTube with embedding enabled. If you have a submission in another newfangled format, send an email to community (at) bookriot (dot) com, and we'll make an official ruling.
The legal stuff: Should the winner reside outside of the United States, the gift card shall be for the equivalent value of $50 USD in the currency of the winner's country of residence (as of the January 24, 2012 rate of exchange). Book Riot staff reserve the right to disqualify any submission. By submitting an entry, you agree to the following: You hereby grant to Book Riot, under all intellectual property and proprietary rights, a worldwide, perpetual, irrevocable, non-exclusive, fully-paid and royalty-free license, with the right to sublicense through multiple levels, to store, reproduce, modify, create derivative works of, publish, distribute, transfer, transmit, publicly display, publicly perform, and otherwise use Your Content. You should only submit Your Content to Book Riot for which you are willing to grant the licenses described above. You represent, warrant and covenant that (a) Your Content is an original work and (b) you have sufficient rights to grant the licenses described above.