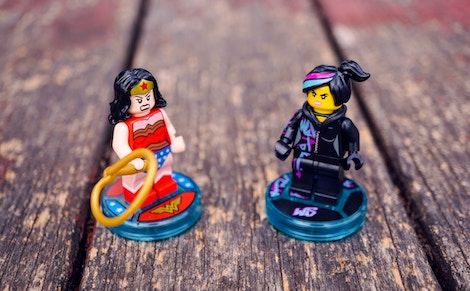 I like superheroes. I also like musicals. After going to bed one night, I decided it'd be cool to combine the two. And, since all good ideas happen when you're half-awake at midnight, here are 12 of your favorite superheroes as musicals! They're destined to be the new zodiac signs!
Harley Quinn
A blood-soaked bad apple who loves flouting authority and ruthlessly mocking those who want to stop her from having a good time? Hello, Reefer Madness! Heck, it's got "madness" right in the title!
Doctor Strange
The Sorcerer Supreme is totally Joseph and the Amazing Technicolor Dreamcoat: it's enjoyable enough, but given the nature of the story, why is the protagonist a middle-aged white guy?
Superman
He is forever optimistic, fights racism, has great hair, and can really tear up a dance floor. That makes Superman a natural match for Hairspray!
Ms. Marvel
As a cooler, browner version of the Marvels who came before her, Kamala Khan makes a perfect Hamilton. Thanks for not throwing away your shot at superheroing, Ms. Marvel!
Green Lantern
Hal Jordan is super white, cannot be trusted around women, and has committed numerous crimes. I hereby dub him Seven Brides for Seven Brothers.
Spider-Man
Sure, there's Turn Off the Dark, but think about it: Peter Parker is forever down on his luck, no matter how hard he tries. The best he can hope for is a decent today, because tomorrow will probably be hot garbage. He is such an Avenue Q.
Batman
Let's be real here. Batman is a melodramatic recluse in a cape and mask who runs around scaring people and forcing his protégés to live in a creepy cave. He never had a chance of being anything but Phantom of the Opera.
Black Widow
Of course the mysterious Black Widow would be tough to define. She combines elements from Anastasia (a Romanova with no memory of her past) and Brigadoon (appears out of nowhere, shakes things up, and vanishes into the darkness whence she came).
Robin
Dick Grayson is a chipper orphan who changes the life of the aloof billionaire who adopts him and you already figured out that he's Annie the minute I said "orphan," didn't you?
Iron Man
Ah, Tony Stark. Marvel's quintessential badly behaved rich kid with a terrible romantic track record. He'd fit right into the world of Natasha, Pierre & The Great Comet of 1812. Any chance he'll sing "Dust and Ashes" in Avengers: Endgame?
Wonder Woman
A smart, compassionate, and fashionable woman who makes sure all the douchey men out there get what's coming to them? Who else could Wonder Woman be but Legally Blonde?
Deadpool
He's weird, unpredictable, and happy to take an ice pick to gender and sexual norms. Now what does that remind me of…? Hot patootie bless my soul, it's The Rocky Horror Picture Show!
---
Did I miss your favorite superhero, or your favorite musical? Comment below and let me know what superhero/musical combos you come up with!