This Riot Recommendation asking for your favorite powerful memoirs by women is sponsored by Becoming by Michelle Obama.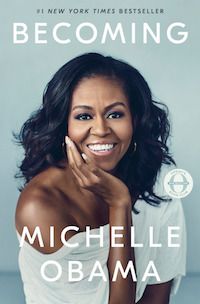 Becoming is an intimate, powerful, and inspiring memoir by Michelle Obama, the former First Lady of the United States. With wit and candor, Mrs. Obama takes readers inside her remarkable journey from Chicago's South Side to 1600 Pennsylvania Avenue, telling her full story—in her own words and on her own terms. Warm, wise, and revelatory, Becoming is the deeply personal reckoning of a woman who has steadily defied expectations—and whose story inspires us to do the same. Becoming by Michelle Obama is available now.
---
That sound you hear is how much this is ringing all of our bells! We've cleared room in our schedule and on our TBRs before asking you to tell us what your favorite powerful memoirs by women are? Pop into our comments section to let us know and next week we'll have an exciting list for you!