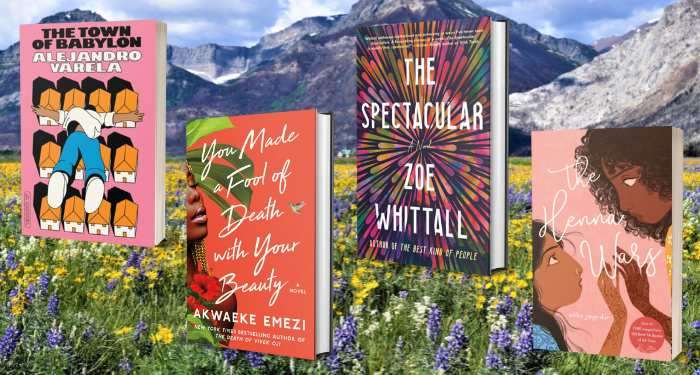 LGBTQ
April Showers Bring Queer Flowers: Your Curated Queer TBR For Spring
This content contains affiliate links. When you buy through these links, we may earn an affiliate commission.
Spring is on its way! It's time to start jumping up and down about daffodils and crocuses, warm evenings, short sleeves, and the return of green. I am a staunch lover of winter, and so, for me, spring has always felt a little bittersweet. I love it, yes. But it also means the end of my favorite season and the imminent return of my least favorite season: summer. So, to help get myself in the celebratory spring spirit, I like to create TBRs that reflect just how much there is to get excited for in April and May, the heart of spring. April is National Poetry Month! May is AAPI Heritage month! Passover (my favorite holiday) is coming up! Spring means starting seeds and getting to read outside again! We have so many queer books to enjoy! What are we waiting for!?
It is in this excited state that I present: your curated queer TBR for spring! Are you hoping to read a bunch of new queer books coming out this month? I've got you covered. Did you know queer ancestors Harvey Milk and Adrienne Rich have spring birthdays? Well, they do, and I've got some books for you that celebrate their legacies. Ramadan starts in April, so I've added some fantastic queer Muslim books to the list. Are you a mood reader who likes to read books set in the current season? Never fear, I've got some lovely, garden-centric spring books for you, too.
This is an electric list of queer books across many genres. Whether you read them all or only one, I hope they fill your spring season with a whole lot of queer book joy.
Get Excited About New Releases
Get in the Mood for Spring With Books That Celebrate Plants and Growing Things
Read Queer Poets to Celebrate National Poetry Month
You could read two collections a day for all of National Poetry Month and still not come close to all the wonderful queer poetry books out there! If you're looking for more, check out these must-read poetry collections by queer female poets, and this list of queer poetry collections.
Honor Ramadan With These Queer Muslim Books
Ramadan this year began on April 1. While neither of these books is explicitly about Ramadan, this month is a great time to read lots of books by Muslim authors! You might also want to check out this amazing list of 30 Books for 30 Days of Ramadan, these books by Muslims to read during Ramadan, and these memoirs by Muslim women.
Read a Very Jewish Book for Passover
Two Books by Queer Asian Authors for AAPI Heritage Month
There are way more books by queer AAPI authors than I could ever include here! These two are just a taste. For lots more options to add to your TBR for AAPI heritage month, check out this list of contemporary queer fiction by Asian authors, these LGBTQ+ books by South Asian authors, and these queer Asian YA books.
A Mother's Day Read
Celebrate the Birthdays of Two Queer Ancestors
Tackle a Queer Classic (With a Happy Ending)!
---
If you simply can't get enough queer reading, and you're in need of even more wonderful books for your spring TBR, check out this list of must-read LGBTQ books that just came out in March. There are also quite a few spring releases on this fantastic round-up of 2022 queer retellings. Why not add a few queer photo books to your TBR? Or some Black queer romance! The possibilities are endless.