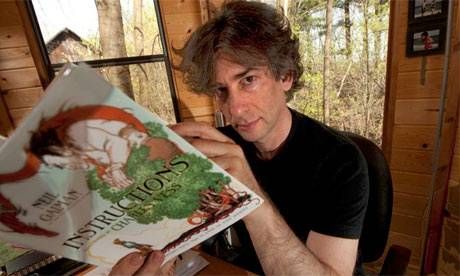 Events
You Versus a Blank Sheet of Paper: Neil Gaiman on Books and Writing
This post is part of our Neil Gaiman Reading Day: a celebration of one of our favorite authors on the occasion of the publication of his new novel, The Ocean at the End of the Lane. Check out the full line-up here.
"I learned to write by writing. I tended to do anything as long as it felt like an adventure, and to stop when it felt like work, which meant that life did not feel like work."
"The one thing that you have that nobody else has is you. Your voice, your mind, your story, your vision. So write and draw and build and play and dance and live as only you can."
"You get ideas from daydreaming. You get ideas from being bored. You get ideas all the time. The only difference between writers and other people is we notice when we're doing it."
"Books make great gifts because they have whole worlds inside of them. And it's much cheaper to buy somebody a book than it is to buy them the whole world!"
"As far as I'm concerned, the entire reason for becoming a writer is not having to get up in the morning.
The world always seems brighter when you've just made something that wasn't there before."
"Write your story as it needs to be written. Write it honestly, and tell it as best you can. I'm not sure that there are any other rules. Not ones that matter."
"What I say is, a town isn't a town without a bookstore. It may call itself a town, but unless it's got a bookstore it knows it's not fooling a soul."
"Google can bring you back 100,000 answers, a librarian can bring you back the right one."
"[D]on't ever apologize to an author for buying something in paperback, or taking it out from a library (that's what they're there for. Use your library). Don't apologize to this author for buying books second hand, or getting them from bookcrossing or borrowing a friend's copy. What's important to me is that people read the books and enjoy them, and that, at some point in there, the book was bought by someone. And that people who like things, tell other people. The most important thing is that people read… "
"Being a writer is a very peculiar sort of a job: it's always you versus a blank sheet of paper (or a blank screen) and quite often the blank piece of paper wins."
"Picking five favorite books is like picking the five body parts you'd most like not to lose."
"A book is a dream that you hold in your hands."
"The cake had a book drawn on it, in icing. My mother, who had organized the party, told me that the lady at the bakery said that they had never put a book on a birthday cake before, and that mostly for boys it was footballs or spaceships. I was their first book."
"Books were safer than people anyway."
_________________________
Sign up for our newsletter to have the best of Book Riot delivered straight to your inbox every two weeks. No spam. We promise.
To keep up with Book Riot on a daily basis, follow us on Twitter, like us on Facebook, , and subscribe to the Book Riot podcast in iTunes or via RSS. So much bookish goodness–all day, every day.