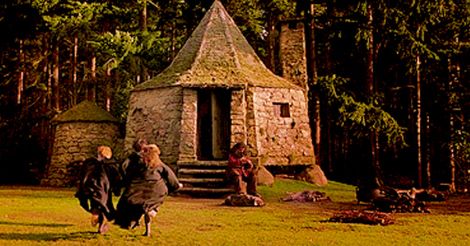 Sponsored by Audible.
---
At the end of the day, guests can relax in the freestanding copper tub — or pay homage to Hagrid and put a gigantic copper kettle on the fireplace. The cottage sleeps up to six people — making it the perfect retreat for a troop of Harry Potter fans.
The home is available to rent from about $250 (£195) per night.
In the books, the small wooden cabin is set away from the hubbub of Hogwarts castle at the edge of the Forbidden Forest. This version is no different. It's located at North Shire, six acres of countryside in England's North Yorkshire. The owners have built up the estate as a paradise for fans of fantasy. Other escapes on the estate include a Hobbit's Hole and Green Dragon Cafe inspired by "Lord of the Rings."
Calling all Harry Potter fans: You can stay in a cottage fashioned after Hagrid's hut!
---
A Holocaust memorial project in Israel is turning poetry written by Jews during the Nazi genocide into songs, hoping the new music will amplify poignant echoes of the past for future generations.
At a recording studio in Tel Aviv, Israeli musician Lee Biran performed a song he composed from words penned by Yiddish poet and Holocaust survivor Abraham Sutzkever.
"Literature is stronger than death," Sutzkever's grand-daughter, Hadas Kalderon Sutzkever, said as she listened in the studio to poetry he had written in 1942 while confined to the Vilna Ghetto in Lithuania.
A heartbreaking and beautiful project.
---
With the existence of queer Asian American narratives, we are visible. These books represent the space each voice had to forge within their own cultural histories and normative society. They say we're here, we're with you. To write anything with a queer Asian identity is an assertion—in this long-term battle to gain community and safety and acceptance—that we will remain unafraid, even in difficult times. This is a fight we'll win.
Your TBR is looking hungry and it definitely needs these 17 books written by queer Asian American authors.