Lists
Yellow Romance Novels To Brighten Up Your Spring (And Summer)
This content contains affiliate links. When you buy through these links, we may earn an affiliate commission.
Spring is finally upon us which means flowers, rain showers, and lots of fresh, bright colors. Which makes it the perfect time to talk about an eye catching trend of gorgeous, bright yellow book covers I noticed recently. These brightly colored romance novels coming out over the next few months stand out like a breath of fresh air—or sunshine. And who wouldn't want a yellow cover adding a pop of color to their shelf? These yellow romance novels are sure to brighten up your spring (and summer)!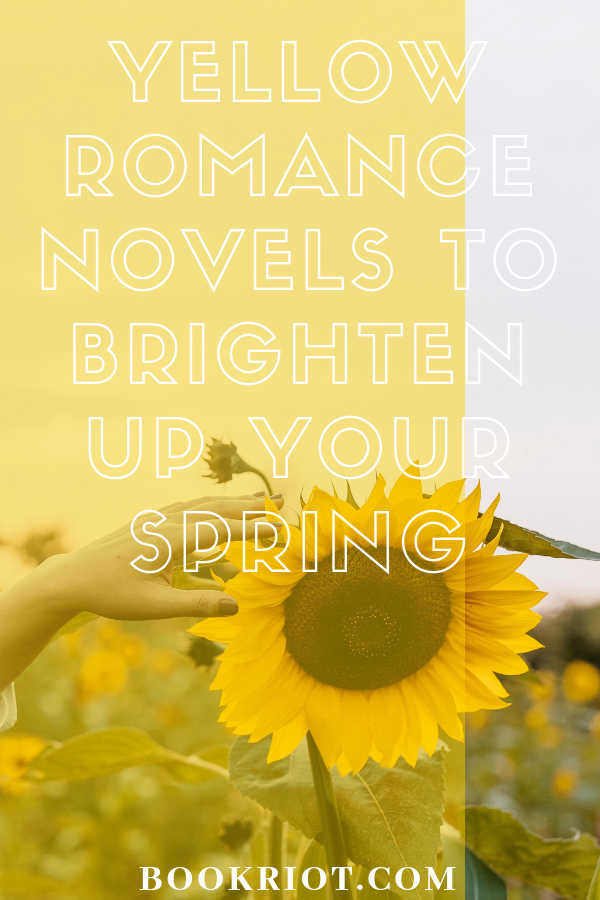 Opposite of Always by Justin A. Reynolds (April 4, 2019 by Macmillan Children's Books)
This is a love story with a twist. Because the love of Jack Ellison's life dies…then he gets the chance to go back and start all over again. It might seem ridiculous, but if time travel means the chance to save Kate, Jack's willing to give it a try.
The hardcover (which features a yellow and teal design) was released in March, but this gorgeous yellow paperback edition comes out in April.
Meet Cute by Helena Hunting (April 9, 2019 by Forever)
What's more embarrassing than literally running into a guy on the first day of law school? When that guy is Daxton Hughes, the actor she's been crushing on since she was a teenager. An unexpected friendship comes of it, but then a betrayal tears them apart. Until Dax comes back years later for her help in a custody battle over his little sister. Maybe the chemistry they felt can overcome all the mistakes of the past.
If that story doesn't sound cute enough, how adorable is the cover art featuring Kailyn and Dax sharing a milkshake Lady and the Tramp style?
The Bride Test by Helen Hoang (May 7, 2019 by Berkley)
The second novel from Helen Hoang follows some of the characters we first met in her breakout hit, The Kiss Quotient. Khai has no interest in pursuing a relationship, but when his mother goes to Vietnam and offers Esme an opportunity to come to America and try to win over her son, it seems like he might have no choice. Khai believes he's not capable of love, while Esme longs for a better future for her daughter and a chance to track down her American father. But for each of them, the relationship becomes something much more.
The Bride Test is an absolutely adorable follow up to The Kiss Quotient and provides some more great Autism and Vietnamese rep to the romance genre. Look, just give me all the books from Helen Hoang, okay?
The Unhoneymooners by Christina Lauren (May 14, 2019 by Gallery Books)
Olive has never been the lucky one compared to her twin sister Amy. Her sister's whole dream wedding with her dream man was financed by a series of Internet contests. Worst of all, Olive has to go through the whole ordeal alongside her sworn enemy, Ethan, who just so happens to be the best man. But when the whole wedding party save for Olive and Ethan contracts food poisoning, there's an all expense paid honeymoon to Hawaii up for grabs. And that's not an opportunity either of them is willing to miss even if it does mean pretending to be in love for a few days. But when playing pretend doesn't seem so bad, for once it seems like luck might actually be on Olive's side.
This cover gets spring / summer bonus points for all that gorgeous greenery and those hibiscuses too.
Ayesha at Last by Uzma Jalaluddin (June 4, 2019 by Berkley Books)
This modern take on Pride and Prejudice set in the Toronto Muslim community is such a sweet romance with unexpected feelings and a case of mistaken identity creating a whole lot of drama. Ayesha is a thoroughly independent hijabi woman secretly pursuing a love of spoken word poetry alongside her teaching career. Khalid is a devoutly religious man who believes his mother should choose his future wife. But when the two find themselves falling for each other in spite of their differences, life suddenly gets complicated. Especially when Khalid's mother arranges his marriage… to Ayesha's cousin Hafsa.
The Marriage Clock by Zara Raheem (July 23, 2019 by William Morrow Paperbacks)
Leila Abid's traditional parents have given her three months to find a husband from the South Asian Muslim American community, but that doesn't fit with Leila's dreams of a Bollywood style romance. When blind dates, online dates, and even a series of speed dates don't seem to do the trick—and with the clock ticking—Leila has to face the possibility that she won't find "Mr. Right" in time.
And if you aren't picky about the color, you might also want to check out this list of awesome romance novels coming out in 2019.