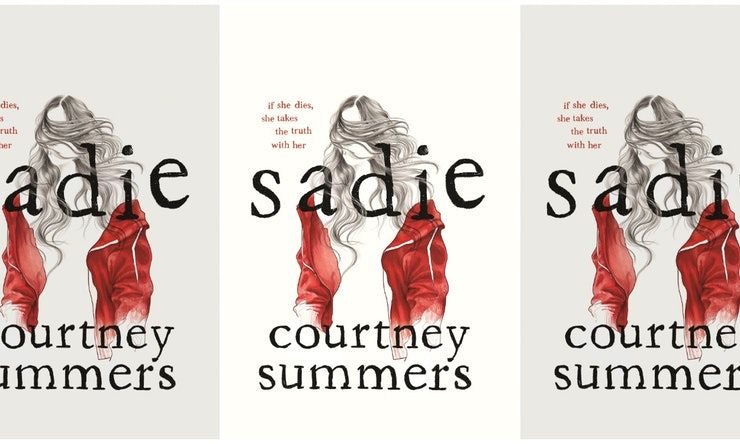 This content contains affiliate links. When you buy through these links, we may earn an affiliate commission.
News broke this week that award-winning YA author (and Instagram makeup aficionado) Courtney Summers is coming out with a new book. The main character in Sadie (releasing in September; available now for pre-order) is a girl determined to solve her sister's murder case. Her quest catches the attention of a true crime podcast creator who decides to run his own investigation.
Summers's previous books like This Is Not A Test and All The Rage have leaned into the dark recesses of teen girls' psyches, but this book is her first title specifically linked with the true crime genre…but it's not a true story. Sadie is the latest book in a new micro-trend: YA true crime fiction.
YA true crime fiction tells fictional narratives about teens obsessed with true crime and forensic investigation. Wouldn't you know, these teens tend to find themselves at the pointy end of a serial killer's blade, turning their obsession personal.
Here are some recent titles sure to appease teen murderinos until Sadie hits bookstore and library shelves:
Ellingham Academy is a famous private school in Vermont for the brightest thinkers, inventors, and artists. The founder's wife and daughter were kidnapped in the 1930s, creating a famous cold case. The only clue was a mocking riddle signed with the frightening pseudonym, Truly Devious.
True-crime aficionado Stevie Bell is set to begin her first year at Ellingham Academy. She has an ambitious plan to solve this cold case. That is, she will solve the case when she gets a grip on her demanding new school life and her housemates. But then Truly Devious makes a surprise return, and death revisits Ellingham Academy. The past has crawled out of its grave. Someone has gotten away with murder.
After a freezing winter, a boiling hot summer explodes with arson, a blackout, and a serial killer named Son of Sam. The killer is targeting young people on the streets seemingly at random. Not only is the city a disaster, but teenage Nora has troubles of her own. Her brother, Hector, is growing more uncontrollable by the day, her mother is helpless to stop him, and her father is so busy with his new family that he only calls on holidays.
And it doesn't stop there. The super's after her mother to pay their overdue rent, and her teachers are pushing her to apply for college. All Nora wants is to turn eighteen and be on her own. There is a cute guy who started working with her at the deli, but is dating even worth the risk when the killer especially likes picking off couples who stay out too late?
Five years ago, high school senior Helena Kelly disappeared from her backyard. Her family was left without any answers—without any idea who killed Helena, or why. Teenage true crime fan Seneca is determined to solve the case. She heads to Connecticut to work on the case with Maddy, her best friend from Case Not Closed. However, the moment she steps off the train, things start to go wrong. Maddy's nothing like she expected, and Helena's sister, Aerin, doesn't seem to want any help after all. Plus, Seneca has a secret of her own, one that could derail the investigation if she's not careful.
Alongside Brett, another super-user from the site, they slowly begin to unravel Helena's secrets. But the killer is watching…and determined to make sure the case stays cold.
Someone brutally murdered Mary Mathison, daughter of a prominent and very conservative local pastor. Whoever it was is now sending disturbing messages to Avery, a transgender boy. The messages claim that Mary's murder was revenge for her relationship with him. Avery is faced by the horrific demand to repent for his gender identity or to become the next one killed.
It's up to Avery, with the help of his friends from the school's Forensics Club, to catch the culprit. But can Avery deny who he is to catch Mary's killer? Or will sacrificing himself be the ultimate betrayal?
Looking for more true crime reading inspo, both of the YA true crime fiction and adult true crime non-fiction variety? Check out our list of books for fans of My Favorite Murder.
You can also learn more about Courtney Summers's Sadie in this exclusive excerpt at Bustle.