News
What YA Talking About? October 2015 in YA News
Welcome to the monthly round-up of all things relating to young adult news. Here's a look back at the big stories of October. You can read previous installments by clicking here.
The biggest story out of the young adult world in October had to do with diversity — who gets to claim being a member of a marginalized group, who gets to take credit for writing about marginalized groups, and perhaps most disturbing, what "value" these stories have for readers and writers.
Young Adult author Meg Rosoff earned pushback because of a comment she left on a link shared by librarian Edi Campbell on Facebook. Campbell linked to a piece on the Huffington Post about a self-published book featuring a queer black boy, to which Rosoff commented: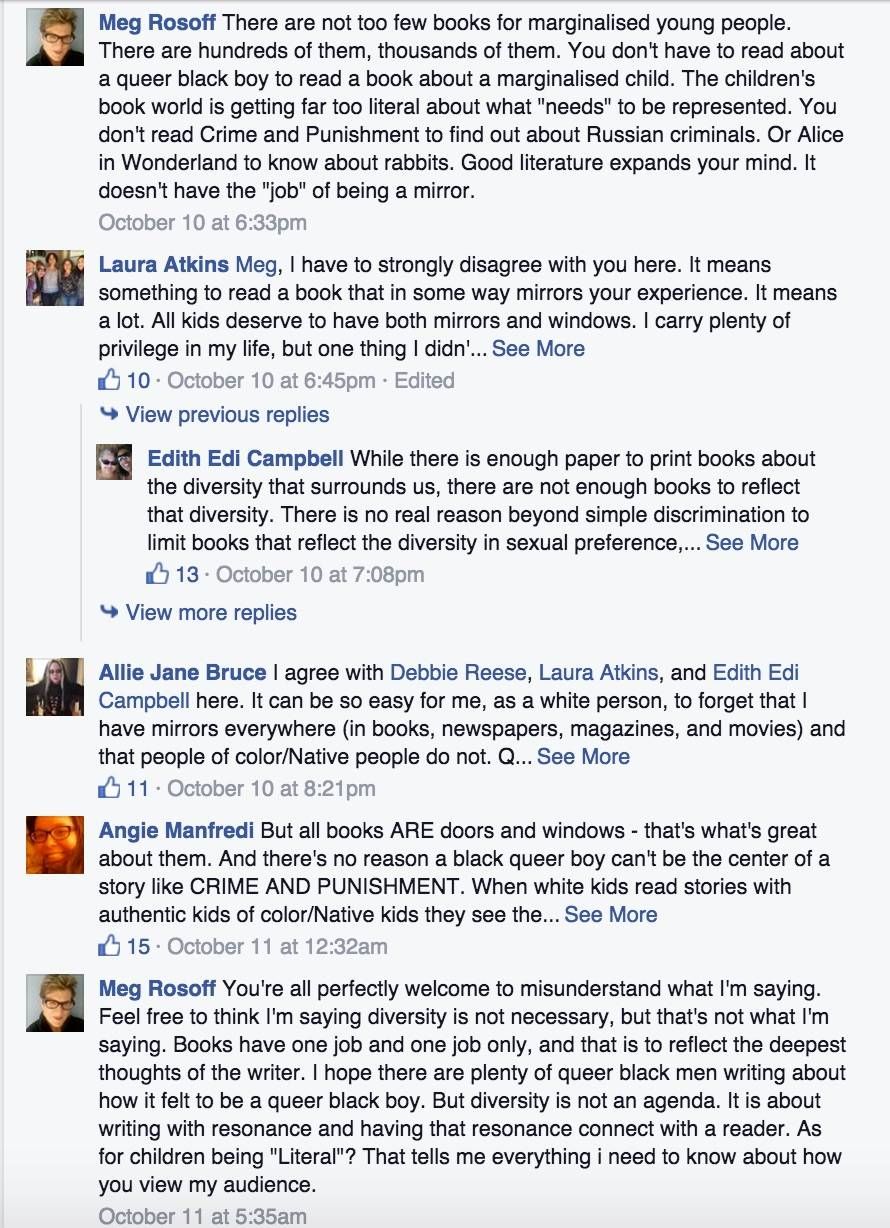 Let it be clear: there was no "misunderstanding" from what Rosoff said, as became much clearer after claiming she had become Othered and being supported by the sad puppies on Twitter.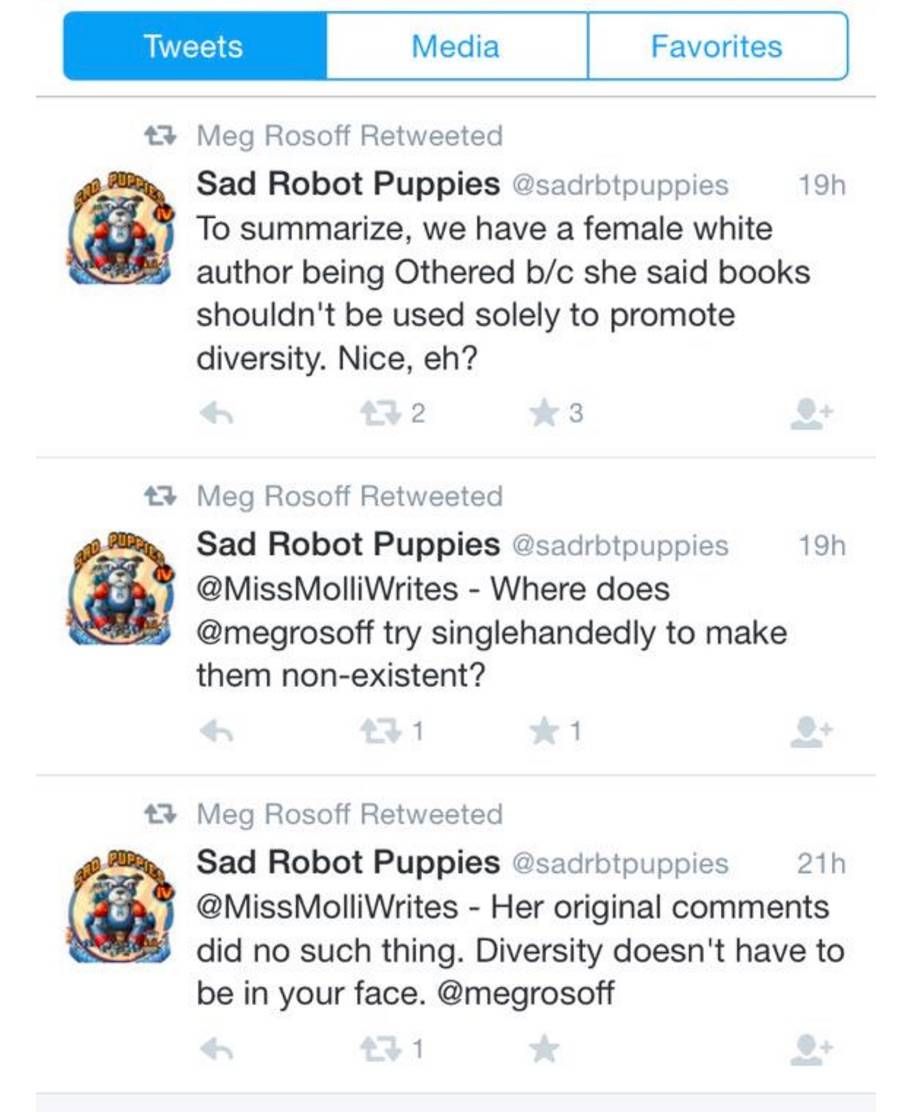 She didn't stop her racist commentary there, though. Later on in the month, Rosoff continued to offer up gems, including this, a comment upon a link shared that featured Publishers Weekly's 2015 best YA fiction picks:
There's zero question that Rosoff has her fingers in her ears and is completely disinterested in hearing anything from people of marginalized backgrounds. More, she gloats about how the hard work of others, including Deb Reese, doesn't have a point except to be "an agenda."
Referenced in Rosoff's comment is discussion surrounding The Hired Girl, which Book Riot contributor Justina Ireland collected and commented upon here. The discussion surrounding Sophie Blackall's illustrations is for Emily Jenkins's picture book A Fine Dessert. That is, of course, beyond the scope of a YA column, though because Emily Jenkins is the name YA author E. Lockhart uses for her younger fiction, it is worth pointing out that Lockhart stepped up about the discussion her book has raised . . . and in a way that points out why Rosoff's attitude is so wrong-headed and backwards:
Rather than shy away from the harm her book may have caused, Lockhart steps up, owns it, and chooses to make amends in the best way she can.
In the wake of Rosoff's agenda agenda (she has an agenda about agendas, let's be real here), two voices emerged in the YA world: those who chose to share painful stories about growing up in the margins — go read this outstanding piece by Kaye about life as a teen in a post-9/11 world — and those, like Michael Grant, who stepped up and pretended to be race heroes. Grant's words aren't even worth linking to, though I will for those brave enough to read it, since he's well-known among long-time YA folks as someone who loves centering himself and claiming he's done it first and done it better…and claiming that no one owes books that have an agenda or perspective. He began a comment war about this a few years back in a now-private blog, but the memory lingers because it's hard to forget someone who wants to be a hero but shows his actions otherwise. ¯\_(ツ)_/¯ If you want to spend time with Grant's incredibly privileged attitude about publishing, be my guest. But then go ahead and read this, too.
Five hundred words in and I haven't even touched the Rainbow Sprinkle Dinosaurs yet. Proceed with caution and yes, read the comments because smart people say incredibly intelligent things about race and representation and the importance of agendas therein.
Onto more positive news!
October saw the launch of Writing in the Margins, a resource for underrepresented voices to get support and mentorship with their writing. Five writers, including new and emerging young adult voices, earned the first-ever Walter Dean Myers grants from We Need Diverse Books. They'll each receive $2,000 to help them with their careers.
This one is a little insider-baseball, but it's interesting nonetheless: Disney Publishing is going to create a new imprint in early 2016 to match the rebranding of ABC Family as Freeform. The new imprint will publish books for the 14-34 age market — so young adult and books that would fall into that illusive "new adult" category, but the titles will not look like the "new adult" books that we've seen in publishing so far (that is, contemporary romance with younger protagonists). These books will be the kind of titles for YA readers who are both in the teen age range, as well as those who love YA but are more adult in their age.
A really thoughtful piece in The Guardian talked about why angry girls in YA fiction matter. I've spent a lot of time thinking about anger and the ways we allow it to be such a gendered emotion/emotional response, and I love what Skuse says here: "Real young adults need to see fictional ones self-destructing or fighting back because it's ok to be angry at the world's injustices. It's ok to shout and scream and cry. I think it's ok to want revenge too. Natural, even. It's the worst thing in the world to feel like you're the only one not in control; the only one who rages."
Things don't get done when we're "nice." Things get done when we get angry and insist on change.
Let's round out this month's news with a look at the latest in adaptation news:
Simon vs. The Homo Sapiens Agenda was acquired by Fox 2000. The book was long listed for the National Book Award in Young People's Literature, a title listed on this year's Publishers Weekly Best in YA, and has been a favorite among Book Riot readers.
Dolphin Films acquired the rights to Mary E Pearson's "The Jenna Fox Chronicles." This was one of the first YA series I read back in the day and I really dig it and think it'll do really well on the big screen. Science fiction featuring a female lead? All in. It's nice to see studios picking up on backlist titles that remain popular today.
In trailer releases, here's a look at the trailer for the upcoming Shadowhunters television series:
[youtube]https://www.youtube.com/watch?v=aYZFWBYfJuQ[/youtube]