Sponsored
3 On A YA Theme: YA Takes On Snow White
This content contains affiliate links. When you buy through these links, we may earn an affiliate commission.
"3 On A YA Theme" is sponsored by 36 Questions That Changed My Mind About You by Vicki Grant.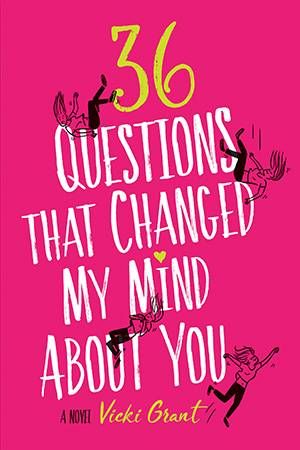 Inspired by the real psychology study popularized by the New York Times and its "Modern Love" column, this contemporary YA is full of humor and heart. It explores the interactions between Hildy and Paul, two random strangers in a university psychology study, when they ask each other the 36 questions that are engineered to make them fall in love. Told in the language of modern romance—texting, Q&A, IM—and punctuated by Paul's sketches, this clever high-concept YA will leave you searching for your own stranger to ask the 36 questions. Maybe you'll even fall in love.
____________________
This year marks the 80th anniversary of the classic Snow White and The 7 Dwarfs. In honor of that milestone, it seems only appropriate to round up some of the takes that YA has on the story.
While researching titles to include, I was a bit surprised to not find titles written by or featuring a main character of color. It's possible that there are a couple out there, but they're not showing up on lists or being defined in their descriptions as takes on the story. But one thing I did find and found particularly interesting and worth sharing is this piece by author Charita Smith, who also points out the lack of color in Snow White stories. More specifically, she talks about how the story is ripe for playing with in terms of diversity because skin color is a key part of the tale. I know I'd love to see this explored further, and of course, if you know of a title I've overlooked, do let me know in the comments.
We are fortunate, at least, to see some queer takes on the story. As always, this is not a comprehensive list, and I've stuck to books which are first in a series or stand alone titles, so some of the other well-known takes might not appear below.
Fairest by Gail Carson Levine
In the kingdom of Ayortha, who is the fairest of them all? Certainly not Aza. She is thoroughly convinced that she is ugly. What she may lack in looks, though, she makes up for with a kind heart, and with something no one else has—a magical voice. Her vocal talents captivate all who hear them, and in Ontio Castle they attract the attention of a handsome prince—and a dangerous new queen.
The tale of the young princess and her evil stepmother, the Wicked Queen, is widely known. Despite a few variations from telling to telling, the story remains the same—the Queen was jealous of the girl's beauty, and this jealousy culminated in the Queen's attempt on the sweet, naive girl's life.
Another tale far less often spoken of is the one that explains what caused the Queen to become so contemptuously vile. Still, some have attempted to guess at the reason. Perhaps the Queen's true nature was that of a wicked hag and her beautiful, regal appearance a disguise used to fool the King. Others claim that the Queen might have hated the girl for her resemblance to the King's first wife. Mostly, the Queen is painted as a morally abhorrent woman who never loved another being during the course of her miserable life.
In fact, the theories about exactly what cause the Queen's obsessive vanity and jealous rage are too numerous to catalog. This book recounts a version of the story that has remained untold until now. It is a tragic tale of love and loss, and it contains a bit of magic. It is a tale of the Wicked Queen.
At sixteen, Mina's mother is dead, her magician father is vicious, and her silent heart has never beat with love for anyone—has never beat at all, in fact, but she'd always thought that fact normal. She never guessed that her father cut out her heart and replaced it with one of glass. When she moves to Whitespring Castle and sees its king for the first time, Mina forms a plan: win the king's heart with her beauty, become queen, and finally know love. The only catch is that she'll have to become a stepmother.
Fifteen-year-old Lynet looks just like her late mother, and one day she discovers why: a magician created her out of snow in the dead queen's image, at her father's order. But despite being the dead queen made flesh, Lynet would rather be like her fierce and regal stepmother, Mina. She gets her wish when her father makes Lynet queen of the southern territories, displacing Mina. Now Mina is starting to look at Lynet with something like hatred, and Lynet must decide what to do—and who to be—to win back the only mother she's ever known…or else defeat her once and for all.
Entwining the stories of both Lynet and Mina in the past and present, Girls Made of Snow and Glass traces the relationship of two young women doomed to be rivals from the start. Only one can win all, while the other must lose everything—unless both can find a way to reshape themselves and their story.
Lorelai Diederich, crown princess and fugitive at large, has one mission: kill the wicked queen who took both the Ravenspire throne and the life of her father. To do that, Lorelai needs to use the one weapon she and Queen Irina have in common—magic. She'll have to be stronger, faster, and more powerful than Irina, the most dangerous sorceress Ravenspire has ever seen.
In the neighboring kingdom of Eldr, when Prince Kol's father and older brother are killed by an invading army of magic-wielding ogres, the second-born prince is suddenly given the responsibility of saving his kingdom. To do that, Kol needs magic—and the only way to get it is to make a deal with the queen of Ravenspire, promise to become her personal huntsman…and bring her Lorelai's heart.
But Lorelai is nothing like Kol expected—beautiful, fierce, and unstoppable—and despite dark magic, Lorelai is drawn in by the passionate and troubled king. Fighting to stay one step ahead of the dragon huntsman—who she likes far more than she should—Lorelai does everything in her power to ruin the wicked queen. But Irina isn't going down without a fight, and her final move may cost the princess the one thing she still has left to lose.
Snow by Tracy Lynn
The Duchess Jessica's childhood began with a tragedy: her mother's death. Her father, heartbroken at the loss of his beloved wife, could not bear to raise the child. Largely ignored, Jessica spent the first eleven years of her life running free on the family estate, cared for only by the servants.
Then her father decides to remarry, bringing an end to Jessica's independence. At first her new stepmother just seems overly strict. But as Jessica grows into a beautiful young woman, it becomes clear that her stepmother is also wildly—and murderously—jealous of her.
Jessica escapes to London. Going by the name Snow to hide from her family, she falls in love with an odd band of outcasts who accept her into their makeshift family. But when her stepmother appears in the city, repentant and seeking her forgiveness, Jessica will have to decide whom to trust…with her life.
Princess Snow is missing.
Her home planet is filled with violence and corruption at the hands of King Matthias and his wife as they attempt to punish her captors. The king will stop at nothing to get his beloved daughter back—but that's assuming she wants to return at all.
Essie has grown used to being cold. Temperatures on the planet Thanda are always sub-zero, and she fills her days with coding and repairs for the seven loyal drones that run the local mines.
When a mysterious young man named Dane crash-lands near her home, Essie agrees to help the pilot repair his ship. But soon she realizes that Dane's arrival was far from accidental, and she's pulled into the heart of a war she's risked everything to avoid. With the galaxy's future—and her own—in jeopardy, Essie must choose who to trust in a fiery fight for survival.
Want more "3 On A YA Theme" posts? Gotcha covered.