This content contains affiliate links. When you buy through these links, we may earn an affiliate commission.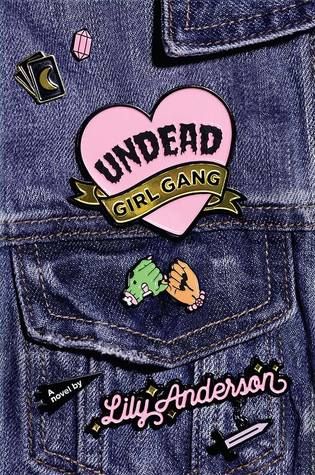 So, if you're anything like the Book Riot crew, you've probably devoured Lily Anderson's Undead Girl Gang, can't stop talking about it, and have been scouring the internet to find where to buy the lapel pins that are featured on the front cover. It's that perfect combination of teen sass/angst ("Sangst"? Can that be a word now?), mystery solving, and raising the dead that you didn't know was missing from your life! But if you are looking for a little bit more after finishing it, perhaps one of these YA series will help the void:
"Brooklyn Brujas" Series by Zoraida Cordova
Labyrinth Lost (#1); Bruja Born (#2), available 6/5/18
Scratch your teen witch itch with this amazing series from Zoraida Cordova. The trilogy (book #3 is anticipated to come out in 2019) follows the Mortiz sisters: descendants of witch ancestry who come into their unique powers on their Deathday when they turn 16. However, with their power comes struggles—struggles of figuring out who they are, what they want, and how to navigate in both the real world and the magical realms that lurk beneath the surface. With beautiful writing and imagery pulled from Latin American mythologies and folklore, these books are haunting in all the best ways.
"Arc of Scythe" series by Neal Shusterman
Scythe (#1); Thunderhead (#2)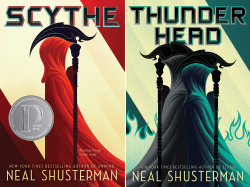 In a world were all of life's problems have been solved (including death), Scythes are the only ones who can end life in order to keep the size of the population under control. However, Scythes are chosen and commanded into their profession, whether they want it or not. When two teens are conscripted into Scythe apprenticeship, they discover that the art of death is much darker than they could have imagined.
"The Diviners" series by Libby Bray
The Diviners (#1); Lair of Dreams (#2); Before The Devil Breaks You (#3)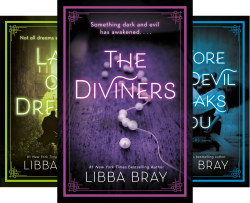 Evie O'Neill is a 1920s party girl with one hell of a party trick up her sleeve: divination. After being exiled from her sleepy town to live with an uncle in New York City, Evie discovers she's not alone in her powers and together they work to battle evil in various forms. Full of flappers, dapper dons, jazz, and Prohibition-defying parties, these books are both delightful and delightfully creepy.
"The Shadowshaper Cypher" series by Daniel José Older
Shadowshaper (#1); Shadowhouse Fall (#2)
Sierra Santiago is a talented graffiti artist working on a mural in her Brooklyn neighborhood when she begins to notice changes in the artwork around her. They are fading way faster than normal. They are changing. They are crying. Soon she discovers that she a descendant of a long line of sorcerers called shadowshapers. With her power and her art she finds ways to keep dangers (supernatural and otherwise) at bay. Part of what makes this series so great is how Older focuses on Sierra's community and how they helps make her who she is.
"Akata Witch" series by Nnedi Okorafor
Akata Witch (#1); Akata Warrior (#2)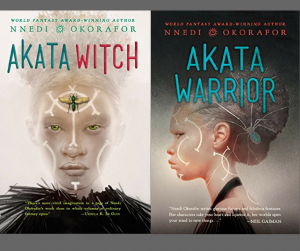 Sunny just doesn't quite fit in. She lives in Nigeria, but was born in America. She is of African descent, but has albinism, which makes her a target for bullying and prevents her from playing the sports she loves. But a set of new friends introduces her to the Leopard People, a subset of humans who have strong links to the spirit world, and she soon discovers what she considered her faults were actually the source of her special powers. Author Nnedi Okorafor, winner of the Hugo, Nebula, and World Fantasy awards, has created a unique world that combines modern day Nigeria with mythology, history, and magic that will intrigue and delight readers.