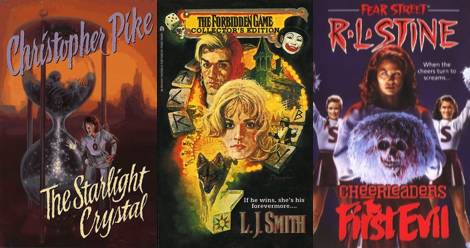 This content contains affiliate links. When you buy through these links, we may earn an affiliate commission.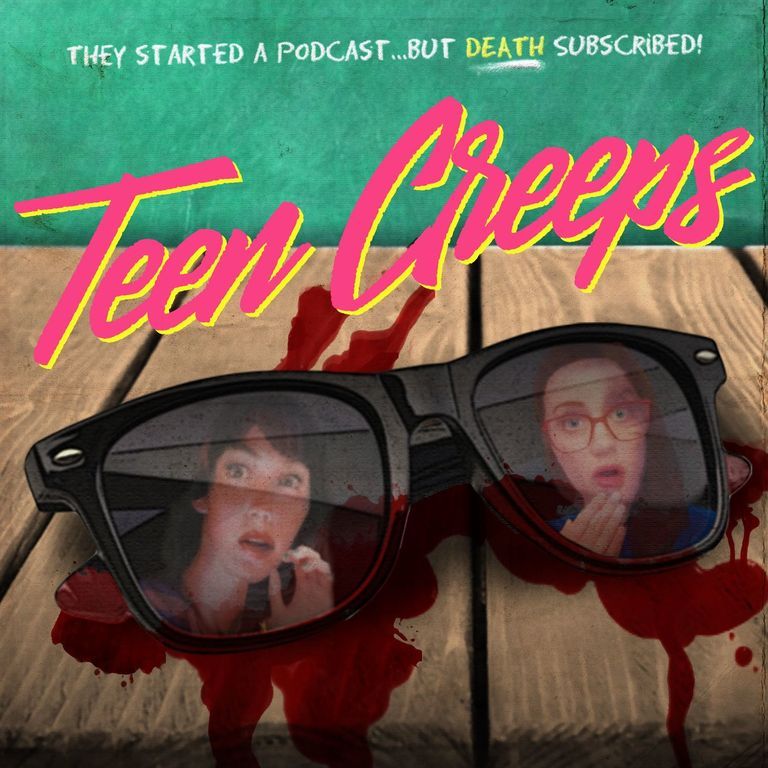 The works of Christopher Pike and R.L. Stine hold a special place in the hearts of many 1990s kids. You always knew what you were getting in these seminal works of YA pulp fiction: eye-catching, often neon cover art, suspenseful cliffhangers at the end of every chapter, and creepy plot lines that kept you up past bedtime.
Some of these YA pulp fiction titles stand the test of time, while others serve mostly as fun nostalgia reads. How to know which ones are worth the re-read? Enter Kelly Nugent and Lindsay Katai, co-hosts of the Teen Creeps podcast. The show's tagline: "They started a podcast…but DEATH subscribed!" sets you up for the joy to come as they discuss the oeuvre of Pike, Stine, L.J. Smith, Lois Duncan, V.C. Andrews, and more with both hilarity and respect.
Kelly and Katai graciously made us this list of the top 5 most essential YA pulp fiction titles for adults who want to get back into the genre. Here are their picks, along with our suggestions of modern-day YA reads that are sure to appeal to fans of YA pulp fiction:
In these books, regular gal Jenny catches the eye of the mystically gorgeous Julian. Intent on making her his Queen, she is forced to partake in the titular forbidden game which is sort of like a teen YA horror version of Jumanji, kind of? Basically, Jenny is awesome, Julian is bae, and these are guaranteed to make you swoon.
If you're looking for similar Labyrinth-adjacent feels in a 21st century book we suggest Wintersong by S. Jae-Jones, which finds regular gal Liesl traveling to the Underworld to wage a battle of wits against a sexy Goblin King. Yes, please!
While Pike is best known for his horror titles, Kelly and Katai are especially fond of this unconventional sci-fi. 18-year-old Paige has just fallen in love for the first time. But she's about to set out on the Traveler, a combo spaceship/time capsule with the mission to circle the solar system and study the changes on Earth over two centuries. The mission will only be a year for the crew, but by the time they finish, 200 years will have passed on Earth. Paige and her love Tem both pledge to stay loyal to each other forever, but as time passes, Paige learns more about Eastern philosophy and experiences a life outside of time and space, she begins to learn what forever really means.
Themes of time and connection also appear in Jodi Lynn Anderson's recent work Midnight at the Electric. Adri, a girl living in the year 2065, finds the journal of a girl who lived in her house a hundred years ago, which seems connected to her own life story. The storylines of Catherine, who lives in 1934, and Lenore, from 1919, intertwine with Adri's experiences to show how their lives affect one another despite the separation of thousands of miles and multiple generations.
These books kicked off the still-ongoing Fear Street series, combining slasher and paranormal horror with Sweet Valley high-adjacent teen melodrama. The first book in the Cheerleaders sequence introduces us to cheerleading sisters Bobbi and Corky, new kids at Shadyside High. At first, their issues seem Degrassi Junior High level basic…until until things take a GRUESOME, MURDER-Y TURN.
The recent teen horror book There's Someone Inside Your House by Stephanie Perkins is the perfect heir to the Fear Street legacy. In Perkins's twisted tale, the students of Osborne High are dying in a series of gruesome murders, each with increasing and grotesque flair. As the terror grows closer and the hunt intensifies for the killer, the dark secrets among them must finally be confronted. Like, we wouldn't be surprised to find out this school was located on Fear Street, is how creepy this all is.
RELATED: The Best Cover Lines from R.L. Stine's Fear Street Series
These books follow the adventures of 5000-year-old Sita, who is—you guessed it—the last vampire. OR IS SHE?? We learn about her past experiences murdering her way through the American Civil War, for instance, and watch her masquerade as a regular teen girl in a 1990s high school. Cocky and sarcastic, sorta like a female version of Damon Salvatore from The Vampire Diaries (also a great pick for classic YA pulp fiction), Sita is #goals every which way.
The title character in Rin Chupeco's The Girl from the Well is slightly younger than Sita at 300 years old. Okiku is a ghost who murders murderers…kinda like an undead "Dexter." She's also someone you could see turning out a bit like Sita if she got to roam the world, handing out paranormal justice for a few hundred or thousand more years.
And if you thought Kelly and Katai weren't including VC Andrews on this list, then you clearly haven't gotten to the episode of Teen Creeps where they discuss this seminal work of YA pulp fiction. Audrina has everything: a more incongruously gothic manor than the Blossoms on Riverdale, an unreliable narrator, world's worst cousin VERA, and oh so much more.
There are lots of threads in this book to pull in the search for a read-alike. But if you're most into Audrina's weird memory loss, you're sure to enjoy The Half Life of Molly Pierce by Katrina Leno. Molly, like Audrina, has always felt she's missing parts of her memory. So when she starts to remember her secrets, she's at once excited and terrified. Because maybe she's better off forgetting some of these secrets…
RELATED: You Never Kill Off Enough Teenagers: A Conversation with R.L. Stine
You can listen to Teen Creeps on the Forever Dog Podcast Network and find a reading list of which books they'll be talking about next. Stay creepy!
Ed.'s Note: The last paragraph was revised to point to the correct podcast destination.