This content contains affiliate links. When you buy through these links, we may earn an affiliate commission.
Happy winter! A lot of readers think fall is the ideal reading season, but I tend to think it's winter: cold days and long nights are an excellent excuse for staying in, sipping tea, and falling deep into a book. Perhaps even a YA paperback book.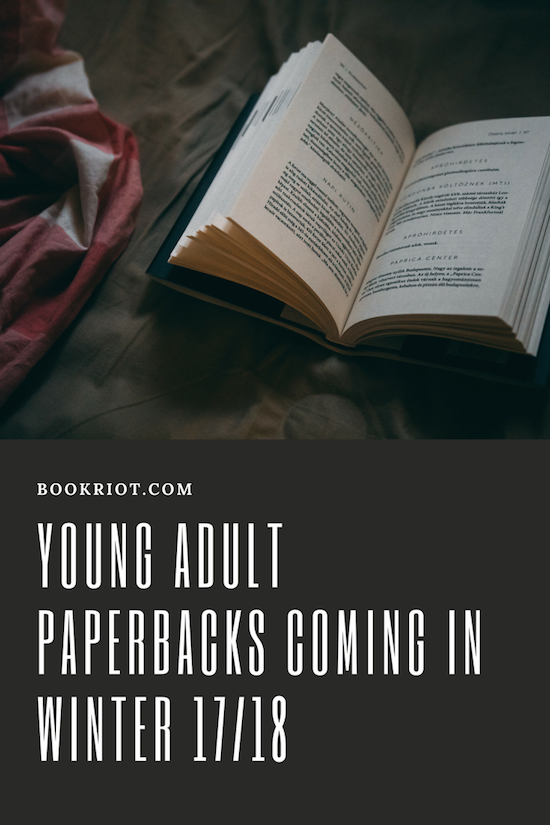 If you're looking for a solid YA read—and you want it to be paperback—this list is for you. Some of the titles below are brand new and original paperback publications, while others are moving from their hardcover publication to paperback. That means some of these titles might look familiar while others might not. This list includes both fiction and nonfiction, as well as a whole host of genres and formats within YA. I've limited to standalone titles, as well as books which are the first in a new series.
This list is not comprehensive, but rather, a means of looking at a wide variety of titles.
Settle in with a great read that's easy to tote and easy on the wallet. Note that some links may go to the hardcover edition. You can toggle over to the paperback from there. Descriptions are pulled from Goodreads.
December
A teenage misfit named Hawthorn Creely inserts herself in the investigation of missing person Lizzie Lovett, who disappeared mysteriously while camping with her boyfriend. Hawthorn doesn't mean to interfere, but she has a pretty crazy theory about what happened to Lizzie. In order to prove it, she decides to immerse herself in Lizzie's life. That includes taking her job…and her boyfriend. It's a huge risk—but it's just what Hawthorn needs to find her own place in the world.
When Adam Blake lands the best elective ever in his senior year, serving as an aide to the school psychologist, he thinks he's got it made. Sure, it means a lot of sitting around, which isn't easy for a guy with ADHD, but he can't complain, since he gets to spend the period texting all his friends. Then the doctor asks him to track down the troubled freshman who keeps dodging her, and Adam discovers that the boy is Julian—the foster brother he hasn't seen in five years.
Adam is ecstatic to be reunited. At first, Julian seems like the boy he once knew. He's still kindhearted. He still writes stories and loves picture books meant for little kids. But as they spend more time together, Adam realizes that Julian is keeping secrets, like where he hides during the middle of the day, and what's really going on inside his house. Adam is determined to help him, but his involvement could cost both boys their lives.
January
Seventeen-year-old Raychel is sleeping with two boys: her overachieving best friend Matt…and his slacker brother, Andrew. Raychel sneaks into Matt's bed after nightmares, but nothing ever happens. He doesn't even seem to realize she's a girl, except when he decides she needs rescuing. But Raychel doesn't want to be his girl anyway. She just needs his support as she deals with the classmate who assaulted her, the constant threat of her family's eviction, and the dream of college slipping quickly out of reach. Matt tries to help, but he doesn't really get it…and he'd never understand why she's fallen into a secret relationship with his brother. The friendships are a precarious balance, and when tragedy strikes, everything falls apart. Raychel has to decide which pieces she can pick up—and which ones are worth putting back together.
It's the beginning of the summer in a small town in Ireland. Emma O'Donovan is eighteen years old, beautiful, happy, confident. One night, there's a party. Everyone is there. All eyes are on Emma.
The next morning, she wakes on the front porch of her house. She can't remember what happened, she doesn't know how she got there. She doesn't know why she's in pain. But everyone else does.
Photographs taken at the party show, in explicit detail, what happened to Emma that night. But sometimes people don't want to believe what is right in front of them, especially when the truth concerns the town's heroes.
Begin, End, Begin: A #LoveOzYA Anthology edited by Danielle Binks
Bestsellers. Award-winners. Superstars. This anthology has them all. With brilliantly entertaining short stories from beloved young adult authors Amie Kaufman, Melissa Keil, Will Kostakis, Ellie Marney, Jaclyn Moriarty, Michael Pryor, Alice Pung, Gabrielle Tozer, Lili Wilkinson and Danielle Binks, this all-new collection will show the world exactly how much there is to love about Aussie YA.
As a child, Laura Ingalls Wilder traveled across the prairie in a covered wagon. Her daughter, Rose, thought those stories might make a good book, and the two created the beloved Little House series.
Sara Breedlove, the daughter of former slaves, wanted everything to be different for her own daughter, A'Lelia. Together they built a million-dollar beauty empire for women of color. Marie Curie became the first person in history to win two Nobel prizes in science. Inspired by her mother, Irène too became a scientist and Nobel prize winner.
Borrowed Names is the story of these extraordinary mothers and daughters.
Busted by Gina Ciocca
Marisa wasn't planning to be a snoop for hire—until she accidentally caught her best friend's boyfriend making out with another girl. Now her reputation for sniffing out cheaters has spread all over school, and Marisa finds herself the reluctant queen of busting two-timing boys.
But when ex-frenemy Kendall asks her to spy on her boyfriend, TJ, Marisa quickly discovers the girl TJ might be falling for is Marisa herself. And worse yet? The feelings are quickly becoming mutual. Now, she's stuck spying on a "mystery girl" and the spoken-for guy who just might be the love of her life…
All Pen wants is to be the kind of girl she's always been. So why does everyone have a problem with it? They think the way she looks and acts means she's trying to be a boy—that she should quit trying to be something she's not. If she dresses like a girl, and does what her folks want, it will show respect. If she takes orders and does what her friend Colby wants, it will show her loyalty. But respect and loyalty, Pen discovers, are empty words. Old-world parents, disintegrating friendships, and strong feelings for other girls drive Pen to see the truth—that in order to be who she truly wants to be, she'll have to man up.
Glitter by Aprilynne Pike
Outside the palace of Versailles, it's modern day. Inside, the people dress, eat, and act like it's the eighteenth century—with the added bonus of technology to make court life lavish, privileged, and frivolous. The palace has every indulgence, but for one pretty young thing, it's about to become a very beautiful prison.
When Danica witnesses an act of murder by the young king, her mother makes a cruel power play…blackmailing the king into making Dani his queen. When she turns eighteen, Dani will marry the most ruthless and dangerous man of the court. She has six months to escape her terrifying destiny. Six months to raise enough money to disappear into the real world beyond the palace gates.
Her ticket out? Glitter. A drug so powerful that a tiny pinch mixed into a pot of rouge or lip gloss can make the wearer hopelessly addicted. Addicted to a drug Dani can sell for more money than she ever dreamed.
But in Versailles, secrets are impossible to keep. And the most dangerous secret—falling for a drug dealer outside the palace walls—is one risk she has to take.
Love is more than meets the eye.
On his first day at a new school, blind sixteen-year-old Will Porter accidentally groped a girl on the stairs, sat on another student in the cafeteria, and somehow drove a classmate to tears. High school can only go up from here, right?
As Will starts to find his footing, he develops a crush on a sweet but shy girl named Cecily. And despite his fear that having a girlfriend will make him inherently dependent on someone sighted, the two of them grow closer and closer. Then an unprecedented opportunity arises: an experimental surgery that could give Will eyesight for the first time in his life. But learning to see is more difficult than Will ever imagined, and he soon discovers that the sighted world has been keeping secrets. It turns out Cecily doesn't meet traditional definitions of beauty—in fact, everything he'd heard about her appearance was a lie engineered by their so-called friends to get the two of them together. Does it matter what Cecily looks like? No, not really. But then why does Will feel so betrayed?
Maresi by Maria Turtschaninoff
Only women and girls are allowed in the Red Abbey, a haven from abuse and oppression. Thirteen-year-old novice Maresi arrived at the Abbey four years ago, during the hunger winter, and now lives a happy life under the protection of the Mother. Maresi spends her days reading in the Knowledge House, caring for the younger novices, and contentedly waiting for the moment when she will be called to serve one of the Houses of the Abbey.
This idyllic existence is threatened by the arrival of Jai, a girl whose dark past has followed her into the Abbey's sacred spaces. In order to protect her new sister and her own way of life, Maresi must emerge from the safety of her books and her childish world and become one who acts.
It was April 5, 1943, and the Gestapo would arrive any minute. Dietrich Bonhoeffer had been expecting this day for a long time. He had put his papers in order—and left a few notes specifically for Hitler's men to see. Two SS agents climbed the stairs and told the boyish-looking Bonhoeffer to come with them. He calmly said good-bye to his parents, put his Bible under his arm, and left. Upstairs there was proof, in his own handwriting, that this quiet young minister was part of a conspiracy to kill Adolf Hitler.
In this modern day spin on Leroux's gothic tale of unrequited love turned to madness, seventeen-year-old Rune Germain has a mysterious affliction linked to her operatic talent, and a horrifying mistake she's trying to hide. Hoping creative direction will help her, Rune's mother sends her to a French arts conservatory for her senior year, located in an opera house rumored to have ties to The Phantom of the Opera.
At RoseBlood, Rune secretly befriends the masked Thorn—an elusive violinist who not only guides her musical transformation through dreams that seem more real than reality itself, but somehow knows who she is behind her own masks. As the two discover an otherworldly connection and a soul-deep romance blossoms, Thorn's dark agenda comes to light and he's forced to make a deadly choice: lead Rune to her destruction, or face the wrath of the phantom who has haunted the opera house for a century, and is the only father he's ever known.
Lily is returning to her privileged Manhattan high school after a harrowing end to her sophomore year and it's not pretty. She hates chemistry and her spiteful lab partner, her friends are either not speaking to her or suffocating her with concerned glances, and nothing seems to give her joy anymore. Worst of all, she can't escape her own thoughts about what drove her away from everyone in the first place.
Enter Dari (short for Dariomauritius), the artistic and mysterious transfer student, adept at cutting class. Not that he'd rather be at home with his domineering Trinidadian father. Dari is everything that Lily needs: bright, creative, honest, and unpredictable. And in a school where no one really stands out, Dari finds Lily's sensitivity and openness magnetic. Their attraction ignites immediately, and for the first time in what feels like forever, Lily and Dari find happiness in each other.
In twenty-first-century New York City, the fact that Lily is white and Dari is black shouldn't matter that much, but nothing's as simple as it seems. When tragedy becomes reality, can friendship survive even if romance cannot?
Seventeen-year-old Molly Peskin-Suso knows all about unrequited love—she's lived through it twenty-six times. She crushes hard and crushes often, but always in secret. Because no matter how many times her twin sister, Cassie, tells her to woman up, Molly can't stomach the idea of rejection. So she's careful. Fat girls always have to be careful.
Then a cute new girl enters Cassie's orbit, and for the first time ever, Molly's cynical twin is a lovesick mess. Meanwhile, Molly's totally not dying of loneliness—except for the part where she is. Luckily, Cassie's new girlfriend comes with a cute hipster-boy sidekick. Will is funny and flirtatious and just might be perfect crush material. Maybe more than crush material. And if Molly can win him over, she'll get her first kiss and she'll get her twin back.
There's only one problem: Molly's coworker Reid. He's an awkward Tolkien superfan with a season pass to the Ren Faire, and there's absolutely no way Molly could fall for him. Right?
Fighter. Faker. Student. Spy.
Seventeen-year-old Reagan Elizabeth Hillis is used to changing identities overnight, lying to every friend she's ever had, and pushing away anyone who gets too close. Trained in mortal combat and weaponry her entire life, Reagan is expected to follow in her parents' footsteps and join the ranks of the most powerful top-secret agency in the world, the Black Angels. Falling in love with the boy next door was never part of the plan. Now Reagan must decide: Will she use her incredible talents and lead the dangerous life she was born into, or throw it all away to follow her heart and embrace the normal life she's always wanted? And does she even have a choice?
For as long as she can remember, it's been just Ariel and Dad. Ariel's mom disappeared when she was a baby. Dad says home is wherever the two of them are, but Ariel is now seventeen and after years of new apartments, new schools, and new faces, all she wants is to put down some roots. Complicating things are Monica and Gabe, both of whom have stirred a different kind of desire.
Maya's a teenager who's run from an abusive mother right into the arms of an older man she thinks she can trust. But now she's isolated with a baby on the way, and life's getting more complicated than Maya ever could have imagined.
Ariel and Maya's lives collide unexpectedly when Ariel's mother shows up out of the blue with wild accusations: Ariel wasn't abandoned. Her father kidnapped her fourteen years ago.
What is Ariel supposed to believe? Is it possible Dad's woven her entire history into a tapestry of lies? How can she choose between the mother she's been taught to mistrust and the father who has taken care of her all these years?
February
Tommy and Ozzie have been best friends since second grade, and boyfriends since eighth. They spent countless days dreaming of escaping their small town—and then Tommy vanished.
More accurately, he ceased to exist, erased from the minds and memories of everyone who knew him. Everyone except Ozzie.
Ozzie doesn't know how to navigate life without Tommy, and soon suspects that something else is going on: that the universe is shrinking.
When Ozzie is paired up with new student Calvin on a physics project, he begins to wonder if Calvin could somehow be involved. But the more time they spend together, the harder it is for him to deny the feelings developing between them, even if he still loves Tommy.
But Ozzie knows there isn't much time left to find Tommy—that once the door closes, it can't be opened again. And he's determined to keep it open as long as possible.
Tea is different from the other witches in her family. Her gift for necromancy makes her a bone witch, who are feared and ostracized in the kingdom. For theirs is a powerful, elemental magic that can reach beyond the boundaries of the living—and of the human.
Great power comes at a price, forcing Tea to leave her homeland to train under the guidance of an older, wiser bone witch. There, Tea puts all of her energy into becoming an asha, learning to control her elemental magic and those beasts who will submit by no other force. And Tea must be strong—stronger than she even believes possible. Because war is brewing in the eight kingdoms, war that will threaten the sovereignty of her homeland…and threaten the very survival of those she loves.
Evan and Alma have spent fifteen years living in the same town, connected in a dozen different ways but also living worlds apart—until the day he jumps into her dad's truck and slams on the brakes. The nephew of a senator, Evan seems to have it all—except a functional family. Alma has lived in Georgia since she was two, surrounded by a large (sometimes smothering) Mexican family. They both want out of this town. His one-way ticket is soccer; hers is academic success.
When they fall in love, they fall hard, trying to ignore their differences. Then Immigration and Customs Enforcement begins raids in their town, and Alma knows that she needs to share her secret. But how will she tell her country-club boyfriend that she and almost everyone she's close to are undocumented immigrants?
What follows is a beautiful, nuanced exploration of the complications of immigration, young love, defying one's family, and facing a tangled bureaucracy that threatens to completely upend two young lives. This page-turning debut asks tough questions, reminding us that love is more powerful than fear.
When seventeen-year-old Rowan Chase finds a skeleton on her family's property, she has no idea that investigating the brutal century-old murder will lead to a summer of painful discoveries about the past…and the present.
Nearly one hundred years earlier, a misguided violent encounter propels seventeen-year-old Will Tillman into a racial firestorm. In a country rife with violence against blacks and a hometown segregated by Jim Crow, Will must make hard choices on a painful journey towards self discovery and face his inner demons in order to do what's right the night Tulsa burns.
Fin and Betty's close friendship survived Fin's ninth-grade move from their coastal Maine town to Manhattan. Calls, letters, and summer visits continued to bind them together, and in the fall of their senior year, they both applied to NYU, planning to reunite for good as roommates.
Then Betty disappears. Her ex-boyfriend Calder admits to drowning her, but his confession is thrown out, and soon the entire town believes he was coerced and Betty has simply run away. Fin knows the truth, and she returns to Williston for one final summer, determined to get justice for her friend, even if it means putting her loved ones—and herself—at risk.
But Williston is a town full of secrets, where a delicate framework holds everything together, and Fin is not the only one with an agenda. How much is she willing to damage to get her revenge and learn the truth about Betty's disappearance, which is more complicated than she ever imagined—and infinitely more devastating?
When Griffin's first love and ex-boyfriend, Theo, dies in a drowning accident, his universe implodes. Even though Theo had moved to California for college and started seeing Jackson, Griffin never doubted Theo would come back to him when the time was right. But now, the future he's been imagining for himself has gone far off course.
To make things worse, the only person who truly understands his heartache is Jackson. But no matter how much they open up to each other, Griffin's downward spiral continues. He's losing himself in his obsessive compulsions and destructive choices, and the secrets he's been keeping are tearing him apart.
If Griffin is ever to rebuild his future, he must first confront his history, every last heartbreaking piece in the puzzle of his life.
Nemesis by Brendan Reichs
It's been happening since Min was eight. Every two years, on her birthday, a strange man finds her and murders her in cold blood. But hours later, she wakes up in a clearing just outside her tiny Idaho hometown—alone, unhurt, and with all evidence of the horrifying crime erased.
Across the valley, Noah just wants to be like everyone else. But he's not. Nightmares of murder and death plague him, though he does his best to hide the signs. But when the world around him begins to spiral toward panic and destruction, Noah discovers that people have been lying to him his whole life. Everything changes in an eye blink.
For the planet has a bigger problem. The Anvil, an enormous asteroid threatening all life on Earth, leaves little room for two troubled teens. Yet on her sixteenth birthday, as she cowers in her bedroom, hoping not to die for the fifth time, Min has had enough. She vows to discover what is happening in Fire Lake and uncovers a lifetime of lies: a vast conspiracy involving the sixty-four students of her sophomore class, one that may be even more sinister than the murders.
Betrothed since childhood to the prince of Mynaria, Princess Dennaleia has always known what her future holds. Her marriage will seal the alliance between Mynaria and her homeland, protecting her people from other hostile lands. But Denna has a secret. She possesses an Affinity for fire—a dangerous gift for the future queen of a kingdom where magic is forbidden.
Now, Denna must learn the ways of her new home while trying to hide her growing magic. To make matters worse, she must learn to ride Mynaria's formidable warhorses—and her teacher is the person who intimidates her most, the prickly and unconventional Princess Amaranthine—called Mare—the sister of her betrothed.
When a shocking assassination leaves the kingdom reeling, Mare and Denna reluctantly join forces to search for the culprit. As the two become closer, Mare is surprised by Denna's intelligence and bravery, while Denna is drawn to Mare's independent streak. And soon their friendship is threatening to blossom into something more.
But with dangerous conflict brewing that makes the alliance more important than ever, acting on their feelings could be deadly. Forced to choose between their duty and their hearts, Mare and Denna must find a way to save their kingdoms—and each other.
Sixteen-year-old Petula De Wilde is anything but wild. A family tragedy has made her shut herself off from the world. Once a crafting fiend with a happy life, Petula now sees danger in everything, from airplanes to ground beef.
The worst part of her week is her comically lame mandatory art therapy class. She has nothing in common with this small band of teenage misfits, except that they all carry their own burden of guilt.
When Jacob joins their ranks, he seems so normal and confident. Petula wants nothing to do with him, or his prosthetic arm. But when they're forced to collaborate on a unique school project, she slowly opens up, and he inspires her to face her fears.
Until a hidden truth threatens to derail everything.
In 1934, Irène Curie, working with her husband and fellow scientist, Frederic Joliot, made a discovery that would change the world: artificial radioactivity. This breakthrough allowed scientists to modify elements and create new ones by altering the structure of atoms. Curie shared a Nobel Prize with her husband for their work. But when she was nominated to the French Academy of Sciences, the academy denied her admission and voted to disqualify all women from membership. Four years later, Curie's breakthrough led physicist Lise Meitner to a brilliant leap of understanding that unlocked the secret of nuclear fission. Meitner's unique insight was critical to the revolution in science that led to nuclear energy and the race to build the atom bomb, yet her achievement was left unrecognized by the Nobel committee in favor of that of her male colleague.
Radioactive! presents the story of two women breaking ground in a male-dominated field, scientists still largely unknown despite their crucial contributions to cutting-edge research, in a nonfiction narrative that reads with the suspense of a thriller. Photographs and sidebars illuminate and clarify the science in the book.
Criminal prodigy Kaz Brekker has been offered wealth beyond his wildest dreams. But to claim it, he'll have to pull off a seemingly impossible heist:
Break into the notorious Ice Court
(a military stronghold that has never been breached)
Retrieve a hostage
(who could unleash magical havoc on the world)
Survive long enough to collect his reward
(and spend it)
Kaz needs a crew desperate enough to take on this suicide mission and dangerous enough to get the job done—and he knows exactly who: six of the deadliest outcasts the city has to offer. Together, they just might be unstoppable—if they don't kill each other first.
It all started with the burning of the spindles.
No.
It all started with a curse…
Half sisters Isabelle and Aurora are polar opposites: Isabelle is the king's headstrong illegitimate daughter, whose sight was tithed by faeries; Aurora, beautiful and sheltered, was tithed her sense of touch and her voice on the same day. Despite their differences, the sisters have always been extremely close.
And then everything changes, with a single drop of Aurora's blood—and a sleep so deep it cannot be broken.
As the faerie queen and her army of Vultures prepare to march, Isabelle must race to find a prince who can awaken her sister with the kiss of true love and seal their two kingdoms in an alliance against the queen.
Isabelle crosses land and sea; unearthly, thorny vines rise up the palace walls; and whispers of revolt travel in the ashes on the wind. The kingdom falls to ruin under layers of snow. Meanwhile, Aurora wakes up in a strange and enchanted world, where a mysterious hunter may be the secret to her escape…or the reason for her to stay.
To everyone who knows them, best friends Miel and Sam are as strange as they are inseparable. Roses grow out of Miel's wrist, and rumors say that she spilled out of a water tower when she was five. Sam is known for the moons he paints and hangs in the trees and for how little anyone knows about his life before he and his mother moved to town. But as odd as everyone considers Miel and Sam, even they stay away from the Bonner girls, four beautiful sisters rumored to be witches. Now they want the roses that grow from Miel's skin, convinced that their scent can make anyone fall in love. And they're willing to use every secret Miel has fought to protect to make sure she gives them up.
All her life, nineteen-year-old Liesl has heard tales of the beautiful, mysterious Goblin King. He is the Lord of Mischief, the Ruler Underground, and the muse around which her music is composed. Yet, as Liesl helps shoulder the burden of running her family's inn, her dreams of composition and childish fancies about the Goblin King must be set aside in favor of more practical concerns.
But when her sister Käthe is taken by the goblins, Liesl journeys to their realm to rescue her sister and return her to the world above. The Goblin King agrees to let Käthe go—for a price. The life of a maiden must be given to the land, in accordance with the old laws. A life for a life, he says. Without sacrifice, nothing good can grow. Without death, there can be no rebirth. In exchange for her sister's freedom, Liesl offers her hand in marriage to the Goblin King. He accepts.
Down in the Underground, Liesl discovers that the Goblin King still inspires her—musically, physically, emotionally. Yet even as her talent blossoms, Liesl's life is slowly fading away, the price she paid for becoming the Goblin King's bride. As the two of them grow closer, they must learn just what it is they are each willing to sacrifice: her life, her music, or the end of the world.