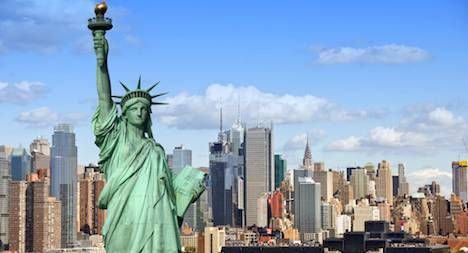 Lists
16 YA Novels Set In New York City
This content contains affiliate links. When you buy through these links, we may earn an affiliate commission.
I lived in New York City for about half of my teens, and to this day (at nearly 40) I find that novels about teenagers in New York are like candy to me: I just can't get enough. Here are a few of my favorite YA novels set in New York City and some I'm looking forward to reading. These are mostly contemporary and mostly realistic, but not all.
The vast majority of YA novels set in New York City take place in Manhattan or Brooklyn. If you know of any set outside the usual neighborhoods (especially Staten Island!), please leave a comment.
Listed by publication year, from oldest to youngest/newest.
The only of Paula Danziger's books set entirely in New York City, this has been a favorite since I was younger than Kendra and Frank. These two teens (plus one younger brother) go on a city-wide (okay, mostly Manhattan) scavenger hunt over summer vacation.
Unlike the movie, this book is all New York. "Mia Thermopolis is pretty sure there's nothing worse than being a five-foot-nine, flat-chested freshman, who also happens to be flunking Algebra. Is she ever in for a surprise."
Gossip Girl by Cecily von Ziegasar (2002)
As seen on TV. 😉 "Welcome to New York City's Upper East Side, where my friends and I live, go to school, play, and sleep—sometimes with each other."
The Lightning Thief (Percy Jackson #1) by Rick Riordon (2005)
This MG/YA crossover fantasy series takes on the Greek gods in modern New York (among other locations, some real-world and some mythological).
The sequel to If I Stay is told from Adam's POV. "When [Mia and Adam's] respective paths put them both in New York City at the same time, the result is a single night in which the two reunite—with wholly satisfying results."
"In 2083, chocolate and coffee are illegal, paper is hard to find, water is carefully rationed, and New York City is rife with crime and poverty. And yet, for Anya Balanchine, the sixteen-year-old daughter of the city's most notorious (and dead) crime boss, life is fairly routine."
I am currently (very slowly) reading (and savoring) this lovely novel, set during the 1980s, about a teenage girl befriending a man who knew her uncle who has just died of a mystery illness.
The Diviners (series) by Libba Bray (2012)
"Do you believe there are ghosts and demons and Diviners among us? It's 1926 and New York is filled with speakeasies, Ziegfeld girls, and rakish pickpockets…"
"From the glittering streets of Manhattan to the moonlit rooftops of Paris, falling in love is easy for hopeless dreamer Isla and introspective artist Josh." This rom com (the third in a series) is coming up soon on my TBR!
Afterworlds by Scott Westerfeld (2014)
I'm not usually keen on books by men, books about writers, or sci-fi stories-within-a-story, but somehow this combination of all of the above is intriguing as all get-out.
"When [Oliver] leaves town for a clinical study in New York, [Althea] drives up the coast after him, determined to make up for what she's done."
Shadowshaper (series) By Daniel José Older (2015)
"When the murals in [Sierra's] neighborhood begin to weep tears…Well, something more sinister than the usual Brooklyn ruckus is going on." This is a lovely, lovely book.
Natasha and her family are about to be deported, and she is spending her last 12 hours in New York with a boy she just met. I loved Everything, Everything and can't wait to read this one.
This adult novel has serious YA crossover appeal, with main characters who are all in their late teens. Set in the gilded age and featuring murder and radium poisoning, this is a fun mystery full of unreliable, sometimes-unlikeable characters.
I have a confession to make: I cannot bring myself to read this book. I want to! But…they both die at the end. I am too much of a tenderheart.
I couldn't write this list without including Nova's forthcoming book that has been described as her love letter to New York City, where she lived for 20 years before a recent relocation to Philadelphia. (I should note: Nova is a friend of mine.)
What are your favorite YA novels set in New York City?
Looking for more NY-set books? Check out 100 Must Read Children's Books Set in New York City and 100 Must-Read New York City Novels.