This list of YA historical fiction is sponsored by Holiday House.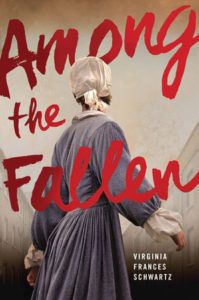 Fans of Laurie Halse Anderson's Fever 1793, Margaret Atwood's Alias Grace, and Katherine Paterson's Lyddie—this riveting historical fiction YA novel is for you. Sixteen-year-old Orpha is imprisoned in the infamous Tothill prison for crimes she did not commit and harbors a terrible secret about the man who put her there. When an unusual invitation from Charles Dickens arrives, she finds the way out of the broken cycle of poverty and crime she was longing for. Orpha's heartbreaking yet inspiring story tells of the resilience and courage needed to start over when the deck has always been stacked against you.
---
I've been a historical fiction reader since I checked out approximately all of the Dear America series from my childhood library at age 8. There was something about immersing myself in the story of past lives of girls (and those ribbons in the books) that I couldn't tear myself away from. These days, I'm all about historical fiction that doesn't focus too much on tales I already know well (while World War II was horrific and incredibly important, I've probably read enough of those books for a while), and instead am looking toward places and histories I don't know much about.
Historical fiction is a way for me to learn while also being completely enraptured by a character's story. Whether it's a great World War, an incurable disease, or a historical murder mystery, I cannot get enough of these YA historical fiction books.
Below are some recommendations for unputdownable YA historical fiction that will fascinate you until the last page.
These Shallow Graves by Jennifer Donnelly
Jo Montfort is the beautiful daughter to one of New York City's wealthiest fathers, but instead of being married off after school, she'd rather become a reporter like her hero, Nellie Bly. When Jo's father is found dead and it's presumed that he accidentally shot himself, Jo knows that cannot be the case. She goes on a mission to uncover the truth about her father's death, and the more she digs, the more secrets she discovers. With the help of Eddie, a young reporter from her father's newspaper, Jo stops at nothing to learn the truth of what really happened.
If you have already read this one (and loved it like I did), Donnelly has a huge backlist, another of my favorites being A Northern Light.
Dread Nation by Justina Ireland
Just because it's alternative historical fiction doesn't mean it's not historical. In a reimagining of the U.S. Civil War, Jane was born in a world where the dead began to walk the battlefields of Gettysburg and Chancellorsville. Laws like Native and Negro Reeducation Act are enforced, requiring them to attend combat schools to learn to take care of the walking dead. But Jane sets her eyes on something more. Set on returning to her Kentucky home, she doesn't pay attention to much of the politics. But when families around her start to go missing, she is caught up in a conspiracy where she'll have to fight for her life. For readers who enjoy an immersing series, Deathless Divide is its sequel.
We Walked the Sky by Lisa Fiedler
It's 1965, and 17-year-old Victoria has just escaped her unstable home and run away to the circus in the hopes of creating a better life for herself. Fifty years later, Callie, Victoria's teenage granddaughter, is a gifted tightrope walker and dreams of becoming a legend like her grandmother. But when her mother accepts a new job after Victoria's death, Callie is pulled away from everything she knows, and her whole life changes.
In their days on the road to their new home, Callie becomes immersed in a box of her grandmother's memorabilia, finding notes Victoria had written to herself, and soon, Callie is using her grandmother's advice to navigate an entirely new setting—public high school.
The Downstairs Girl by Stacey Lee
Jo Kuan is a lady's maid to the cruel daughter of one of the richest men in Atlanta. But she also harbors a secret identity—the author of a newspaper advice column, "Dear Miss Sweetie." She begins to use her anonymous popularity to give power to her different ideas surrounding race and gender, but backlash soon follows. Some begin investigating the true identity of Miss Sweetie, and Jo sets off on her own search for her family and her past.
In the Shadow of Blackbirds by Cat Winters
1918 is a terrifying time. Americans walk the streets wrapped in masks to ward off the Spanish influenza, young men and sons are being shipped to fight on the front lines of war, and 16-year-old Mary Shelley Black is just trying to make sense of it. All around her, she witnesses desperate families trying anything, anything, to ensure the safety of their loved ones, even if that means holding séances or posing for spiritual photographers. Mary doesn't believe in ghosts. But when a boy who died in battle—and her first love—appears to her, she starts to question everything she thought she knew.
Butterfly Yellow by Thanhha Lai
Hằng, in a desperate attempt to keep her and her little brother out of harm's way during the Vietnam War, takes him to the airport, trying to find safe passage to America. But he is ripped from her arms and Hằng is left behind in her war-filled country. Six years later, she has managed to journey to Texas as a refugee. All she knows is she has to find her brother. She is helped by LeeRoy, a Texan boy who dreams of the rodeo.
Lovely War by Julie Berry
World War I is raging in 1917, but Hazel and James are at a party, and soon they catch each other's eyes. Hazel is a pianist; James is a soldier. They fall in love quickly and deeply, but soon James is shipped off to the front lines. Aubrey is also a musician and a soldier, part of an all–African American regiment being sent to Europe to help end the war. There he meets Colette, a Belgian singer, and the two connect more than they ever thought possible. Through the years, across divides, these four lovers find they will go to great lengths to fight for what they believe in—love.
A Beautiful Poison by Lydia Kang
In the hazy days of early 20th century New York City, Allene sees so many victims of the Spanish influenza. But she begins to question whether the flu really is to blame as more and more of her friends die, and mysterious notes are left with the dead. Allene recruits her childhood friends to help, and soon she's reigniting her passion for discovery alongside Jasper, a young medical examiner's apprentice. As Allene and her friends race to find the cause—or culprit—of so many deaths, it soon comes to light that no one can be trusted.
---
Looking for even more YA historical fiction? Check out these 100 Must-Read Historical YA Fiction Novels.