This content contains affiliate links. When you buy through these links, we may earn an affiliate commission.
It's a new year, and we've got loads of great YA graphic novels coming out January–March 2019 to look forward to! Sequels, new original graphic novels, and new volumes abound! The only bummer is that this round up is a bit whiter than we'd like—as always, publishing has more work to do on this front. More authors and illustrators of color, please!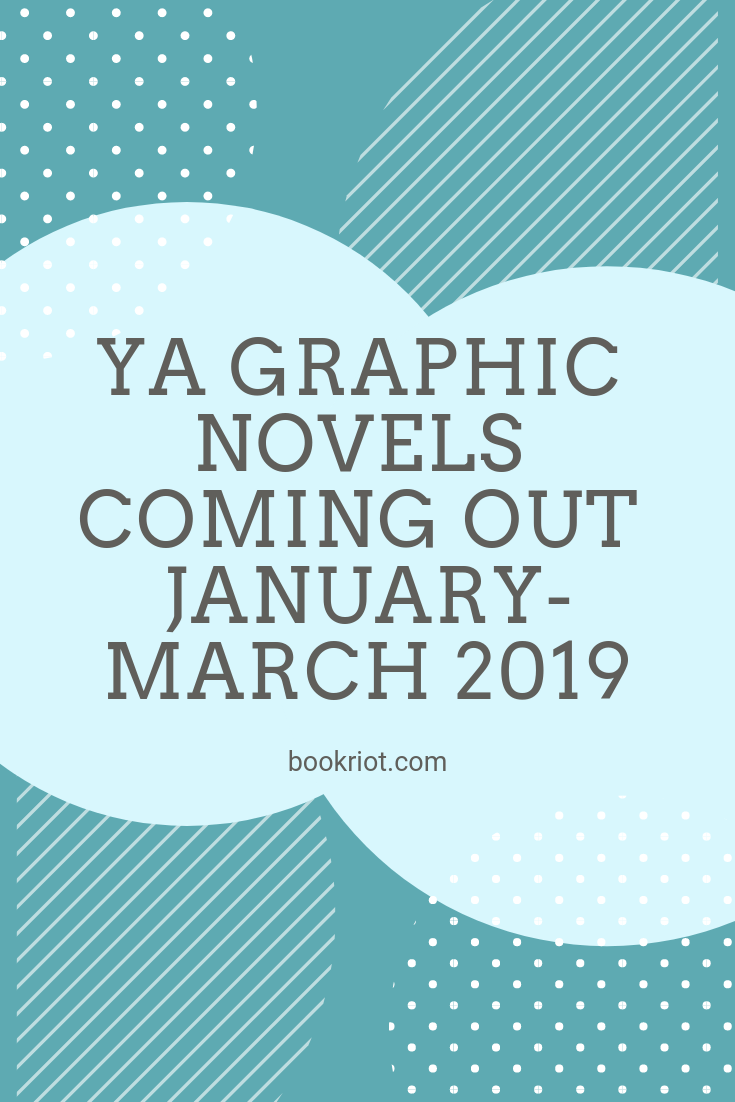 January
Fence Vol. 2 by C.S. Pacat and Johanna the Mad
Nicholas Cox is determined to prove himself in the world of competitive fencing, and earn his place on the Kings Row fencing team, alongside sullen fencing prodigy, Seiji Katayama, to win the right to go up against his golden-boy half-brother.
Tryouts are well underway at King's Row for a spot on the prodigious fencing team, and scrappy fencer Nicholas isn't sure he's going to make the grade in the face of surly upperclassmen, nearly impossibly odds, and his seemingly unstoppable roommate, the surly, sullen Seiji Katayama. It'll take more than sheer determination to overcome a challenge this big!
Out January 15th.
Cicada by Shaun Tan
Cicada tells the story of a hardworking little cicada who is completely unappreciated for what he does. But in the end, just when you think he's given up, he makes a transformation into something ineffably beautiful. A metaphor for growing up? A bit of inspiration for the unappreciated striver in all of us? Yes, yes, and more.
Out January 29th.
Nothing's rougher than a Canadian winter…except maybe one that never ends!
As winter fallout reaches its peak, Flavie is once again forced to leave her comfortable life to help her friend Marco. Braving the cold, she's pulled into a quest for cough syrup that will take her and her snowmobile all the way out to the dreaded, out-of-bounds Mount-Royal Park, where a group of teens on motorized snowbikes have been stealing and hoarding medical supplies…which Flavie desperately needs to fight off the mutagenic effects of living in an eternal nuclear winter! In the midst of all this, Flavie's younger sister is back in town…and looking to reconcile.
Bloom by Kevin Panetta and Savanna Ganucheau
Now that high school is over, Ari is dying to move to the big city with his ultra-hip band—if he can just persuade his dad to let him quit his job at their struggling family bakery. Though he loved working there as a kid, Ari cannot fathom a life wasting away over rising dough and hot ovens. But while interviewing candidates for his replacement, Ari meets Hector, an easygoing guy who loves baking as much as Ari wants to escape it. As they become closer over batches of bread, love is ready to bloom…that is, if Ari doesn't ruin everything.
Out January 29th.
February
Now in graphic novel format, Lois Lowry's Newbery Medal–winning classic story of a young boy discovering the dark secrets behind his seemingly ideal world is accompanied by renowned artist P. Craig Russell's beautifully haunting illustrations.
In this new graphic novel edition, readers experience the haunting story of twelve-year-old Jonas and his seemingly ideal, if colorless, world of conformity and contentment, through the brilliant art of P. Craig Russell that truly brings The Giver to life.
Witness Jonas's assignment as the Receiver of Memory, watch as he begins to understand the dark secrets behind his fragile community, and follow the explosion of color into his world like never before.
Out February 5th, 2019.
Giant Days Vol. 9 by John Allison, Max Sarin, and Liz Fleming
It's the end of second year, and everything is happening so fast for Esther, Susan and Daisy!
It's the end of second year, and everything is happening so fast! Moving out, breaking up, breaking hearts, breaking…bones? Best-Mates-for-Life Esther, Daisy, and Susan had better hold on tight if they want to make it to their third year, never mind in one piece!
Out February 19th.
Werewolf barista Julie and her magical pals try to unwind at a party, but a conniving fraternity of fairy bros has other plans for our heroes. With one of their friends trapped in the frat house and the winter solstice (a notable night of magical mischief) looming ever-closer, it's up to the amorous werewolves and gregarious centaur to save the day. But can they find a way to break a fairy circle? Will Julie let Selena into her heart for real? And will Chet ever get enough attention?
Find out in the second chapter of the bewitchingly popular all-ages adventure from Lumberjanes creator Grace Ellis and talented newcomer Shae Beagle!
Out February 26th.
March
Kiss Number 8 by Colleen AF Venable and Ellen T. Crenshaw
Mads is pretty happy with her life. She goes to church with her family, and minor league baseball games with her dad. She goofs off with her best friend Cat, and has thus far managed to avoid getting kissed by Adam, the boy next door. It's everything she hoped high school would be…until all of a sudden, it's not.
Her dad is hiding something big—so big it could tear her family apart. And that's just the beginning of her problems: Mads is starting to figure out that she doesn't want to kiss Adam…because the only person she wants to kiss is Cat.
Out March 12th.
What Makes Girls Sick and Tired is a feminist manifesto that denounces the discrimination against and unfairness felt by women from childhood to adulthood. The graphic novel, illustrated in a strikingly minimalist style with images of girls with varied body types and personalities, invites teenagers to question the sexism that surrounds us, in ways that are obvious and hidden, simple and complex.
The book's beginnings as a fanzine shine through in its honesty and directness, confronting the inequalities faced by young women, everyday. And it ends with a line of hope, that with solidarity, girls will hurt less, as they hold each other up with support and encouragement.
Out March 18th.