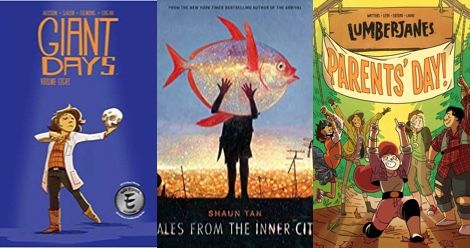 This content contains affiliate links. When you buy through these links, we may earn an affiliate commission.
Hey graphic novel readers, look no further for a giant list of YA graphic novels coming out August–December 2018! We've got fan favorites like new Lumberjanes and Giant Days collections, a couple of memoirs, sophomore graphic novels, and a true story about a stolen horse!
Having survived a close shave in England, where she was falsely accused of spying for the French, Delilah has set out with her companion Selim for more agreeable adventures in central Asia. But when she stumbles on an artifact that may be a clue about the location of the legendary third pillar of Hercules, Delilah and Selim are drawn back to Europe on an Indiana Jones–style archeological caper that pits her against a ruthless enemy…and forces her to team up with the most unlikely partner of all time: her sworn enemy, Jason Merrick, the man who framed her for espionage!
From vast forgotten underground cities to an elaborate and shocking double-cross, Delilah Dirk and the Pillars of Hercules brings all the drama and excitement that fans of the series crave.
Out August 7th.
Barney and his best friend Norma are just trying to get by and keep their jobs, but working at the Dead End theme park also means battling demonic forces, time traveling wizards, and scariest of all—their love lives!
Follow the lives of this diverse group of employees of a haunted house, which may or may not also serve as a portal to hell, in this hilarious and moving graphic novel, complete with talking pugs, vengeful ghosts and LBGTQIA love!
Out August 7th.
In a zombie wasteland of unknown origin, Troop 65 marshals onwards in the hopes of finding their families in Seattle, the nearest logical evacuation location. After a difficult journey by land and river, they make a stop in a suburban town that serves as ground zero of a battle between a corporate office that may have caused the apocalypse and the survivors staying in a nearby casino.
Out August 8th.
Best friends Susan, Daisy, and Esther's adventures at university continue in Giant Days Vol. 8.
It's the end of second year for best mates Susan, Daisy, and Esther, and cracks are appearing in the foundation of this unshakeable trio. Between (irritating) new loves, (secretive) old loves, (unlikely) new friendships and (terrible) old houses, they'll be lucky to make it to third year alive!
Out August 28th.
Note: There's a little debate about whether Monstress is adult or YA. The content is mature, but it also has won an Eisner for Best Publication for Teens. Wherever it gets catalogued, yay for a new volume!
Maika has spent most of her life learning how to fight, but how will she fare when the only way to save her life…is to make friends?
Out September 11th.
Eric Bittle may be a former junior figure skating champion, vlogger extraordinaire, and very talented amateur pâtissier, but being a freshman on the Samwell University hockey team is a whole new challenge. It is nothing like co-ed club hockey back in Georgia! First of all? There's checking. And then, there is Jack—his very attractive but moody captain.
A collection of the first half of the megapopular webcomic series of the same name, Check, Please!: #Hockey is the first book of a hilarious and stirring two-volume coming-of-age story about hockey, bros, and trying to find yourself during the best four years of your life.
Out September 18th.
Agony House by Cherie Priest and Tara O'Connor
A haunted old house, a killer ghost, and a long-lost comic come to life in another spectacular package of novel and comics from Cherie Priest, author of I Am Princess X.
Denise Farber has just moved back to New Orleans with her mom and stepdad. They left years ago after Hurricane Katrina and are back now, wagering the last of their family's money on fixing up an old, run-down house and converting it to a bed and breakfast.
When the unexplained noises start, that seems a little weird. Same too for the fact that nothing seems to work around the house…even when it should. But when floors start collapsing suddenly and deadly objects fall everywhere—and voices start speaking to Denise—she knows that something more sinister lies hidden.
Could the answers lie in an old comic book that Denise finds in the abandoned attic…the lost last work of a famous artist who apparently lived here? Denise isn't going anywhere, so she must unravel the mystery, on the pages and off them, if she and her family are to survive…
Out September 25th.
Yummy author G. Neri returns to graphic novels with the powerful story of his cousin Gail Ruffu, who stole a racehorse in order to save it, and ended up taking on the whole racing industry to fight for the humane treatment of animals.
Gail Ruffu was once a respected racehorse trainer known for her unconventional training methods. Then she became part owner of the Thoroughbred called Urgent Envoy, and everything changed. Her co-owners pushed her to speed up Urgent Envoy's training and eventually made her race him too early, until he developed a shin fracture.
One more race would kill him. But nobody heeded her warning. Gail had to act.
So on Christmas Eve, Gail stole her own horse. A modern-day outlaw, she lived out of her truck in order to move the horse to safe havens. She evaded private investigators and learned the law at night to take on a powerful Los Angeles attorney determined to crush her in court. As she stood up for the humane treatment of racehorses, she also faced down the system that could ruin them.
In this gorgeous graphic novel for young readers, G. Neri, author of the acclaimed Yummy and Tru & Nelle, retells the life of his cousin Gail, a pioneer who challenged the horse racing world for the sake of one extraordinary horse. With illustrations by brilliant newcomer Corban Wilkin, it is a must-read for horse lovers everywhere.
Out September 25th.
Tales from the Inner City is a collection of incredibly original stories, rich with feeling, strangely moving, almost numinous. And when the reader comes to the artwork, it's like walking into an amazing room, and then throwing open a curtain to see a brilliant scene that makes you understand and appreciate everything you've encountered in a deeper way.
Out September 25th.
The Nameless City—held by the rogue Dao prince Erzi—is under siege by a coalition of Dao and Yisun forces who are determined to end the war for the Nameless City once and for all. And the people of the city—the "Named"—are caught in between.
Meanwhile, Rat and Kai must infiltrate Erzi's palace and steal back the ancient and deadly formula for napatha, the ancient weapon of mass destruction Erzi has unearthed—before he can use it to destroy everything Rat and Kai hold dear!
In her third and final installment in the Nameless City trilogy, Faith Erin Hicks delivers a heart-thumping conclusion. With deft world-building, frantic battle scenes, and a gentle and moving friendship at its heart, the Nameless City has earned its place as one of the great fantasy series of our time.
Out September 25th.
On a Sunbeam is an epic graphic novel about a girl who travels to the ends of the universe to find a long lost love, from acclaimed author Tillie Walden.
Two timelines. Second chances. One love.
A ragtag crew travels to the deepest reaches of space, rebuilding beautiful, broken structures to piece the past together.
Two girls meet in boarding school and fall deeply in love—only to learn the pain of loss.
With interwoven timelines and stunning art, award-winning graphic novelist Tillie Walden creates an inventive world, breathtaking romance, and an epic quest for love.
Out October 2nd.
In this first volume of Jason Walz's dystopian graphic novel trilogy, the kids last picked are humanity's last hope.
Three years ago, aliens invaded Earth and abducted everyone they deemed useful. The only ones spared were those too young, too old, or too "disabled" to be of value. Living on Earth under the aliens' harsh authoritarian rule, humanity's rejects do their best to survive. Their captors never considered them a threat—until now.
Twins Sam and Wyatt are ready to chuck their labels and start a revolution. It's time for the kids last picked to step into the game.
Out October 9th.
Hey, Kiddo by Jarrett Krosoczka
In kindergarten, Jarrett Krosoczka's teacher asks him to draw his family, with a mommy and a daddy. But Jarrett's family is much more complicated than that. His mom is an addict, in and out of rehab, and in and out of Jarrett's life. His father is a mystery—Jarrett doesn't know where to find him, or even what his name is. Jarrett lives with his grandparents—two very loud, very loving, very opinionated people who had thought they were through with raising children until Jarrett came along.
Jarrett goes through his childhood trying to make his non-normal life as normal as possible, finding a way to express himself through drawing even as so little is being said to him about what's going on. Only as a teenager can Jarrett begin to piece together the truth of his family, reckoning with his mother and tracking down his father.
Hey, Kiddo is a profoundly important memoir about growing up in a family grappling with addiction, and finding the art that helps you survive.
Out October 9th.
A year and a half after the summer that changed her life, Maggie Thrash wishes she could change it all back. She's trapped in a dark depression and flunking eleventh grade, befuddling her patrician mother while going unnoticed by her father, a workaholic federal judge. The only thing Maggie cares about is her cat, Tommi . . . who then disappears somewhere in the walls of her cavernous house. So her search begins — but Maggie's not even really sure what she's lost, and she has no idea what she'll find. Lost Soul, Be at Peace is the continuation of Maggie's story from her critically acclaimed memoir Honor Girl, one that brings her devastating honesty and humor to the before and after of depression.
Out October 9th.
The first original graphic novel set in the award winning and critically acclaimed Lumberjanes world!
When the Janes start to become separated during an orienteering outing thanks to a mysterious compass, Molly becomes more and more insecure about the effect of her relationship with Mal on the other girls. Meanwhile, a lonely woman explorer is trying to steal the compass, with the help of some weirdly polite automaton butlers.
Out October 23rd.
Banana Sunday by Paul Tobin, Colleen Cooper, and Ryan Sygh
Banana Sunday, the classic story by Eisner Award–winning Bandette co-creators Paul Tobin and Colleen Coover, is now presented in full color, with a brand-new introduction and bonus materials!
Kirby Steinberg is having a bit of trouble fitting into her new school. Sure, there's the usual problems associated with being from "somewhere else," but this time the new kid also happens to be the guardian for three talking primates. Chuck, the professorial orangutan. Knobby, the love-stricken spider monkey. Go-Go, the befuddled golden gorilla. These primates have learned to speak, thanks to the scientific processes of Kirby's father. Or have they? What's their real story? That's what Nickels—Kirby's new best friend and unfortunately dedicated school reporter—would like to discover. Can Kirby find time to develop a relationship with Martin, the dashing nerd? Steer clear of Skye, the high school's #1 pillar of arrogance? Keep Knobby, Chuck and Go-Go from causing untold catastrophes? And, above all, will Kirby be able to hide the real origin of these three simians from Nickels? Oh, probably not.
Out October 23rd.
It's PARENTS' DAY at the Lumberjanes camp!
Yetis, greek gods and grootslangs are old news to the Roanoke cabin but now the Lumberjanes face their most harrowing experience yet: their parents! It's PARENTS' DAY at the camp, and with all the fun they've been having, the Lumberjanes realize that maybe their parents might not understand! Now the Lumberjanes must try to keep their parents away from the supernatural, even as a mysterious force tries to intervene!
Out December 10th.
Which of these YA graphic novels are you most excited about?
*Ed.'s Note: Added in on August 6th