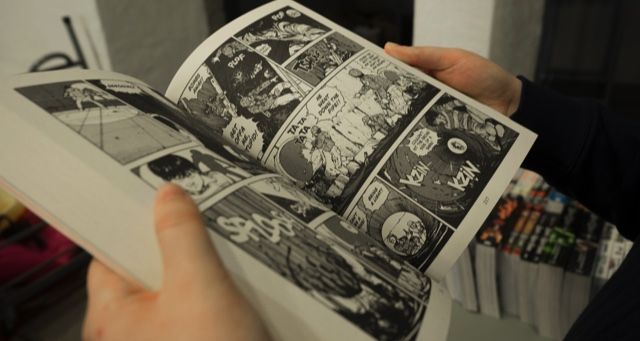 This content contains affiliate links. When you buy through these links, we may earn an affiliate commission.
We are closing out the year fairly strong with a nice bunch of YA graphic novels and comic releases! In the last quarter of 2019, you can look forward to some DC comics, sequels to long-running series, and a handful of new voices to the comics scene that I am excited to get my hands on. If you want to look back on all 2019 releases, check out January-March, April-June, and July-September. Here we go!
Marie Lu's original Batman story has been adapted into a graphic novel! When Bruce Wayne, just turned 18, makes an impulsive decision that lands him Arkham Asylum, he must place his trust in a dangerous woman in order to get out, and find out who is targeting the city's elite.
Out October 1!
In this sequel to the sci-fi thriller Last Pick, it's been four years since aliens abducted most of humanity and left behind the "last picks" on Earth. Twins Sam and Wyatt are still separated, but Sam has a new friend and is finding ways to resist oppressive alien rule while Wyatt is organizing the "last picks" to form a resistance of their own, all with the intent to ultimately challenge the abductors!
Out October 8!
Giant Days, Volume 11 by John Allison, Max Sarin, and Whitney Cogar
It's the launch of the the third year of university for best friends Daisy, Esther, and Susan, which means they're drawing near to the end of their university days. But there's plenty to keep them busy, in between digging exes, new jobs, the Halloween and Christmas holidays, and, of course, new love interests!
Out October 8!
Mooncakes by Suzanne Walker and Wendy Xu
This is a witchy, queer story about Nova, a teen witch apprenticing at her grandmother's shop. Nova runs into her childhood crush, Tam, one night after hearing reports of a strange wolf in the forest, and finds them fighting a horse demon. It turns out that Tam is a werewolf, and they need Nova's help in order to fight evil and get out of a very bad situation!
Out October 15!
Truckus Maximus by Scott Peterson and José García
In this alternate reality novel, set in the near future, the Roman Empire never fell and gladiators have evolved with the times so that they compete by driving monster trucks…to the death. Axl is the best driver in the game, but when a new Caesar clashes with the Dominus, who rules the game, he'll have to figure out a new strategy to not just win, but stay alive.
Out October 15!
Pan and her best friend Tara used to enjoy a quiet life, finding fun wherever they could, until Tara's duties and obligations forced them apart forever. Now, Pan is shocked when a group of off-world gladiators show up at her door, blowing her small world wide open and making her realize that she can fight for what she wants. This book is billed as a queer space adventure, and it looks like it might be good for readers who enjoyed On a Sunbeam!
Out October 22!
Dinah Lance has goals and a plan: Right now, she wants to win the battle of the bands. One day, she plans on joining the police academy to help keep Gotham City safe. But when a mysterious figure keeps mucking up her plans, Dinah finally learns a lot more about her mom's secret past, and how to keep the people she loves safe.
Out October 29!
In this second original graphic novel set in the Lumberjanes universe, Mal, Molly, Ripley, April, and Jo discover a group of magical beings called Pookas hiding in the forest outside of Camp Roanoke. They befriend them, but are shocked when the Pookas decide that in order to come out of hiding, they'll impersonate the Lumberjanes, leading to much confusion and forcing the gang to draw on their deep friendship to tell doppelgänger from real friend.
Out November 26!
Lumberjanes Vol 13 by Kat Leyh, Dozerdraws, and Maarta Laiho
The Lumberjanes are ordered to stay indoors on a particularly rainy day, so they decide to amuse themselves with a magical tabletop role playing game…and somehow end up discovering tunnels underneath the kitchen, home to some magical and surprising creatures!
Out December 24!
---
And that's it for 2019! It's been a great year for YA comics, and I can't see what the next year brings! What YA graphic novels and comics are you looking forward to in 2020?