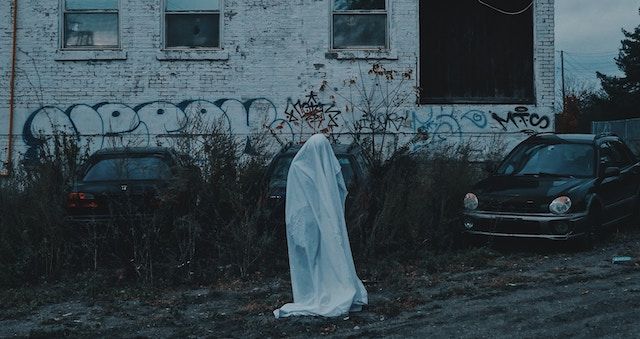 Horror
Spooooooky: 25 of the Best YA Ghost Books
This content contains affiliate links. When you buy through these links, we may earn an affiliate commission.
My favorite trope in horror is the one that offers the most flexibility: ghosts. This is especially the case with YA books, where YA ghost books are regularly on the top of my "must read" and "favorite read" categories. What makes YA ghost books—and ghosts in general—so fascinating is the range of stories that are possible. Ghosts can be good or evil. They can be scary or friendly. They can be "real" or "imagined."
Ghosts are more than the white, shapeless creatures they're often rendered as on screen. They can be something as deep as the afterlife of a beloved person or creature who has died, completely invisible to any eye. Part of what makes them so appealing is the endless range of possibilities that exist because, well, a big part of the fun is whether or not we believe ghosts exist. (I do!)
Find below a range of incredible YA ghost books. These, like all good ghost books, range from being dark and disturbing to being lighter and more fun. I've included books for every kind of reader, from those who are itching to be scared to those who want a real emotional investment in the characters—and the ghosts.
The Best YA Ghost Books
Absent by Katie Williams
This is a wildly underrated gem of a book—and it's a short one, too. When Paige falls from the roof of her high school in a terrible accident, she's bound to the walls of the school forever. But she's not alone on the other side. Brooke and Evan are also ghosts at the high school and it's through them she discovers that maybe her fall and death weren't exactly an accident.
Part traditional novel and part graphic novel, this ghost story is also part haunted house story—something that is fairly common in ghost stories. When Denise, her mother, and her stepfather move back to New Orleans after Hurricane Katrina, they use some family money to buy an old house that they intend to fix up and rent as a bed and breakfast. The house, however, might not be without ghosts, and more, the impact this decision has on the community it's in plays for a huge lesson in what gentrification is and more. The art is such a boon to this one.
Blake's debut—and the first in a series—is a chilling ghost story about a boy named Cas who kills the dead. It's the trade that's been passed down through the family and what he's pushed to pick up when his father is killed by a ghost seeking revenge. On the path for his next ghost kill, he meets Anna Dressed In Blood, a ghost with a back story and current "life" of which he's never met before. Where Anna has killed every human who has tried to take her out, she chooses to spare Cas.
Anya didn't expect to find a new friend at the bottom of the well, let alone a ghost who would become her closest friend and confidant. Experiencing all kinds of embarrassments, feeling like an outcast, and wanting nothing more than to fit in with her peers, Anya believes her new friend will be the ticket to solving her problems. But it might actually make them worse. This is a fun and heartening graphic novel especially great for younger YA readers.
One of the scariest YA books out there, hands down. The pitch for it is Little House on the Prairie meets horror and that couldn't be more right. When Amanda's family moves to a formerly abandoned house on the prairie, things begin to go wrong. Very, very wrong. Although Amanda knows she's heard there are reasons why the house is scary, what ghosts are haunting the land, she's also convinced that this might all be her fault.
Before Delia and her family moved into their new home, it served as an insane asylum, and specifically it was a home where girls who were outspoken, "hysterical," and otherwise unwilling to submit to patriarchal norms of femininity were sent away. The girls once locked away there haven't disappeared; they still live there. So when the home decides to hold Delia a prisoner, too, she meets those girls and—with their help and help from a friend—works to set their spirits free. Fast paced, compelling, and fun.
Going outside what we might think about as a "ghost story" is Ostow's novel, which is illustrated by husband David Ostow. When Winnie's mother dies, she is invited to spend the summer with her aunt across the country and work as a production assistant on her aunt's hit reality TV show Fantastic, Fearsome (think paranormal investigators and its ilk). The story is told as a letter to Winnie's best friend as she confronts her grief and questions whether her stated disbelief in ghosts is, indeed, something she still holds to be true.
The Fade by Demitria Lunetta
This book flew under the radar when it released at the end of 2018, but it deserves some attention, especially from horror fans and those who love mysteries. Four girls went missing years ago, but their disappearance was never resolved and police let the case grow cold. But Haley knows there's more to this story, especially because those four girls are insisting on getting something from her or she, too, may be disappeared.
If you've seen The Ring and/or The Grudge, you're familiar with the Japanese ghost legend of Okiku, which is the basis for the first book in Chupeco's series. In the story, our main ghost character gets her revenge on those who've harmed children. But when she's unable to protect a boy, she begins to wonder what it is that makes him different and why her powers fail. A story of possession, of secrets, and yes, a ghost.
What makes me love the ghost so much is that it can be more than a horror for chills. It can also be a wakeup call to readers. That's what Medina's ghost story is. When Alfanso gets the lead role as Hamlet in his school's hip hop take on the play, he and his best friend go out to buy him a nice suit. But a hanger in his hand is mistaken as a gun by a police officer, who shoots and kills Alfonso. From here, Alfonso—and the reader—are transported to a ghost train, wherein a host of those who have been killed by police violence reside and work to bring an end to the senseless murders. It's tough, it's challenging, and it's powerful. The graphic novel take here only makes it more difficult to read and more necessary.
Historical horror is such a neat sub-genre, and Winters is a master at it. Set in 1918, this is a book about a girl named Mary who doesn't believe in ghosts but who watches with awe and fascination as those who've lost loved ones to the Spanish Influenza and the first World War seek out seances and other spiritualists for help. But when a boy who died in battle reaches out to her, suddenly Mary finds herself questioning her own beliefs. This one has archival photographs to add to the allure and romance of this ghost story.
A brilliant take on the ghost story and one that, when read multiple times, can be viewed and considered a ghost story in so many ways. When Will's brother Shawn is killed by gun fire, Will wants to get revenge. He has the gun in his waistband, but as the elevator he takes from his apartment on the seventh floor goes down, Will meets a number of individuals in his building who may convince him that responding to violence with more violence isn't the solution.
The first book in a duology, this is a take on the Bloody Mary tale that so many of us grew up telling at sleepovers. When four girls summon the spirit of Bloody Mary and she appears, she's not there to make friends; she's there to get revenge. This is a story about the story behind Bloody Mary and why it is she's out for blood.
This sounds like All That I Can Fix by Crystal Chan (excellent!) meets The Devil and Winnie Flynn. Everyone believes that Zora is the person behind the arson that took out the school janitor's home and left him burned. But she knows it wasn't her. Teaming up with her annoying cousin, Zora needs to clear her name. But it's challenged by the fact that there's a popular ghost hunting reality tv show in town and, well, she has to figure out what stories about the town (and her!) are true and which are merely ghost stories.
Lucy is, frankly, quite confused when she awakens to find herself dead in Westminster Cemetery, where Edgar Allen Poe was buried. She's being told, though, by a young soldier who died in the 1860s, that there are rules in the cemetery and the afterlife. All Lucy wants to do is find out why she died—and she'll use the cemetery rules to her advantage, calling for an open mic night with the spirits as a means of uncovering the truth of what happened to her…and to those she's in the afterlife with.
If you have a love for creepy stories and aren't yet aware of the books by Yovanoff, now's the time to fix that oversight. Hannah's otherwise peaceful town is dealing with a murderer who is out for teenage girls. Six months after the death of her best friend Lillian, Hannah is unable to get away from her ghost, who is pushing for Hannah to step into the search for the murderer. It's up to Hannah now to let the ghosts find peace as she searches for—and confronts—the Valentine Killer.
Pemba's Song by Marilyn Nelson and Tonya C. Hegamin
This supernatural story combines hip hop, poetry, and grief to deliver a chilling read. Pemba might have an apparition who calls her a friend, but she knows she's not losing it. It's grief and unfamiliarity—she's lost her dad and now, pulled from her life in Brooklyn, is with her mother and another man in Connecticut. She chooses to write out her experiences in a journal, which connects her to a girl named Phyllis who isn't, well, alive. But their relationship is powerful and life-changing for both of them, human and ghost alike.
After too many broken promises and an unstable home life, Sabina decides to leave the Hudson Valley and move into the girls' boarding house where her mother once took residence in New York City. Bina discovers there's a whole world here that is startling, different, and compelling and that the girls who are with her at Catherine House may (or may not) be entirely real. Eerie, chilling, and the kind of read you'll go back to revisit and pick up all of the subtle clues in.
Ruined by Paula Morris
First in a series, Morris's ghost story is set in a cemetery in New Orleans, making play with the magic and supernatural history of the city itself. Rebecca is spending the school year with her aunt in New Orleans as her dad is traveling the world for work. She's struggling to fit in, both at her new school and in her new city. One night, while unable to fall asleep, she chooses to take a walk in the cemetery across from her aunt's house, only to literally stumble across Lisette. Lisette becomes her new best friend and helps her navigate this new life, even though Lisette herself is anything but alive.
Told like a faux-documentary, Marshall's sophomore effort follows a girl named Sara who feels she's become an outcast after the disappearance of her sister Becca. But when Sara receives a text message inviting her to play the game to find local spooky legend Lucy Gallows, she has this feeling that taking part in the game will help her find out the truth about Becca (if she doesn't find Becca herself). Of course, the game isn't easy, isn't simple, and is lined with the kinds of haunts she could never imagine.
Shutter by Courtney Alameda
Micheline Helsing can see the auras of the undead. It's one of her gifts as a descendent of Van Helsing lineage, and she's been trained since a young age to hunt and destroy the real and spiritual monsters in the world. The real monsters aren't so bad—the spiritual ones, the ones she can't necessarily see? Those are the ones where her talents are put to the real test. When a routine hunt goes bad, suddenly, Micheline knows exorcism for herself and her hunting partners may be the only way to save themselves.
This is ghost story that spans centuries, beginning at the dawn of time up through the present. Three girls—Zoe, Hermione, and Roan—are all drawn to the Mill House for one reason or another, and each discovers in her own time the connection she has to the others, as well as their connection to an ancient curse that binds them together.
The Things She's Seen by Ambelin Kwaymullina and Ezekiel Kwaymullina
For readers who love their ghost stories more along the lines of thrillers, this story written by two Australian Aboriginal women and featuring a 15-year-old Aboriginal main character will do the trick. When Beth Teller died, nothing was the same for her, nor was it the same for her father, who can still see and hear her. He's a detective, and it's through Beth's ability to communicate with him that the two of them are able to solve a crime that left many souls unable to rest. This is a story of life, of death, of small towns, and of the ties of friendship.
A story about two girls—one who is living and one who is dead—set against the backdrop of World War II in Chicago. Frankie and her sister are left in an orphanage when their mother dies, with a promise from their father that as soon as he's back on his feet, he'll rescue them. But the time doesn't come, and he runs off with another woman instead, leaving them behind. Abandoned like so many others, Frankie will have to find a way to carve out something resembling a life. (And yes, there are ghosts). Ruby is a master at the unsettling, at the magical and mythical, and this book promises all of those things and more, with the backdrop of war and the Great Depression.
If you love small towns, terrifying weather phenomenons, and ghosts, then this book is going to check every single one of your boxes. Fifty years ago, the small town of Mercer, Illinois, was hit by a catastrophic tornado that killed nearly a generation of teenagers who were unable to get to safety. Now, on the anniversary of the storm, a new storm rolls through, this time bringing out the ghosts of those taken too soon to meet with those who are living in town now. Spooky, moving, and ultimately, a story about unfulfilled dreams and the potential to build a tremendous life, even when it feels like the cards are stacked against you.
---
Once you read your way through these YA ghost books, you'll want to make your next stop these YA books about witches. Then you'll be itching to dig into these 65 incredible YA horror novels by women.