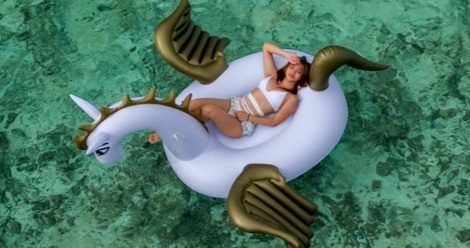 Lists
5 YA Fantasy Series to Read By the Pool
This content contains affiliate links. When you buy through these links, we may earn an affiliate commission.
Womp womp. No one is shocked that I've been in a reading slump for what feels like forever and a day, but the only thing that seems to hold my interest (besides froyo saturated by gummy worms) is fantasy. Not my usual choice during the summer, but it's fair game the rest of the year, and since summer will be over in a blink, I might as well get my bookish kicks where I can…because contemporaries, thrillers, sci-fi, and the rest of my usual genres have lost their shine (at least for now). If you're like me and you've got a mighty need for some fantastical thrills, check out these five YA fantasy series for summer reading.
YA Fantasy Series for Summer Reading
I think this book is going to be my favourite debut, favourite fantasy, and favourite overall novel of 2018. If you haven't given Ash Princess a chance because you're burned out on YA fantasy—I was in that boat until I picked this up, and now I can't get enough of the fantasy genre as a whole. Ash Princess deftly handles Stockholm syndrome, issues of class, race, genocide…and the magic system is the best one I've seen since Avatar: The Last Airbender (the cartoon, obviously. The movie was a disgrace). Also, the romance wasn't annoying, and for the first time in a long time: I have an invested ship that I'm ready to sail off into the sunset with.
I just started reading this a couple days ago and I cannot put it down. Robinson has such a gorgeous way with words, balancing between modern teen ennui and mind-blowing magical elements (including cannibalistic otters!) I have no idea how the first novel ends, but I know the second one comes out in October, and I've already preordered it, because Robinson has me hooked.
I know I said I wasn't gonna get sucked into the BookTube hype again, but you guys—The Wicked Deep was talked up so much, and has a really pretty cover! Plus, the synopsis was giving me Hocus Pocus vibes, and who doesn't love Hocus Pocus? (Hey, has anybody read the sequel? If it wasn't a total betrayal to the film, let me know) I'm pleased to report that The Wicked Deep met my expectations; it was a little cheesy and a little typical for YA fare, but it was so atmospheric. It is miserably hot and disgustingly humid outside, but when I read The Wicked Deep I was transported to a small, cursed, superstitious town blanketed in fog and drizzly rain—no airfare required. Now, this is a standalone—but there's more than enough room for Ermshaw to return to this world.
Smoke in the Sun, the conclusion to Ahdieh's Flame in the Mist duology, was released in June, and holy crap, it was so worth the wait. If you haven't read it, I don't want to spoil anything for you, but the basic premise is this:
Set in Feudal Japan, we follow 17-year-old Mariko, the daughter of a respected samurai. Mariko is a clever inventor, but she's been discouraged from following her passion, instead shipped off via convoy to marry the emperor's oldest son—thus securing the bag for her family while she sacrifices her own hopes and dreams. On the way to the palace, her convoy is attacked and burnt to the ground by The Black Clan—a notorious band of criminals. The sole survivor, Mariko escapes into the surrounding woods and vows revenge against the Black Clan: she'll disguise herself as a boy, find out why she was a target, and then kill them all. Her grand master plan hits a wall when she realizes that, among The Black Clan, she is accepted for who she is and what she can do—valued as a person rather than a status symbol. Flame in the Mist delves into a richly-imagined world full of magic, political intrigue (not too much, though, which, thank goodness), and rampant backstabbery. Smoke in the Sun was the perfect finale, and I can't wait until it's out in paperback so I can have two matching spines on my bookshelf.

Mystik U
by Alisa Kwitney (author), Mike Norton (illustrator), and Jordie Bellaire (colors)
Okay, okay: I actually wasn't a huge fan of this but I can still see the good aspects of it, and one of the huge positives is that Mystik U is the perfect jumping-on point to get into comics, especially if you're in the mood for a Hogwarts-lite university setting. There's demanding classes, a hive-minded sorority, and true-to-life (some people's lives) awkward, clumsy romances to boot! While I'm not a huge fan of the way my underrated fav, Zatanna Zatara, is written in this book, Mystik U at least offers an intro to a bunch of DC characters who are tragically underused, and once you're done with it, you can check out Paul Dini's take on the character in Zatanna and Bloodspell. If you're like me and that's still not enough: check out Jeff Lemire's Justice League Dark.