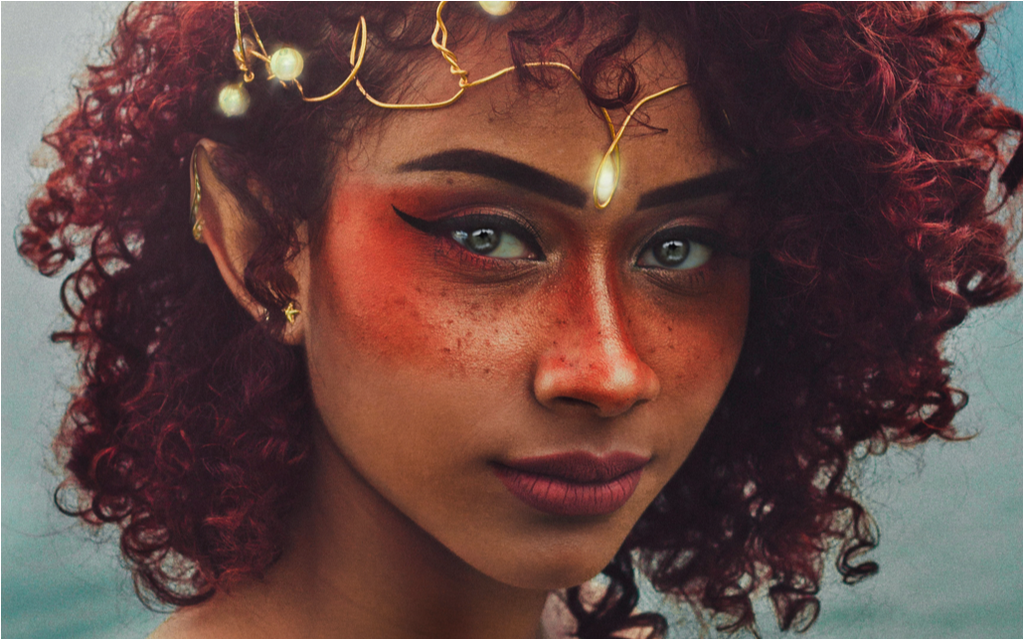 This content contains affiliate links. When you buy through these links, we may earn an affiliate commission.
I'm a huge fan of fantasy reads. I'm all about fighting for what you believe in, dragons and unicorns, and a little bit of steamy love. I'm an even bigger fan of fantasy reads written by authors of color.
Recently, I found myself gathering many fantasy reads by female authors of color. I couldn't believe my collection of female authors of color in this genre keeps growing. It fills my heart with joy that my reading days can be feature some faces that look like mine and expand the genre to many more universes. I knew I had to put a list together of all these great reads and so this is what I present to you. Here are my favorite fantasy reads written by female authors of color:
Laia is a slave. Elias is a soldier. Neither is free.
Under the Martial Empire, defiance is met with death. Those who do not vow their blood and bodies to the Emperor risk the execution of their loved ones and the destruction of all they hold dear.
It is in this brutal world, inspired by ancient Rome, that Laia lives with her grandparents and older brother. The family ekes out an existence in the Empire's impoverished backstreets. They do not challenge the Empire. They've seen what happens to those who do.
But when Laia's brother is arrested for treason, Laia is forced to make a decision. In exchange for help from rebels who promise to rescue her brother, she will risk her life to spy for them from within the Empire's greatest military academy.
There, Laia meets Elias, the school's finest soldier—and secretly, its most unwilling. Elias wants only to be free of the tyranny he's being trained to enforce. He and Laia will soon realize that their destinies are intertwined—and that their choices will change the fate of the Empire itself.
Zélie Adebola remembers when the soil of Orïsha hummed with magic. Burners ignited flames, Tiders beckoned waves, and Zélie's Reaper mother summoned forth souls.
But everything changed the night magic disappeared. Under the orders of a ruthless king, maji were killed, leaving Zélie without a mother and her people without hope.
Now Zélie has one chance to bring back magic and strike against the monarchy. With the help of a rogue princess, Zélie must outwit and outrun the crown prince, who is hell-bent on eradicating magic for good.
Danger lurks in Orïsha, where snow leoponaires prowl and vengeful spirits wait in the waters. Yet the greatest danger may be Zélie herself as she struggles to control her powers and her growing feelings for an enemy.
The daughter of a prominent samurai, Mariko has long known her place—she may be an accomplished alchemist, whose cunning rivals that of her brother Kenshin, but because she is not a boy, her future has always been out of her hands. At just seventeen years old, Mariko is promised to Minamoto Raiden, the son of the emperor's favorite consort—a political marriage that will elevate her family's standing. But en route to the imperial city of Inako, Mariko narrowly escapes a bloody ambush by a dangerous gang of bandits known as the Black Clan, who she learns has been hired to kill her before she reaches the palace.
Dressed as a peasant boy, Mariko sets out to infiltrate the Black Clan and track down those responsible for the target on her back. Once she's within their ranks, though, Mariko finds for the first time she's appreciated for her intellect and abilities. She even finds herself falling in love—a love that will force her to question everything she's ever known about her family, her purpose, and her deepest desires.
Maya is cursed. With a horoscope that promises a marriage of Death and Destruction, she has earned only the scorn and fear of her father's kingdom. Content to follow more scholarly pursuits, her whole world is torn apart when her father, the Raja, arranges a wedding of political convenience to quell outside rebellions. Soon Maya becomes the queen of Akaran and wife of Amar. Neither roles are what she expected: As Akaran's queen, she finds her voice and power. As Amar's wife, she finds something else entirely: Compassion. Protection. Desire…
But Akaran has its own secrets—thousands of locked doors, gardens of glass, and a tree that bears memories instead of fruit. Soon, Maya suspects her life is in danger. Yet who, besides her husband, can she trust? With the fate of the human and Otherworldly realms hanging in the balance, Maya must unravel an ancient mystery that spans reincarnated lives to save those she loves the most…including herself.
All her life, Liesl has heard tales of the beautiful, dangerous Goblin King. They've enraptured her mind, her spirit, and inspired her musical compositions. Now eighteen and helping to run her family's inn, Liesl can't help but feel that her musical dreams and childhood fantasies are slipping away.
But when her own sister is taken by the Goblin King, Liesl has no choice but to journey to the Underground to save her. Drawn to the strange, captivating world she finds—and the mysterious man who rules it—she soon faces an impossible decision. And with time and the old laws working against her, Liesl must discover who she truly is before her fate is sealed.
Eighteen-year-old Xifeng is beautiful. The stars say she is destined for greatness, that she is meant to be Empress of Feng Lu. But only if she embraces the darkness within her.
Growing up as a peasant in a forgotten village on the edge of the map, Xifeng longs to fulfill the destiny promised to her by her cruel aunt, the witch Guma, who has read the cards and seen glimmers of Xifeng's majestic future. But is the price of the throne too high? Because in order to achieve greatness, she must spurn the young man who loves her and exploit the callous magic that runs through her—sorcery fueled by eating the hearts of the recently killed. For the god who has sent her on this journey will not be satisfied until his power is absolute.
Set in an East Asian-inspired fantasy world filled with both breathtaking pain and beauty, Forest of a Thousand Lanterns possesses all the hallmarks of masterful fantasy: dazzling magic, heartbreaking romance, and a world that hangs in the balance. Fans of Heartless, Stealing Snow, and Red Queen will devour this stunning debut.
One touch is all it takes. One touch, and Juliette Ferrars can leave a fully grown man gasping for air. One touch, and she can kill.
No one knows why Juliette has such incredible power. It feels like a curse, a burden that one person alone could never bear. But The Reestablishment sees it as a gift, sees her as an opportunity. An opportunity for a deadly weapon.
Juliette has never fought for herself before. But when she's reunited with the one person who ever cared about her, she finds a strength she never knew she had.
Alex is a bruja, the most powerful witch in a generation…and she hates magic.
At her Deathday celebration, Alex performs a spell to rid herself of her power. But it backfires. Her whole family vanishes into thin air, leaving her alone with Nova, a brujo boy she's not sure she can trust, but who may be Alex's only chance at saving her family.
As the daughter of a time traveler, Nix has spent sixteen years sweeping across the globe and through the centuries aboard her father's ship. Modern-day New York City, nineteenth-century Hawaii, other lands seen only in myth and legend—Nix has been to them all.
But when her father gambles with her very existence, it all may be about to end. Rae Carson meets Outlander in this epic debut fantasy.
If there is a map, Nix's father can sail his ship, The Temptation, to any place and any time. But now that he's uncovered the one map he's always sought—1868 Honolulu, the year before Nix's mother died in childbirth—Nix's life, her entire existence, is at stake. No one knows what will happen if her father changes the past. It could erase Nix's future, her dreams, her adventures . . . her connection with the charming Persian thief, Kash, who's been part of their crew for two years.
What was once the western United States is now home to the Republic, a nation perpetually at war with its neighbors. Born into an elite family in one of the Republic's wealthiest districts, fifteen-year-old June is a prodigy being groomed for success in the Republic's highest military circles. Born into the slums, fifteen-year-old Day is the country's most wanted criminal. But his motives may not be as malicious as they seem.
From very different worlds, June and Day have no reason to cross paths—until the day June's brother, Metias, is murdered and Day becomes the prime suspect. Caught in the ultimate game of cat and mouse, Day is in a race for his family's survival, while June seeks to avenge Metias's death. But in a shocking turn of events, the two uncover the truth of what has really brought them together, and the sinister lengths their country will go to keep its secrets.