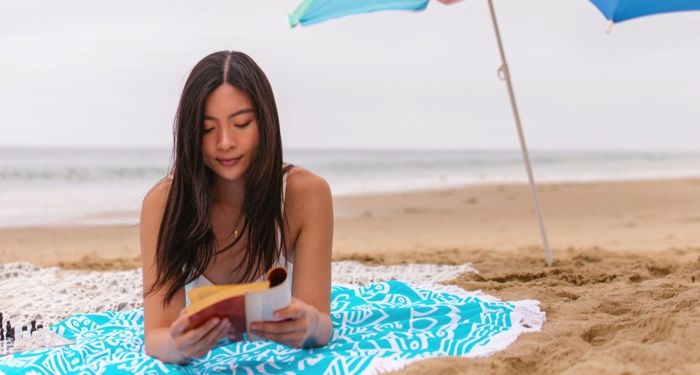 This content contains affiliate links. When you buy through these links, we may earn an affiliate commission.
The best season has begun. School's out and summer is fully upon us. I know people generally think about reading a good book curled under a blanket, warm mug of hot chocolate, and rain softly falling outside for the perfect soothing sound background. I want to argue for summer reading! Yes, of course, reading on the beach is ideal, but not all of us have easy access to beaches. Or want to get sand between the pages of our next favorite read.
Summer reading outside under the shade of a tree on a blanket is underrated. If you want to take it to the next level, hang a portable hammock under that tree and sway in the breeze while reading. The great thing about reading in the summer is that it's a sitting still activity. You won't overheat quickly and still get to enjoy the outdoors. Or if you live in a place where that's unthinkable because it's scorching outside, reading in the air conditioning or under the ceiling fan is also a still activity. It won't make you sweat any more than any other thing.
Now that you have the perfect summer reading spot, it's time for the perfect summer read. The list I've created has a variety because I know that not everyone wants to read light and fluffy stuff all season. This list has some gruesome stuff, a lot of friendships, and I did throw some romance on there because it's my favorite. Get ready for your TBR list to grow!
If you liked this list, be sure to check out 10 of the best fantasy books this summer. Also, here are 12 of the best reading programs of 2023, and if you're still catching up on last year's reading this summer, check out this guide to summer 2022 YA.