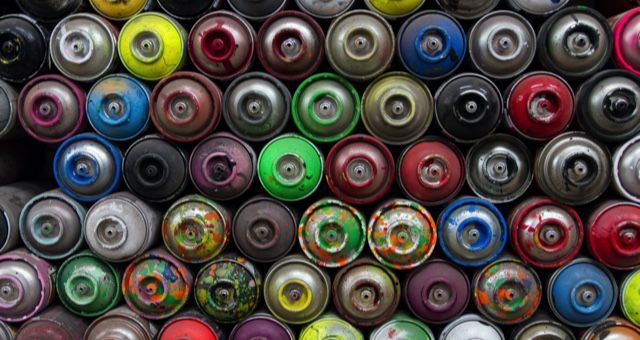 Lists
Gorgeous YA Books With Sprayed Edges
This list of YA books with sprayed edges is sponsored by Little, Brown Books for Young Readers, publisher of The Folk of the Air series by Holly Black.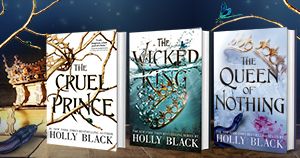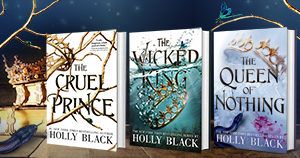 Sharpen your blade. Harden your heart. Journey to Faerieland in the #1 New York Times bestselling Folk of the Air trilogy. What started with The Cruel Prince and The Wicked King finally ends with the jaw-dropping finale, The Queen of Nothing. To win her place in the High Court of Faerie, Jude must risk her own life and defy the Fae that despise her mortality. Caught between her ambition and her humanity, Jude will learn the meaning of true power in this explosive, dazzling series from award-winning author Holly Black.
---
When I was in college, I once had a professor who told me that only the fanciest writers get books with deckled edges. While this is a very unscientific statement, I think I must counter her with an even more unscientific rebuttal: the fanciest authors get books with sprayed edges! Sprayed edges, for those not in the know, are when the edges of the book's pages are dyed different colors, making the book block look extra fancy. These books really pop in photos, although you don't see them when they're lined up on the shelf spine out. Sprayed edges are like an extra colorful surprise!
Sometimes a book is produced with sprayed edges, and sometimes sprayed edges are a result of a special edition or limited print run of a book. Either way they're fun to collect! Here is a list of YA books with sprayed edges that you can buy new at a major retailer at the time of this writing!
Frankly in Love by David Yoon
Yoon's debut novel is about a Korean American teen named Frank Li who hatches a fake dating scheme with fellow Korean American Joy Song in order for the two of them to be with their respective partners—neither of whom are people their conservative parents would approve of. This gorgeous yellow cover with bright blue and green title art is eye-catching, but the finishing touch of rich dark blue sprayed edges really makes this hardcover book stand out!
The Sun is Also a Star by Nicola Yoon
The Yoons are a couple that not only both write YA, but they are also extremely fortunate to both have YA books with gorgeous sprayed edges. Nicola Yoon's second novel follows two teens in New York City, Natasha and Daniel, who have a chance encounter and whirlwind romance that is totally up in the air with Natasha's family only hours away from deportation. The book was also made into a movie! The sprayed edges are only on the Barnes & Noble special edition of the novel, which includes a bunch of other special features.
😍, the Collector's Edition of #thesunisalsoastar is out today exclusively @BNBuzz! It's got PURPLE edges, a MAP of Natasha & Daniel's path thru NYC (drawn by my supersweetie @davidyoon), an annotated chapter & a short intro essay I wrote for the advanced copies way back in 2016! pic.twitter.com/vRIYDCFN2q

— Nicola Yoon Updates (@NicolaYoon) November 13, 2018
The Six of Crows Duology by Leigh Bardugo
Leigh Bardugo has always had amazing cover fortune, and the Six of Crows duology is so beautiful it almost hurts! This is a fantastic heist fantasy tale of six misfits who are tasked to steal from an enemy government, only to find that they've been a bit misled about the job. The books are set in the Grishaverse, and are the basis of a Netflix show that's now in production! Aren't these covers just GORGEOUS together? I love the contrasting red and black sprayed edges so much.
Fangirl by Rainbow Rowell
Fangirl has very famously had multiple special editions while in hardcover, but everyone wins with this paperback, which has sprayed edges to match the color of the cover. This is a funny and heartfelt novel about Cath, who feels adrift in college and takes refuge in her fan fiction writing. But with a year of changes ahead and the impending (canonical) end to her fan fiction source material, she's got to learn how to leave her dorm room, make friends fall in love, and be brave.
FANGIRL paperback update, including HOW TO ORDER OUTSIDE THE U.S. (Also I remembered the paperback has an additional color illustration from @Gingerhazing. Talk about a bonus!) https://t.co/VhEXb43094 pic.twitter.com/EU9CrzRBnq

— Rainbow Rowell (@rainbowrowell) November 8, 2018
The Miseducation of Cameron Post by Emily m. Danforth (UK media tie-in edition)
Cameron Post is a gay teenager growing up in rural Montana at the beginning of the 1990s. As she falls for a classmate, she's dealing with the unexpected death of her parents. When her aunt discovers she's gay, she sends her to God's Promise, a conversion therapy camp. The book was made into a beautiful film, and the UK movie tie-in edition features gorgeous rainbow sprayed edges! Since this is a UK edition, American readers will have to go through Book Depository to get this title. Make sure that you're buying the edition with the ISBN 9780141389165.
The special edition of The Miseducation of Cameron post has landed! It's a stunning book with equally stunning sprayed rainbow edges. 🌈😍😱#PrideBookClub

Get it here: Waterstones 👉https://t.co/fnAYl1GyIW or Amazon 👉https://t.co/4N9sljbJfb pic.twitter.com/IX2IxxVO1X

— Penguin Platform 🐧 (@penguinplatform) June 27, 2018
What are some of your favorite sprayed edges novels?
Want more "3 On A YA Theme" posts? Gotcha covered.