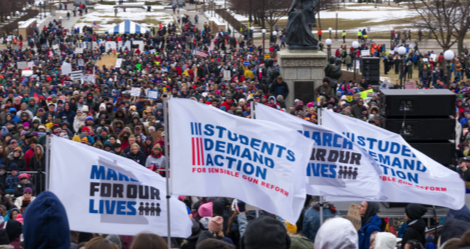 This content contains affiliate links. When you buy through these links, we may earn an affiliate commission.
Alice Nuttall is a children's and webcomic writer who spends her free time reading, knitting, and playing D&D, occasionally all at the same time. Her superpower is the ability to find a cup of coffee no matter where she is. She blogs at https://alicenuttallbooks.wordpress.com/
Twitter Handle: @Ally_Nuttall
---
Whether it's the Stoneman Douglas students, the teens who've spent years of their young lives campaigning for Black Lives Matter, or Flint water activists Mari Copeney and Gitanjali Rao, today's teens and younger children have proven that they are engaged, involved, and aware activists. It's no surprise that YA literature reflects its readers' passion to make a positive change in the world. Here are a few of my favourite books where teens stand up for what's right.
Third in the Spinster Club series (which follows three best friends who start their own feminist group), What's a Girl Gotta Do? features protagonist Lottie as she decides to spend an entire month calling out every instance of sexism she sees. Trying to keep her campaign fierce and funny, Lottie deals with trolls, activist fatigue, and bias in the press, but never gives up. Bourne write hilarious and believable teens, and by the end of the month you'll want to start a Spinster Club of your own.
Recently bereaved Rain is encouraged to get involved in a local summer camp for Native American children, but prefers to observe the activities through the lens of her camera. It's only when the summer camp is threatened with defunding that Rain realises she needs to join her peers in making a stand. A sweet, sad, but ultimately satisfying story.
Blackman's raceflipped world, where the white Noughts are oppressed by the dominant black Crosses, has several points that explore potential problems young people might encounter in their activism. Whether it's the privileged Sephy getting involved in a racial equality group that includes no Noughts, or idealist Callie Rose's inexperience being exploited by extremists who want to use her, the series reminds readers that activist children are still children, and that the adults around them have a responsibility to help them through any mistakes they make along the way.
No list about teen activists would be complete without The Hate U Give, Angie Thomas's incredible novel inspired by Black Lives Matter. After witnessing the murder of her best friend by a police officer, Starr gets involved in the movement against institutionalised racism and police violence, while trying to negotiate life in her ultra-privileged, mostly-white school. The Hate U Give has received many well-deserved accolades, and Starr is a powerful, believable heroine.
What are your favourite books featuring young activists?