This content contains affiliate links. When you buy through these links, we may earn an affiliate commission.
If there is one thing I have learned over the last three months it's the kids are going to be alright.
I'm not saying the future is rosy and perfect; I simply don't buy into the massive doom-and-gloom YA dystopian future we spent most of 2017 preparing for.
It seems like everywhere you turn, there's a new critique of how useless Generation Z is, and to some extent their predecessors, Generation Y. These generations are constantly ridiculed for "always being on their phones." The generations voted most likely to live at home with their parents forever. The generations laughed at for eating avocados.
Despite the general media feeding this same rhetoric ad nauseum, our pop culture is a little more divided. Usually, when a social phenomenon arises, there is a bunch of writers willing to tackle it in a story; It's the driving force behind YA novels and graphic novels, leading to a literary zeitgeist giving us direction out of the slump. Snotgirl attempts to define this generation through social media, as does The Hate U Give and Simon vs. The Homo Sapiens Agenda. On the outside, they seem to agree with the shallow short-term nature we are told is typical of Generation Z. And yet, if current affairs are anything to go by, it is more likely we are shortchanging our kids and taking away any hope they have for their futures.
Snotgirl by Bryan Lee O'Malley and Leslie Hung
Snotgirl is a graphic novel claimed by some as one of the best in portraying Gen Z and their obsession with social media. In short, it is a weird AF commentary on the world of fashion blogging and the tech we use.
The protagonist is Lottie Person, with signature green hair and social awkwardness. She is a trendy writer completely obsessed with her audience of followers. Lottie is offered up as an example of the self-absorbed younger generation who long-term loathe themselves but short-term want everyone to like them. And yet, by all indications. this is not the norm. The only example Snotgirl successfully portrays is how to be so wrong about Generation Z.
Take Marjory Stoneman Douglas High School in Parklands, Florida. When most of us hear these words, we think of the recent school shooting this year and the 17 people killed. It was horrible. It should never have happened. And it should never happen again.
But do you know what MSD High School is known for even more? It is now the school with the students who are making a difference. That's right, folks. A bunch of high school students are making more waves in the socio-political pond then the generations in charge. They have attended rallies; they have organised national walk-out protests; they have initiated social media campaigns with global support. Most impressive of all, they have taken on the politicians and lobbyists (primarily the NRA) and held their ground. These are kids who looked at the skills they have (primarily, the social media they are ridiculed for) and used it. We shouldn't be surprised; we were setting them up with Harry Potter 20 years ago.
Okay, so Harry Potter and the Order of the Phoenix isn't the first book to teach kids about defying authority, but it definitely had one of the widest distributions. Unlike Snotgirl, this book didn't stake its commentary on shallow characters; it embraced diversity and communication to bring the students together for a common goal. And it was honest. Rowling didn't include the usual tropes of high school kids beating the authorities because the authorities are dumb. She gave us some of the most evil, manipulative, and cunning deplorables you could imagine.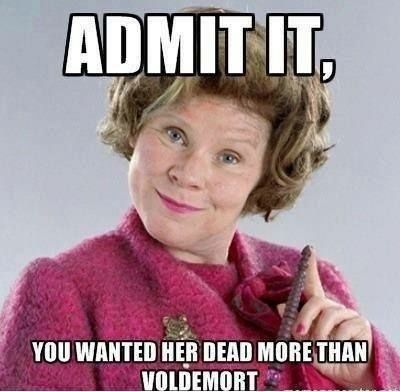 Nevertheless, they persisted. Here was a book showing how the inexperienced but determined kids could overcome their evil elders with grit and determination. While the students banded together and upgraded their skills, the majority of the elders continued to be blinded by their own judgmental comparisons, and underestimated the students' strength. (Well, all except Professor McGonagall. But we all know she is special and cannot be confined to any ordinary generation stereotyping.)
Can you see why Gen Z are standing up right now? And yet, the media continues to tell us how lazy and fragile they are. How technology is bad for them. How they cannot connect with anyone.
So why has it taken so long for Generation Z to step up? First, you have to remember, Harry Potter and the Order of the Phoenix came out when a lot of these kids were still young. I mean, they are young now but I'm talking pre-teen. It was an influencing factor but perhaps their call to arms came in a more modern wrapper, The Hate U Give.
One of the most popular books for 2017 was The Hate U Give. It received awards and praise all around the world, including our own Book Riot. The story focuses on a 16-year-old Starr, who lives in a poor black neighbourhood while attending a fancy suburban prep school. After witnessing the police shooting of her unarmed friend, Starr is left with the burden of being the only witness to the shooting. It is a beautiful book relating to Generation Z and especially youth of colour. Its strength lies in its social commentary and political criticism, and while it does not address social media in the same direct manner as Snotgirl, it shows how social media is an everyday tool for Generation Z to feel "real" and make a difference.
The inspiration behind The Hate U Give was the Black Lives Matter (BLM) movement, a huge and ongoing social media phenomenon. The BLM Movement began in 2012 following the acquittal of George Zimmerman after he shot and killed unarmed 17-year-old Trayvon Martin in Florida. Three black women, Alicia Garza, Patrisse Cullors, and Opal Tometi, started the movement and encouraged many youths of colour to join the activism across the United States. Generation Z found ways in social media to raise attention and bring shame on the guilty. We saw groups mobilising in towns, discussions happening faster and further than ever before. The BLM movement brought people out of their homes and connected them in the community towards common goals.
Generation Z found a way to genuinely connect through virtual relationships in ways older generations simply don't get. Parents are constantly told about the dangers of the internet. We have seen how ugly the internet and social media can be. Originally I was going to mention Gamergate, but unfortunately, I came across a fresher example just this week: Republican Candidate Leslie Gibson calling Parkland survivor and activist Emma Gonzalez a "skinhead lesbian". Way to keep the conversation classy, Gibson.
Social Media Managers are acutely aware of the dichotomy of Generation Z. Talking with Meagan Date, social media manager for Women's March Sydney, it's interesting to learn about the balance between social media management and knowing your audience, particularly with tech-savvy Gen Z.
Meagan is a staunch advocate for Gen Z and agrees they have been unfairly criticised. "My engagement with Gen Z via Women's March is that they are very much tuned into current affairs. They are very quick witted and very organised amongst themselves. Social media is one tool in their arsenal but they definitely aren't lazing about destroying their brains. Getting face to face with them to explain your cause, why they should care, how they can be involved, is way more effective than serving them a Facebook ad or an Instagram meme."
And they thought we were only capable at eating tide pods. #NationalWalkoutDay

— John Barnitt (@John_Barnitt) March 14, 2018
So at one extreme is Snotgirl, its portrayal of shallow, self-gratifying characters further demonised in the mass media. And on the other hand, we are seeing examples of Generation Z in real life using social media to coordinate action in ways older generations haven't even conceived yet. Perhaps the difference here lies with where we seek our information. Mainstream media continues the negative outlook, influencing an older audience that focuses on the extremes. Gen Z has shown it is can navigate the plethora of information and find a way to bring it all together. They just need the motivation to do so.
Gen Z has grown up so tech-savvy, they have a better understanding of relationships online. It is nothing for them to strike up a friendship with someone who lives in another country or to arrange a meet with people in the neighbourhood using WhatsApp. Even keeping in touch with friends over email is totally acceptable. While there is nothing wrong with the differing forms of communication, there is also nothing in our media telling Gen Z this.
Becky Albertalli captured it perfectly in her novel, Simon vs. The Homo Sapiens Agenda. It is a YA book about 16-year-old, not-so-openly gay Simon, who is falling in love with another boy over email. Unfortunately, his email is compromised and he is blackmailed into playing wingman for fellow student Martin. The story is absolutely relatable to its characters and writing. Every person we meet is a reminder of how the connection between two people is important, and not how you made the connection. Gen Z understands this best of all; they are seen as the most inclusive generation so far: "White shouldn't be the default any more than straight should be the default. There shouldn't be a default."
This book should be promoted more; not to Gen Z because they already get this. It should be read by older generations if only to give them some insight on how Gen Z are using technology within their relationships. Perhaps a little insight would reduce the negative imagery and give us all some comfort that Gen Z are more okay than we give them credit for.
So The Kids Are Going To Be alright?
Yes, the kids are going to be alright. Except they aren't really "kids" anymore. When they are taking grown-up action because "more of the same" is no longer acceptable, then we need to give them more credit.
That's what all this comes down to: acknowledge their efforts and their achievements. We cannot continue down this generational divide, feeding the stereotypes and the sense of helplessness. There will always be common themes between generations but we need to stop projecting OUR interpretations on to the younger generation. There are YA novels we should support for both their quality and their relatability. We need to stop falling into the same tropes and promote the material Gen Z have been talking about.
Generation Z has already chosen their flag and carried it onto the battlefield of life. It is now time for older generations to follow that flag. Stop criticising their methods and give them some credit when it works. Give them some relatable books to inspire the change in their future.
And most of all, let them know they are going to be alright too.
"Since it's inevitable that they will meet evil, let them also meet brave knights and heroes who overcome their enemies. Their inner fears and fantasies must find some outer expression. —C.S. Lewis"