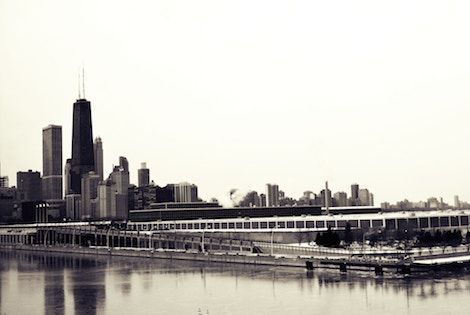 This content contains affiliate links. When you buy through these links, we may earn an affiliate commission.
I've read so many books set in New York City. I get it! New York City is the center of the world. Except, having grown up in the Chicago area, I can't say I knew too many who felt that way. Chicago was our town, our city, the place we all couldn't wait to escape to when we fled our small suburban town lives. So what better way to honor the Windy City than a roundup of great YA books set in Chicago?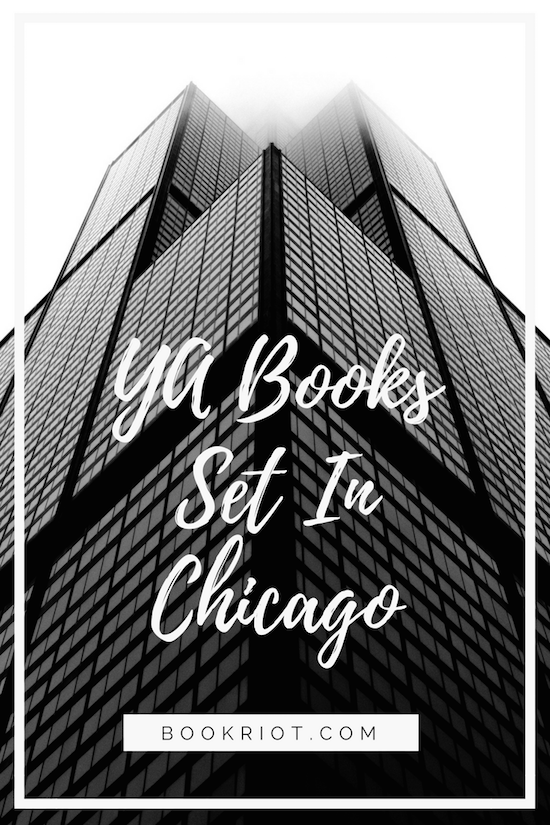 For readers who haven't yet had the pleasure, Chicago is a city with history. From the World's Fair, to the 77 distinct neighborhoods, to the Cubs White Sox, to the kind of food you cannot believe is real, the Great Chicago Fire (which, fun fact, was not the largest fire in American history nor the largest fire in American history that happened on that day), and to an ever-unfolding and complex relationships with race and social class, it's easy to see why people love the city and love to explore its depths.
These YA books set in Chicago include fiction and nonfiction. Nearly all are set within the city itself, though I've allowed a couple of titles set in the suburbs to trickle in. That's what we do here in the midwest: we make exceptions when it feels right to.
Descriptions are pulled from Goodreads, as I've not read all of these (yet).
YA Books Set In chicago
A Fire Destroys . . .
A Treasure Appears . . .
A Crime Unfolds . . .
When Saba Khan's apartment burns in a mysterious fire, possibly a hate crime, her Chicago high school rallies around her. Her family moves rent-free into a luxury apartment, Saba's Facebook page explodes, and she starts (secretly) dating a popular boy. Then a quirky piece of art donated to a school fund-raising effort for the Khans is revealed to be an unknown work by a famous artist, worth hundreds of thousands of dollars, and Saba's life turns upside down again. Should Saba's family have all that money? Or should it go to the students who found the art? Or to the school? And just what caused that fire? Greed, jealousy, and suspicion create an increasingly tangled web as students and teachers alike debate who should get the money and begin to point fingers and make accusations. The true story of the fire that sets events in motion and what happens afterward gradually comes together in an innovative narrative made up of journal entries, interviews, articles, letters, text messages, and other documents.
Ballads are the kind of songs that Kara McNaughton likes best. Not the clichéd ones where a diva hits her dramatic high note or a rock band tones it down a couple of notches for the ladies, but the true ballads: the punk rocker or the country crooner reminding their listeners of the numerous ways to screw things up. In high school, Kara helped maintain the "Stories of Suburbia" notebook, which contained newspaper articles about bizarre, tragic events from suburbs all over America, and personal vignettes that Kara dubbed "ballads" written by her friends in Oak Park, just outside of Chicago. But Kara never wrote her own ballad. Before she could figure out what her song was about, she left town suddenly at the end of her junior year. Now, four years later, Kara returns to her hometown to face the music, needing to revisit the disastrous events that led to her leaving, in order to move on with her life.
Chasing Shadows by Swati Avasthi, illustrated by Craig Philips
Before: Corey, Holly, and Savitri are one unit—fast, strong, inseparable. Together they turn Chicago concrete and asphalt into a freerunner's jungle gym, ricocheting off walls, scaling buildings, leaping from rooftops to rooftop.
But acting like a superhero doesn't make you bulletproof…
After: Holly and Savitri are coming unglued. Holly says she's chasing Corey's killer, chasing revenge. Savitri fears Holly's just running wild—and leaving her behind. Friends should stand by each other in times of crisis. But can you hold on too tight? Too long?
Divergent by Veronica Roth (series)
In Beatrice Prior's dystopian Chicago world, society is divided into five factions, each dedicated to the cultivation of a particular virtue—Candor (the honest), Abnegation (the selfless), Dauntless (the brave), Amity (the peaceful), and Erudite (the intelligent). On an appointed day of every year, all sixteen-year-olds must select the faction to which they will devote the rest of their lives. For Beatrice, the decision is between staying with her family and being who she really is—she can't have both. So she makes a choice that surprises everyone, including herself.
During the highly competitive initiation that follows, Beatrice renames herself Tris and struggles alongside her fellow initiates to live out the choice they have made. Together they must undergo extreme physical tests of endurance and intense psychological simulations, some with devastating consequences. As initiation transforms them all, Tris must determine who her friends really are—and where, exactly, a romance with a sometimes fascinating, sometimes exasperating boy fits into the life she's chosen. But Tris also has a secret, one she's kept hidden from everyone because she's been warned it can mean death. And as she discovers unrest and growing conflict that threaten to unravel her seemingly perfect society, she also learns that her secret might help her save those she loves…or it might destroy her.
On a hot day in July 1919, three black youths went swimming in Lake Michigan, unintentionally floating close to the "white" beach. An angry white man began throwing stones at the boys, striking and killing one. Racial conflict on the beach erupted into days of urban violence that shook the city of Chicago to its foundations. This mesmerizing narrative draws on contemporary accounts as it traces the roots of the explosion that had been building for decades in race relations, politics, business, and clashes of culture.
Acclaimed by critics, beloved by readers of all ages, taught everywhere from inner-city grade schools to universities across the country, and translated all over the world, The House on Mango Street is the remarkable story of Esperanza Cordero.
Told in a series of vignettes—sometimes heartbreaking, sometimes deeply joyous—it is the story of a young Latina girl growing up in Chicago, inventing for herself who and what she will become. Few other books in our time have touched so many readers.
Perfect Mexican daughters do not go away to college. And they do not move out of their parents' house after high school graduation. Perfect Mexican daughters never abandon their family.
But Julia is not your perfect Mexican daughter. That was Olga's role.
Then a tragic accident on the busiest street in Chicago leaves Olga dead and Julia left behind to reassemble the shattered pieces of her family. And no one seems to acknowledge that Julia is broken, too. Instead, her mother seems to channel her grief into pointing out every possible way Julia has failed.
But it's not long before Julia discovers that Olga might not have been as perfect as everyone thought. With the help of her best friend Lorena, and her first kiss, first love, first everything boyfriend Connor, Julia is determined to find out. Was Olga really what she seemed? Or was there more to her sister's story? And either way, how can Julia even attempt to live up to a seemingly impossible ideal?
Amy Harris's life changed forever when They took over. Her parents—vanished. The government—obsolete. Societal structure—nonexistent. No one knows where They came from, but these vicious creatures have been rapidly devouring mankind since They appeared. With fierce survivor instincts, Amy manages to stay alive—and even rescues "Baby," a toddler who was left behind. After years of hiding, they are miraculously rescued and taken to New Hope. On the surface, it appears to be a safe haven for survivors. But there are dark and twisted secrets lurking beneath that could have Amy and Baby paying with not only their freedom—but also their lives.
American-born seventeen-year-old Maya Aziz is torn between worlds. There's the proper one her parents expect for their good Indian daughter: attending a college close to their suburban Chicago home, and being paired off with an older Muslim boy her mom deems "suitable." And then there is the world of her dreams: going to film school and living in New York City—and maybe (just maybe) pursuing a boy she's known from afar since grade school, a boy who's finally falling into her orbit at school.
There's also the real world, beyond Maya's control. In the aftermath of a horrific crime perpetrated hundreds of miles away, her life is turned upside down. The community she's known since birth becomes unrecognizable; neighbors and classmates alike are consumed with fear, bigotry, and hatred. Ultimately, Maya must find the strength within to determine where she truly belongs.
When Wendy Boychuck's father, a Chicago cop, was escorted from their property in handcuffs for his shady criminal practices, she knew her life would never be the same. Her father gets a years-long jail sentence, her family falls on hard times, and the whispers around town are impossible to ignore. If that wasn't bad enough, she gets jumped walking home from a party one night. Wendy quickly realizes that in order to survive her father's reputation, she'll have to make one for herself.
Then Wendy meets Kenzie Quintana—a cigarette-smoking, Catholic-school-uniform-skirt-hiking alpha—and she knows that she's met her savior. Kenzie can provide Wendy with the kind of armor a girl needs when she's trying to outrun her father's past. Add two more mean girls to the mix—Sapphire and Emily—and Wendy has found herself in Academy of the Sacred Heart's most feared and revered clique. Makeover complete.
But complete is far from what Wendy feels. Instead, she faces the highs and lows of a vapid, toxic friendship, the exhaustion that comes with keeping up appearances, and the only loss that could hurt more than losing herself.
When Brittany Ellis walks into chemistry class on the first day of senior year, she has no clue that her carefully created 'perfect' life is about to unravel before her eyes. She's forced to be lab partners with Alex Fuentes, a gang member from the other side of town, and he is about to threaten everything she's worked so hard for: her flawless reputation, her relationship with her boyfriend, and the secret that her home life is anything but perfect.
Alex is a bad boy and he knows it. So when he makes a bet with his friends to lure Brittany into his life, he thinks nothing of it. But soon Alex realizes Brittany is a real person with real problems, and suddenly the bet he made in arrogance turns into something much more.
Pointe by Brandy Colbert
Theo is better now.
She's eating again, dating guys who are almost appropriate, and well on her way to becoming an elite ballet dancer. But when her oldest friend, Donovan, returns home after spending four long years with his kidnapper, Theo starts reliving memories about his abduction—and his abductor.
Donovan isn't talking about what happened, and even though Theo knows she didn't do anything wrong, telling the truth would put everything she's been living for at risk. But keeping quiet might be worse.
The Time: 1968
The Place: Chicago
For thirteen-year-old Sam it's not easy being the son of known civil rights activist Roland Childs. Especially when his older (and best friend), Stick, begins to drift away from him for no apparent reason. And then it happens: Sam finds something that changes everything forever.
Sam has always had faith in his father, but when he finds literature about the Black Panthers under Stick's bed, he's not sure who to believe: his father or his best friend. Suddenly, nothing feels certain anymore.
Sam wants to believe that his father is right: You can effect change without using violence. But as time goes on, Sam grows weary of standing by and watching as his friends and family suffer at the hands of racism in their own community. Sam beings to explore the Panthers with Stick, but soon he's involved in something far more serious—and more dangerous—than he could have ever predicted. Sam is faced with a difficult decision. Will he follow his father or his brother? His mind or his heart? The rock or the river?
With her mother ill, it's up to fifteen-year-old Ruby Jacinski to support her family. But in the 1940s, the only opportunities open to a Polish-American girl from Chicago's poor Yards is a job in one of the meat packing plants. Through a chance meeting with a local tough, Ruby lands a job as a taxi dancer and soon becomes an expert in the art of "fishing": working her patrons for meals, cash, clothes, even jewelry. Drawn ever deeper into the world of dance halls, jazz, and the mob, Ruby gradually realizes that the only one who can save her is herself. A mesmerizing look into a little known world and era.
Time Between Us by Tamara Ireland Stone (series)
Anna and Bennett were never supposed to meet: she lives in 1995 Chicago and he lives in 2012 San Francisco. But Bennett has the unique ability to travel through time and space, which brings him into Anna's life, and with him a new world of adventure and possibility.
As their relationship deepens, the two face the reality that time may knock Bennett back to where he belongs, even as a devastating crisis throws everything they believe into question. Against a ticking clock, Anna and Bennett are forced to ask themselves how far they can push the bounds of fate, what consequences they can bear in order to stay together, and whether their love can stand the test of time.
In August of 1994, 11-year-old Robert "Yummy" Sandifer—nicknamed for his love of sweets—fired a gun at a group of rival gang members, accidentally killing a neighborhood girl, Shavon Dean. Police searched Chicago's south side for three days before finding Yummy dead in a railway tunnel, killed by members of the drug gang he'd sought to impress. The story made such an impact that Yummy appeared on the cover of TIME magazine, drawing national attention to the problems of inner city youth in America.
Yummy: The Last Days of a Southside Shorty relives the confusion of these traumatic days from the point of view of Roger, a neighborhood boy who struggles to understand the senseless violence swirling through the streets around him. Awakened by the tragedy, Roger seeks out answers to difficult questions—was Yummy a killer or a victim? Was he responsible for his actions or are others to blame?
Want more books set in or about Chicago? Here are 100 must-read books set in or around Chicago, books about Chicago's south side, and books about Chicago's racial history.