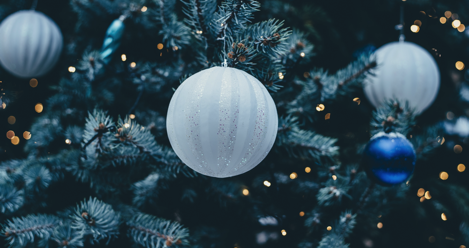 This content contains affiliate links. When you buy through these links, we may earn an affiliate commission.
Hallmark Christmas movies are a staple in many households this time of year. The sweet romance, combined with unlikely careers (professional gingerbread house baker, ice sculptor, etc.) and some sort of small town festival just hit that sweet spot for lovers of cozy stories. If you've caught up on this year's offerings so far, here are some novels to keep the holiday spirit going strong! As we noted last year, there is not much diversity among YA holiday books; hopefully by next Christmas, there will be even more options from diverse authors.
Sierra lives two lives: in Oregon for most of the year, but Christmas in California at her family's Christmas tree farm. Both lives suit her fine, until she meets Caleb in California and suddenly that life seems much more interesting. This is a love story that's moving and life-affirming and completely unforgettable.
It's Christmas Eve at JFK in NYC. Charlotte's flight is canceled when a blizzard blows in, and Anthony can't bear to go home. Learning they are both recently single, they set out into the city together. For this one night, they'll focus on healing their broken hearts…together. But the snow is so enchanting, and the holiday lights are so beguiling, that soon their shared misery gives way to something else.
On Christmas Eve five years ago, Holly was visited by three ghosts who showed her how selfish and spoiled she'd become. They tried to convince her to mend her ways. She didn't…and then she died. Now she's stuck as the new Ghost of Christmas Past, saving another miserly grouch every year. So far, Holly's afterlife has been miserable. But this year, everything is about to change.
In the first book, Dash and Lily fell in love as the snow fell after a switch-up found them exchanging dares in a shared notebook. The sequel takes place the Christmas after, and life has quashed Lily's festive cheer. So Dash enlists friends and family to help her recapture the unique holiday magic of a glittering, snow-covered New York City in December.
Stories by diverse authors including Matt de La Peña, Jenny Han, and Laini Taylor cover not just Christmas but also Kwanzaa, Hanukkah, Winter Solstice, and New Year's with casts of characters from various ethnicities.
BONUS! A Grown-up Read for Fans of Hallmark Christmas Movies
This gender-swapped holiday take on Jane Austen's Pride and Prejudice finds a female Darcy home for the holidays. She meets and, after too many eggnogs, falls into bed with the neighbor's son, Luke Bennet. She thinks it's another one-night stand, but…why can't she stop thinking of Luke? Will they fall in love, or will her pride and his prejudice against big-city girls stand in their way?
Related: Your Guide To This Year's Bookish Hallmark Ornaments