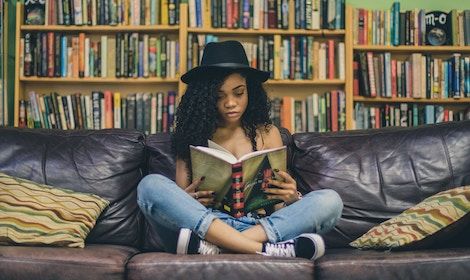 This content contains affiliate links. When you buy through these links, we may earn an affiliate commission.
YA gets all the flash in children's books. The movie deals, the big name authors, booktube coverage…it can feel like the children's books that everyone is reading are only the YA books. And kids like to read up about what kids older than them are doing. School Library Journal runs a series called "Adult books for teens." I'm taking that idea down a level: "YA books for elementary kids."
So if you are or know any 4th graders who can confidently read well above their grade level, but emotionally fall on the "young" rather than "adult" side of young adult, this list is for you!
Starred titles are for series books.
YA Books for Middle Grade Readers
Mary Quinn gets a reprieve from her criminal sentence in Victorian London when she is invited to join The Agency, an organization of women and girls who gather information for clients. Each of Mary's mysteries challenge her intellectually, as well as bringing her up against her own family history as a mixed-race woman.
The sci-fi fairytale retellings, mashed with Sailor Moon and Firefly, that you didn't know you needed. Cinder is a cyborg moon princess in hiding who picks up a motley crew of friends and a stolen spaceship. The books are immersive and fun, and the romance is utterly appropriate for older elementary kids.
Recently adapted for Netflix, eleventh grader Lara Jean finds that all of her secret love letters have been mailed to all of her past crushes and now she has to face them. Lara Jean is often pegged as being a little young for her age, and her story is exactly the kind that catches preteens' interest.
Another one of this year's big YA adaptations that also deals with mysterious correspondence. Simon is a gay teenager who has amazing friends and awesome parents. And he has a secret email correspondence going with another gay student at his high school, but he doesn't know who. Delightful and affirming!
Chao explores an Asian American experience with a fun and bright story about Mei, a Taiwanese American girl who started college at seventeen and is beginning to figure out who she wants to be separate from her parents. Though she is pre-med, she doesn't actually want to be a doctor, and may have a crush on a Japanese American classmate. Sweet and light!
Magical flesh-eating water horse race. That's the punchy summary. This book is very atmospheric and a little slow, but in the best way. Stiefvater makes you want to be on a windswept beach, but not too close to the water…
A YA classic about class division and gangs in the '60s. Oh and so many feelings. Stay gold, Ponyboy.
Sunny returns to Nigeria and finds out that she's one of the Jaguar People, one of the magic users of the world. She matches up with a group of friends who are all starting their magic apprenticeships as they try to track down a magical villain.
*Jackaby by William Ritter
Abigail Rook finds herself in the employ of R.F. Jackaby, an eccentric investigator with the ability to see supernatural creatures. Abigail provides the clear-eyed view that Jackaby doesn't have and their escapades save New Fiddleham from an onslaught of ghosts, dragons, and killer kittens.
The Wonderland idea gets explored as September is carried off by the Green Wind to where she meets A-through-L, part library-part wyvern, and Saturday; the imaginative, magical story will knock your socks off and the text is rich with the love of language.
*Feral Nights by Cynthia Leitich Smith
Fun and fizzy, this story finds skinshifters Yoshi and Clyde and human Aimee kidnapped to an island for entertainment purposes along with other shifter species. Fast-paced and immersive, this story will grip readers who want urban fantasy.
Pride by Ibi Zoboi
What if Pride and Prejudice had been about gentrification and the Bennett family was instead the Benitez family, an Afro-Latinx family in Bushwick? This book explores Pride and Prejudice with cultural references and settings that make the themes feel very immediate and and relevant.
Spotswood imagines the New England witch trials as a broader cultural base, where women must always be on guard from being thought witchy lest they be taken from their homes. The danger is taut without being too scary, and themes of sisterhood and the role of men in feminism are perfectly played.
Dimple's and Rishi's parents have arranged their marriage, but agree to let the two hang out together at a coding camp the summer before college. Romantic and understanding of the emotions for first generation kids feeling pulled in multiple directions.
Carriger's urbane steampunk fantasy heads to a finishing school for young ladies of quality training to be spies and assassins. Schooled on a dirigible floating above Dartmoor, our heroine Sophronia gets into adventures above and below decks and finds herself regularly coming up against the nefarious Picklemen!
*Legend by Marie Lu
One of the classics of the dystopian trend from several years ago, Day and June live in a futuristic Los Angeles, which has extreme class differences and an authoritarian government. Fast paced and easy to visualize, Lu's writing is clear and perfect for kids looking to dip into YA.
A Cinderella retelling with a Star Trek–like fandom, a teen soap opera star, an SF con, and a vegan food truck that is painted bright orange. It is sweet and explores themes of stereotypes, fandom, and memories of our parents.
During the summer, Sierra notices that the graffiti murals around her Brooklyn neighborhood are shifting and changing on their own. Family secrets, neighborhood change, gentrification, and Afro-Latinx magic follow!
Elisa is a princess with a jewel in her navel. This makes her god-chosen, and has affected how everyone treats her, but for Elisa this means that she has had very little chance to do anything on her own, or develop confidence in herself. A whirlwind marriage and move to a new kingdom sets her on a whole new path where she finds out who she is.
Nix has grown up on her father's pirate ship, hopping across time using maps from other eras. They finally make it to 1868 Honolulu, around the time that Nix was born and that her mother died. Nix has to deal with the historical uprising of the white plantation owners, the worry that she might no longer exist if they go back to prevent her mother's death, and her father's erratic behavior. Cleanly written and an under-represented setting.