This content contains affiliate links. When you buy through these links, we may earn an affiliate commission.
I don't know about you, but I'm kind of blown away that we are one-quarter of the way through 2016. If you, like me, want to worry less about what happened to the last three months and instead want to get excited about what's to come in the next three, then you're in the right place.
I've rounded up 234 Young Adult (YA) books — all fiction — hitting shelves from April to June. This list isn't comprehensive, of course, but it's really damn close. If you missed the previous look at books from January through March, go ahead and mosey over here.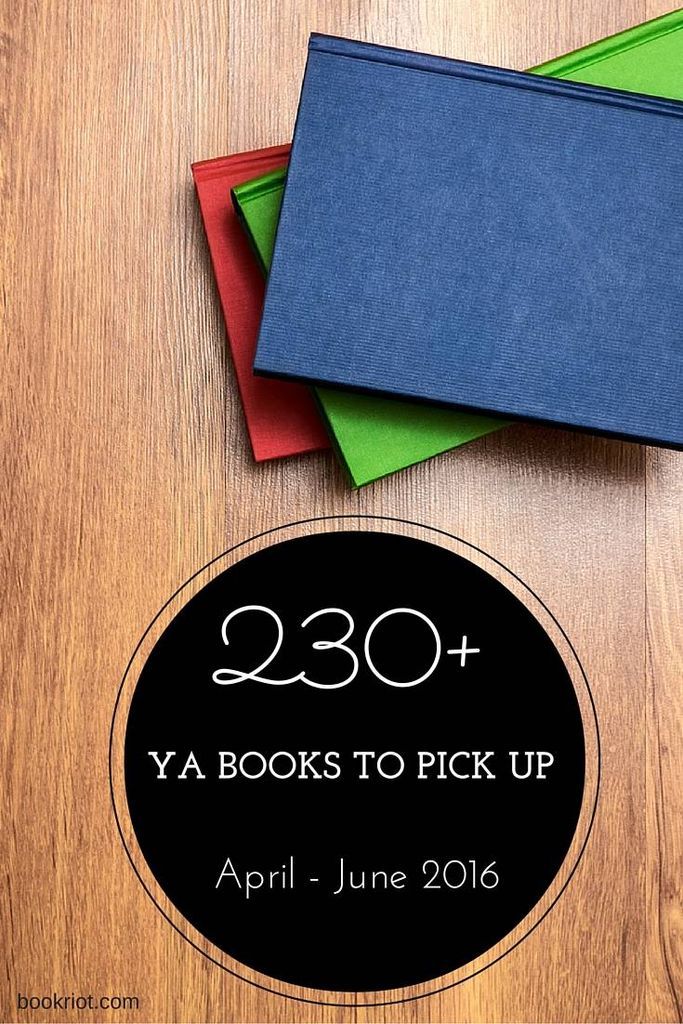 All books that either begin a series or continue one have been marked with a *. The focus is YA only and because of the way publishing works, sometimes publication dates change a bit, so there may be inaccuracies on that front (though there shouldn't be many if there are).
Grab your TBR list, your reading journals, pop open Goodreads, and get ready to adding books that sound like winners to 'em.
April
1. Dig Too Deep by Amy Allgeyer (4/1): With her mother facing prison time for a violent political protest, seventeen-year-old Liberty Briscoe has no choice but to leave her Washington, DC, apartment and take a bus to Ebbottsville, Kentucky, to live with her granny. There she can finish high school and put some distance between herself and her mother– her 'former' mother, as she calls her. But Ebbottsville isn't the same as Liberty remembers, and it's not just because the top of Tanner's Peak has been blown away to mine for coal. Half the county is out of work, an awful lot of people in town seem to be sick, and the tap water is bright orange–the same water that officials claim is safe to drink. When Granny's lingering cold turns out to be something much worse, Liberty is convinced the mine is to blame, and starts an investigation that quickly plunges her into a world of secrets, lies, threats, and danger. Liberty isn't deterred by any of it, but as all her searches turn into dead ends, she comes to a difficult decision: turn to violence like her former mother or give up her quest for good.
2. Don't Get Caught by Kurt Dinan (4/1): When Max receives a mysterious invite from the untraceable, epic prank-pulling Chaos Club, he has to ask: why him? After all, he's Mr. 2.5 GPA, Mr. No Social Life. He's Just Max. And his favorite heist movies have taught him this situation calls for Rule #4: Be suspicious. But it's also his one shot to leave Just Max in the dust…
Yeah, not so much. Max and four fellow students-who also received invites-are standing on the newly defaced water tower when campus security "catches" them. Definitely a setup. And this time, Max has had enough. It's time for Rule #7: Always get payback.
Let the prank war begin.
3. Future Shock by Elizabeth Briggs (4/1): Elena Martinez has hidden her eidetic memory all her life–or so she thinks. When powerful tech giant Aether Corporation selects her for a top-secret project, she can't say no. All she has to do is participate in a trip to the future to bring back data, and she'll be set for life.
Elena joins a team of four other teens with special skills, including Adam, a science prodigy with his own reason for being there. But when the time travelers arrive in the future, something goes wrong and they break the only rule they were given: do not look into their own fates.
Now they have twenty-four hours to get back to the present and find a way to stop a seemingly inevitable future from unfolding. With time running out and deadly secrets uncovered, Elena must use her eidetic memory, street smarts, and a growing trust in Adam to save her new friends and herself.
4. South of Sunshine by Dana Elmendorf (4/1): In Sunshine, Tennessee, the main event in town is Friday night football, the biggest party of the year is held in a field filled with pickup trucks, and church attendance is mandatory. For Kaycee Jean McCoy, life in Sunshine means dating guys she has no interest in, saying only "yes, ma'am" when the local bigots gossip at her mom's cosmetics salon, and avoiding certain girls at all costs. Girls like Bren Dawson.
Unlike Kaycee, Bren doesn't really conceal who she is. But as the cool, worldly new girl, nobody at school seems to give her any trouble. Maybe there's no harm if Kaycee gets closer to her too, as long as she can keep that part of her life a secret, especially from her family and her best friend. But the more serious things get with Bren, the harder it is to hide from everyone else. Kaycee knows Sunshine has a darker side for people like her, and she's risking everything for the chance to truly be herself.
5. Tripping Back Blue by Kara Storti (4/1): Finn is a 17-year-old full of paradoxes. He's a drug dealer, but he's scoring money to send his twin sister to Harvard. He's desperate to shoot up even though he's the most popular kid in Dammertown. He's a philosopher and orator who's failing all his classes. The only time he finds peace is when he's bird-watching. Finn's life begins to spiral out of control, until he discovers a miracle drug called indigo. Finn is convinced that the drug is the way out of everything broken in his life. But is it really as magical as it seems?
6. * The Fallen Prince by Amalie Howard (4/5): Riven has fought for a hard-won peace in her world, and has come to shaky terms with who and what she is—a human with cyborg DNA. Now that the rightful ruler of Neospes has been reinstated, Riven is on the hunt for her father in the Otherworld to bring him to justice for his crimes against her people.
But when she receives an unwelcome visit from two former allies, she knows that trouble is brewing once again in Neospes. The army has been decimated and there are precious few left to fight this mysterious new threat.
To muster a first line of defense, her people need help from the one person Riven loathes most—her father. But what he wants in return is her complete surrender.
And now Riven must choose: save Neospes or save herself.
7. Boys of Summer by Jessica Brody (4/5): Best friends since they were kids, Grayson, Mike, and Ian were hoping for another epic summer on "The Locks", filled with clam bakes, bonfires, and late-night swims in the ocean.
But that was before Ian's dad never returned home from his last deployment. Before Mike had to take on more responsibility in order to help provide for his family. Before Grayson's accident left him with an injured throwing arm and an uncertain future.
It's clear this summer on the island is shaping up to be very different from those Grayson, Mike, and Ian have come to rely on. And when the sacred code of dating a friend's sister or ex is broken, it will push their friendship to the absolute limit, testing their loyalties in a way that could either break them—or save them.
8. My Kind of Crazy by Robin Reul (4/5): Despite the best of intentions, seventeen-year old, wisecracking Hank Kirby can't quite seem to catch a break. It's not that he means to screw things up all the time, it just happens. A lot. Case in point: his attempt to ask out the girl he likes literally goes up in flames when he spells "Prom" in sparklers on her lawn…and nearly burns down her house.
As if that wasn't bad enough, Peyton Breedlove, a brooding loner and budding pyromaniac, witnesses the whole thing. Much to Hank's dismay, Peyton takes an interest in him—and his "work." The two are thrust into an unusual friendship, but their boundaries are tested when Hank learns that Peyton is hiding some dark secrets, secrets that may change everything he thought he knew about Peyton.
9. * Once Upon a Dream by Liz Braswell (4/5): What if the sleeping beauty never woke up? Once Upon a Dreammarks the second book in a new YA line that reimagines classic Disney stories in surprising new ways.
It should be simple–a dragon defeated, a slumbering maiden, a prince poised to wake her. But when said prince falls asleep as soon as his lips meet the princess's, it is clear that this fairy tale is far from over.
With a desperate fairy's last curse infiltrating her mind, Princess Aurora will have to navigate a dangerous and magical landscape deep in the depths of her dreams. Soon she stumbles upon Phillip, a charming prince eager to join her quest. But with Maleficent's agents following her every move, Aurora struggles to discover who her true allies are, and moreover, who she truly is. Time is running out. Will the sleeping beauty be able to wake herself up?
10. Surviving High School by Lele Pons with Melissa de la Cruz (4/5): Ten million followers and I still sit alone at lunch. Lele is a bulls-eye target at her new school in Miami until, overnight, her digital fame catapults the girl with cheerleader looks, a seriously silly personality, and a self-deprecating funny bone into the popular crowd. Now she's facing a whole new set of challenges—the relentless drama, the ruthless cliques, the unexpected internet celebrity—all while trying to keep her grades up and make her parents proud.
Filled with the zany enthusiasm that has made Lele into Vine's most viewed star, this charming novel is proof that high school is a trip. From crushing your crushes (what's up with that hot transfer student Alexei??) to throwing Insta-fake parties with your BFFs and moaning over homework (GAH) with your frenemies, high school is a rollercoaster of exhilarating highs and totally embarrassing lows. Leave it to Lele to reassure us that falling flat on your face is definitely not the end of the world. Fans of Mean Girls will love this fun and heartwarming fish-out-of-water story.
11. The End of FUN by Sean McGinty (4/5): FUN®—the latest in augmented reality—is fun but it's also frustrating, glitchy and dangerously addictive . Just when everyone else is getting on, seventeen-year-old Aaron O'Faolain wants off.
But first, he has to complete his Application for Termination, and in order to do that he has to deal with his History—not to mention the present, including his grandfather's suicide and a series of clues that may (or may not) lead to buried treasure. As he attempts to unravel the mystery, Aaron is sidetracked again . . . and again. Shadowed by his virtual "best friend" Homie, Aaron struggles with love, loss, dog bites, werewolf pills, community theater, wild horses, wildfires and the fact (deep breath) that actual reality can sometimes surprise you.
12. The Haters by Jesse Andrews (4/5): For Wes and his best friend, Corey, jazz camp turns out to be lame. It's pretty much all dudes talking in Jazz Voice. But then they jam with Ash, a charismatic girl with an unusual sound, and the three just click. It's three and a half hours of pure musical magic, and Ash makes a decision: They need to hit the road. Because the road, not summer camp, is where bands get good. Before Wes and Corey know it, they're in Ash's SUV heading south, and The Haters Summer of Hate Tour has begun.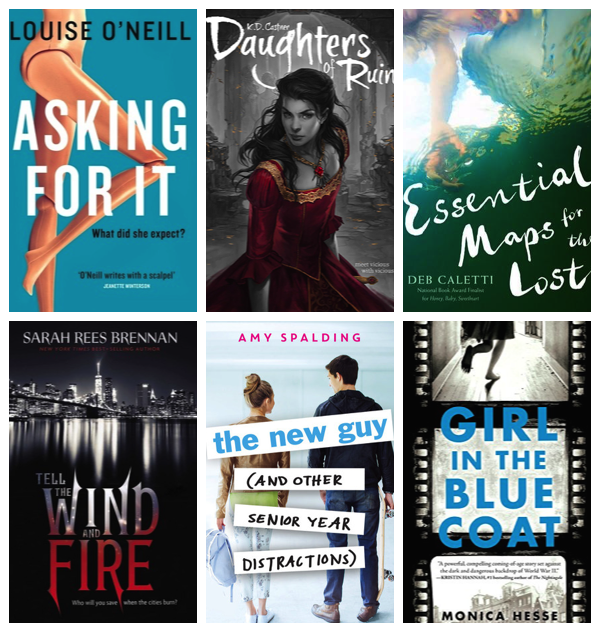 13. Asking for It by Louise O'Neill (4/5): It's the beginning of the summer in a small town in Ireland. Emma O'Donovan is eighteen years old, beautiful, happy, confident. One night, there's a party. Everyone is there. All eyes are on Emma.
The next morning, she wakes on the front porch of her house. She can't remember what happened, she doesn't know how she got there. She doesn't know why she's in pain. But everyone else does.
Photographs taken at the party show, in explicit detail, what happened to Emma that night. But sometimes people don't want to believe what is right in front of them, especially when the truth concerns the town's heroes.
14. Daughters of Ruin by KD Castner (4/5): Rhea, Cadis, Suki, and Iren have lived together since they were children. They are called sisters. They are not. They are called equals. They are not. They are princesses…and they are enemies.
Not long ago, a brutal war ravaged their kingdoms, and Rhea's father was the victor. As a gesture of peace, King Declan brought the daughters of his rivals to live under his protection—and his ever-watchful eye. For ten years the girls have trained together as diplomats and warriors, raised to accept their thrones and unite their kingdoms in peace.
But there is rarely peace among sisters. Sheltered Rhea was raised to rule everyone—including her "sisters"—but she's cracking under pressure. The charismatic Cadis is desperately trying to redeem her people from their actions during the war. Suki guards deep family secrets that isolate her, and quiet Iren's meekness is not what it seems.
All plans for peace are shattered when the palace is attacked. As their intended futures lie in ashes, Rhea, Cadis, Suki, and Iren must decide where their loyalties lie: to their nations, or to each other.
15. Essential Maps for the Lost by Deb Caletti (4/5): When Madison makes a startling discovery, the body of a dead woman floating in the middle of a lake, the summer after her senior year becomes more complicated than she ever expected.
Madison (Mads to everyone who knows her) is staying with her aunt and uncle in Seattle after graduating from high school. Being away from her needy, unstable mother who's been pressuring her to take over the family business is such a relief. Now all Mads has to worry about is taking classes, swimming laps, and fighting off the sadness that threatens to overtake her.
That is, until the traumatic moment Mads collides with a body in the middle of the lake. After swimming the body back to shore, Mads becomes obsessed with uncovering the identity of the woman and what drove her to leap off of the Aurora Bridge. Determined to discover more, Mads parks outside the woman's home and sees the woman's son: the sweet and tormented Billy Youngwolf Floyd.
Through a series of not-so-happenstance meetings, Mads and Billy realize that desperate mothers and rescue missions are not the only thing that bonds them. Billy carries a map in his pocket; the one of the museum from The Mixed-Up Files of Mrs. Basil E. Frankweiler; and it's his dream to visit the museum one day. And though book-loving Mads is expected to return home to her already-decided future, her dream is to run away to a life of her choosing.
As the unlikely pair fall hard for each other and as the summer draws to a close, Billy and Mads must decide whose story to follow: their family's or their own.
16. Tell The Wind and Fire by Sarah Rees Brennan (4/5): In a city divided between opulent luxury in the Light and fierce privations in the Dark, a determined young woman survives by guarding her secrets.
Lucie Manette was born in the Dark half of the city, but careful manipulations won her a home in the Light, celebrity status, and a rich, loving boyfriend. Now she just wants to keep her head down, but her boyfriend has a dark secret of his own—one involving an apparent stranger who is destitute and despised. Lucie alone knows the young men's deadly connection, and even as the knowledge leads her to make a grave mistake, she can trust no one with the truth.
Blood and secrets alike spill out when revolution erupts. With both halves of the city burning, and mercy nowhere to be found, can Lucie save either boy—or herself?
17. The New Guy (And Other Senior Year Distractions) by Amy Spalding (4/5): A ridiculously cute, formerly-famous new guy dropping into your life? It's practically every girl's dream.
But not Jules McCallister-Morgan's.
I realize that on paper I look like your standard type-A, neurotic, overachiever. And maybe I am. But I didn't get to be the editor of my school's long-revered newspaper by just showing up*. I have one main goal for my senior year-early acceptance into my first choice Ivy League college-and I will not be deterred by best friends, moms who think I could stand to "live a little," or boys.
At least, that was the plan before I knew about Alex Powell**.
And before Alex Powell betrayed me***.
I know what you're thinking: Calm down, Jules. But you don't understand. This stuff matters. This is my life. And I'm not going down without a fight.
—-
* Okay, I sort of did. But it's a sore subject.
** I mean, I guess everyone knows about Alex Powell? Two years ago, you couldn't go anywhere without hearing about viral video boy band sensation Chaos 4 All. Two years ago, Alex Powell was famous.
***Some people think I'm overreacting. But this. Means. War.
18. Girl in the Blue Coat by Monica Hesse (4/5): Amsterdam, 1943. Hanneke spends her days procuring and delivering sought-after black market goods to paying customers, her nights hiding the true nature of her work from her concerned parents, and every waking moment mourning her boyfriend, who was killed on the Dutch front lines when the Germans invaded. She likes to think of her illegal work as a small act of rebellion.
On a routine delivery, a client asks Hanneke for help. Expecting to hear that Mrs. Janssen wants meat or kerosene, Hanneke is shocked by the older woman's frantic plea to find a person–a Jewish teenager Mrs. Janssen had been hiding, who has vanished without a trace from a secret room. Hanneke initially wants nothing to do with such dangerous work, but is ultimately drawn into a web of mysteries and stunning revelations that lead her into the heart of the resistance, open her eyes to the horrors of the Nazi war machine, and compel her to take desperate action.
19. Burning by Danielle Rollins (4/5): After three years in juvie, Angela Davis is just a few months shy of release, and she'll finally be free from the hole that is Brunesfield Correctional Facility. Then Jessica arrives. Only ten years old and under the highest security possible, this girl has to be dangerous, even if no one knows what she did to land in juvie. As strange things begin happening to Angela and her friends that can only be traced to the new girl's arrival, it becomes clear that Brunesfield is no longer safe. They must find a way to get out, but how can they save themselves when the world has forgotten them?
20. * Flawed by Cecelia Ahern (4/5): Celestine North lives a perfect life. She's a model daughter and sister, she's well-liked by her classmates and teachers, and she's dating the impossibly charming Art Crevan.
But then Celestine encounters a situation where she makes an instinctive decision. She breaks a rule. And now faces life-changing repercussions.
She could be imprisoned. She could be branded. She could be found FLAWED.
In her breathtaking young adult debut, bestselling author Cecelia Ahern depicts a society where obedience is paramount and rebellion is punished. And where one young woman decides to take a stand that could cost her-everything.
21. Love Me Never by Sara Wolf (4/5): Seventeen-year-old Isis Blake hasn't fallen in love in three years, nine weeks, and five days, and after what happened last time, she intends to keep it that way. Since then she's lost eighty-five pounds, gotten four streaks of purple in her hair, and moved to Buttcrack-of-Nowhere, Ohio, to help her mom escape a bad relationship.
All the girls in her new school want one thing—Jack Hunter, the Ice Prince of East Summit High. Hot as an Armani ad, smart enough to get into Yale, and colder than the Arctic, Jack Hunter's never gone out with anyone. Sure, people have seen him downtown with beautiful women, but he's never given high school girls the time of day. Until Isis punches him in the face.
Jack's met his match. Suddenly everything is a game.
The goal: Make the other beg for mercy.
The game board: East Summit High.
The reward: Something neither of them expected.
22. * Nightstruck by Jenna Black (4/5): The night is the enemy, and the city of Philadelphia is its deadliest weapon.
Becket is an ordinary teenage girl, wrestling with the upheaval of her parents' divorce. Her biggest problems to date have been choosing which colleges to apply to, living up to her parents' ambitious expectations of her, and fighting her secret crush on her best friend's boyfriend. That all changes the night she tries to save an innocent life and everything goes horribly wrong.
Becket has been tricked into opening a door between worlds. As dark magic trickles into Philadelphia, strange creatures roam the streets and inanimate objects come to life, all of them bloodthirsty and terrifying. The city returns to normal when the sun rises each morning. The moment the sun sets, most citizens shut themselves in their houses and stay there no matter what they hear.
The magic is openly hostile to most mortals, but there are some it seems to covet, trying to lure them out into the night. While Becket struggles to protect her friends and family from predatory creatures of the night, she is constantly tempted to shrug off her responsibilities and join them.
23. Romancing the Nerd by Leah Rae Miller (4/5): Dan Garrett has become exactly what he hates—popular. Until recently, he was just another live-action role-playing (LARP) geek on the lowest run of the social ladder. Cue a massive growth spurt and an uncanny skill at taking three-point shots in basketball and voila…Mr. Popular. It's definitely weird.
And the biggest drawback? Going from high school zero to basketball hero cost Dan the secret girl-of-his-dorky dreams.
A tuba-playing nerd with an eclectic fashion sense, Zelda Potts's "Coolness" stat is about minus forty-two. Dan turning his back on her and the rest of nerd-dom was brutal enough, but when he humiliates her at school, Zelda decides it's time for a little revenge—dork style. Nevermind that she used to have a crush on him. Nevermind that her plan could backfire big time.
It's time to roll the dice…and hope like freakin' hell she doesn't lose her heart in the process.
24. When We Collided by Emery Lord (4/5): Meet Vivi and Jonah: A girl and a boy whose love has the power save or destroy them.
Vivi and Jonah couldn't be more different. Vivi craves anything joyful or beautiful that life can offer. Jonah has been burdened by responsibility for his family ever since his father died. As summer begins, Jonah resigns himself to another season of getting by. Then Vivi arrives, and suddenly life seems brighter and better. Jonah is the perfect project for Vivi, and things finally feel right for Jonah. Their love is the answer to everything. But soon Vivi's zest for life falters, as her adventurousness becomes true danger-seeking. Jonah tries to keep her safe, but there's something important Vivi hasn't told him.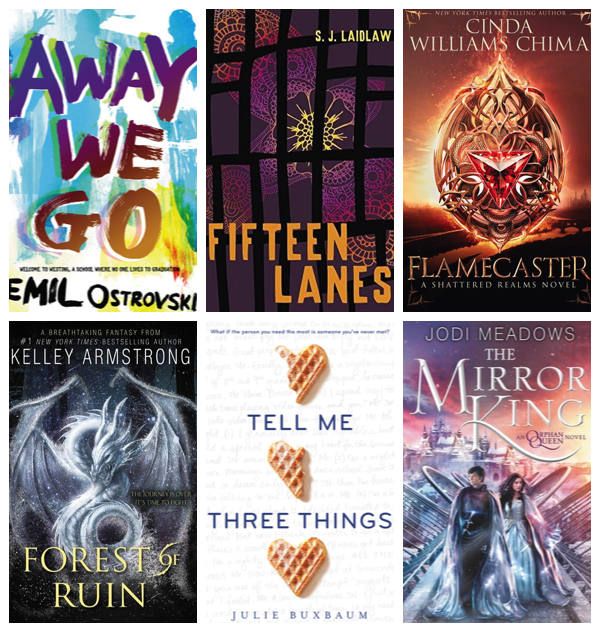 25. Away We Go by Emil Ostrovski (4/5): Westing is not your typical school. For starters, you have to have one very important quality in order to be admitted—you have to be dying. Every student at Westing has been diagnosed with PPV, or the Peter Pan Virus. No one is expected to live to graduation.
What do you do when you go to a school where no one has a future? Noah Falls, his girlfriend Alice, and his best friend Marty spend their time drinking, making out, and playing video games on awaywego.com. But when an older boy named Zach (who Noah may or may not be in love with) invites Noah and Marty to join his secret Polo Club, the lives of both boys change as they struggle to find meaning in their shortened existence.
26. Fifteen Lanes by SJ Laidlaw (4/5): Noor has lived all of her fourteen years in the fifteen lanes of Mumbai's red light district. Born into a brothel, she is destined for the same fate as her mother: a desperate life trapped in the city's sex trade. She must act soon to have any chance of escaping this grim future.
Across the sprawling city, fifteen-year-old Grace enjoys a life of privilege. Her father, the CEO of one of India's largest international banks, has brought his family to Mumbai where they live in unparalleled luxury. But Grace's seemingly perfect life is shattered when she becomes a victim of a cruel online attack.
When their paths intersect, Noor and Grace will be changed forever. Can two girls living in vastly different worlds find a common path?
27. * Flamecaster by Cinda Williams Chima (4/5): Adrian sul'Han, known as Ash, is a trained healer with a powerful gift of magic—and a thirst for revenge. Ash is forced into hiding after a series of murders throws the queendom into chaos. Now Ash is closer than he's ever been to killing the man responsible, the cruel king of Arden. As a healer, can Ash use his powers not to save a life but to take it?
Abandoned at birth, Jenna Bandelow was told that the mysterious magemark on the back of her neck would make her a target. But when the King's Guard launches a relentless search for a girl with a mark like hers, Jenna assumes that it has more to do with her role as a saboteur than any birth-based curse. Though Jenna doesn't know why she's being hunted, she knows that she can't get caught.
Eventually, Ash's and Jenna's paths will collide in Arden. Thrown together by chance and joined by their hatred of the king, they will come to rescue each other in ways they cannot yet imagine.
Set in the world of the acclaimed Seven Realms series a generation later.
28. * Forests of Ruin by Kelley Armstrong (4/5): The empire rests on the edge of a knife, and sisters Ashyn and Moria are the handle and the blade. Desperate to outmaneuver the evil Alvar Kitsune, whose hold on the people grows stronger every day, Emperor Tatsu begs Moria to put aside past grievances and ally with Gavril—at least long enough to make an attempt on Alvar's life. Meanwhile, reunited with her long-lost grandfather, Ashyn discovers that she is the key to a ritual that could reawaken an ancient dragon and turn the tide of the coming battle in their favor.
But with lies and betrayal lurking around every corner, Ashyn and Moria will have to decide once and for all where their allegiances are. And it may not be where their hearts would lead them….
29. Tell Me Three Things by Julie Buxbaum (4/5): What if the person you need the most is someone you've never met?
Everything about Jessie is wrong. At least, that's what it feels like during her first week of junior year at her new ultra-intimidating prep school in Los Angeles. Just when she's thinking about hightailing it back to Chicago, she gets an email from a person calling themselves Somebody/Nobody (SN for short), offering to help her navigate the wilds of Wood Valley High School. Is it an elaborate hoax? Or can she rely on SN for some much-needed help?
It's been barely two years since her mother's death, and because her father eloped with a woman he met online, Jessie has been forced to move across the country to live with her stepmonster and her pretentious teenage son.
In a leap of faith—or an act of complete desperation—Jessie begins to rely on SN, and SN quickly becomes her lifeline and closest ally. Jessie can't help wanting to meet SN in person. But are some mysteries better left unsolved?
30. * The Mirror King by Jodi Meadows (4/5): Wilhelmina has a hundred enemies.
HER FRIENDS HAVE TURNED. After her identity is revealed during the Inundation, Princess Wilhelmina is kept prisoner by the Indigo Kingdom, with the Ospreys lost somewhere in the devastated city. When the Ospreys' leader emerges at the worst possible moment, leaving Wil's biggest ally on his deathbed, she must become Black Knife to set things right.
HER MAGIC IS UNCONTROLLABLE. Wil's power is to animate, not to give true life, but in the wraithland she commanded a cloud of wraith mist to save herself, and later ordered it solid. Now there is a living boy made of wraith—destructive and deadly, and willing to do anything for her.
HER HEART IS TORN. Though she's ready for her crown, declaring herself queen means war. Caught between what she wants and what is right, Wilhelmina realizes the throne might not even matter. Everyone thought the wraith was years off, but already it's destroying Indigo Kingdom villages. If she can't protect both kingdoms, soon there won't be a land to rule.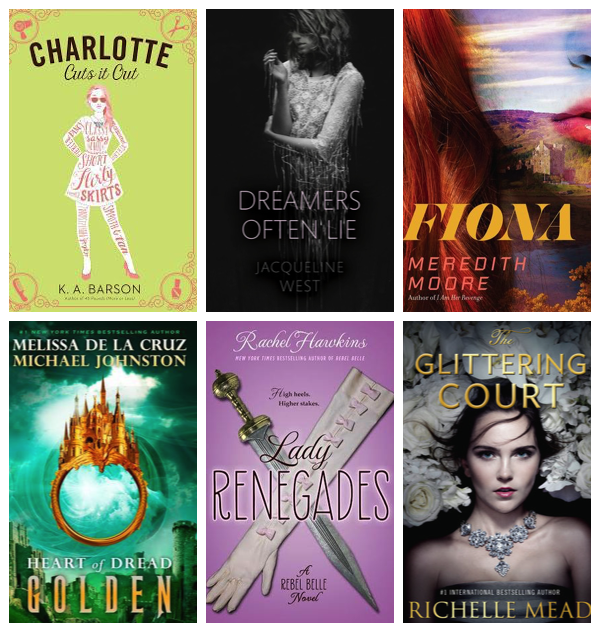 31. Charlotte Cuts it Out by KA Barson (4/5): Lydia and I were in eighth grade when we came up with our Grand Plan to go to cosmetology school and get jobs to build our clientele while we earned business degrees. Then we'd open our own salon . . .
Now Charlotte and Lydia are juniors, in a Cosmetology Arts program where they'll get on-the-job training and college credits at the same time. The Grand Plan is right on schedule.
Which means it's time for Step Two: Win the Winter Style Showcase, where Cos Arts and Fashion Design teams team up to dazzle the judges with their skills.
Charlotte is sure that she and Lydia have it locked up—so sure, in fact, that she makes a life-changing bet with her mother, who wants her to give up cos for college.
And that's when things start going off the rails.
As the clock ticks down to the night of the Showcase, Charlotte has her hands full. Design divas. Models who refuse to be styled. Unexpectedly stiff competition. And then, worst of all, Lydia—her BFF and Partner in Cos—turns out to have a slightly different Grand Plan.
32. Dreamers Often Lie by Jacqueline West (4/5): Jaye wakes up from a skiing accident with a fractured skull, a blinding headache, and her grip on reality sliding into delusion. Determined to get back to her starring role in the school production of A Midsummer Night's Dream, Jaye lies to her sister, her mom, her doctors. She's fine, she says. She's fine. If anyone knew the truth – that hallucinations of Shakespeare and his characters have followed her from her hospital bed to the high school halls – it would all be over. She's almost managing to pull off the act when Romeo shows up in her anatomy class. And it turns out that he's 100% real. Suddenly Jaye has to choose between lying to everyone else and lying to herself.
Troubled by the magnetic new kid, a long-lost friend turned recent love interest, and the darkest parts of her family's past, Jaye's life tangles with Shakespeare's most famous plays until she can't tell where truth ends and pretending begins. Soon, secret meetings and dizzying first kisses give way to more dangerous things. How much is real, how much is in Jaye's head, and how much does it matter as she flies toward a fate over which she seems to have no control?
33. Fiona by Meredith Moore (4/5): Fiona, an independent loner with wild red hair, leaves her fractured home in Texas for a brand-new life in the Scottish Highlands to be the au pair for Poppy Mackenzie, the young daughter of her mother's recently deceased childhood friends. Fee, as she's called, is thrilled to be free of her less-than-ideal home life. But there's another motive driving her eagerness to flee to the Highlands: the desire to reconnect with her mother, who succumbed to suicide after a long battle with schizophrenia when Fiona was only twelve, leaving her to live with distant relatives of her absentee father.
Fee doesn't have much time to settle into her new home—a castle maintained by the Mackenzie family fortune—before a series of strange events starts to make her question her sanity. As the attacks on her mental health become more and more intense, Fee finds herself both the pawn and the target in a ruthless, greed-driven plot with roots that go all the way back to her mother. Alone and friendless in a foreign country and half-convinced she's losing her mind—just like her mother—Fee must rely on her wits and her street smarts to save not only herself but also the lives of her newfound Scottish family.
34. * Golden by Melissa de la Cruz (4/5): In this epic conclusion to the trilogy, Nat and Wes go on a journey to find the Rift, save the source of magic and defeat the Drau, the pirates, and the RSA—but at a great sacrifice. Wes is dying, and as he's rotting the Drau will let the rot "cleanse" the source of magic, dooming Wes forever. Nat and Wes discover that the source of the magic lies in the Drakon—the key to the Blue, the protector, the soul of the world. But in order to close the Rift, a great sacrifice is needed. Nat must decide to sacrifice her beloved drakon in order to save the world, and to save Wes. In the words of the sylphs, death is life, and now the worlds can be reborn again.
35. * Lady Renegades by Rachel Hawkins (4/5): Just as Harper Price starts coming to terms with her role as David Stark's battle-ready Paladin, protector, and girlfriend—her world goes crazy all over again.
Overwhelmed by his Oracle powers, David flees Pine Grove and starts turning teenaged girls into Paladins—and these young ladies seem to think that Harper is the enemy David needs protecting from. Ordinarily, Harper would be able to fight off any Paladin who comes her way, but her powers have been dwindling since David left town, which means her life is on the line yet again.
Now, it's a desperate race for Harper to find and rescue David before she backslides from superhero to your garden-variety type-A belle.
36. The Glittering Court by Richelle Mead (4/5): For a select group of girls, the Glittering Court offers a shot at a life they've only ever dreamed of, one of luxury, glamour, and leisure. To high-born Adelaide, whose wealthy family is forcing her into a loveless marriage, the Glittering Court represents something else: the chance to chart her own destiny, and adventure in an unspoiled, prosperous new land across the sea.
After a chance meeting with the dazzling Cedric Thorn, Adelaide poses as a servant to join the crop of impoverished girls he promises to transform into proper ladies. But her familiarity with upper class life comes with a price: she must hide her identity from her new friends, mysterious refugee Mira and fiery former laundress Tamsin, and most importantly, from Cedric himself—even though she's falling in love with him.
Everything begins to crumble when Cedric discovers Adelaide's ruse, and she catches the eye of a powerful young governor, who wants her for a wife. She didn't leave the gilded cage of her old life behind just to become someone else's property. But nothing is as daunting—or as wonderful—as the potent, forbidden attraction simmering between Adelaide and Cedric. One that, if acted on, would make them both outcasts in a wild, dangerous, uncharted world, and possibly lead them to their deaths.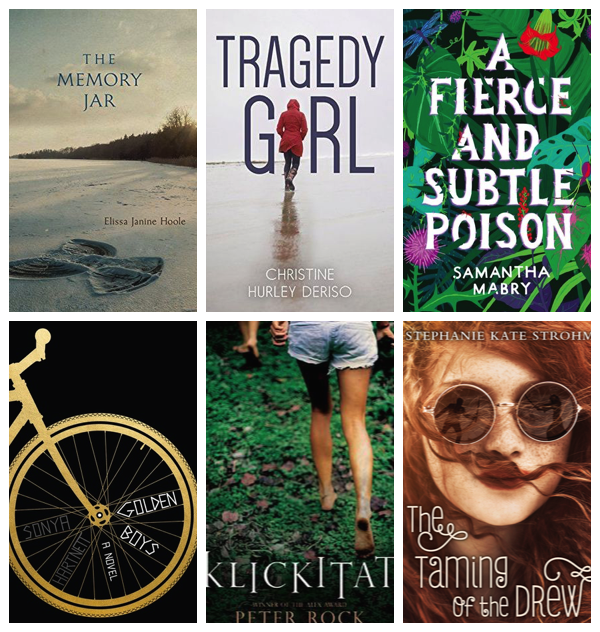 37. The Memory Jar by Elissa Janine Hoole (4/8): Since the accident, Taylor's memory has been fuzzy. But at least she's awake. Who knows what her boyfriend, Scott, will remember when he comes out of the coma. Will he remember that Taylor was driving the snowmobile when it crashed? Will he remember the engagement ring? Her pregnancy?
Will he remember that she tried to break up with him?
Taylor doesn't know. And she doesn't know if she wants him to remember. Plenty of things happened that night and before—secrets wrapped in secrets—that she'd prefer be forgotten.
Facing choices she'd rather ignore, Taylor searches for something more solid than whispers and something bigger than blame to face the future and forgive herself.
38. Tragedy Girl by Christine Hurley Deriso (4/8): Of course Anne would be drawn to Blake. He's good looking, he's friendly, and they both bring sob stories to the table: her parents died in a car wreck, his girlfriend, Cara, drowned. Of course Blake would understand what she's gone through. And of course they can help each other work through the pain. It's like it was meant to be.
But just as Anne starts to feel she's finally found something good in all the tragedy, she can't ignore signs that something's off. Her friends rarely let her be alone with Blake. Even those closest to Blake seem uneasy around him. And then there are the rumors about the death of Cara, whose body was never recovered. Rumors that suggest Blake's pain is hiding something darker than Anne can even begin to comprehend.
39. A Fierce and Subtle Poison by Samantha Mabry (4/12): Everyone knows the legends about the cursed girl–Isabel, the one the señoras whisper about. They say she has green skin and grass for hair, and she feeds on the poisonous plants that fill her family's Caribbean island garden. Some say she can grant wishes; some say her touch can kill.
Seventeen-year-old Lucas lives on the mainland most of the year but spends summers with his hotel-developer father in Puerto Rico. He's grown up hearing stories about the cursed girl, and he wants to believe in Isabel and her magic. When letters from Isabel begin mysteriously appearing in his room the same day his new girlfriend disappears, Lucas turns to Isabel for answers–and finds himself lured into her strange and enchanted world. But time is running out for the girl filled with poison, and the more entangled Lucas becomes with Isabel, the less certain he is of escaping with his own life.
40. Golden Boys by Sonya Hartnett (4/12): Colt Jenson and his younger brother, Bastian, have moved to a new, working-class suburb. The Jensons are different. Their father, Rex, showers them with gifts — toys, bikes, all that glitters most — and makes them the envy of the neighborhood. To the local kids, the Jensons are a family out of a movie, and Rex a hero — successful, attentive, attractive, always there to lend a hand. But to Colt he's an impossible figure: unbearable, suffocating. Has Colt got Rex wrong, or has he seen something in his father that will destroy their fragile new lives?
41. Klickitat by Peter Rock (4/12): Vivian feels left behind when her older sister, Audra, runs away from home. She believes that Audra will return and pays careful attention to the clues around her. Then, inexplicably, writing begins to appear in a blank notebook.
When Audra does come back for Vivian, she's in the company of a strange man. The three of them run away together and practice wilderness survival. While Audra plans for the future, Vivian continues to gather evidence: Who is this mysterious man, and does he have any connection to the words appearing in her notebook?
42. The Taming of the Drew by Stephanie Kate Strohm (4/12): Cass McKay has been called stubborn, temperamental, difficult, and that word that rhymes with "witch" more times than she cares to count. But that's all about to pay off. She has finally landed the role she was born to play—Kate, in The Taming of the Shrew—in the summer apprentice program of a renowned Shakespeare theater company in the forests of Vermont.
But Cass can barely lace up her corset before her troubles begin. Her leading man, Drew, is a complete troll, and he's going to ruin Cass's summer. Even worse, Cass's bunkmate Amy has somehow fallen head over heels for Drew. Cass can't let Amy throw herself at a total jerk, so she comes up with a genius plan to give Drew the personality makeover he so desperately needs: they'll tame Drew just as Petruchio tames Kate! But as Shakespeare's classic plays out offstage, Cass finds it harder and harder to resist falling for Drew herself.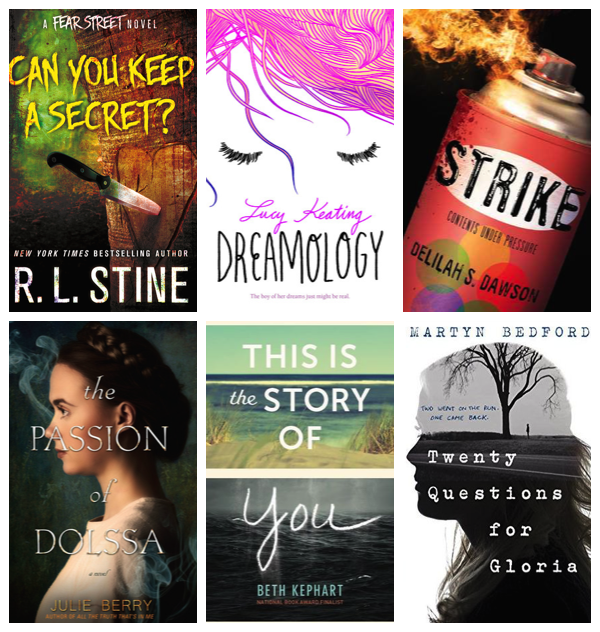 43. Can You Keep A Secret? by RL Stine (4/12): Eddie and Emma are high school sweethearts from the wrong side of the tracks. Looking for an escape their dreary lives, they embark on an overnight camping trip in the Fear Street Woods with four friends. As Eddie is carving a heart into a tree, he and Emma discover a bag hidden in the trunk. A bag filled with hundred-dollar bills. Thousands of them. Should they take it? Should they leave the money there? The six teens agree to leave the bag where it is until it's safe to use it. But when tragedy strikes Emma's family, the temptation to skim some money off of the top becomes impossible to fight. There's only one problem. When Emma returns to the woods, the bag of money is gone, and with it, the trust of six friends with a big secret.
44. Dreamology by Lucy Keating (4/12): For as long as Alice can remember, she has dreamed of Max. Together they have traveled the world and fallen deliriously, hopelessly in love. Max is the boy of her dreams—and only her dreams. Because he doesn't exist.
But when Alice walks into class on her first day at a new school, there he is. It turns out, though, that Real Max is nothing like Dream Max, and getting to know each other in reality isn't as perfect as Alice always hoped.
When their dreams start to bleed dangerously into their waking hours, the pair realize that they might have to put an end to a lifetime of dreaming about each other. But when you fall in love in your dreams, can reality ever be enough?
45. * Strike by Delilah S. Dawson (4/12): The hit list was just the beginning.
Time to strike back.
After faking her own death to escape her term as an indentured assassin for Valor Savings Bank, Patsy is on the run with her boyfriend, Wyatt. All she wants to do is go home, but that's never going to happen—not as long as Valor's out to get her and the people she loves.
Left with no good choices, Patsy's only option is to meet with a mysterious group that calls itself the Citizens for Freedom.
Led by the charismatic Leon Crane, the CFF seem like just what Patsy has been looking for. Leon promises that if she joins, she'll finally get revenge on Valor for everything they've done to her—and for everything they've made her do.
But Patsy knows the CFF has a few secrets of their own. One thing is certain: they'll do absolutely anything to complete their mission, no matter who's standing in their way. Even if it's Patsy herself.
46. The Passion of Dolssa by Julie Berry (4/12): Buried deep within the archives of a convent in medieval France is an untold story of love, loss, and wonder and the two girls at the heart of it all.
Dolssa is an upper-crust city girl with a secret lover and an uncanny gift. Branded a heretic, she's on the run from the friar who condemned her mother to death by fire, and wants Dolssa executed, too.
Botille is a matchmaker and a tavern-keeper, struggling to keep herself and her sisters on the right side of the law in their seaside town of Bajas.
When their lives collide by a dark riverside, Botille rescues a dying Dolssa and conceals her in the tavern, where an unlikely friendship blooms. Aided by her sisters and Symo, her surly but loyal neighbor, Botille nurses Dolssa back to health and hides her from her pursuers. But all of Botille's tricks, tales, and cleverness can't protect them forever, and when the full wrath of the Church bears down upon Bajas, Dolssa's passion and Botille's good intentions could destroy the entire village.
47. This Is The Story Of You by Beth Kephart (4/12): On Haven, a six-mile long, half-mile-wide stretch of barrier island, Mira Banul and her Year-Rounder friends have proudly risen to every challenge. But then a superstorm defies all predictions and devastates the island, upending all logic and stranding Mira's mother and brother on the mainland. Nothing will ever be the same. A stranger appears in the wreck of Mira's home. A friend obsessed with vanishing disappears. As the mysteries deepen, Mira must find the strength to carry on—to somehow hold her memories in place while learning to trust a radically reinvented future. Gripping and poetic, This Is the Story of You is about the beauty of nature and the power of family, about finding hope in the wake of tragedy and recovery in the face of overwhelming loss.
48. Twenty Questions for Gloria by Martyn Bedford (4/12): At 15, Gloria longs for adventure, something beyond her ordinary suburban life. When a mysterious new boy strolls into school, bent on breaking all the rules, Gloria is ready to fall under his spell.

Uman is funny, confident, and smart. He does what he wants without a care for what anyone thinks. The only people for him, he says, are the mad ones, the ones who never yawn or say a commonplace thing but burn, burn, burn.

He is everything Gloria wants to be. He can whisk her away and show her a more daring, more exciting life in which the only limits are the boundaries of her own boldness. But Uman is not all he seems. And by the time she learns the truth about him, she's a long way from home . . . and the whole country wants to know: Where's Gloria?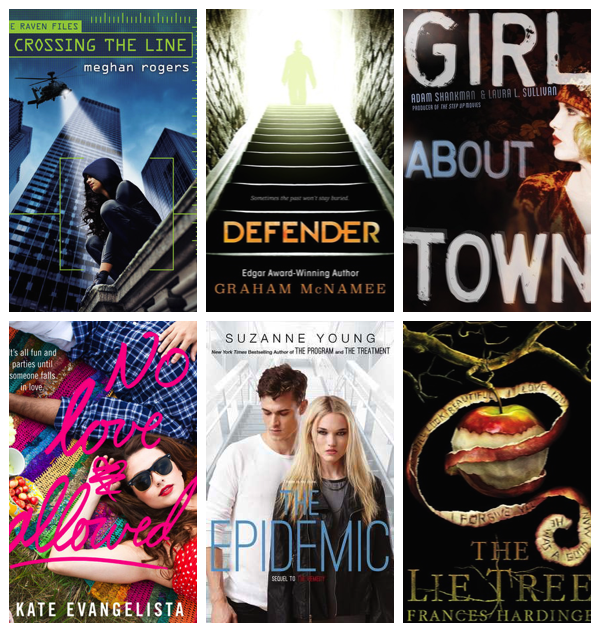 49. * Crossing The Line by Meghan Rogers (4/12): Jocelyn Steely was kidnapped as a child and raised in North Korea as a spy. When her agency sends her to the U.S. to infiltrate the very group her parents once worked for, Jocelyn jumps at the chance to turn double agent and finish off her kidnappers once and for all. She convinces the head of the American spy agency to trust her, but it's not quite as simple as that: Jocelyn has to fight the withdrawal symptoms from the drug that the North Koreans used to keep her in line, and her new fellow spies refuse to trust their former adversary. Worst of all, there might be some new information to uncover about her parents – if she even wants to find out.
50. Defender by Graham McNamee (4/12): They call her Tiny, but Tyne Greer is six foot six, a high school basketball star who is hoping the game will be her ticket out of the slum. She lives in a run-down building called The Zoo, where her father is the superintendent. One day she discovers a crack in the wall of an abandoned basement room. And sealed up in the wall is a girl's body. Horrified, she runs to get her dad. But after he goes to take a look, he comes back and tells Tyne that nothing's there. No girl. No body. He tells her she must be seeing things in the dark.
Tyne is sure it was real, though, and when she finds evidence that the body was moved from the hole in the wall, she knows the only one who could have done it is her father. But why? What is he hiding?
Tyne's search for answers uncovers a conspiracy of secrets and lies in her family. The closer she gets to the truth, the more dangerous it becomes for her. Because some will do anything to bury the past…and keep her silent.
51. Girl About Town by Adam Shankman and Laura L. Sullivan (4/19): Not too long ago, Lucille O'Malley was living in a tenement in New York. Now she's Lulu Kelly, Hollywood's newest It Girl. She may be a star, but she worries that her past will catch up with her. Back in New York she witnessed a Mafia murder, and this glamorous new life in Tinseltown is payment for her silence.
Dashing Freddie van der Waals, the only son of a New York tycoon, was a playboy with the world at his feet. But when he discovered how his corrupt father really made the family fortune, Freddie abandoned his billions and became a vagabond. He travels the country in search of redemption and a new identity, but his father will stop at nothing to bring him home.
When fate brings Lulu and Freddie together, sparks fly—and gunshots follow. Suddenly Lulu finds herself framed for attempted murder. Together, she and Freddie set out to clear her name. But can they escape their pasts and finally find the Hollywood ending they long for?
52. No Love Allowed by Kate Evangelista (4/19): Caleb desperately needs a fake girlfriend. Either he attends a series of parties for his father's law firm with a pretty girl on his arm, or he gets shipped off to Yale to start a future he's not ready for and isn't sure he wants. And sadly, the last unattached girl in his social circle has just made the grievous mistake of falling in love with him. Fortunately, Didi, recently fired waitress and aspiring painter, is open to new experiences. As the summer ticks by in a whirl of lavish parties, there's only one rule: They must not fall in love!
53. * The Epidemic by Suzanne Young (4/19): In a world before The Program…
Quinlan McKee has spent her life acting as other people. She was a closer—a person hired to play the role of the recently deceased in order to give their families closure. Through this process, Quinn learned to read people and situations, even losing a bit of herself to do so. But she couldn't have guessed how her last case would bring down her entire world.
The only person Quinn trusts is Deacon, her best friend and the love of her life. Except Deacon's been keeping secrets of his one, so Quinn must set out alone to find Arthur Pritchard, the doctor who's been trying to control her life. The journey brings Quinn to Arthur's daughter, Virginia, who tells Quinn the truth about Pritchard's motives. The former closer will start to see that she is the first step in fighting an epidemic.
But Quinlan doesn't want to be a cure. And with all the lies surrounding her, she realizes she has no one left to rely on but herself—even if she doesn't know who that is anymore.
54. The Lie Tree by Frances Hardinge (4/19): Faith Sunderly leads a double life. To most people, she is reliable, dull, trustworthy—a proper young lady who knows her place as inferior to men. But inside, Faith is full of questions and curiosity, and she cannot resist mysteries: an unattended envelope, an unlocked door. She knows secrets no one suspects her of knowing. She knows that her family moved to the close-knit island of Vane because her famous scientist father was fleeing a reputation-destroying scandal. And she knows, when her father is discovered dead shortly thereafter, that he was murdered.
In pursuit of justice and revenge, Faith hunts through her father's possessions and discovers a strange tree. The tree only bears fruit when she whispers a lie to it. The fruit of the tree, when eaten, delivers a hidden truth. The tree might hold the key to her father's murder—or it may lure the murderer directly to Faith herself.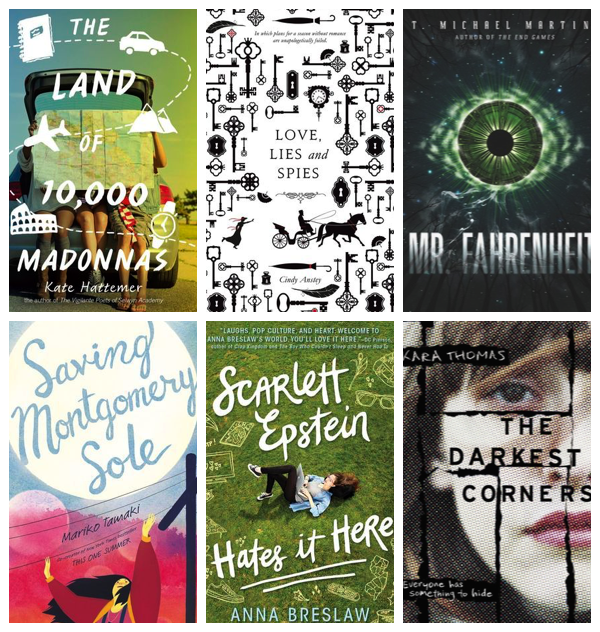 55. The Land of 10,000 Madonnas by Kate Hattemer (4/19): Jesse lives with his history professor dad in a house covered with postcards of images of the Madonna from all over the world. They're gotten used to this life: two motherless dudes living among thousands of Madonnas. But Jesse has a heart condition that will ultimately cut his life tragically short. Before he dies, he arranges a mysterious trip to Europe for his three cousins, his best friend, and his girlfriend to take after he passes away. It's a trip that will forever change the lives of these young teens and one that will help them come to terms with Jesse's death.
56. Love, Lies, and Spies by Cindy Anstey (4/19): Juliana Telford is not your average nineteenth-century young lady. She's much more interested in researching ladybugs than marriage, fashionable dresses, or dances. So when her father sends her to London for a season, she's determined not to form any attachments. Instead, she plans to secretly publish their research.
Spencer Northam is not the average young gentleman of leisure he appears. He is actually a spy for the War Office, and is more focused on acing his first mission than meeting eligible ladies. Fortunately, Juliana feels the same, and they agree to pretend to fall for each other. Spencer can finally focus, until he is tasked with observing Juliana's traveling companions . . . and Juliana herself.
57. Mr. Fahrenheit by T. Michael Martin (4/19): Benji's lived his whole life in the same sleepy midwestern town—the same town his father grew up in, and his grandfather. But he wants nothing more than to put his past in the rearview mirror as soon as he graduates high school. Benji yearns for a Moment—the Moment that will redeem and transform his ordinary life. The Moment that will propel him into a new, star-bright future.
Then one night, the Moment happens:
Benji and his tight group of friends—CR, Ellie, and Zeeko—accidentally shoot down a flying saucer in the local quarry. At Benji's urging, they decide to keep it a secret and solve its mysteries on their own. But as they face threats both earthly and alien and old tensions among the friends surface, Benji begins to question whether this Moment is the miracle he's always dreamed of—or a curse that could destroy them all.
58. Saving Montgomery Sole by Mariko Tamaki (4/19): Montgomery Sole is a square peg in a small town, forced to go to a school full of jocks and girls who don't even know what irony is. It would all be impossible if it weren't for her best friends, Thomas and Naoki. The three are also the only members of Jefferson High's Mystery Club, dedicated to exploring the weird and unexplained, from ESP and astrology to super powers and mysterious objects.
Then there's the Eye of Know, the possibly powerful crystal amulet Monty bought online. Will it help her predict the future or fight back against the ignorant jerks who make fun of Thomas for being gay or Monty for having two moms? Maybe the Eye is here just in time, because the newest resident of their small town is scarier than mothmen, poltergeists, or, you know, gym.
59. Scarlett Epstein Hates It Here by Anna Breslaw (4/19): Meet Scarlett Epstein, BNF (Big Name Fan) in her online community of fanfiction writers, world-class nobody at Melville High. Her best (read: only) IRL friends are Avery, a painfully shy and annoyingly attractive bookworm, and Ruth, her pot-smoking, possibly insane seventy-three-year-old neighbor.
When Scarlett's beloved TV show is canceled and her longtime crush, Gideon, is sucked out of her orbit and into the dark and distant world of Populars, Scarlett turns to the fanfic message boards for comfort. This time, though, her subjects aren't the swoon-worthy stars of her fave series—they're the real-life kids from her high school. Scarlett never considers what might happen if they were to find out what she truly thinks about them…until a dramatic series of events exposes a very different reality than Scarlett's stories, forever transforming her approach to relationships—both online and off.
60. The Darkest Corners by Kara Thomas (4/19): There are ghosts around every corner in Fayette, Pennsylvania. Tessa left when she was nine and has been trying ever since not to think about it after what happened there that last summer. Memories of things so dark will burn themselves into your mind if you let them.
Callie never left. She moved to another house, so she doesn't have to walk those same halls, but then Callie always was the stronger one. She can handle staring into the faces of her demons—and if she parties hard enough, maybe one day they'll disappear for good.
Tessa and Callie have never talked about what they saw that night. After the trial, Callie drifted and Tessa moved, and childhood friends just have a way of losing touch.
But ever since she left, Tessa has had questions. Things have never quite added up. And now she has to go back to Fayette—to Wyatt Stokes, sitting on death row; to Lori Cawley, Callie's dead cousin; and to the one other person who may be hiding the truth.
Only the closer Tessa gets to the truth, the closer she gets to a killer—and this time, it won't be so easy to run away.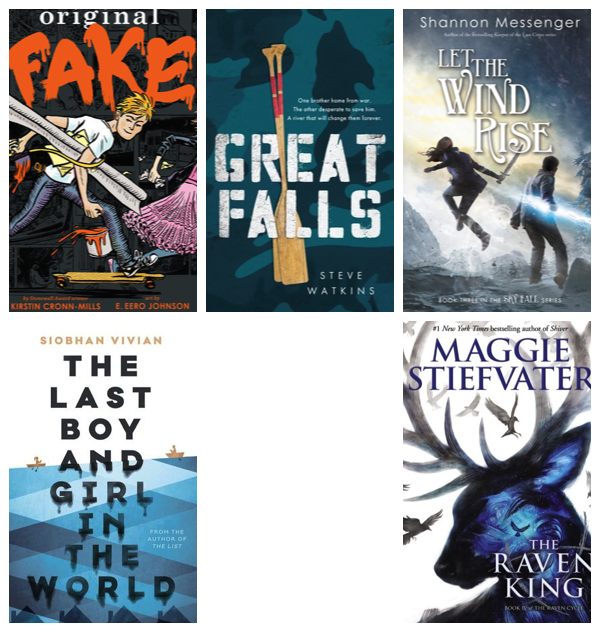 61. Original Fake by Kirstin Cronn-Mills (4/19): ntrovert Frankie Neumann hates his life, and understandably so. He's got a weird, tutu-wearing sister, Lou, and even weirder parents, Bridget and Brett—Frank Sinatra and Dr. Frank-N-Furter impersonators, respectively. And, he's just the guy who makes pizza at Pizza Vendetta. Though he has secret artistic aspirations of his own, his over-the-top family makes him want to stay in the background. But Frankie's life is about to change—becoming way more interesting, even a little dangerous, but definitely cool.
After his shift at the pizzeria one night, Frankie meets David and Rory, cousins and errand runners for the mysterious Uncle Epic, a legendary anonymous street artist and Frankie's absolute idol. Little could Frankie dream that his new adventures with Uncle Epic would lead to the perfect opportunity to strike back at his insufferable sister for a lifetime of torture. But things go haywire quicker than you can say "street art kicks righteous ass," and the lines are suddenly blurred between art and Frankie's real life.
62. Great Falls by Steve Watkins (4/26): Shane has always worshiped his big brother, Jeremy. But three tours in Iraq and Afghanistan have taken their toll, and the easy-go-lucky brother Shane knew has been replaced by a surly drunk who carries his loaded 9mm with him everywhere and lives in the basement because he can't face life with his wife and two small children. When Jeremy shows up after Shane's football game and offers to take him to the family cabin overnight, Shane goes along — both to get away from a humiliation on the field and to keep an eye on Jeremy, who's AWOL from his job at Quantico and seems to have a shorter fuse than ever. But as the camping trip turns into a days-long canoe trip down the Shenandoah and Potomac Rivers, Shane realizes he's in way over his head — and has no idea how to persuade Jeremy to return home and get the help he needs before it's too late. In a novel at once gripping and heartbreaking, Steve Watkins offers a stark exploration of the unseen injuries left by war.
63. * Let The Wind Rise by Shannon Messenger (4/26): Vane Weston is ready for battle. Against Raiden's army. Against the slowly corrupting Gale Force. Even against his own peaceful nature as a Westerly. He'll do whatever it takes, including storming Raiden's icy fortress with the three people he trusts the least. Anything to bring Audra home safely.
But Audra won't wait for someone to rescue her. She has Gus—the guardian she was captured with. And she has a strange "guide" left behind by the one prisoner who managed to escape Raiden. The wind is also rising to her side, rallying against their common enemy. When the forces align, Audra makes her play—but Raiden is ready.
Freedom has never held such an impossible price, and both groups know the sacrifices will be great. But Vane and Audra started this fight together. They'll end it the same way.
64. The Last Boy and Girl in the World by Siobhan Vivian (4/26): What if your town was sliding underwater and everyone was ordered to pack up and leave? How would you and your friends spend your last days together?
While the adults plan for the future, box up their possessions, and find new places to live, Keeley Hewitt and her friends decide to go out with a bang. There are parties in abandoned houses. Canoe races down Main Street. The goal is to make the most of every minute they still have together.
And for Keeley, that means taking one last shot at the boy she's loved forever.
There's a weird sort of bravery that comes from knowing there's nothing left to lose. You might do things you normally wouldn't. Or say things you shouldn't. The reward almost always outweighs the risk.
Almost.
It's the end of Aberdeen, but the beginning of Keeley's first love story. It just might not turn out the way she thought. Because it's not always clear what's worth fighting for and what you should let become a memory.
65. * The Raven King by Maggie Stiefvater (4/26): All her life, Blue has been warned that she will cause her true love's death. She doesn't believe in true love and never thought this would be a problem, but as her life becomes caught up in the strange and sinister world of the Raven Boys, she's not so sure anymore.
66. Drag Teen by Jeffery Self (4/26): Debut YA author Jeffery Self takes us on a road trip with an insecure high school senior who has one goal: to be the first in his family to leave Clearwater, Florida, and go to college. The problem is, he has zero means of paying for school — until his friends convince him to compete in a drag teen competition for a college scholarship.
67. Keep Me In Mind by Jaime Reed (4/26): Ellia Dawson doesn't recognize the handsome boy who sits in tears by her hospital bed. But he's telling her that he's Liam McPherson, her boyfriend. Boyfriend? Ellia thinks in shock. She has no clue who Liam is, let alone whether or not she once loved him. She remembers her family, her friends, and the fact that she wants to be a fashion designer. But Liam is a big blank in her life.
Meanwhile, Liam is devastated that Ellia, the love of his life, who suffered an accident while they were running together on the beach, has lost her memory. He is desperate to win her back, rebuild what they once had, but Ellia keeps him at an arm's length. She's much more comfortable with a new boy she meets at the hospital, who understands more what she's going through. So Liam begins writing the story of the two of them, piecing together the past in the hopes of having a future with the girl he loves.
68. One Silver Summer by Rachel Hickman (4/26): After a car accident claims her mother's life, Sass is sent to Cornwall to live with the uncle she's never met. All she wants is to be alone, to come to terms with the new Sass — the girl who can't forget the screech of tires, the crunch of metal.
With its rocky beaches and secluded fields, Cornwall is the perfect place to hide. It gets even better when Sass glimpses a silver horse and starts sneaking off to spend time with the one creature who makes her grief feel manageable.
During one of her visits, Sass runs into Alex, the horse's owner. At first, he shows nothing but disdain for the trespassing American. But despite his brusque manner, he feels an affinity for the curious girl with the sad eyes, and offers to teach her to ride.
Sass never expected to feel anything again, yet soon she finds herself falling for Alex. But Alex has a secret — a bombshell that could shatter Sass's fragile trust. . . and force him to abandon the only girl who made him believe in true love.
69. * Rescued by Eliot Shrefer (4/26): John grows up with everything he could possibly want. His father is a businessman who travels far and wide. One day, he comes home with a rare gift for his son, a baby orangutan, and the two become inseparable friends. But as the orangutan gets older, stronger, less cute, the family relegates the animal to a locked trailer in the backyard. Until John's father finally decides to sell the ape to a roadside zoo. Coming to the defense of his childhood friend, John resolves to smuggle the orangutan back to Indonesia, and the two set out on a journey far more dangerous than John bargained for.
70. * The Last Full Measure by Trent Reedy (4/26): Now, in this third book, the Second Civil War has come to an end in Idaho. The Feds have taken the fight to other fronts, and Danny and his friends are free of US. dominance. But that freedom comes with considerable costs, from Danny's disturbing flashbacks to the war, to the Brotherhood of the White Eagle, whose "security" for Freedom Lake looks more like outright thuggery. After Danny makes a shocking discovery about the Brotherhood's final aims, he and his friends lead a group of townspeople on a dangerous journey across a ravaged Idaho, hoping to build a better society of their own, and fulfill the dreams they had in what once was the United States.
71. Two Summers by Aimee Friedman (4/26): ONE SUMMER in the French countryside, among sun-kissed fields of lavender . . .
ANOTHER SUMMER in upstate New York, along familiar roads that lead to surprises . . .
When Summer Everett makes a split-second decision, her summer divides into two parallel worlds. In one, she travels to France, where she's dreamed of going: a land of chocolate croissants, handsome boys, and art museums. In the other, she remains home, in her ordinary suburb, where she expects her ordinary life to continue — but nothing is as it seems.
In both summers, she will fall in love and discover new sides of herself. What may break her, though, is a terrible family secret, one she can't hide from anywhere. In the end, it may just be the truth she needs the most.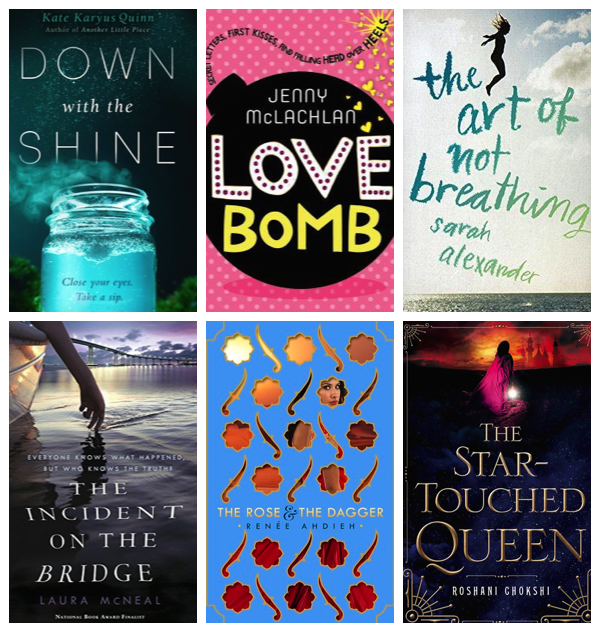 72. Down With The Shine by Kate Karyus Quinn (4/26): There's a reason they say "be careful what you wish for." Just ask the girl who wished to be thinner and ended up smaller than Thumbelina, or the boy who asked for "balls of steel" and got them-literally. And never wish for your party to go on forever. Not unless you want your guests to be struck down by debilitating pain if they try to leave.
These are things Lennie only learns when it's too late-after she brings some of her uncles' moonshine to a party and toasts to dozens of wishes, including a big wish of her own: to bring back her best friend, Dylan, who was abducted and murdered six months ago.
Lennie didn't mean to cause so much chaos. She always thought her uncles' moonshine toast was just a tradition. And when they talked about carrying on their "important family legacy," she thought they meant good old-fashioned bootlegging.
As it turns out, they meant granting wishes. And Lennie has just granted more in one night than her uncles would grant in a year.
Now she has to find a way to undo the damage. But once granted, a wish can't be unmade.
73. * Love Bomb by Jenny McLachlan (4/26): Betty Plum has never been in love. She's never even kissed a boy. But when H.O.T. Toby starts school it's like Betty has been hit with a thousand of Cupid's arrows. It's like a bomb has exploded – a love bomb!
More than ever Betty wishes her mum hadn't died when Betty was a baby. She really needs her mum here to ask her advice. And that's when she finds hidden letters for just these moments. Letters about what your first kiss should feel like and what real love is all about …
Is Betty ready to fall in love? Will she finally have her first kiss?
74. The Art of Not Breathing by Sarah Alexander (4/26): Since her twin brother, Eddie, drowned five years ago, sixteen-year-old Elsie Main has tried to remember what really happened that fateful day on the beach. One minute Eddie was there, and the next he was gone. Seventeen-year-old Tay McKenzie is a cute and mysterious boy that Elsie meets in her favorite boathouse hangout. When Tay introduces Elsie to the world of freediving, she vows to find the answers she seeks at the bottom of the sea.
75. The Incident On The Bridge by Laura McNeal (4/26): When Thisbe Locke is last seen standing on the edge of the Coronado Bridge, it looks like there is only one thing to call it. But her sister Ted is not convinced. Despite the witnesses and the police reports and the divers and the fact that she was heartbroken about the way things ended with Clay, Thisbe isn't the type of person to act so impulsively.
While everyone in town prepares to mourn the loss (some more than others), Ted and Fen, the new kid in town, set out to put the pieces together and find her sister.
But if Thisbe didn't jump, what happened up on that bridge?
76. * The Rose and The Dagger by Renee Ahdieh (4/26): In a land on the brink of war, Shahrzad has been torn from the love of her husband Khalid, the Caliph of Khorasan. She once believed him a monster, but his secrets revealed a man tormented by guilt and a powerful curse—one that might keep them apart forever. Reunited with her family, who have taken refuge with enemies of Khalid, and Tariq, her childhood sweetheart, she should be happy. But Tariq now commands forces set on destroying Khalid's empire. Shahrzad is almost a prisoner caught between loyalties to people she loves. But she refuses to be a pawn and devises a plan.
While her father, Jahandar, continues to play with magical forces he doesn't yet understand, Shahrzad tries to uncover powers that may lie dormant within her. With the help of a tattered old carpet and a tempestuous but sage young man, Shahrzad will attempt to break the curse and reunite with her one true love.
77. The Star-Touched Queen by Roshani Choski (4/26): Fate and fortune. Power and passion. What does it take to be the queen of a kingdom when you're only seventeen?
Maya is cursed. With a horoscope that promises a marriage of Death and Destruction, she has earned only the scorn and fear of her father's kingdom. Content to follow more scholarly pursuits, her whole world is torn apart when her father, the Raja, arranges a wedding of political convenience to quell outside rebellions. Soon Maya becomes the queen of Akaran and wife of Amar. Neither roles are what she expected: As Akaran's queen, she finds her voice and power. As Amar's wife, she finds something else entirely: Compassion. Protection. Desire…
But Akaran has its own secrets — thousands of locked doors, gardens of glass, and a tree that bears memories instead of fruit. Soon, Maya suspects her life is in danger. Yet who, besides her husband, can she trust? With the fate of the human and Otherworldly realms hanging in the balance, Maya must unravel an ancient mystery that spans reincarnated lives to save those she loves the most. . .including herself.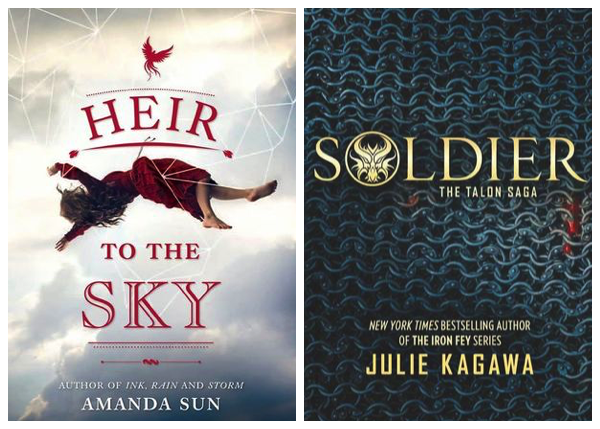 78. Heir To The Sky by Amanda Sun (4/26): As heir to a kingdom of floating continents, Kali has spent her life bound by limits—by her duties as a member of the royal family; by a forced betrothal to the son of a nobleman; and by the edge of the only world she's ever known—a small island hovering above a monster-ridden earth, long since uninhabited by humans. She is the Eternal Flame of Hope for what's left of mankind, the wick and the wax burning in service for her people, and for their revered Phoenix, whose magic keeps them aloft.
When Kali falls off the edge of her kingdom and miraculously survives, she is shocked to discover there are still humans on the earth. Determined to get home, Kali entrusts a rugged monster-hunter named Griffin to guide her across a world overrun by chimera, storm dragons, basilisks, and other terrifying beasts. But the more time she spends on earth, the more dark truths she begins to uncover about her home in the sky, and the more resolute she is to start burning for herself.
79. * Soldier by Julie Kagawa (4/26): A fighter dedicated to saving humankind from dragons in strictest secrecy.
That was what Garret Xavier Sebastian thought he was part of as a soldier of the Order of St. George. What he learned from a fiery dragon hatchling twisted all he believed in and set him on a collision course with certain death-but not without a chance to put things right.
Betrayed and on the run again, Ember and rogue dragon Riley discover an unthinkable truth about Talon and St. George. They'll need Garret's skills and insider knowledge of the Order to negotiate an impossible deal-and if they fail, there will be no way to stop all-out war.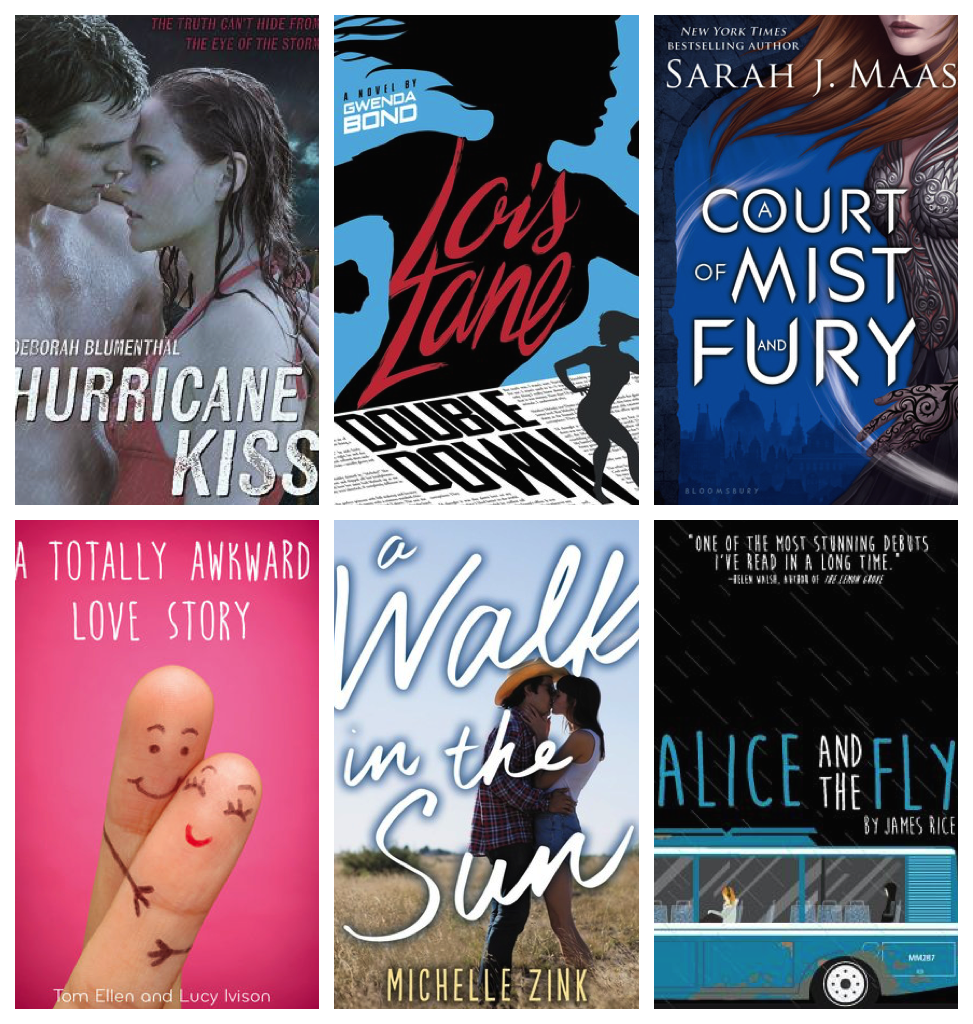 80. Hurricane Kiss by Deborah Blumenthal (5/1): For sixteen-year-old Jillian McKay, the threat of Hurricane Danielle means a long car ride with her neighbors–including River Daughtry, the former star quarterback of Harrison High. The guy who was headed to glory until suddenly he disappeared to a West Texas juvenile detention center. Once cocky and flirtatious, he's now silent and angry. When their evacuation route is gridlocked, River is the first to recognize the danger they're in. Together he and Jillian set out to seek shelter in their abandoned high school. As they wait out the storm, they confront the past and realize survival is about more than just staying alive–it's about fighting for yourself.
81. * Lois Lane: Double Down by Gwenda Bond (5/1): Lois Lane has settled in to her new school. She has friends, for maybe the first time in her life. She has a job that challenges her. And her friendship is growing with SmallvilleGuy, her online maybe-more-than-a-friend. But when her friend Maddy's twin collapses in a part of town she never should've been in, Lois finds herself embroiled in adangerous mystery that brings her closer to the dirty underbelly of Metropolis.
82. * A Court of Mist and Fury by Sarah J. Maas (5/3): Feyre survived Amarantha's clutches to return to the Spring Court–but at a steep cost. Though she now has the powers of the High Fae, her heart remains human, and it can't forget the terrible deeds she performed to save Tamlin's people.
Nor has Feyre forgotten her bargain with Rhysand, High Lord of the feared Night Court. As Feyre navigates its dark web of politics, passion, and dazzling power, a greater evil looms–and she might be key to stopping it. But only if she can harness her harrowing gifts, heal her fractured soul, and decide how she wishes to shape her future–and the future of a world cleaved in two.
83. A Totally Awkward Love Story by Tom Ellen and Lucy Ivison (5/3): The summer before college, Hannah swears she's finally going to find The One. And for five perfect minutes, Hannah does find him. He's cute and makes her laugh like crazy. She just wishes she'd caught his name, because Toilet Boy Cinderella really lacks sex appeal.
For Sam, the summer is off to a bad start for a million reasons. But for five minutes his luck changes: in a fancy restroom painted purple like it belongs in a Bond villain hideaway, Sam falls head over heels for some strange and hilarious girl. Of course, he doesn't know her name. With his luck, he'll never see her again, and he'll remain a girlfriendless, moony-eyed virgin. Forever.
But another chance meeting brings them together, only to have a chance misunderstanding drive them apart . . . and then the cycle starts all over again. Madcap mishaps, raunchy hilarity, and deep romance follow these two wherever they go. For two people so clearly destined for each other, they sure have a hell of a lot of trouble even getting together.
84. A Walk in the Sun by Michelle Zink (5/3): Rose Darrow never wanted to spend her life working on her family's farm. But when her family is rocked by an unexpected tragedy she has no choice but to put her plans for the future—and dreams of escaping her small town—on hold.
Bodhi Lowell left home as a kid and hasn't looked back. Years of working farm jobs has given him the one thing he wants most: freedom to travel without answering to anyone. He's already looking past his job at Darrow Farm and plans on leaving in September—until he meets Rose.
Neither Rose nor Bodhi can deny the sparks flying between them, but with the end of summer looming, they must decide if it is better to have loved and lost than never to have loved at all.
85. Alice and the Fly by James Rice (5/3): Greg is cripplingly shy, afraid of spiders, and obsessed withBreakfast at Tiffany's. He's not exactly the most popular kid at his high school. In fact, he pretty much goes out of his way to avoid talking to anybody he doesn't have to. And it doesn't help that he has a severe lisp.
But Greg's English teacher, Miss Hayes, can see that there's something different about him. He's insightful and sensitive beyond his years, and maybe–just maybe–he'll use these strengths to break out of his shell someday. Miss Hayes urges Greg to keep a journal. "This isn't an assignment," she tells him, "just write down your thoughts."
Greg begins to write about everything from his mother's ill-conceived interior decorating ideas to his job at the local butcher's shop. When Greg begins to take an interest in a girl at his school named Alice, he realizes that he will have to face his most paralyzing anxieties if he wants to befriend Alice and help her escape from her violent family life.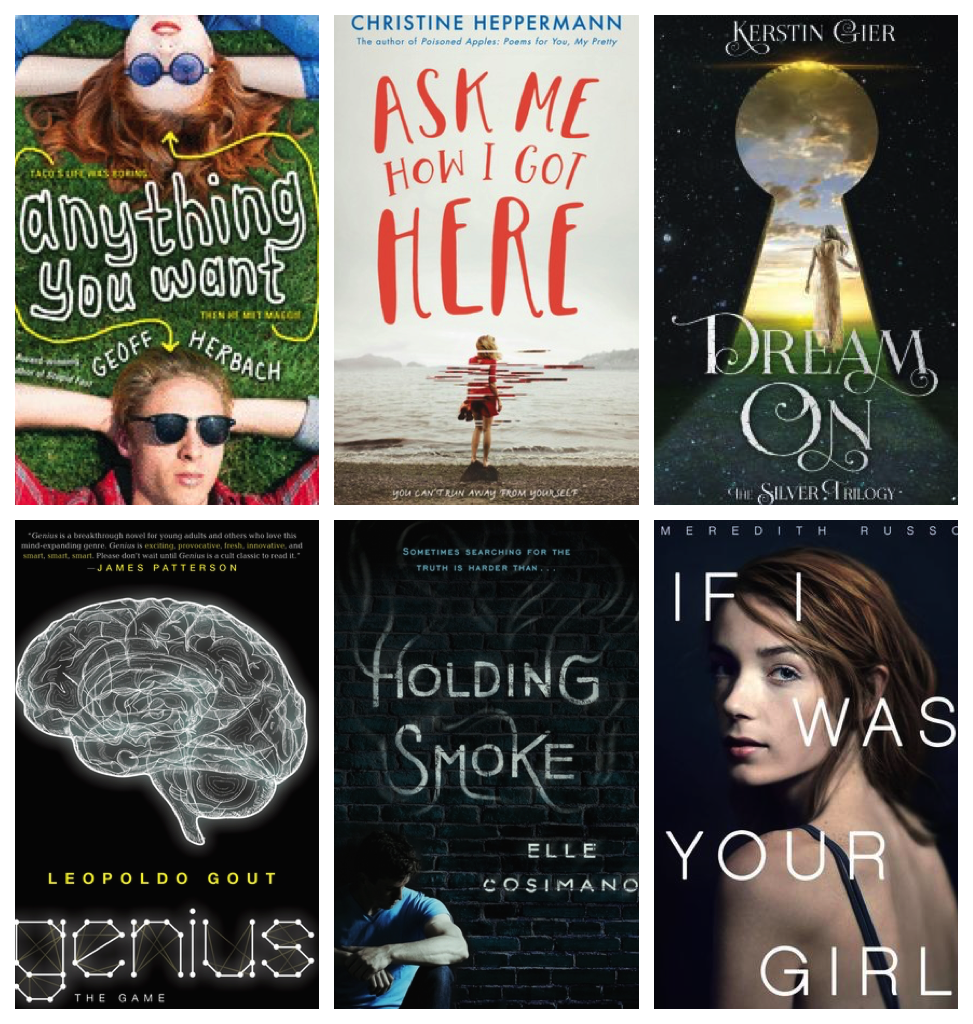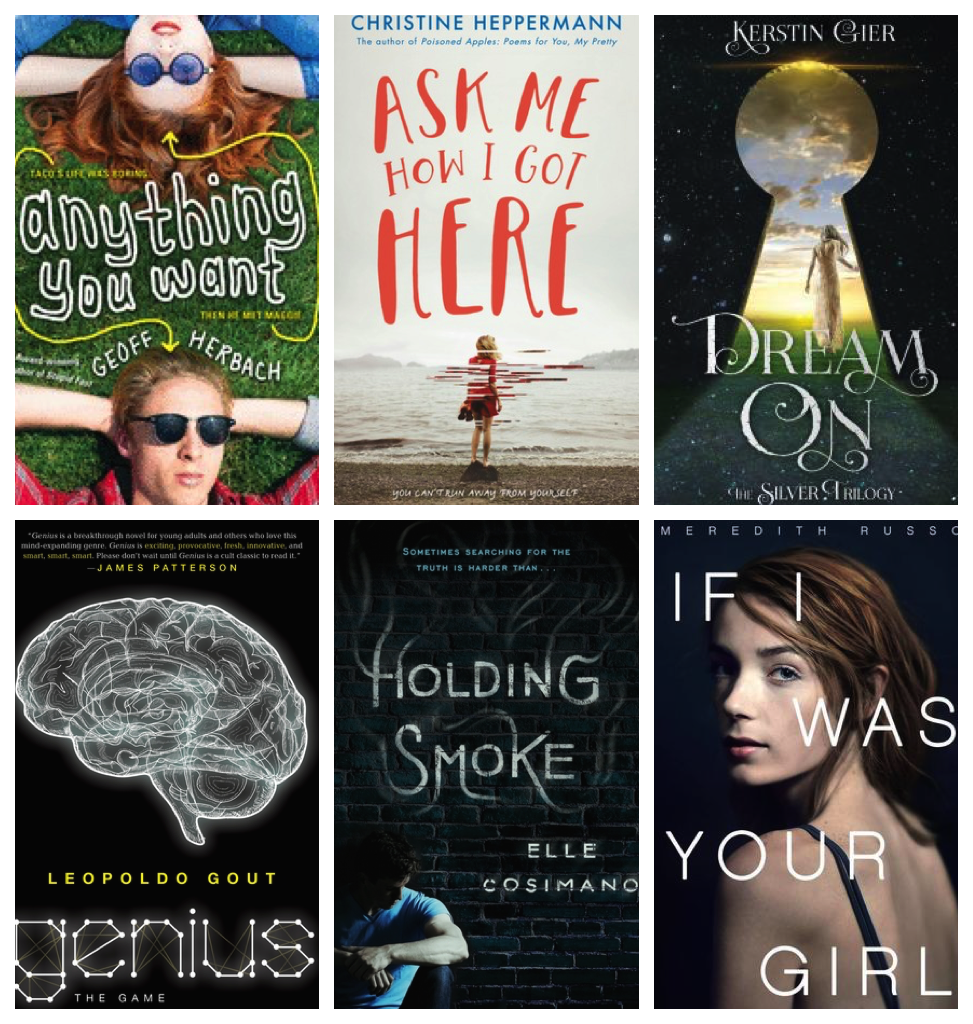 86. Anything You Want by Geoff Herbach (5/3): Taco's mom always said, "Today is the best day of your life, and tomorrow will be even better." That was hard to believe the day she died of cancer and when Taco's dad had to move up north for work, but he sure did believe it when Maggie Corrigan agreed to go with him to junior prom. Taco loves Maggie- even more than the tacos that earned him his nickname. And she loves him right back.
Except all that love? It gets Maggie pregnant. Everyone else may be freaking out, but Taco can't wait to have a real family again. He just has to figure out what it means to be a dad and how to pass calculus. And then there's getting Maggie's parents to like him. Because it would be so much easier for them to be together if he didn't have to climb the side of the Corrigans' house to see her.
87. Ask Me How I Got Here by Christine Heppermann (5/3): Addie has always known what she was running toward. In cross-country, in life, in love. Until she and her boyfriend—her sensitive, good-guy boyfriend—are careless one night and she ends up pregnant. Addie makes the difficult choice to have an abortion. And after that—even though she knows it was the right decision for her—nothing is the same anymore. She doesn't want anyone besides her parents and her boyfriend to know what happened; she doesn't want to run cross-country; she can't bring herself to be excited about anything. Until she reconnects with Juliana, a former teammate who's going through her own dark places.
88. * Dream On by Kerstin Gier, trans. Anthea Bell (5/3): Things seem to be going well for Liv Silver: she's adjusting to her new home (and her new family) in London; she has a burgeoning romance with Henry Harper, one of the cutest boys in school; and the girl who's been turning her dreams into nightmares, Anabel, is now locked up. But serenity doesn't last for long.
It seems that Liv's troubles are far from over–in fact, suddenly they're piling up. School gossip blogger Secrecy knows all of Liv's most intimate secrets, Henry might be hiding something from her, and at night Liv senses a dark presence following her through the corridors of the dream world. Does someone have a score to settle with Liv?
89. Genius by Leopoldo Gout (5/3): Trust no one. Every camera is an eye. Every microphone an ear. Find me and we can stop him together.
The Game: Get ready for Zero Hour as 200 geniuses from around the world go head to head in a competition hand-devised by India's youngest CEO and visionary.
The Players:
Rex– One of the best programmers/hackers in the world, this 16-year-old Mexican-American is determined to find his missing brother.
Tunde-This14-year-old self-taught engineering genius has drawn the attention of a ruthless military warlord by single-handedly bringing electricity and internet to his small Nigerian village.
Painted Wolf-One of China's most respected activist bloggers, this mysterious 16-year-old is being pulled into the spotlight by her father's new deal with a corrupt Chinese official.
The Stakes: Are higher than you can imagine. Like life and death. Welcome to the revolution. And get ready to run.
90. Holding Smoke by Elle Cosimano (5/3): John "Smoke" Conlan is serving time for two murders but he wasn't the one who murdered his English teacher, and he never intended to kill the only other witness to the crime. A dangerous juvenile rehabilitation center in Denver, Colorado, known as the Y, is Smoke's new home and the only one he believes he deserves.
But, unlike his fellow inmates, Smoke is not in constant imprisonment. After a near death experience leaves him with the ability to shed his physical body at will, Smoke is able to travel freely outside the concrete walls of the Y, gathering information for himself and his fellow inmates while they're asleep in their beds. Convinced his future is only as bright as the fluorescent lights in his cell, Smoke doesn't care that the "threads" that bind his soul to his body are wearing thin-that one day he may not make it back in time. That is, until he meets Pink, a tough, resourceful girl who is sees him for who he truly is and wants to help him clear his name.
Now Smoke is on a journey to redemption he never thought possible. With Pink's help, Smoke may be able to reveal the true killer, but the closer they get to the truth, the more deadly their search becomes. The web of lies, deceit, and corruption that put Smoke behind bars is more tangled than they could have ever imagined. With both of their lives on the line, Smoke will have to decide how much he's willing to risk, and if he can envision a future worth fighting for.
91. If I Was Your Girl by Meredith Russo (5/3): Amanda Hardy is the new girl in school. Like anyone else, all she wants is to make friends and fit in. But Amanda is keeping a secret. She's determined not to get too close to anyone.
But when she meets sweet, easygoing Grant, Amanda can't help but start to let him in. As they spend more time together, she realizes just how much she is losing by guarding her heart. She finds herself yearning to share with Grant everything about herself–including her past. But Amanda's terrified that once she tells him the truth, he won't be able to see past it.
Because the secret that Amanda's been keeping? It's that she used to be Andrew.
Will the truth cost Amanda her new life–and her new love?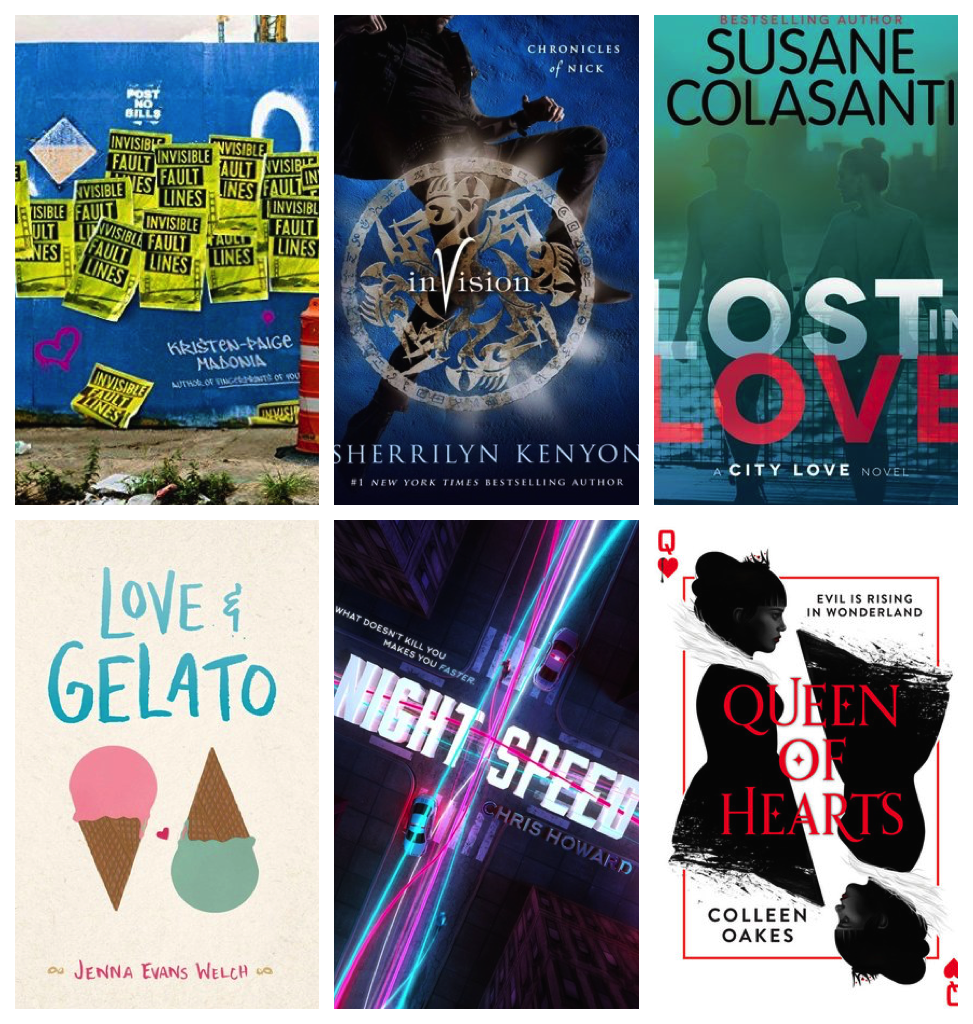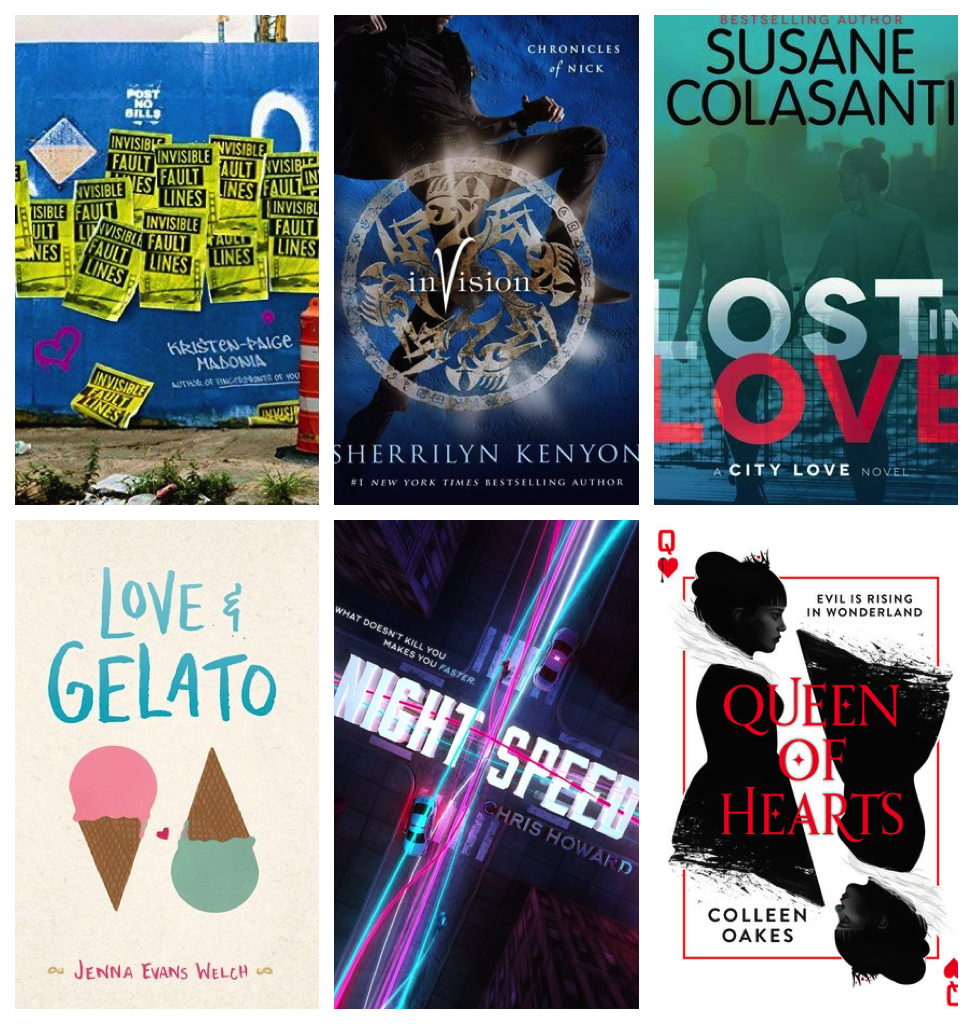 92. Invisible Fault Lines by Kristen-Paige Madonia (5/3): Tired of living in limbo, Callie finally decides to investigate her father's disappearance for herself. Maybe there was an accident at the construction site that he oversaw? Maybe he doesn't remember who he is and is lost wandering somewhere? But after seeing a familiar face in a photo from the Great San Francisco Earthquake of 1906, she wonders if the answer is something else entirely.
93. * Invision by Sherrilyn Kenyon (5/3): One boy . . .Many demons.
Think there's a lot of pressure on your shoulders? Nick Gautier was born to bring about the end of the world . . . it's not easy being the heir of a demon overlord.
But Nick is determined to thwart his destiny and get into a good college. To be more than his genetics and prophecy foretell. No one is ever going to tell this stubborn Cajun who and what he really is. Or how to live his life.
Not even the Fates of the Universe. But now that he and his team of ancient gods and demons have claimed the Eye of Ananke and he sees the missteps of the future, he has to battle the demons within that are far deadlier and more treacherous than any he's battled before. All the while his arch nemesis is back and determined to reclaim his place as the harbinger for Armageddon. Even if it means killing Nick and barbecuing everyone he loves to do so.
94. * Lost in Love by Susane Colasanti (5/3): Sadie was convinced that Austin was her soul mate, but after discovering his secret she wonders if she even knows him at all. Darcy was all about fun boy adventures with no strings attached . . . until her ex moves to New York City to win her back. Things are getting serious with Rosanna and her boyfriend, but will she be able to break free of her past and let him in? With no parents, no rules, and an entire city to explore, this is the summer that will change their lives forever.
95. Love and Gelato by Jenna Evans Welch (5/3): Lina is spending the summer in Tuscany, but she isn't in the mood for Italy's famous sunshine and fairy-tale landscape. She's only there because it was her mother's dying wish that she get to know her father. But what kind of father isn't around for sixteen years? All Lina wants to do is get back home.
But then Lina is given a journal that her mom had kept when she lived in Italy. Suddenly Lina's uncovering a magical world of secret romances, art, and hidden bakeries. A world that inspires Lina, along with the ever-so-charming Ren, to follow in her mother's footsteps and unearth a secret that has been kept from Lina for far too long. It's a secret that will change everything she knew about her mother, her father—and even herself.
People come to Italy for love and gelato, someone tells her, but sometimes they discover much more.
96. Night Speed by Chris Howard (5/3): Only those young enough can survive the pulse-pounding rush of tetra, a dangerous and addictive new drug that fuels a nine-minute burst of superhuman strength and speed. Alana West has been trained to use the drug so she can pursue the young criminals who abuse its power—criminals like the breakneck who nearly killed her kid brother.
On tetra, Alana is unstoppable. The rush makes her an explosive blur as she surges through New York City, battling to bring down breaknecks before they leave more people dead or injured in their wake. But with the clock ticking down to her eighteenth birthday, Alana will soon be too old for the rush…when just one more dose will prove deadly.
Supported only by her strong and steady handler, Tucker, Alana goes undercover, infiltrating an elite gang of breaknecks to stop the supply of their drug. But when Alana gets trapped on the wrong side of the law, she learns the breaknecks are not quite what they seem—especially Ethan, the artistic boy whose bottomless brown eyes seem to see the truth inside her. With her own dependency on tetra increasing, Alana must decide where her loyalties lie before the rush ends. Forever.
97. * Queen of Hearts by Colleen Oakes (5/3): As Princess of Wonderland Palace and the future Queen of Hearts, Dinah's days are an endless monotony of tea, tarts, and a stream of vicious humiliations at the hands of her father, the King of Hearts. The only highlight of her days is visiting Wardley, her childhood best friend, the future Knave of Hearts — and the love of her life.
When an enchanting stranger arrives at the Palace, Dinah watches as everything she's ever wanted threatens to crumble. As her coronation date approaches, a series of suspicious and bloody events suggests that something sinister stirs in the whimsical halls of Wonderland. It's up to Dinah to unravel the mysteries that lurk both inside and under the Palace before she loses her own head to a clever and faceless foe.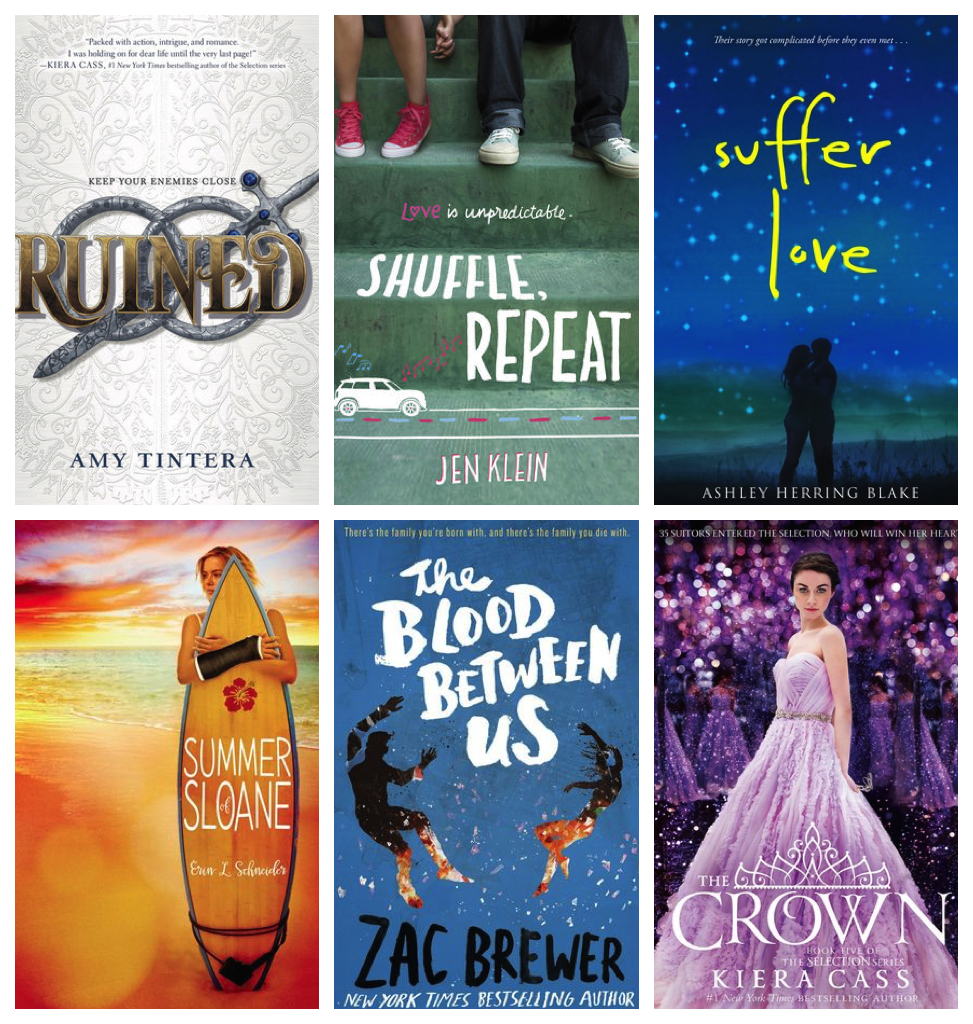 98. * Ruined by Amy Tintera (5/3): Emelina Flores has nothing. Her home in Ruina has been ravaged by war. She lacks the powers of her fellow Ruined. Worst of all, she witnessed her parents' brutal murders and watched helplessly as her sister, Olivia, was kidnapped.
But because Em has nothing, she has nothing to lose. Driven by a blind desire for revenge, Em sets off on a dangerous journey to the enemy kingdom of Lera. Somewhere within Lera's borders, Em hopes to find Olivia. But in order to find her, Em must infiltrate the royal family.
In a brilliant, elaborate plan of deception and murder, Em marries Prince Casimir, next in line to take Lera's throne. If anyone in Lera discovers Em is not Casimir's true betrothed, Em will be executed on the spot. But it's the only way to salvage Em's kingdom and what is left of her family.
Em is determined to succeed, but the closer she gets to the prince, the more she questions her mission. Em's rage-filled heart begins to soften. But with her life—and her family—on the line, love could be Em's deadliest mistake.
99. Shuffle, Repeat by Jen Klein (5/3): June wants high school to end and real life to begin. Oliver is soaking up senior year's glory days. They could have coasted through high school, knowing about—but not really knowing—each other.
Except that their moms have arranged for Oliver to drive June to school. Every. Single. Day.
Suddenly these two opposites are fighting about music, life . . . pretty much everything. But love is unpredictable. When promises—and hearts—get broken, Oliver and June must figure out what really matters. And then fight for it.
100. Suffer Love by Ashley Herring Blake (5/3): Hadley St. Clair's life changed the day she came home to a front door covered in slips of paper, each of them revealing the ugly truth about her father. Now as her family falls apart in the wake of his year-long affair, Hadley wants everyone-her dad most of all-to leave her alone.
Then she meets Sam Bennett, a cute new boy who inexplicably "feels like home" to Hadley. Hadley and Sam's connection is undeniable, but Sam has a secret about his family that could ruin everything.
101. Summer of Sloane by Erin L. Schneider (5/3): Warm Hawaiian sun. Lazy beach days. Flirty texts with her boyfriend back in Seattle.
These are the things seventeen-year-old Sloane McIntyre pictured when she imagined the summer she'd be spending at her mom's home in Hawaii with her twin brother, Penn. Instead, after learning an unthinkable secret about her boyfriend, Tyler, and best friend, Mick, all she has is a fractured hand and a completely shattered heart.
Once she arrives in Honolulu, though, Sloane hopes that Hawaii might just be the escape she needs. With beach bonfires, old friends, exotic food, and the wonders of a waterproof cast, there's no reason Sloane shouldn't enjoy her summer. And when she meets Finn McAllister, the handsome son of a hotel magnate who doesn't always play by the rules, she knows he's the perfect distraction from everything that's so wrong back home.
But it turns out a measly ocean isn't nearly enough to stop all the emails, texts, and voicemails from her ex-boyfriend and ex-best friend, desperate to explain away their betrayal. And as her casual connection with Finn grows deeper, Sloane's carefree summer might not be as easy to find as she'd hoped. Weighing years of history with Mick and Tyler against their deception, and the delicate possibility of new love, Sloane must decide when to forgive, and when to live for herself.
102. The Blood Between Us by Zac Brewer: Growing up, Adrien and his sister, Grace, competed viciously for everything. It wasn't easy being the adopted sibling, but Adrien tried to get along; it was Grace who didn't want anything to do with him. When their scientist parents died in a terrible lab fire, there was nothing left to hold them together.
Now, after years apart, Adrien and Grace are forced to reunite at the elite boarding school where their parents were teachers. Being back around everyone he used to know makes Adrien question the person he's become, while being back around Grace makes him feel like someone he doesn't want to be.
For as much as Adrien wants to move on, someone seems determined to reopen old wounds. And when Adrien starts to suspect that Grace knows more about their parents' deaths than she let on, he realizes there are some wounds no amount of time can heal. If Adrien isn't careful, they may even kill him.
103. * The Crown by Kiera Cass (5/3): Twenty years have passed since the events of The One, and America and Maxon's daughter is the first princess to hold a Selection of her own. Princess Eadlyn didn't think she would find a real partner among the Selection's thirty-five suitors, let alone true love. But sometimes the heart has a way of surprising you… and now Eadlyn must make a choice that feels more difficult—and more important—than she ever expected.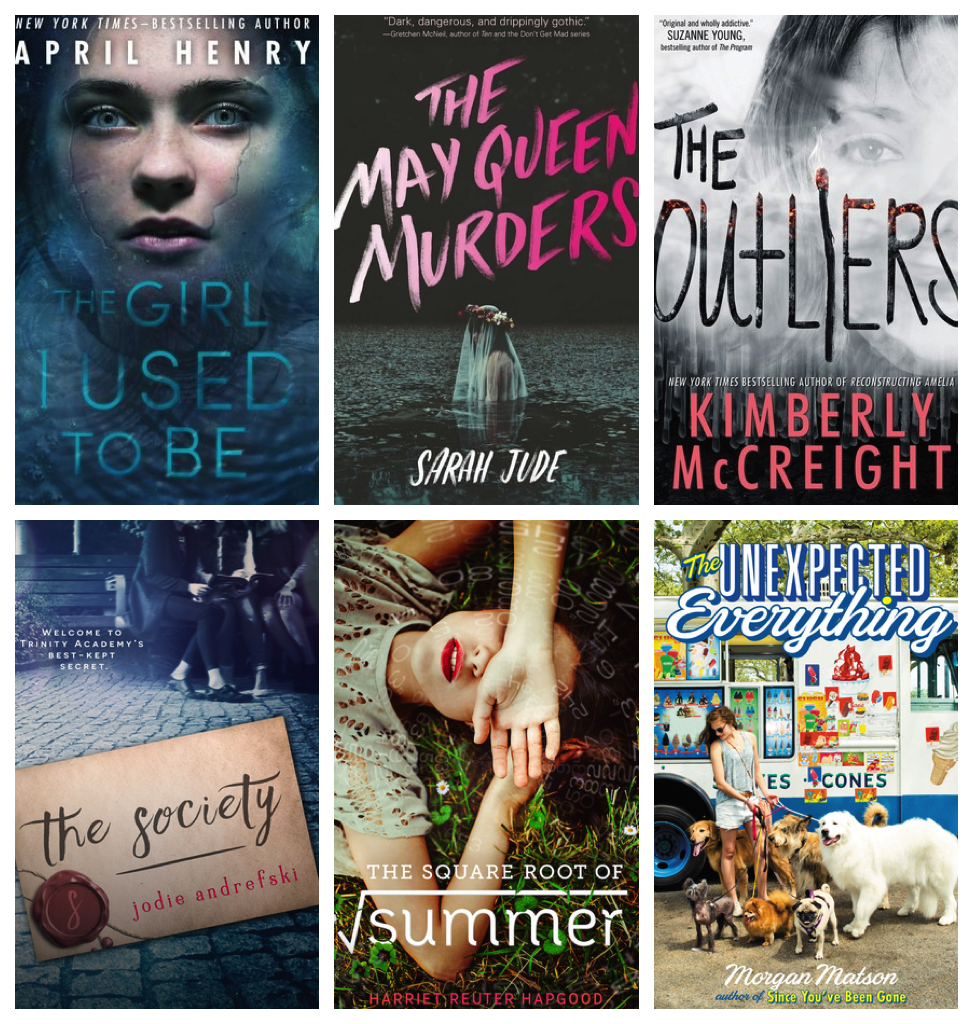 104. The Girl I Used To Be by April Henry (5/3): When Olivia's mother was killed, everyone suspected her father of murder. But his whereabouts remained a mystery. Fast forward fourteen years. New evidence now proves Olivia's father was actually murdered on the same fateful day her mother died. That means there's a killer still at large. It's up to Olivia to uncover who that may be. But can she do that before the killer tracks her down first?
105. The May Queen Murders by Sarah Jude (5/3): Stay on the roads. Don't enter the woods. Never go out at night.
Those are the rules in Rowan's Glen, a remote farming community in the Missouri Ozarks where Ivy Templeton's family has lived for centuries. It's an old-fashioned way of life, full of superstition and traditions, and sixteen-year-old Ivy loves it. The other kids at school may think the Glen kids are weird, but Ivy doesn't care—she has her cousin Heather as her best friend. The two girls share everything with each other—or so Ivy thinks. When Heather goes missing after a May Day celebration, Ivy discovers that both her best friend and her beloved hometown are as full of secrets as the woods that surround them.
106. * The Outliers by Kimberly McCreight (5/3): It all starts with a text: Please, Wylie, I need your help. Wylie hasn't heard from Cassie in over a week, not since their last fight. But that doesn't matter. Cassie's in trouble, so Wylie decides to do what she has done so many times before: save her best friend from herself.
This time it's different, though. Instead of telling Wylie where she is, Cassie sends cryptic clues. And instead of having Wylie come by herself, Jasper shows up saying Cassie sent him to help. Trusting the guy who sent Cassie off the rails doesn't feel right, but Wylie has no choice but to ignore her gut instinct and go with him.
But figuring out where Cassie is goes from difficult to dangerous, fast. As Wylie and Jasper head farther and farther north into the dense woods of Maine, Wylie struggles to control her growing sense that something is really wrong. What isn't Cassie telling them? And could finding her be only the beginning?
107. The Society by Jodie Andrefski (5/3): Samantha Evans knows she'd never get an invite to rush the Society—not after her dad went to jail for insider trading. But after years of relentless bullying at the hands of the Society's queen bee, Jessica, she's ready to take down Jessica and the Society one peg at a time from the inside out.
All it'll take is a bit of computer hacking, a few fake invitations, some eager rushees…and Sam will get her revenge.
Let the games begin.
108. The Square Root of Summer by Harriet Reuter Hapgood (5/3): Gottie H. Oppenheimer is losing time. Literally. When the fabric of the universe around her seaside town begins to fray, she's hurtled through wormholes to her past:
To last summer, when her grandfather Grey died. To the afternoon she fell in love with Jason, who wouldn't even hold her hand at the funeral. To the day her best friend Thomas moved away and left her behind with a scar on her hand and a black hole in her memory.
Although Grey is still gone, Jason and Thomas are back, and Gottie's past, present, and future are about to collide—and someone's heart is about to be broken.
109. The Unexpected Everything by Morgan Matson (5/3): Andie had it all planned out.
When you are a politician's daughter who's pretty much raised yourself, you learn everything can be planned or spun, or both. Especially your future.
Important internship? Check.
Amazing friends? Check.
Guys? Check (as long as we're talking no more than three weeks)
But that was before the scandal. Before having to be in the same house with her dad. Before walking an insane number of dogs. That was before Clark and those few months that might change her whole life.
Because here's the thing – if everything's planned out, you can never find the unexpected.
And where's the fun in that?
110. The Way Back To You by Michelle Andreani and Mindi Scott (5/3): Six months ago, Ashlyn Montiel died in a bike accident.
Her best friend Cloudy is keeping it together, at least on the outside. Cloudy's insides are a different story: tangled, confused, heartbroken.
Kyle is falling apart, and everyone can tell. Ashlyn was his girlfriend, and when she died, a part of him went with her. Maybe the only part he cares about anymore.
As the two people who loved Ashlyn best, Cloudy and Kyle should be able to lean on each other. But after a terrible mistake last year, they're barely speaking. So when Cloudy discovers that Ashlyn's organs were donated after her death and the Montiel family has been in touch with three of the recipients, she does something a little bit crazy and a lot of out character: she steals the letters and convinces Kyle to go on a winter break road trip with her, from Oregon to California to Arizona to Nevada. Maybe if they see the recipients—the people whose lives were saved by Ashlyn's death—the world will open up again. Or maybe it will be a huge mistake.
With hundreds of miles in front of them, a stowaway kitten, and a list of people who are alive because of Ashlyn, Cloudy and Kyle just may find their way to back to her…and to each other.
111. Tone Deaf by Olivia Rivers (5/3): Ali Collins was a child prodigy destined to become one of the greatest musicians of the twenty-first century—until she was diagnosed with a life-changing brain tumor. Now, at seventeen, Ali lives in a soundless world where she gets by with American Sign Language and lip-reading. She's a constant disappointment to her father, a retired cop fighting his own demons, and the bruises are getting harder to hide.
When Ali accidentally wins a backstage tour with the chart-topping band Tone Deaf, she's swept back into the world of music. Jace Beckett, the nineteen-year-old lead singer of the band, has a reputation. He's a jerk and a player, and Ali wants nothing to do with him. But there's more to Jace than the tabloids let on. When Jace notices Ali's bruises and offers to help her escape to New York, Ali can't turn down the chance at freedom and a fresh start. Soon she's traveling cross-country, hidden away in Jace's RV as the band finishes their nationwide tour. With the help of Jace, Ali sets out to reboot her life and rediscover the music she once loved.
112. Traitor Angels by Anne Blankman (5/3): Six years have passed since England's King Charles II returned from exile to reclaim the throne, ushering in a new era of stability for his subjects.
Except for Elizabeth Milton. The daughter of notorious poet John Milton, Elizabeth has never known her place in this shifting world—except by her father's side. By day she helps transcribe his latest masterpiece, the epic poem Paradise Lost, and by night she learns languages and sword fighting. Although she does not dare object, she suspects that he's training her for a mission whose purpose she cannot fathom.
Until one night the reason becomes clear: the king's man arrive at her family's country home to arrest her father. Determined to save him, Elizabeth follows his one cryptic clue and journeys to Oxford, accompanied by her father's mysterious young houseguest, Antonio Vivani, a darkly handsome Italian scientist who surprises her at every turn. Funny, brilliant, and passionate, Antonio seems just as determined to protect her father as she is—but can she trust him with her heart?
When the two discover that Milton has planted an explosive secret in the half-finished Paradise Lost—a secret the king and his aristocratic supporters are desperate to conceal—Elizabeth is faced with a devastating choice: cling to the shelter of her old life or risk cracking the code, unleashing a secret that could save her father…and tear apart the very fabric of society.
113. * True Born by L.E. Sterling (5/3): After the great Plague descended, the world population was decimated…and their genetics damaged beyond repair.
The Lasters wait hopelessly for their genes to self-destruct. The Splicers pay for expensive treatments that might prolong their life. The plague-resistant True Borns are as mysterious as they are feared…
And then there's Lucy Fox and her identical twin sister, Margot. After endless tests, no one wants to reveal what they are.
When Margot disappears, a desperate Lucy has no choice but to put her faith in the True Borns, led by the charismatic Nolan Storm and the beautiful but deadly Jared Price. As Lucy and the True Borns set out to rescue her sister, they stumble upon a vast conspiracy stretching from Dominion's street preachers to shady Russian tycoons. But why target the Fox sisters?
As they say in Dominion, it's in the blood.
114. * Unforgivable by Amy Reed (5/3): Marcus knows pain. The kind that swallows you like a black hole. His brother committed suicide, his mother left him, and his dad mostly ignores him. Relief only seems to come from drugs, alcohol, and secret acts of self-destruction.
Until he met Evie. Together, they lived in the moment. They fell in love—hard—creating their own beautiful world. But they each had their own secrets, their own pain, hovering like a thick fog, suffocating them in a world too small to share.
Unforgivable takes off where Invincible left us—with Evie drowning in San Francisco Bay. Marcus finds her just in time, but her survival is not the happy ending he was hoping for. Forbidden from seeing Evie by her parents and unable to reach her, Marcus learns of a pain that might break him completely.
Marcus spirals into an even deeper darkness and is forced by new events to face the demons of his past. The pain of losing Evie becomes tangled with the loss of his mother and brother, and he must finally face the ghosts he has been trying so desperately to outrun or risk losing Evie forever.
115. Wandering Wild by Jessica Taylor: Raised by Wanderers, sixteen-year-old Tal travels the roads of the southern wild in her Chevy by day and camps in her tent trailer at night. Hustling, conning, and grifting her way into just enough cash to save her fifteen-year-old brother, Wen, from bare-knuckle fighting was once enough to keep her dreams of traveling the whole world at bay. Everything changes when the Wanderers set up camp in a little town called Cedar Falls.
There, Spencer Sway, a boy Tal tried to hustle at a game of billiards, keeps popping up into her life—and worst of all—into her scams. Buttoned-up, starched-and-ironed Spencer talks of places where Tal's truck can't take her. His promises of traveling across oceans are almost enough to shatter her love of the Wanderer life.
When a boy shows up at camp, ready to make good on a nearly-forgotten arranged marriage to Tal, Tal and Wen make a pact: No matter the cost, they will use their limitless skills of grift to earn the bride price and buy back her future—even if Spencer Sway gets used along the way.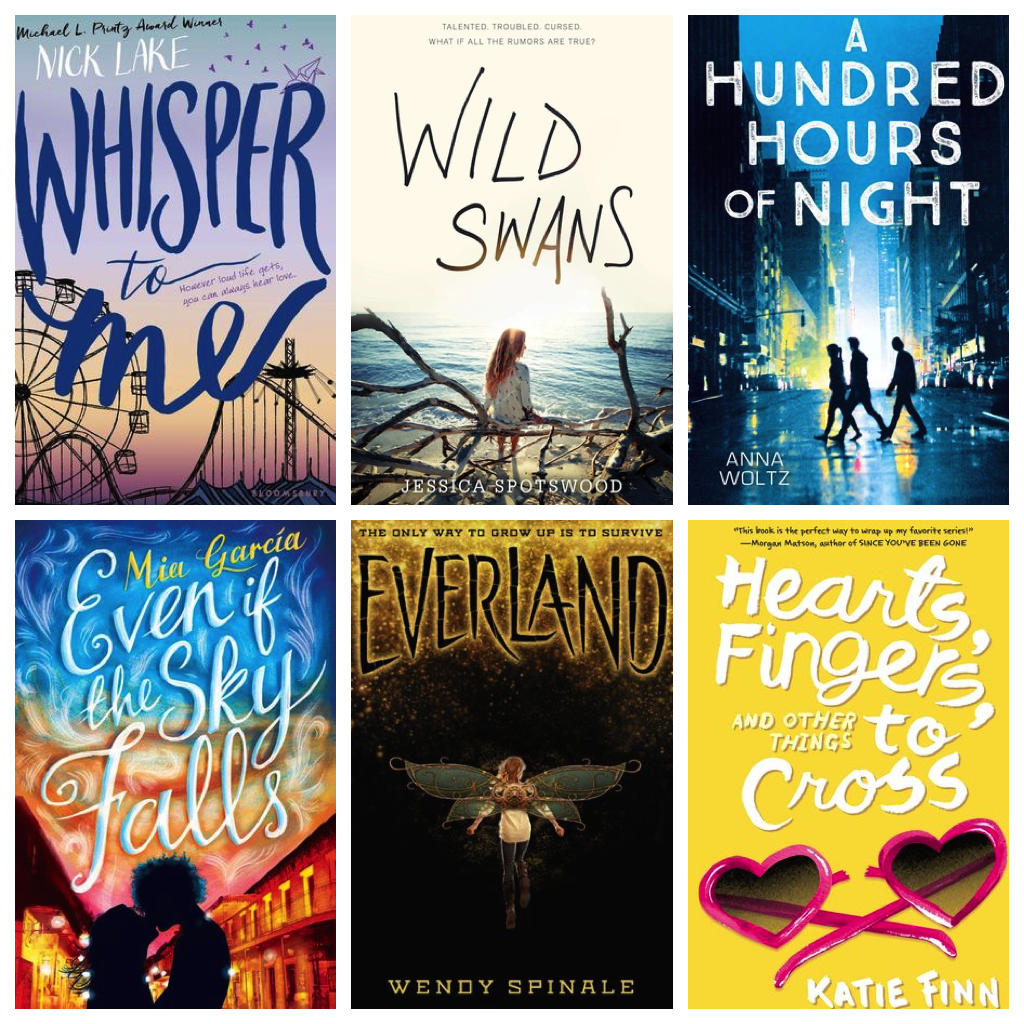 116. Whisper To Me by Nick Lake (5/3): Cassie is writing a letter to the boy whose heart she broke. She's trying to explain why. Why she pushed him away. Why her father got so angry when he saw them together. Why she disappears some nights. Why she won't let herself remember what happened that long-ago night on the boardwalk. Why she fell apart so completely.
Desperate for his forgiveness, she's telling the whole story of the summer she nearly lost herself. She's hoping he'll understand as well as she now does how love—love for your family, love for that person who makes your heart beat faster, and love for yourself—can save you after all.
117. Wild Swans by Jessica Spotswood (5/3): The summer before Ivy's senior year is going to be golden; all bonfires, barbeques, and spending time with her best friends. For once, she will just get to be. No summer classes, none of Granddad's intense expectations to live up to the family name. For generations, the Milbourn women have lead extraordinary lives—and died young and tragically. Granddad calls it a legacy, but Ivy considers it a curse. Why else would her mother have run off and abandoned her as a child?
But when her mother unexpectedly returns home with two young daughters in tow, all of the stories Ivy wove to protect her heart start to unravel. The very people she once trusted now speak in lies. And all of Ivy's ambition and determination cannot defend her against the secrets of the Milbourn past.
118. A Hundred Hours of Night by Anna Woltz (5/10): When Emilia de Wit ran away to New York City, she planned everything to a T. Plane ticket, purchased. Cute apartment, rented online. Subway map, printed and highlighted. This was no ordinary trip — this was Emilia's declaration of independence. Her chance to escape the life her parents were ruining. To get away from the horrible scandal that had rocked Amsterdam, the scandal that was all her dad's fault. To see if her mom, the glamorous, world-famous artist, would even notice.
New York steals Emilia's heart at first sight — even though absolutely nothing goes to plan. She didn't plan to end up homeless on a stranger's doorstep. She didn't plan to make friends with Seth, Abby, and Jim. And she could never have known that Hurricane Sandy would be barreling up the coast, straight for the city.
All she wanted was to get away from her parents, her problems, her life . . . and when the storm hits and the power goes out, Emilia feels farther from home than she could have imagined.
119. Even If The Sky Falls by Mia Garcia (5/10): All she needs is one night to be anyone she wants.
Julie is desperate for a change. So she heads to New Orleans with her youth group to rebuild houses and pretend her life isn't a total mess. But between her super-clingy team leader and her way-too-chipper companions, Julie feels more trapped than ever.
In a moment of daring, she ditches her work clothes for DIY fairy wings and heads straight into the heart of Mid-Summer Mardi Gras, where she locks eyes with Miles, an utterly irresistible guy with a complicated story of his own. And for once, Julie isn't looking back. She jumps at the chance to see the real New Orleans, and in one surreal night, they dance under the stars, share their most shameful secrets, and fall in love.
But their adventure takes an unexpected turn when an oncoming hurricane changes course. As the storm gains power and Julie is pulled back into chaos she finds pretending everything is fine is no longer an option.
120. Everland by Wendy Spinale (5/10): London has been destroyed in a blitz of bombs and disease. The only ones who have survived are children, among them Gwen Darling and her siblings, Joanna and Mikey. They spend their nights scavenging and their days avoiding the ruthless Marauders — the German Army led by Captain Hanz Otto Oswald Kretschmer.
Unsure if the virus has spread past England's borders but desperate to leave, Captain Hook hunts for a cure, which he thinks can be found in one of the survivors. He and his Marauders stalk the streets snatching children for experimentation. None ever return. Until the day they grab Joanna. As Gwen sets out to save her, she meets a mysterious boy named Pete. Pete offers the assistance of his gang of Lost Boys and the fierce sharpshooter Bella, who have all been living in a city hidden underground. But in a place where help has a steep price and every promise is bound by blood, it will cost Gwen. And are she, Pete, the Lost Boys, and Bella enough to outsmart Captain Hook?
121. * Hearts, Fingers, and Other Things to Cross by Katie Finn (5/10): Gemma and Hallie's world has come to a screeching halt. Their parents are engaged, which makes them step-sisters. Nothing in the world could possibly be worse for Gemma and Hallie–they won't let it happen. Even if it means putting their own feud aside to separate their parents.
Events quickly escalate as a hurricane rips through the Hamptons leaving everyone (including Gemma's two exes, her current crush, best friend, and her nemesis) bottled up in one house. One big, miserable group of exes and enemies together allow secrets to unfold and plans to be plotted. The calm before this storm definitely doesn't exist.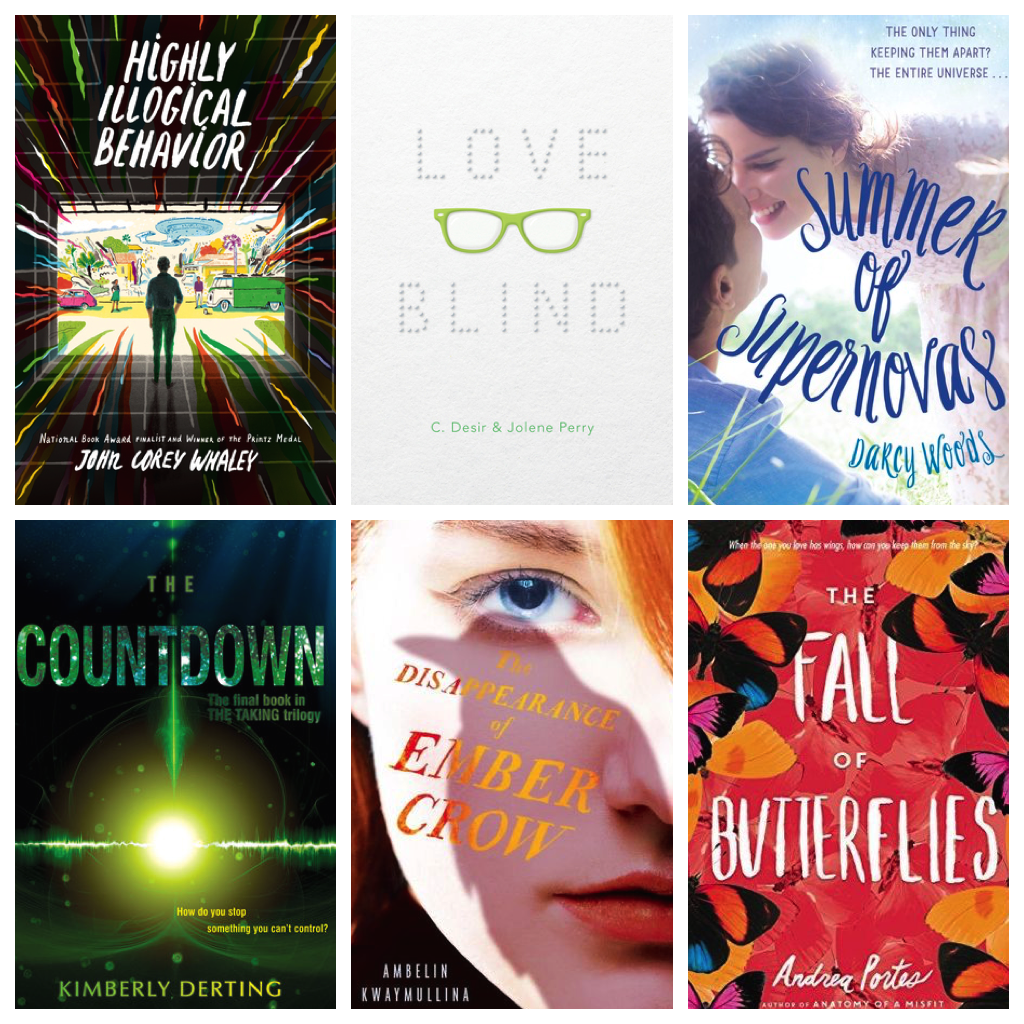 122. Highly Illogical Behavior by John Corey Whaley (5/10): Sixteen-year-old Solomon is agoraphobic. He hasn't left the house in three years, which is fine by him.
Ambitious Lisa desperately wants to get into the second-best psychology program for college (she's being realistic). But how can she prove she deserves a spot there?
Solomon is the answer.
Determined to "fix" Sol, Lisa thrusts herself into his life, introducing him to her charming boyfriend Clark and confiding her fears in him. Soon, all three teens are far closer than they thought they'd be, and when their facades fall down, their friendships threaten to collapse, as well.
123. Love Blind by C. Desir and Jolene Perry (5/10): It starts with a list of fears. Stupid things really. Things that Hailey shouldn't worry about, wouldn't worry about if she didn't wake up every morning with the world a little more blurry. Unable to see her two moms clearly. Unable to read the music for her guitar. One step closer to losing the things she cares about the most.
For a while, the only thing that keeps Hailey moving forward is the feeling she gets when she crosses something off the list.
Then she meets Kyle. He mumbles—when he talks at all—and listens to music to drown out his thoughts. He's loaded down with fears, too. So Hailey talks him into making his own list.
Together, they stumble into an odd friendship, helping each other tackle one after another of their biggest fears. But fate and timing can change everything. And sometimes facing your worst fear makes you realize you had nothing to lose after all.
124. Summer of Supernovas by Darcy Woods (5/10): As the daughter of an expert astrologer, Wilamena Carlisle knows that the truth lies within the stars. So when she discovers a rare planetary alignment, she is forced to tackle her worst astrological fear – The Fifth House of Relationships and Love. But Wil must decide whether a cosmically doomed love is worth rejecting her mother's legacy, when she falls for a sensitive guitar player hailing from the wrong side of the chart.
125. * The Countdown by Kimberly Derting (5/10): In the concluding book in the otherworldly Taking trilogy, Kyra struggles to understand who she is as she races to save the world from complete destruction.
Ever since Kyra was abducted by aliens and then returned to earth, she has known there was something different about her. Now she knows the truth: she is an alien too. Her alien captors replaced all her human DNA with their own—gifting her with supernatural powers like incredible healing, enhanced eyesight, and telekinesis. But when she's captured by an unexpected enemy, Kyra begins to wonder if her abilities are also a curse. And is she, as her enemies believe, meant to play some key role in helping an impending alien invasion? Is it programmed into her, something inescapable? Or can she fight that destiny?
No matter what the truth is, Kyra is sure of one thing: She just rescued the love of her life, Tyler, and she is not going to stand by and let anyone hurt him or her friends. Whatever it takes, Kyra will do everything in her power to save the world…even if it means making the ultimate sacrifice.
126. * The Disappearance of Ember Crow by Ambelin Kwaymullina (5/10): Ember Crow is missing. To find her friend, Ashala Wolf must control her increasingly erratic and dangerous Sleepwalking ability and leave the Firstwood. But Ashala doesn't realise that Ember is harbouring terrible secrets and is trying to shield the Tribe and all Illegals from a devastating new threat – her own past.
127. The Fall of Butterflies by Andrea Portes (5/10): Willa Parker, 646th and least-popular resident of What Cheer, Iowa, is headed east to start a new life. Did she choose this life? No, because that would be too easy—and nothing in Willa's life is easy. It's her famous genius mother's idea to send her to ultra-expensive, ultra-exclusive Pembroke Prep, and Willa has no intention of fitting in. But when she meets peculiar, glittering Remy Taft, the richest, most mysterious girl on campus, she starts to see a foothold in this foreign world—a place where she could maybe, possibly, sort of fit in. When Willa looks at Remy, she sees a girl who has everything. But for Remy, having everything comes at a price. And as she spirals out of control, Willa can feel Remy spinning right out of her grasp.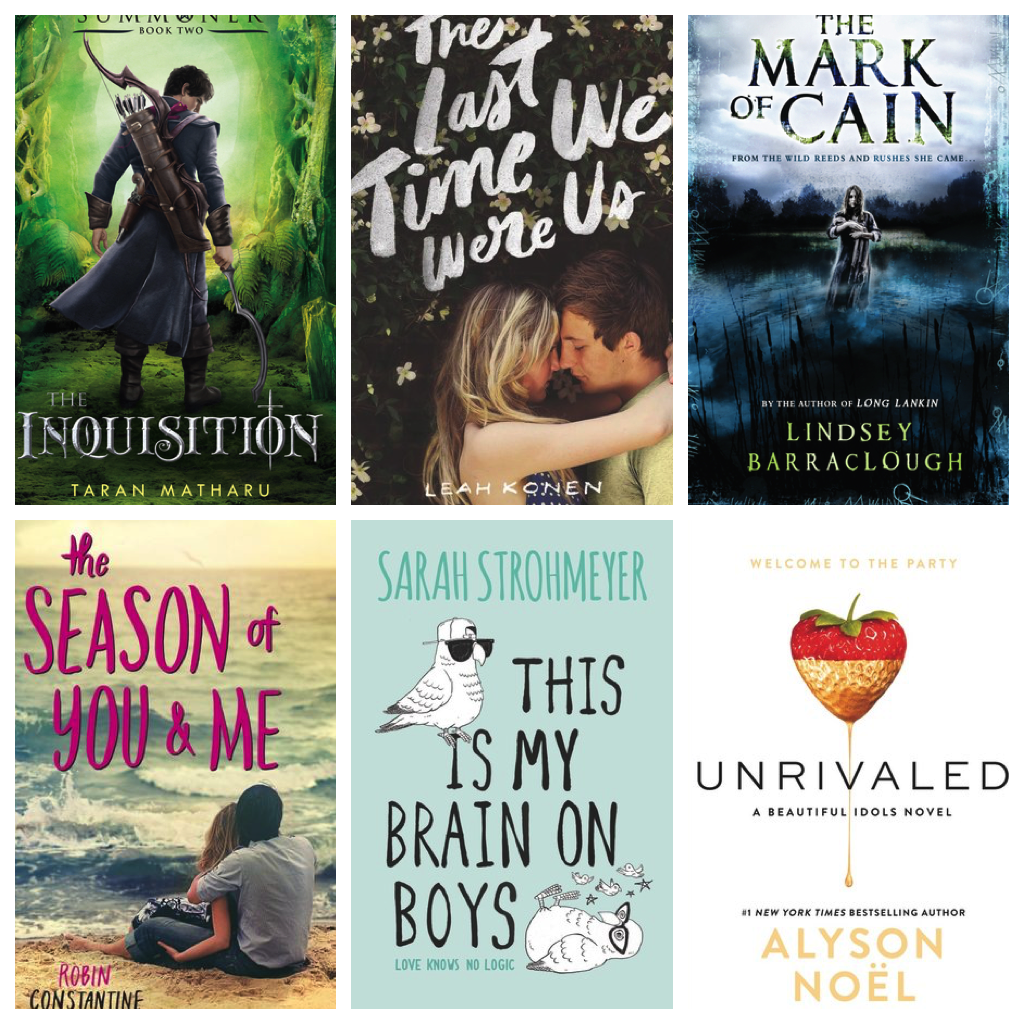 128. * The Inquisition by Taran Matharu (5/10): On trial for a crime he did not commit, Fletcher must face the Inquisition who will decide his future – the process is gruelling, lead by those who will do anything to see him suffer and haunted by ghosts from the past with clues to Fletcher's tragic origins.
But Fletcher has little time to dwell on these new revelations when the king announces a deadly challenge to the graduating students at Vocans. One that involves entering Orc territory to complete a risky mission. With loyal demons by their sides, commoners and nobles, dwarves and elves must overcome barriers of class and race and work together to triumph. The reward: a fortune in gold, the safety of an empire and PEACE.
With the entire empire watching, Fletcher has much to prove, but there are those out to get him and it soon becomes clear that there's a traitor in their midst, trying to thwart the mission and create unrest within the Empire.
With everything stacked against him, Fletcher must use everything in his power to fight his way to victory.
129. The Last Time We Were Us by Leah Konen (5/10): Liz Grant is about to have the summer of her life. She and her friend MacKenzie are getting invited to all the best parties, and with any luck, Innis Taylor, the most gorgeous guy in Bonneville, will be her boyfriend before the Fourth of July.
Local teen convict released early.
Jason Sullivan wasn't supposed to come back from juvie. A million years ago, he was her best friend, but that was before he ditched her for a different crowd. Before he attacked Innis's older brother, leaving Skip's face burned and their town in shock.
"Everything is not what you think."
Liz always found it hard to believe what they said about Jason, but all of Bonneville thinks he's dangerous. If word gets out she's seeing him, she could lose everything. But what if there's more to that horrible night than she knows? And how many more people will get hurt when the truth finally comes out?
"You're the one person who believes in me."
130. * The Mark of Cain by Lindsey Barraclough (5/10): In 1567, baby Aphra is found among the reeds and rushes by two outcast witches. Even as an infant, her gifts in the dark craft are clear. But when her guardians succumb to an angry mob, Aphra is left to fend for herself. She is shunned and feared by all but one man, the leper known as Long Lankin. Hounded and ostracized, the two find solace only in each other, but even this respite is doomed, and Aphra's bitterness poisons her entire being. Afflicted with leprosy, tortured and about to be burned as a witch, she manages one final enchantment—a curse on her tormentor's heirs. Now, in 1962, Cora and Mimi, the last of a cursed line, are trapped in an ancient home on a crumbling estate in deepest winter, menaced by a spirit bent on revenge. Are their lives and souls forfeit forever?
131. The Season of You and Me by Robin Constantine (5/10): Cassidy Emmerich is determined to make this summer—the last before her boyfriend heads off to college—unforgettable. What she doesn't count on is her boyfriend breaking up with her. Now, instead of being poolside with him, Cass is over a hundred miles away, spending the summer with her estranged father and his family at their bed-and-breakfast at the Jersey Shore and working as the newest counselor at Camp Manatee.
Bryan Lakewood is sick of nevers. You'll never walk. You'll never surf. You'll never slow dance with your date at prom. One miscalculated step and Bryan's life changed forever—now he's paralyzed and needs to use a wheelchair. This is the first summer he's back at his former position at Camp Manatee and ready to reclaim some of his independence, in spite of those who question if he's up for the job.
Cass is expecting two months dealing with heartbreak.
Bryan is expecting a summer of tough adjustments.
Neither of them is expecting to fall in love.
132. This is My Brain on Boys by Sarah Strohmeyer (5/10): Addie Emerson doesn't believe in love, at least for herself. A straightlaced, brilliant girl, she's more interested in getting an A than falling in love. But Addie is determined to prove the science of love—because Addie Emerson does believe in science.
Science tells her that "love" is nothing more than the brain's state under the influence of certain chemicals. And by artificially stimulating those chemicals, the brain can totally be tricked into falling in love. So Addie decides to apply that knowledge—and make her classmates fall in love—to win the coveted Athenian Award for Science in her elite private school. One way to speed up the process—adrenaline—she'll put her classmates in dangerous, high-risk situations . . . and research the fallout.
But a mysterious new guy keeps messing with her plans. And she kind of can't stop thinking about his gorgeous brown eyes. With backstabbing competitors—including her former lab partner, the preppy, wealthier-than-thou Dex—and more than one pair of star-crossed lovers—can Addie manage to salvage her experiment and win the Athenian? And what happens if she does the unthinkable—and falls in love?
133. * Unrivaled by Alison Noel (5/10): Everyone wants to be someone.
Layla Harrison wants to leave her beach-bum days for digs behind a reporter's desk. Aster Amirpour wants to scream at the next casting director who tells her "we need ethnic but not your kind of ethnic." Tommy Phillips dreams of buying a twelve-string guitar and using it to shred his way back into his famous absentee dad's life.
But Madison Brooks took destiny and made it her bitch a long time ago.
She's Hollywood's hottest starlet, and the things she did to become the name on everyone's lips are merely a stain on the pavement, ground beneath her Louboutin heel.
That is, until Layla, Aster, and Tommy find themselves with a VIP invite to the glamorous and gritty world of Los Angeles's nightlife and lured into a high-stakes competition where Madison Brooks is the target. Just as their hopes begin to gleam like stars through the California smog, Madison Brooks goes missing. . . . And all of their hopes are blacked out in the haze of their lies.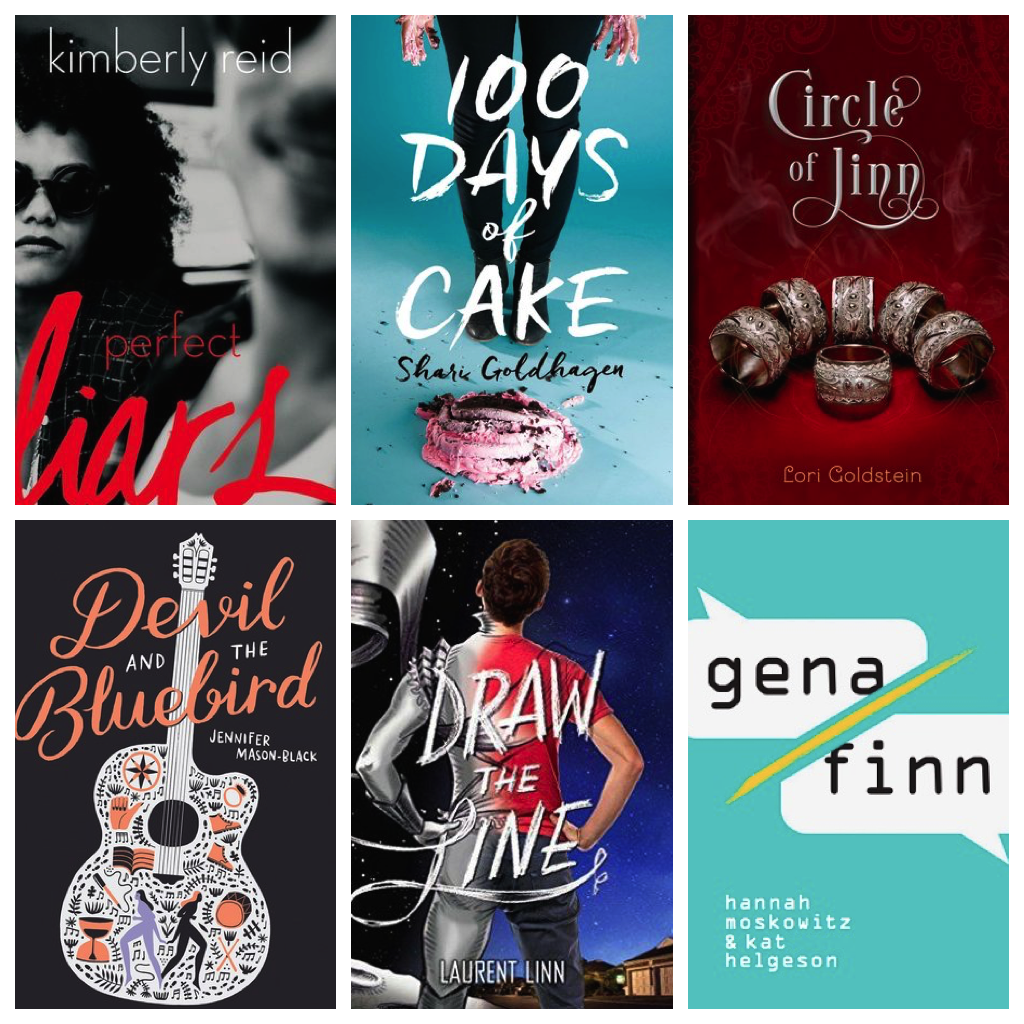 134. Perfect Liars by Kimberly Reid (5/15): Andrea Faraday is junior class valedictorian at the exclusive Woodruff School, where she was voted Most Likely to Do Everything Right. But looks can be deceiving. When her parents disappear, her life and her Perfect Girl charade begins to crumble, and her scheme to put things right just takes the situation from bad to so much worse. Pretty soon she's struck up the world s least likely friendship with the juvenile delinquents at Justice Academy, the last exit on the road to jail and the first stop on the way out.
If she were telling it straight, friendship might not be the right word to describe their alliance, since Drea and her new associates could not be more different. She s rich and privileged; they re broke and, well, criminal. But Drea s got a secret: she has more in common with the juvie kids than they d ever suspect. When it turns out they share a common enemy, Drea suggests they join forces to set things right. Sometimes, to save the day, a good girl s gotta be bad.
135. 100 Days of Cake by Shari Goldhagen (5/17): There are only three things that can get seventeen-year-old Molly Byrne out of bed these days: her job at FishTopia, the promise of endless episodes of Golden Girls, and some delicious lo mien. You see, for the past two years, Molly's been struggling with something more than your usual teenage angst. Her shrink, Dr. Brooks isn't helping much, and neither is her mom who is convinced that baking the perfect cake will cure Molly of her depression—as if cake can magically make her rejoin the swim team, get along with her promiscuous sister, or care about the SATs.
Um, no. Never going to happen.
But Molly plays along, stomaching her mother's failed culinary experiments, because, whatever—as long as it makes someone happy, right? Besides, as far as Molly's concerned, hanging out with Alex at the rundown exotic fish store makes life tolerable enough. Even if he does ask her out every…single…day. But—sarcastic drum roll, please—nothing can stay the same forever. When Molly finds out FishTopia is turning into a bleak country diner, her whole life seems to fall apart at once. Soon she has to figure out what—if anything—is worth fighting for.
136. * Circle of Jinn by Lori Goldstein (5/17): Being Jinn is Azra's new reality. As she grants wishes under the watchful eye of the Afrit council, she remains torn between her two worlds—human and Jinn. Soon, secrets spill. Zars are broken. Humans become pawns. And rumors of an uprising become real as the Afrit's reach extends beyond the underground world of Janna.
Straddling the line becomes impossible. Aware of her unique abilities, Azra must not just face but embrace her destiny. But when the role she must play and those she must protect expand to include a circle of Jinn greater than her own, Azra will be forced to risk everything. A risk that means there's everything to lose, and at the same time, everything to gain—for herself and her entire Jinn race.
137. Devil and the Bluebird by Jennifer Mason-Black (5/17): Blue Riley has wrestled with her own demons ever since the loss of her mother to cancer. But when she encounters a beautiful devil at her town crossroads, it's her runaway sister's soul she fights to save. The devil steals Blue's voice—inherited from her musically gifted mother—in exchange for a single shot at finding Cass.
Armed with her mother's guitar, a knapsack of cherished mementos, and a pair of magical boots, Blue journeys west in search of her sister. When the devil changes the terms of their deal, Blue must reevaluate her understanding of good and evil and open herself to finding family in unexpected places.
138. Draw the Line by Laurent Linn (5/17): Adrian Piper is used to blending into the background at his Texas high school. He may be a talented artist, a sci-fi geek, and gay, but those traits only bring him the worst kind of attention.
In fact, the only place he feels free to express himself is at his drawing table, crafting a secret world through his own Renaissance art-inspired superhero, Graphite.
But in real life, when a shocking hate crime flips his world upside-down, Adrian must decide what kind of person he wants to be. Maybe it's time to not be so invisible after all—no matter how dangerous the risk.
139. Gena/Finn by Kat Helgeson and Hannah Moskowitz (5/17): Gena (short for Genevieve) and Finn (short for Stephanie) have little in common. Book-smart Gena is preparing to leave her posh boarding school for college; down-to-earth Finn is a twenty-something struggling to make ends meet in the big city. Gena's romantic life is a series of reluctant one-night-stands; Finn is making a go of it with long-term boyfriend Charlie. But they share a passion for Up Below, a buddy cop TV show with a cult fan following. Gena is a darling of the fangirl scene, keeping a popular blog and writing fan fiction. Finn's online life is a secret, even from Charlie. The pair spark an unlikely online friendship that deepens quickly (so quickly it scares them both), and as their individual "real" lives begin to fall apart, they increasingly seek shelter online, and with each other.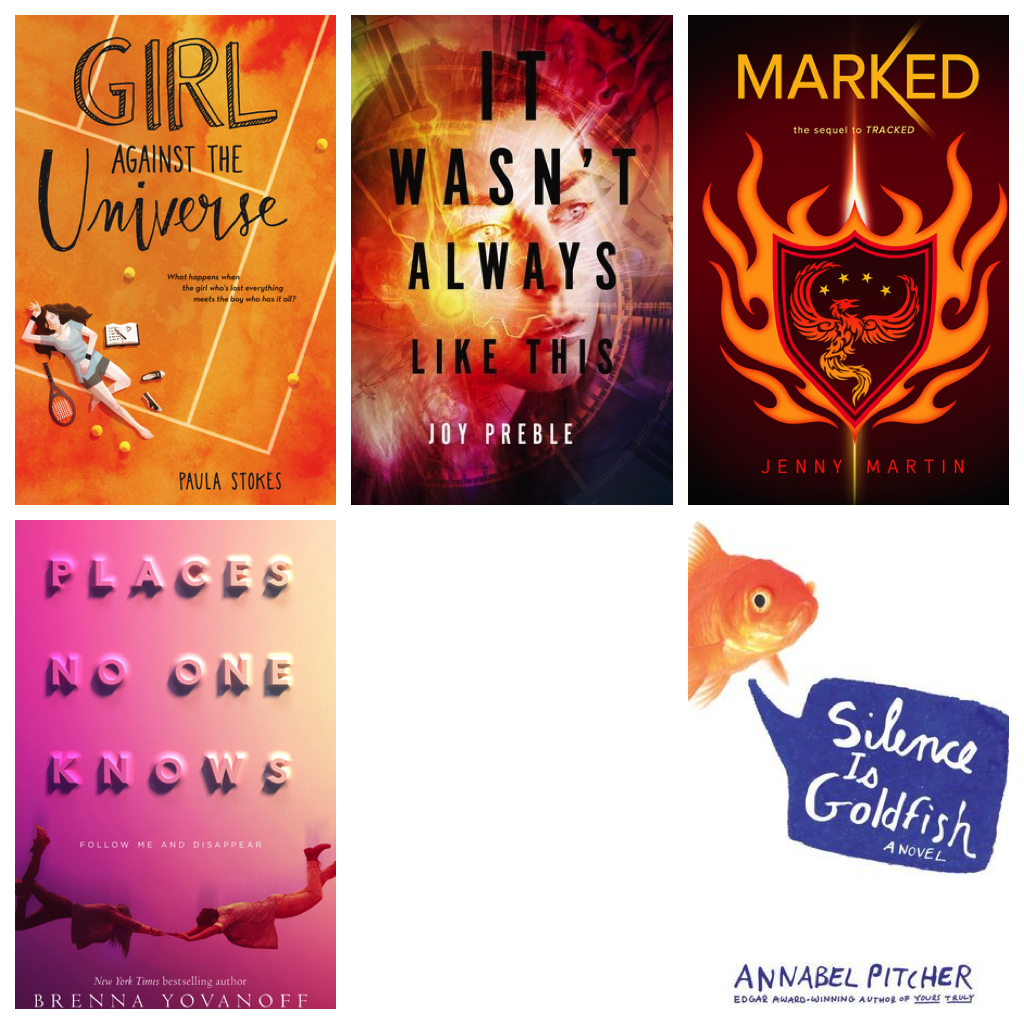 140. Girl Against The Universe by Paula Stokes (5/17): Maguire is bad luck.
No matter how many charms she buys off the internet or good luck rituals she performs each morning, horrible things happen when Maguire is around. Like that time the rollercoaster jumped off its tracks. Or the time the house next door caught on fire. Or that time her brother, father, and uncle were all killed in a car crash—and Maguire walked away with barely a scratch.
It's safest for Maguire to hide out in her room, where she can cause less damage and avoid meeting new people who she could hurt. But then she meets Jordy, an aspiring tennis star. Jordy is confident, talented, and lucky, and he's convinced he can help Maguire break her unlucky streak. Maguire knows that the best thing she can do for Jordy is to stay away. But it turns out staying away is harder than she thought.
141. It Wasn't Always Like This by Joy Preble (5/17): In 1916, Emma O'Neill is frozen in time. After sampling an experimental polio vaccine brewed on a remote island off St. Augustine, Florida, she and her family stop aging—as do the Ryans, her family's business partners. In a way, this suits Emma fine because she's in love with Charlie Ryan. Being seventeen forever with him is a dream. But soon a group of religious fanatics, the Church of Light, takes note. Drinking the elixir has made the O'Neills and Ryans impervious to aging, but not to murder—Emma and Charlie are the only ones who escape with their lives.
On the run, Emma is tragically separated from Charlie. For the next hundred years, she plays a cat-and-mouse game with the founding members of the Church of Light and their descendants. Over the years, a series of murders—whose victims all bear more than a passing resemblance to her—indicate that her enemies are closing in. Yet as the danger grows, so does Emma's hope for finding the boy she's certain is still out there.
142. * Marked by Jenny Martin (5/17): After an escape gone wrong, Phee barely made it out of Castra alive. But Cash, the leader of the rebellion, is still missing–and Charles Benroyal is to blame. Caught between grief and blinding thoughts of revenge, Phee fights for the resistance, gaining new allies and, perhaps, making new enemies, too. Meanwhile, Phee can't control her growing feelings for Bear, her best friend since childhood, and she's forced to make a choice–between the boy who has always been there for her, and the one who might never return. As Benroyal's attacks grow bolder, Phee and her team embark on a daring mission to defeat the Sixers and save the planet. But no one is prepared for the sacrifices Phee will have to make to win this war once and for all.
143. Places No One Knows by Brenna Yovanoff (5/17): Waverly Camdenmar spends her nights running until she can't even think. Then the sun comes up, life goes on, and Waverly goes back to her perfectly hateful best friend, her perfectly dull classes, and the tiny, nagging suspicion that there's more to life than student council and GPAs.
Marshall Holt is a loser. He drinks on school nights and gets stoned in the park. He is at risk of not graduating, he does not care, he is no one. He is not even close to being in Waverly's world.
But then one night Waverly falls asleep and dreams herself into Marshall's bedroom—and when the sun comes up, nothing in her life can ever be the same. In Waverly's dreams, the rules have changed. But in her days, she'll have to decide if it's worth losing everything for a boy who barely exists.
144. Silence is Goldfish by Annabel Pitcher (5/17): Fifteen-year-old Tess doesn't mean to become mute. When she discovers that her dad isn't her biological father, at first she's just too shocked to speak. But quickly she begins to see the benefit of silence. She can protect herself from the questions she's too afraid to ask. It frustrates the heck out of her parents. And it also gets the attention of her handsome Math teacher, Mr Holdsworth…

Tess sets out to discover the identity of her real father. But when trouble strikes and everything spirals out of control, how can she ask for help when she's forgotten how to use her voice?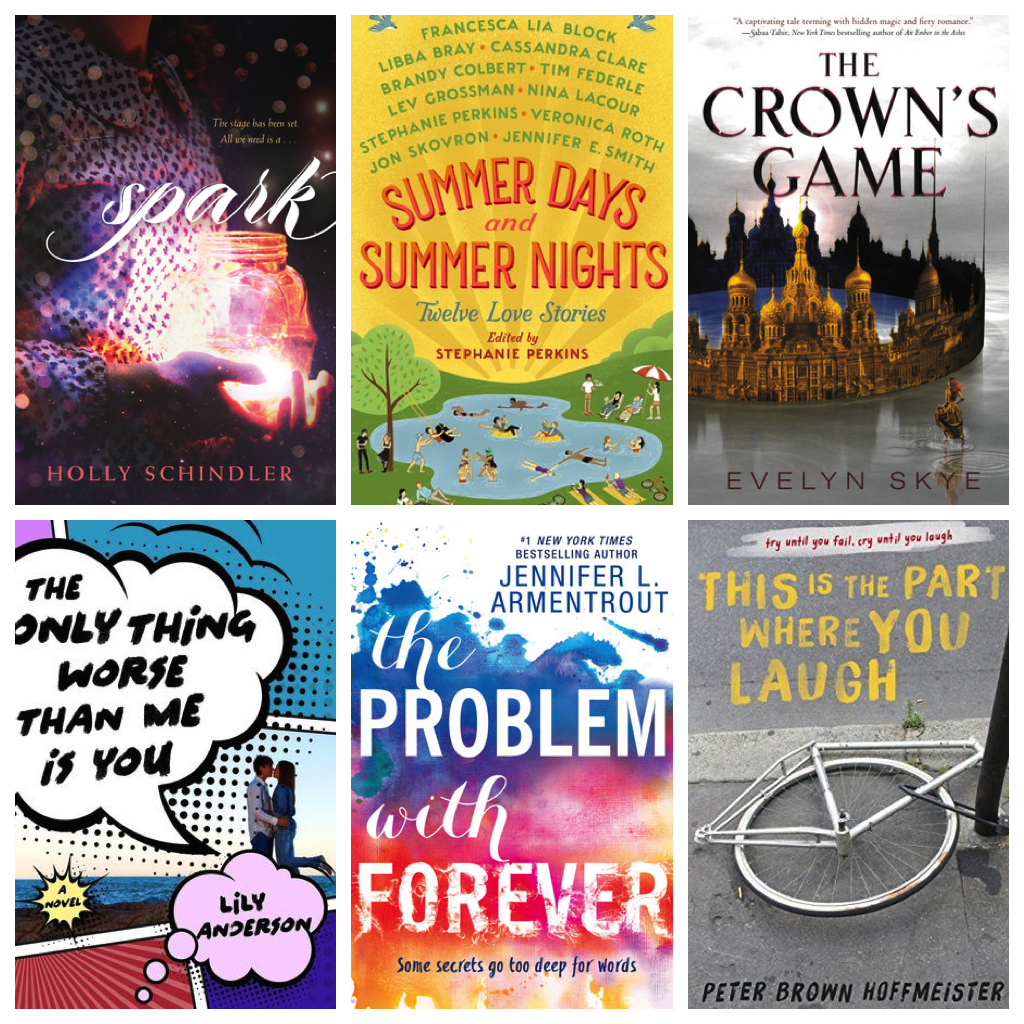 145. Spark by Holly Schindler (5/17): The local Avery Theater was just a run-down building to Quin—until her mother told her the tragic love story of Nick and Emma that played out on the theater's stage all those years ago. Quin is convinced it's the perfect story to rewrite for her drama class, but when she goes searching for more information, she makes a startling discovery—the Avery is rapidly regaining its former splendor and setting the stage for her classmates Dylan and Cass to relive Nick and Emma's romance. Quin can see the spark between them, but it's up to her to make sure her friends—and the Avery—can both be saved this time around.
146. Summer Days and Summer Nights edited by Stephanie Perkins (5/17): Maybe it's the long, lazy days, or maybe it's the heat making everyone a little bit crazy. Whatever the reason, summer is the perfect time for love to bloom. Summer Days & Summer Nights: Twelve Love Stories, written by twelve bestselling young adult writers and edited by the international bestselling author Stephanie Perkins, will have you dreaming of sunset strolls by the lake. So set out your beach chair and grab your sunglasses. You have twelve reasons this summer to soak up the sun and fall in love.
147. * The Crown's Game by Evelyn Skye (5/17): Vika Andreyeva can summon the snow and turn ash into gold. Nikolai Karimov can see through walls and conjure bridges out of thin air. They are enchanters—the only two in Russia—and with the Ottoman Empire and the Kazakhs threatening, the Tsar needs a powerful enchanter by his side.
And so he initiates the Crown's Game, an ancient duel of magical skill—the greatest test an enchanter will ever know. The victor becomes the Imperial Enchanter and the Tsar's most respected adviser. The defeated is sentenced to death.
Raised on tiny Ovchinin Island her whole life, Vika is eager for the chance to show off her talent in the grand capital of Saint Petersburg. But can she kill another enchanter—even when his magic calls to her like nothing else ever has?
For Nikolai, an orphan, the Crown's Game is the chance of a lifetime. But his deadly opponent is a force to be reckoned with—beautiful, whip smart, imaginative—and he can't stop thinking about her.
And when Pasha, Nikolai's best friend and heir to the throne, also starts to fall for the mysterious enchantress, Nikolai must defeat the girl they both love… or be killed himself.
As long-buried secrets emerge, threatening the future of the empire, it becomes dangerously clear… the Crown's Game is not one to lose.
148. The Only Thing Worse Than Me Is You by Lily Anderson (5/17): Trixie Watson has two very important goals for senior year: to finally save enough to buy the set of Doctor Who figurines at the local comic books store, and to place third in her class and knock Ben West–and his horrendous new mustache that he spent all summer growing–down to number four.
Trixie will do anything to get her name ranked over Ben's, including give up sleep and comic books–well, maybe not comic books–but definitely sleep. After all, the war of Watson v. West is as vicious as the Doctor v. Daleks and Browncoats v. Alliance combined, and it goes all the way back to the infamous monkey bars incident in the first grade. Over a decade later, it's time to declare a champion once and for all.
The war is Trixie's for the winning, until her best friend starts dating Ben's best friend and the two are unceremoniously dumped together and told to play nice. Finding common ground is odious and tooth-pullingly-painful, but Trixie and Ben's cautious truce slowly transforms into a fandom-based tentative friendship. When Trixie's best friend gets expelled for cheating and Trixie cries foul play, however, they have to choose who to believe and which side they're on–and they might not pick the same side.
149. The Problem With Forever by Jennifer L. Armentrout (5/17): For some people, silence is a weapon. For Mallory "Mouse" Dodge, it's a shield. Growing up, she learned that the best way to survive was to say nothing. And even though it's been four years since her nightmare ended, she's beginning to worry that the fear that holds her back will last a lifetime.
Now, after years of homeschooling with loving adoptive parents, Mallory must face a new milestone—spending her senior year at public high school. But of all the terrifying and exhilarating scenarios she's imagined, there's one she never dreamed of—that she'd run into Rider Stark, the friend and protector she hasn't seen since childhood, on her very first day.
It doesn't take long for Mallory to realize that the connection she shared with Rider never really faded. Yet the deeper their bond grows, the more it becomes apparent that she's not the only one grappling with the lingering scars from the past. And as she watches Rider's life spiral out of control, Mallory faces a choice between staying silent and speaking out—for the people she loves, the life she wants, and the truths that need to be heard.
150. This Is The Part Where You Laugh by Peter Brown Hoffmeister (5/17): Rising sophomore Travis and his best friend, Creature, spend a summer in a Eugene, Oregon, trailer park dealing with cancer, basketball, first love, addiction, gang violence, and a reptilian infestation.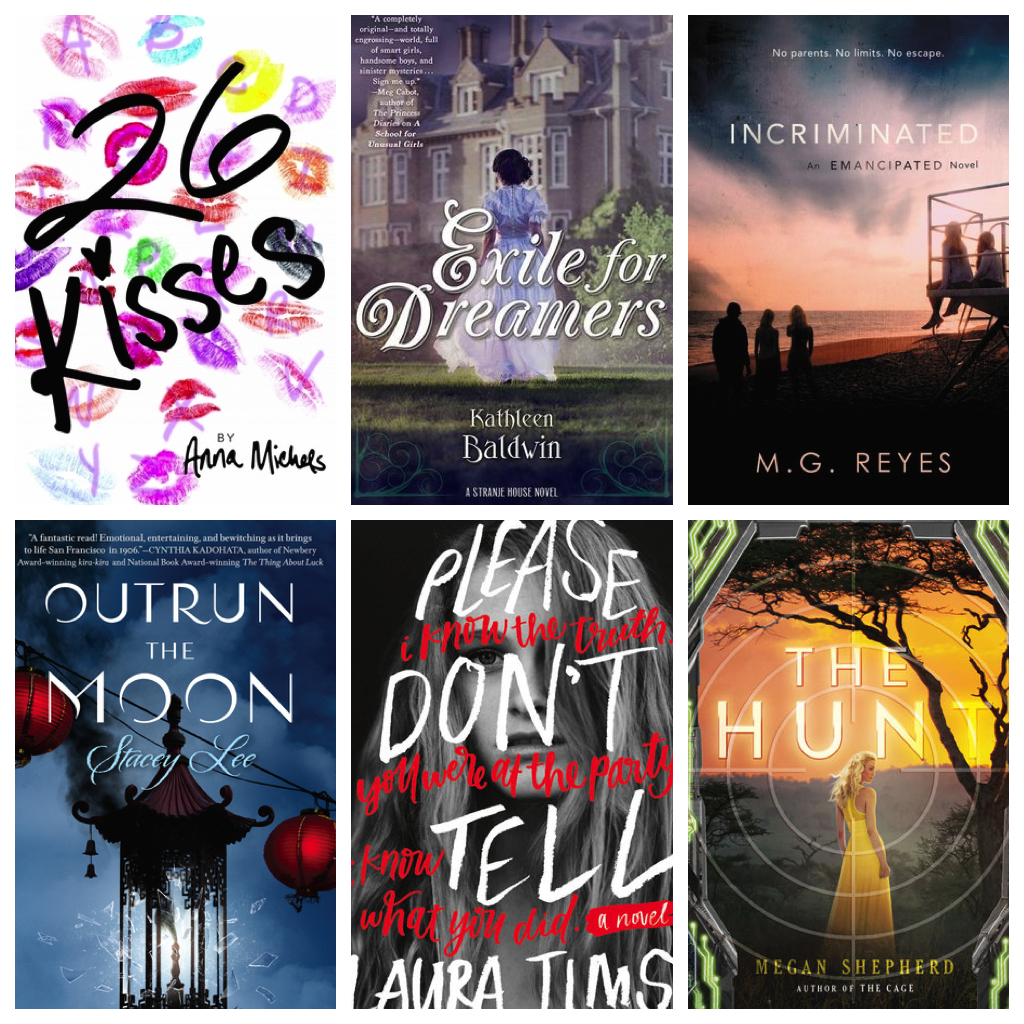 151. 26 Kisses by Anna Michels (5/24): Breaking up with her boyfriend is not how Veda planned on starting her summer. When Mark makes it clear that it's over between them, Veda is heartbroken and humiliated—but, more importantly, she's inspired. And so she sets out on the love quest of a lifetime: use the summer to forget about Mark, move on, and move up. All she has to do is kiss twenty-six boys with twenty-six different names—one for each letter of the alphabet.
From the top of the Ferris wheel at her hometown carnival to the sandy dunes of Lake Michigan, Veda takes every opportunity she can to add kisses (and boys) to her list, and soon the breakup doesn't sting quite as much. But just when Veda thinks she has the whole kissing thing figured out, she meets someone who turns her world upside down.
152. * Exile for Dreamers by Kathleen Baldwin (5/24): Tess can't run far enough or fast enough to escape the prophetic dreams that haunt her. Dreams bring nothing but death and grief, and Tess refuses to accept that she may be destined for the same madness that destroyed her mother. Until her disturbing dreams become the only means of saving Lord Ravencross, the man she loves, and her friends at Stranje House from Lady Daneska and her lover, the Ghost-agent of Napoleon, who has escaped from Elba. Can the young ladies of Stranje House prevail once more? Or is England destined to fall into the hands of the power-mad dictator?
153. * Incriminated by M. G. Reyes (5/24): There's trouble in paradise. Six teens legally liberated from parental control—the bad boy, the good girl, the diva, the hustler, the rocker, and the nerd—all share a house in Venice Beach and they all have one thing in common: murder.
After a streak of hookups, heartbreaks, and bad decisions, the housemates' once perfect life is falling apart. One is caught in a forbidden romance with a Hollywood hearttrob while another puts her dreams on the line for one little kiss. One harbors a dark truth that could save a life while another's risky business puts all their lives on the line. And before they know it, the friends are fighting like family.
But when an uninvited houseguest and a deadly accident entangle them in a conspiracy none of them saw coming, pulling together is the only way out. Alone, none of them can cover up the lies. Together, none of them can be trusted.
154. Outrun The Moon by Stacey Lee (5/24): San Francisco, 1906: Fifteen-year-old Mercy Wong is determined to break from the poverty in Chinatown, and an education at St. Clare's School for Girls is her best hope. Although St. Clare's is off-limits to all but the wealthiest white girls, Mercy gains admittance through a mix of cunning and a little bribery, only to discover that getting in was the easiest part. Not to be undone by a bunch of spoiled heiresses, Mercy stands strong—until disaster strikes.
On April 18, an historic earthquake rocks San Francisco, destroying Mercy's home and school. With martial law in effect, she is forced to wait with her classmates for their families in a temporary park encampment. Mercy can't sit by while they wait for the Army to bring help. Fires might rage, and the city may be in shambles, yet Mercy still has the 'bossy' cheeks that mark her as someone who gets things done. But what can one teenaged girl do to heal so many suffering in her broken city?
155. Please Don't Tell by Laura Tims (5/24): Joy killed Adam Gordon—at least, that's what she thinks. The night of the party is hazy at best. But she knows what Adam did to her twin sister, Grace, and she knows he had to pay for it.
What Joy doesn't expect is that someone else saw what happened. And one night a note is shoved through her open window, threatening Joy that all will be revealed. Now the anonymous blackmailer starts using Joy to expose the secrets of their placid hometown. And as the demands escalate, Joy must somehow uncover the blackmailer's identity before Joy is forced to make a terrible choice.
156. * The Hunt by Megan Shepherd (5/24): They've left the cage—but they're not free yet.
After their failed escape attempt, Cora, Lucky, and Mali have been demoted to the lowest level of human captives and placed in a safari-themed environment called the Hunt, along with wild animals and other human outcasts. They must serve new Kindred masters—Cora as a lounge singer, Lucky as an animal wrangler, and Mali as a safari guide—and follow new rules or face dangerous consequences. Meanwhile, Nok and Rolf have been moved into an enormous dollhouse, observed around the clock by Kindred scientists interested in Nok's pregnancy. And Leon, the only one who successfully escaped, has teamed up with villainous Mosca black-market traders.
The former inhabitants of the Cage are threatened on all fronts—and maybe worst of all, one of the Hunt's Kindred safari guests begins to play a twisted game of cat and mouse with Cora. Separated and constantly under watch, she and the others must struggle to stay alive, never mind find a way back to each other. When Cassian secretly offers to train Cora to develop her psychic abilities—to prove the worthiness of humanity in a series of tests called the Gauntlet—she'll have to decide fast if she dares to trust the Kindred who betrayed her, or if she can forge her own way to freedom.
157. * The Last Star by Rick Yancey (5/24): We're here, then we're gone, and that was true before they came. That's always been true. The Others didn't invent death; they just perfected it. Gave death a face to put back in our face, because they knew that was the only way to crush us. It won't end on any continent or ocean, no mountain or plain, jungle or desert. It will end where it began, where it had been from the beginning, on the battlefield of the last beating human heart.
158. The Safest Lies by Megan Miranda (5/24): Kelsey was raised to see danger everywhere. Her mother hasn't set foot outside their front door in seventeen years, since she escaped from her kidnappers with Kelsey growing inside her.
Kelsey knows she's supposed to keep a low profile for their own protection, but that plan is shattered when she drives off a cliff and is rescued by volunteer firefighter and classmate Ryan Baker.
A few days later, she arrives home to face her greatest fear: her mother is missing. She and her mother have drilled for all contingencies—except this one. Luckily, Ryan is as skilled at emergency rescues as Kelsey is at escape and evasion.
To have a chance at a future, Kelsey will have to face all her darkest fears. Because someone is coming for her.
And the truth about the past may end up being the most dangerous thing of all.
159. The World Beneath by Janice Warman (5/24): South Africa, 1976. Joshua lives with his mother in the maid's room, in the backyard of their wealthy white employers' house in the city by the sea. He doesn't quite understand the events going on around him. But when he rescues a stranger and riots begin to sweep the country, Joshua has to face the world beneath—the world deep inside him—to make heartbreaking choices that will change his life forever. Genuine and quietly unflinching, this beautifully nuanced novel from a veteran journalist captures a child's-eye view of the struggle that shaped a nation and riveted the world.
160. Beware That Girl by Teresa Toten (5/31): The Haves. The Have-Nots. Kate O'Brien appears to be a Have-Not. Her whole life has been a series of setbacks she's had to snake her way out of—some more sinister than others. But she's determined to change that. She's book smart. She's street-smart. Oh, and she's also a masterful liar.
As the scholarship student at the Waverly School in NYC, Kate has her work cut out for her: her plan is to climb the social ladder and land a spot at Yale. She's already found her "people" among the senior class "it" girls—specifically in the cosseted, mega-wealthy yet deeply damaged Olivia Sumner. As for Olivia, she considers Kate the best friend she's always needed, the sister she never had.
When the handsome and whip-smart Mark Redkin joins the Waverly administration, he immediately charms his way into the faculty's and students' lives—becoming especially close to Olivia, a fact she's intent on keeping to herself. It becomes increasingly obvious that Redkin poses a threat to Kate, too, in a way she can't reveal—and can't afford to ignore. How close can Kate and Olivia get to Mark without having to share their dark pasts?
161. * City of Spies by Nina Berry (5/31): Celebrating her escape from East Germany and the success of her new film, teen starlet Pagan Jones returns to Hollywood to reclaim her place among the rich and the famous. She's thrilled to be back, but memories of her time in Berlin—and elusively handsome secret agent Devin Black—continue to haunt her daydreams. The whirlwind of parties and celebrities just isn't enough to distract Pagan from the excitement of being a spy or dampen her curiosity about her late mother's mysterious past.
When Devin reappears with an opportunity for Pagan to get back into the spy game, she is eager to embrace the role once again—all she has to do is identify a potential Nazi war criminal. A man who has ties to her mother. Taking the mission means that she'll have to star in a cheesy film and dance the tango with an incredibly awful costar, but Pagan knows all the real action will happen off-set, in the streets of Buenos Aires.
But as Pagan learns more about the man they're investigating, she realizes that the stakes are much higher than they could have ever imagined, and that some secrets are best left undiscovered.
162. Every Exquisite Thing by Matthew Quick (5/31): Nanette O'Hare is an unassuming teen who has played the role of dutiful daughter, hardworking student, and star athlete for as long as she can remember. But when a beloved teacher gives her his worn copy of The Bugglegum Reaper–a mysterious, out-of-print cult classic–the rebel within Nanette awakens.
As she befriends the reclusive author, falls in love with a young troubled poet, and attempts to insert her true self into the world with wild abandon, Nanette learns the hard way that rebellion sometimes comes at a high price.
163. Frannie and Tru by Karen Hattrup (5/31): When Frannie Little eavesdrops on her parents fighting she discovers that her cousin Truman is gay, and his parents are so upset they are sending him to live with her family for the summer. At least, that's what she thinks the story is. . . When he arrives, shy Frannie befriends this older boy, who is everything that she's not–rich, confident, cynical, sophisticated. Together, they embark on a magical summer marked by slowly unraveling secrets.
164. Lies I Live By by Lauren Sabel (5/31): Callie Sinclair is literally out of her mind; as the government's youngest psychic spy, she finds valuable information for top-secret missions. Her work keeps her headaches at bay, but it means she must lie to everyone she loves, including her longtime boyfriend, Charlie.
When a new psychic arrives at the office, Callie can't help but flirt; Jasper already knows her in a way Charlie never will.
But as her love life gets more complicated, so do her visions. People halfway around the world seem to be in danger…and people in her own backyard, too. If Callie can't find a way to alter future events, she could lose the people she loves—and her mind. Literally.
165. Meet Me Here by Bryan Bliss (5/31): Thomas is supposed to leave for the army in the morning. His father was Army. His brother, Jake, is Army—is a hero, even, with the medals to prove it. Everyone expects Thomas to follow in that fine tradition. But Jake came back from overseas a completely different person, and that has shaken Thomas's certainty about his own future. And so when his long-estranged friend Mallory suggests one last night of adventure, Thomas takes her up on the distraction. Over the course of this single night, Thomas will lose, find, resolve, doubt, drive, explore, and leap off a bridge. He'll also face the truth of his brother's post-traumatic stress disorder and of his own courage. In Bryan Bliss's deft hands, graduation night becomes a night to find yourself, find each other, find a path, and know that you always have a place—and people—to come back to.
166. * Nil on Fire by Lynne Matson (5/31): Despite Rives and Skye's attempt to destroy Nil, the island remains. And back in this world, Nil won't let Skye go. Haunted by a darkness she can't ignore, Skye wrestles with Nil nightmares that worsen by the day and threaten to tear her apart. As Skye fights to keep her mind intact, she realizes that to finally break free of Nil, she must end Nil's vicious cycle once and for all–and she can't do it alone.
Who will return to Nil, and in the end, who will survive? In this thrilling final installment of the Nil series, the stakes have never been higher: everyone's fate hangs in the balance, including Nil's own–and Nil will fight to the death. When the full force of the island is unleashed, Skye faces an impossible choice, a cruel one she'd never imagined she'd have to make. Soon one Nil truth becomes painfully clear: only one side can win.
Losing isn't an option, but winning will cost Skye everything.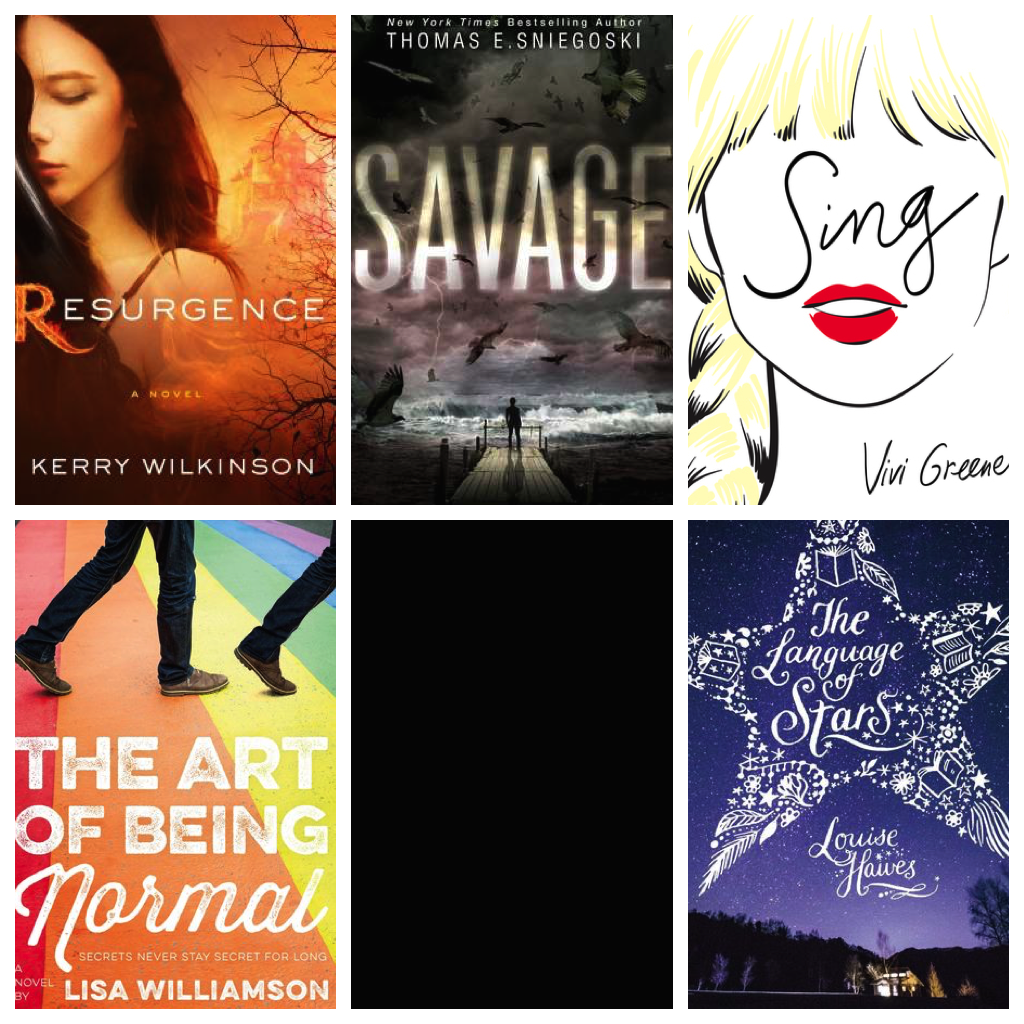 167. * Resurgence by Kerry Wilkinson (5/31): An entire country has been lied to.
Silver Blackthorn was supposed to be one of the privileged few, chosen to serve and help rebuild a shattered nation.
Instead, she is a rebel.
Tales of her defiance have spread across the land. King Victor and the Minister Prime want her dead, the resistance groups are desperate for her help.
But Silver's friends and family are in dire jeopardy; hiding is no longer an option.
As her travels take her into the far reaches of an unknown land, she is forced to make new friends and hunt for new allegiances.
Final battle lines are being drawn. The time has come.
Then there's the hardest choice of all: Opie or Imrin.
168. Savage by Thomas E. Sniegoski (5/31): Sidney and her friends must race to find the origin of a storm that has hit their small island home—turning every animal into savage weapons—in this suspenseful thriller from New York Times bestselling author, Thomas E. Sniegoski.
The future is looking bright for Sidney Moore as she as she gets ready to leave the small island of Benediction behind for one of Boston's top veterinary schools. Only a few small bumps in the road to navigate before she can go—her father's recovery from a debilitating stroke, and her own guilt for ending her relationship with her high school sweetheart. But she's always been strong willed, and she's not about to let anything stop her from achieving her goals.
Now a storm is bearing down on Benediction, a hurricane that will bring devastating winds and rain, rising tides…and something else. Something deadly; something that will transform all the things that creep, crawl, and flutter into instruments of terror and death.
The future is looking bright for Sidney Moore…if only she can survive the storm
169. Sing by Vivi Greene (5/31): Multiplatinum pop icon Lily Ross's biggest hits and biggest heartbreaks (because they are one and the same):
1. AGONY. (That feeling when her ex ripped her heart out of her chest and she never saw it coming.)
2. GHOSTS. (Because even famous people are ghosted by guys sometimes. And it sucks just as much.)
3. ONCE BITTEN. (As in: twice shy. Also, she's never dating an actor or a musician ever again.)
But this summer's going to be different. After getting her heart shattered, Lily is taking herself out of the spotlight and heading to a small island in middle-of-nowhere Maine with her closest friends. She has three months until her fall tour starts-three months to focus on herself, her music, her new album. Anything but guys.
That is . . . until Lily meets sweet, down-to-earth local Noel Bradley, who is so different from anyone she's ever dated. Suddenly, Lily's "summer of me" takes an unexpected turn, and she finds herself falling deeper and harder than ever before. But Noel isn't interested in the limelight. She loves Noel-but she loves her fans, too. And come August, she may be forced to choose.
170. The Art of Being Normal by Lisa Williamson (5/31): David Piper has always been an outsider. His parents think he's gay. The school bully thinks he's a freak. Only his two best friends know the real truth: David wants to be a girl.

On the first day at his new school Leo Denton has one goal: to be invisible. Attracting the attention of the most beautiful girl in his class is definitely not part of that plan. When Leo stands up for David in a fight, an unlikely friendship forms. But things are about to get messy. Because at Eden Park School secrets have a funny habit of not staying secret for long , and soon everyone knows that Leo used to be a girl.

As David prepares to come out to his family and transition into life as a girl and Leo wrestles with figuring out how to deal with people who try to define him through his history, they find in each other the friendship and support they need to navigate life as transgender teens as well as the courage to decide for themselves what normal really means.
171. The Inside of Out by Jenn Marie Thorne (5/31 — not pictured): When her best friend Hannah comes out the day before junior year, Daisy is so ready to let her ally flag fly that even a second, way more blindsiding confession can't derail her smiling determination to fight for gay rights.
Before you can spell LGBTQIA, Daisy's leading the charge to end their school's antiquated ban on same-sex dates at dances—starting with homecoming. And if people assume Daisy herself is gay? Meh, so what. It's all for the cause.
What Daisy doesn't expect is for "the cause" to blow up—starting with Adam, the cute college journalist whose interview with Daisy for his university paper goes viral, catching fire in the national media. #Holy #cats.
With the story spinning out of control, protesters gathering, Hannah left in the dust of Daisy's good intentions, and Daisy's mad attraction to Adam feeling like an inconvenient truth, Daisy finds herself caught between her bold plans, her bad decisions, and her big fat mouth.
172. The Language of Stars by Louise Hawes (5/31): Sarah is forced to take a summer poetry class as penance for trashing the home of a famous poet in this fresh novel about finding your own voice.
Sarah's had her happy ending: she's at the party of the year with the most popular boy in school. But when that boy turns out to be a troublemaker who decided to throw a party at a cottage museum dedicated to renowned poet, Rufus Baylor, everything changes. By the end of the party, the whole cottage is trashed—curtains up in flames, walls damaged, mementos smashed—and when the partygoers are caught, they're all sentenced to take a summer class studying Rufus Baylor's poetry…with Baylor as their teacher.
For Sarah, Baylor is a revelation. Unlike her mother, who is obsessed with keeping up appearances, and her estranged father, for whom she can't do anything right, Rufus Baylor listens to what she has to say, and appreciates her ear for language. Through his classes, Sarah starts to see her relationships and the world in a new light—and finds that maybe her happy ending is really only part of a much more interesting beginning.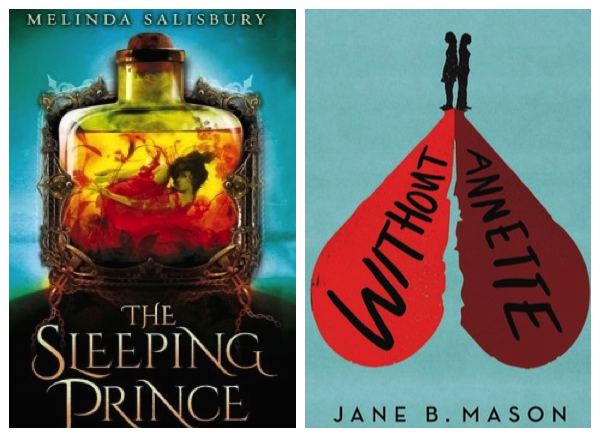 173. * The Sleeping Prince by Melinda Salisbury (5/31): Ever since her brother Lief disappeared, Errin's life has gone from bad to worse. Not only must she care for her sick mother, she has to scrape together rent money by selling illegal herbal cures. But none of that compares to the threat of the vengeful Sleeping Prince whom the Queen just awoke from his enchanted sleep.
When her village is evacuated as part of the war against the Sleeping Prince, Errin is left desperate and homeless. The only person she can turn to is the mysterious Silas, a young man who buys deadly poisons from Errin, but won't reveal why he needs them. Silas promises to help her, but when he vanishes, Errin must journey across a kingdom on the brink of war to seek another way to save her mother and herself. But what she finds shatters everything she believed about her world, and with the Sleeping Prince drawing nearer, Errin must make a heartbreaking choice that could affect the whole kingdom.
174. Without Annette by Jane B. Mason (5/31): Josie Little has been looking forward to moving halfway across the country to attend Brookwood Academy, a prestigious boarding school, with her girlfriend, Annette, for ages. But underneath Brookwood's picture-perfect image lies a crippling sense of elitism that begins to tear the girls apart from the moment they arrive.
While Josie struggles to navigate her new life, Annette seems to fit in perfectly. Yet that acceptance comes with more than a few strings. And consequently, Annette insists on keeping their relationship a secret.
At first, Josie agrees. But as Annette pushes her further and further away, Josie grows closer to Penn, a boy whose friendship and romantic feelings for her tangle her already-unraveling relationship. When Annette's need for approval sets her on a devastating course for self-destruction, Josie isn't sure she can save her this time — or if Annette even wants her to try.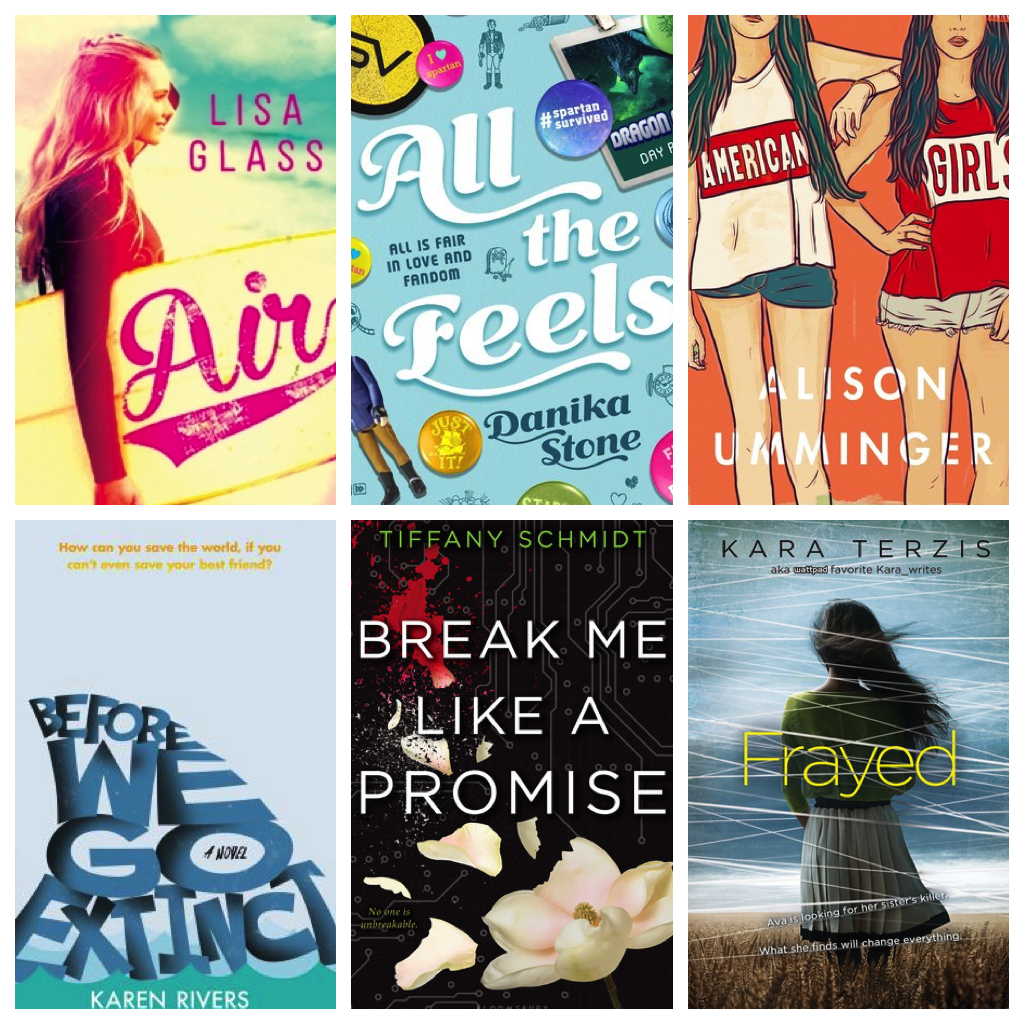 175. * Air by Lisa Glass (6/7): Being in a relationship with one of the hottest and most talented male surfers on the circuit is a dream come true… right?
Iris and Zeke get to travel to the most beautiful beaches in the world, competing in major surf competitions. Life should be perfect, but when Zeke is suspended from a surf tour in Hawaii, it's clear there is some deep trouble in paradise. And then there's Zeke's romantic past: at every turn Iris is confronted by his old flames and his hordes of female fans.
Returning to Newquay, Iris finds that at home things have also changed. Her friends have moved on with their lives, and they sense Iris is keeping something – something bad – from them.
What really happened in Hawaii? Why was Zeke kicked off the circuit? And what secret is tearing Iris and Zeke's relationship apart?
176. All The Feels by Danika Stone (6/7): College freshman Liv is more than just a fangirl: The Starveil movies are her life… So, when her favorite character, Captain Matt Spartan, is killed off at the end of the last movie, Liv Just. Can't. Deal.
Tired of sitting in her room sobbing, Liv decides to launch an online campaign to bring her beloved hero back to life. With the help of her best friend, Xander, actor and steampunk cosplayer extraordinaire, she creates #SpartanSurvived, a campaign to ignite the fandom. But as her online life succeeds beyond her wildest dreams, Liv is forced to balance that with the pressures of school, her mother's disapproval, and her (mostly nonexistent and entirely traumatic) romantic life. A trip to DragonCon with Xander might be exactly what she needs to figure out what she really wants.
177. American Girls byAlison Umminger (6/7): She was looking for a place to land.

Anna is a fifteen-year-old girl slouching toward adulthood, and she's had it with her life at home. So Anna "borrows" her stepmom's credit card an runs away to Los Angeles, where her half-sister takes her in. But LA isn't quite the glamorous escape Anna had imagined.
As Anna spends her days on TV and movie sets, she engrosses herself in a project researching the murderous Manson girls—and although the violence in her own life isn't the kind that leaves physical scars, she begins to notice the parallels between herself and the lost girls of LA, and of America, past and present.
In Anna's singular voice, we glimpse not only a picture of life on the B-list in LA, but also a clear-eyed reflection on being young, vulnerable, lost, and female in America—in short, on the B-list of life.
178. Before We Go Extinct by Karen Rivers (6/7): J.C., who goes by the nickname Sharky, has been having a hard time ever since his best friend died in front of him in what might or might not have been an accident. Shell-shocked, Sharky spends countless hours holed up in his room, obsessively watching documentaries about sharks and climate change—and texting his dead friend.
Hoping a change of location will help, Sharky's mom sends him to visit his dad on a remote island in Canada. There, Sharky meets a girl who just may show him how to live—and love—again.
179. * Break Me Like A Promise by Tiffany Schmidt (6/7): All Magnolia Vickers has ever wanted was to follow father's path as head of the Family Business. But new legislation is poised to destroy the Family's operations in the black-market organ trade and Maggie's recent behavior has wrecked the business-savvy reputation she's worked her whole life to build.
She's given an ultimatum: shape up or step aside.
Then Maggie messes up: she downloads a virus onto her father's computer, and must sneak it off-estate for repair. When Alex, a tech whiz, uncovers the type of information on the machine, he offers Maggie a choice: her Family can give him a kidney, or he'll irreparably scramble the data. Maggie agrees, but has no intention of keeping her promise or every seeing him again. That night Alex shows up at her Family estate with copies of confidential Family files and a shocking revelation—the kidney is for him.
The Vickers aren't willing to let Alex out of their sight, so he moves onto their estate and Maggie is assigned to be his keeper. A task she resents and he enjoys making as challenging as possible. But procuring black market organs is becoming increasingly difficult, and as Alex's health declines, she's surprised to find herself falling for him.
Like it or not, Maggie must accept that if she wants to save Alex's life and carve out a place in the new legalized organ business, she's going to have to fight for both.
180. Frayed by Kara Terzis (6/7): Ava Hale will do anything to find her sister's killer…although she'll wish she hadn't. Because the harder Ava looks, the more secrets she uncovers about Kesley, and the more she begins to think that the girl she called sister was a liar. A sneak. A stranger.
And Kesley's murderer could be much closer than she thought.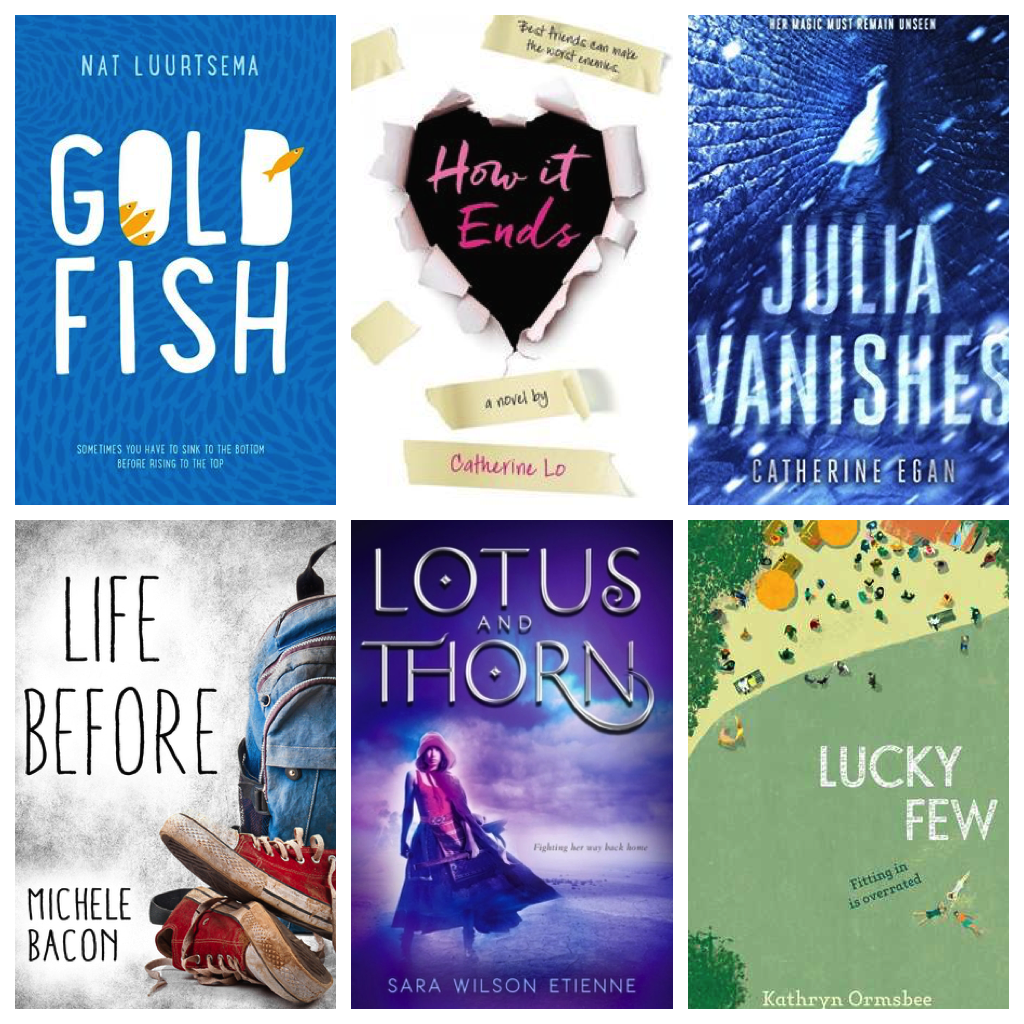 181. Goldfish by Nat Luurtsema (6/7): Lou Brown is one of the fastest swimmers in the county. She's not boasting, she really is. So things are looking pretty rosy the day of the Olympic time-trials. With her best mate Hannah by her side, Lou lines up by the edge of the pool, snaps her goggles on and bends into her dive…
Everything rests on this race. It's Lou's thing.
… or it was. She comes dead last and to top it all off Hannah sails through leaving a totally broken Lou behind.
Starting again is never easy, particularly when you're the odd-one out in a family of insanely beautiful people and a school full of social groups way too intimidating to join. Where do you go from here? Finding a new thing turns out to be the biggest challenge Lou's ever faced and opens up a whole new world of underwater somersaults, crazy talent shows, bitchy girls and a great big load of awkward boy chat.
Lou Brown guides us through the utter humiliation of failure with honesty, sass and a keen sense of the ridiculous. This girl will not be beaten.
182. How It Ends by Catherine Lo (6/7): It's friends-at-first-sight for Jessie and Annie, proving the old adage that opposites attract. Shy, anxious Jessie would give anything to have Annie's beauty and confidence. And Annie thinks Jessie has the perfect life, with her close-knit family and killer grades. They're BFFs…until suddenly they're not.
Told through alternating points of view, How It Ends is a wildly fast but deeply moving read about a friendship in crisis. Set against a tumultuous sophomore year of bullying, boys and backstabbing, the novel shows what can happen when friends choose assumptions and fear over each other.
183. * Julia Vanishes by Catherine Egan (6/7): Julia has the unusual ability to be…unseen. Not invisible, exactly. Just beyond most people's senses.
It's a dangerous trait in a city that has banned all forms of magic and drowns witches in public Cleansings. But it's a useful trait for a thief and a spy. And Julia has learned—crime pays.
Her latest job is paying very well indeed. Julia is posing as a housemaid in the grand house of Mrs. Och, where an odd assortment of characters live and work: A disgraced professor who sends her to fetch parcels containing bullets, spiders, and poison. An aristocratic houseguest who is locked in the basement each night. And a mysterious young woman who is clearly in hiding—though from what or whom?
Worse, Julia suspects that there's a connection between these people and the killer leaving a trail of bodies across the frozen city.
The more she learns, the more she wants to be done with this unnatural job. To go back to the safety of her friends and fellow thieves. But Julia is entangled in a struggle between forces more powerful than she'd ever imagined. Escape will come at a terrible price.
184. Life Before by Michele Bacon (6/7): Seventeen years is a long time to keep secrets, so Xander Fife is very good at it: everyone believes he has a normal family. If he can just get through this summer, he'll start his real life in college with a clean slate–no risk, no drama, no fear.
Xander's summer plans include pick-up soccer, regular hijinks with friends, an epic road trip, and—quite possibly— the company of his ideal girlfriend, the amazing Gretchen Taylor.
Instead of kicking off what had promised to be an amazing summer, however, graduation day brings terror. His family's secrets are thrust out into the open, forcing Xander to confront his greatest fear. Or run from it.
Armed with a fake ID, cash, and a knife, Xander skips town and assumes a new identity. In danger hundreds of miles from home, one thing is clear: Xander's real life is already in progress and just getting through it isn't enough.
185. Lotus and Thorn by Sara Wilson Etienne (6/7): Ravaged by a plague known as Red Death, the planet Gabriel, a former colony of Earth, is a barren wasteland. Since being abandoned by Earth 500 years ago, resources are scarce and life is cheap. To stay alive, the survivors, the Citizens, scavenge the remains of a now dead city, trading for food with the resource-rich Curadores, the only other survivors on Gabriel. Every old computer, every piece of wire, every scrap of metal counts. To steal is the ultimate sin. So when tough-as-nails seventeen-year-old Leica is caught doing just that, she's exiled and left to the mercy of Gabriel's unforgiving desert for the rest of her life.
While in exile, Leica discovers a mysterious shuttle, which may not only lead her home, but even more impossible—reestablish contact with Earth. Then Red Death rears its head again, killing her entire work crew, leaving Leica all alone until a handsome Curador offers her refuge in the Dome—the only place on Gabriel untouched by Red Death, where a decadent and sultry life awaits. But there's a catch: Leica can only enter the Dome as his concubine—his Kisaeng. When a rogue group of Citizens see their chance for revolution in Leica's good fortune, she finds herself unraveling a deadly mystery with chilling answers to the true origin of Red Death and the reason Earth really abandoned them so long ago.
186. Lucky Few by Kathryn Ormsbee (6/7): The life of homeschooler Stevie Hart gets all shook up when she meets a strange boy, Max, who survived a freak near-fatal accident and is now obsessed with death. He enlists her and her best friend, Sanger, to help him complete his absurd "23 Ways to Fake My Death Without Dying" checklist. What starts off as fun begins spiraling downward when Stevie's diabetes sabotages her fumbling romance with Max, Sanger announces she's moving out of state, and then death—real death—cuts close to home.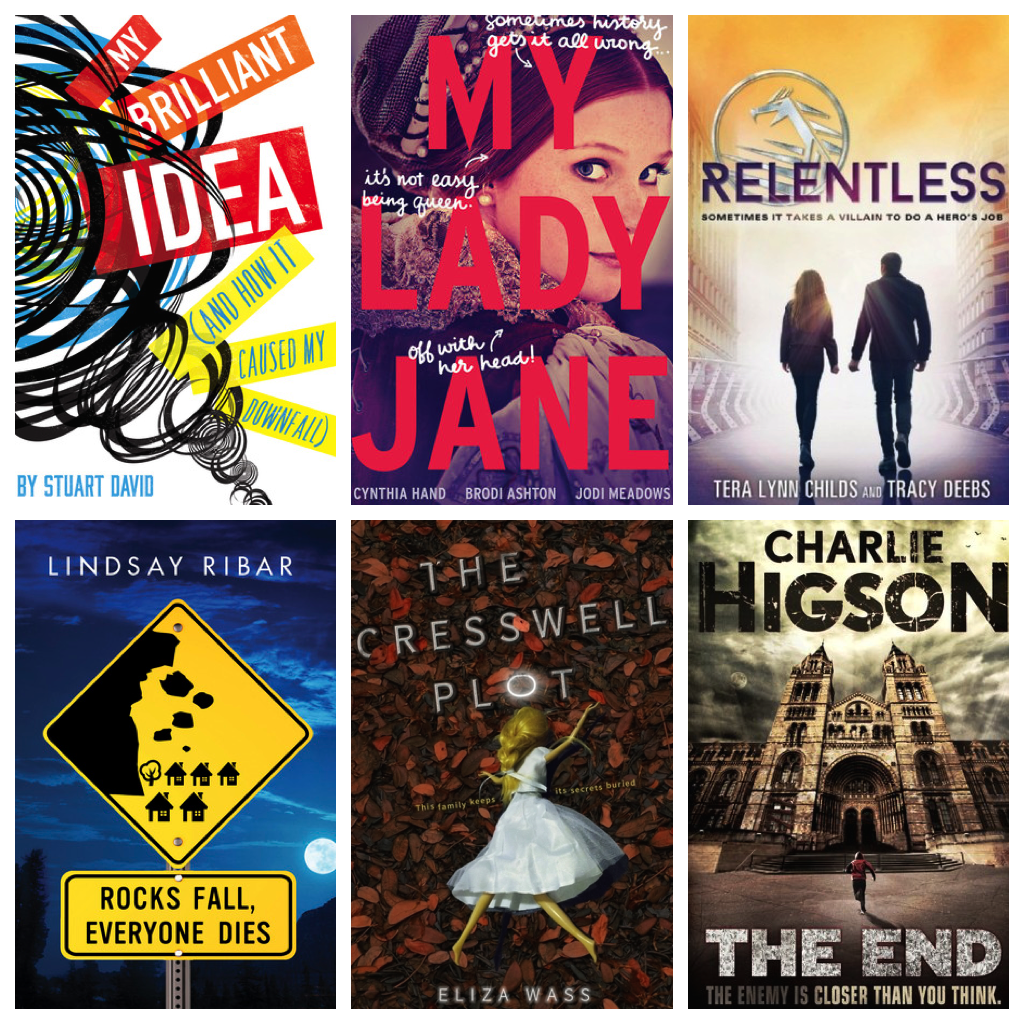 187. My Brilliant Idea (And How It Caused My Downfall) by Stuart David (6/7): Meet fifteen-year-old Jack "The Jackdaw" Dawson, a young man with a serious plan. Daydreaming in class one day, Jack gets an idea he knows can't fail: an app that stops you from daydreaming in class. (Ahem . . . ) Fame, glory, and tons of money seem just around the corner. But Jack runs into some trouble, and suddenly this sure thing doesn't seem quite so sure. Ricocheting from the absurd to the profound in his first book for teens, Stuart David uses his extraordinary intelligence and wit to tell the story of a boy trying to scheme his way out from under the weight of his parents' expectations. Readers will root for The Jackdaw from beginning to end.
188. My Lady Jane by Cynthia Hand, Brodi Ashton, and Jodi Meadows (6/7): Lady Jane Grey, sixteen, is about to be married to a total stranger—and caught up in an insidious plot to rob her cousin, King Edward, of his throne. But that's the least of Jane's problems. She's about to become Queen of England. Like that could go wrong.
189. * Relentless by Tera Lynn Childs and Tracy Deebs: Kenna is tired of being lied to—and hunted by the very allies she once trusted. Unearthing the dark secrets of the superhero world has not only endangered her life, now her boyfriend faces execution for crimes he didn't commit and her mother is being held captive in a secret governmental prison.
Kenna is determined to stand up for what's right and save those she loves from unspeakable fates. It's time for the betrayal to end. It's time for the real criminals to face justice.
But the truth is even more terrifying than Kenna could imagine. A conspiracy threatens the fate of heroes, villains, and all of humanity. If Kenna's going to survive, she must draw on her deepest strength: her resilience. Because when Kenna's pushed to the limit, she doesn't break down. She fights back.
190. Rocks Fall, Everyone Dies by Lindsay Ribar (6/7): Aspen Quick has never really worried about how he's affecting people when he steals from them. But this summer he'll discover just how strong the Quick family magic is—and how far they'll go to keep their secrets safe.
191. The Cresswell Plot by Eliza Wass (6/7): Castella Cresswell and her five siblings—Hannan, Caspar, Mortimer, Delvive, and Jerusalem—know what it's like to be different. For years, their world has been confined to their ramshackle family home deep in the woods of upstate New York. They abide by the strict rule of God, whose messages come directly from their father.
Slowly, Castley and her siblings start to test the boundaries of the laws that bind them. But, at school, they're still the freaks they've always been to the outside world. Marked by their plain clothing. Unexplained bruising. Utter isolation from their classmates. That is, until Castley is forced to partner with the totally irritating, totally normal George Gray, who offers her a glimpse of a life filled with freedom and choice.
Castley's world rapidly expands beyond the woods she knows so well and the beliefs she once thought were the only truths. There is a future waiting for her if she can escape her father's grasp, but Castley refuses to leave her siblings behind. Just as she begins to form a plan, her father makes a chilling announcement: the Cresswells will soon return to their home in heaven. With time running out on all of their lives, Castley must expose the depth of her father's lies. The forest has buried the truth in darkness for far too long. Castley might be their last hope for salvation.
192. * The End by Charlie Higson (6/7): Shadowman, realizing that Saint George's army is headed toward the center of London, has raced ahead to warn the kids of the impending disaster. He knows that he has to make them understand–somehow–that they are going to have to work together. This means that Nicola and her kids at the Houses of Parliament, David and his kids at Buckingham Palace, Matt at St. Paul's, General Jordan Hordern and his troops at the Tower of London, the squatters in St. James Park, and all the kids at the Natural History Museum must unite. But will they do it in time? The book culminates in a massive pitched battle in Hyde Park. How will it play out? Who will be the winners and who the losers? One thing is certain: this series will not go out with a whimper!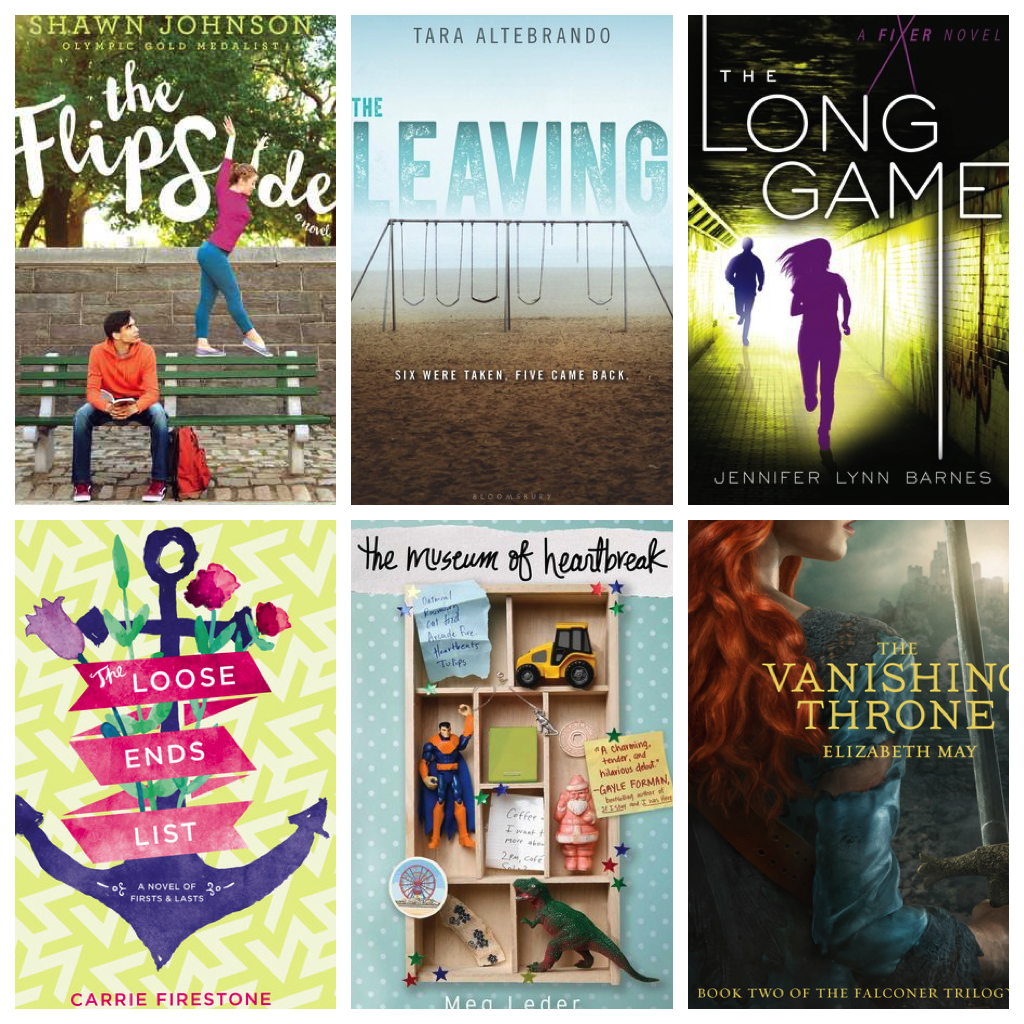 193. The Flip Side by Shawn Johnson (6/7): Charlie Ryland has a secret.
She may seem like your average high school sophomore—but she's just really good at pretending.
Because outside of school Charlie spends all her waking hours training to become one of the best gymnasts in the world. And it's not easy flying under the radar when you're aiming for Olympic gold…especially when an irresistible guy comes along and threatens to throw your whole world off balance.
194. The Leaving by Tara Altebrando (6/7): Eleven years ago, six kindergarteners went missing without a trace. After all that time, the people left behind moved on, or tried to.
Until today. Today five of those kids return. They're sixteen, and they are . . . fine. Scarlett comes home and finds a mom she barely recognizes, and doesn't really recognize the person she's supposed to be, either. But she thinks she remembers Lucas. Lucas remembers Scarlett, too, except they're entirely unable to recall where they've been or what happened to them. Neither of them remember the sixth victim, Max. He doesn't come back. Everyone wants answers. Most of all Max's sister Avery, who needs to find her brother–dead or alive–and isn't buying this whole memory-loss story.
195. * The Long Game by Jennifer Lynn Barnes (6/7): For Tess Kendrick, a junior at the elite Hardwicke School in Washington D.C., fixing runs in the family. But Tess has another legacy, too, one that involves power and the making of political dynasties. When Tess is asked to run a classmate's campaign for student council, she agrees. But when the candidates are children of politicians, even a high school election can involve life-shattering secrets.
Meanwhile, Tess's guardian has also taken on an impossible case, as a terrorist attack calls into doubt who can–and cannot–be trusted on Capitol Hill. Tess knows better than most that power is currency in D.C., but she's about to discover first-hand that power always comes with a price.
196. The Loose Ends List by Carrie Firestone (6/7): Seventeen-year-old Maddie O'Neill Levine lives a charmed life, and is primed to spend the perfect pre-college summer with her best friends and young-at-heart socialite grandmother (also Maddie's closest confidante), tying up high school loose ends. Maddie's plans change the instant Gram announces that she is terminally ill and has booked the family on a secret "death with dignity" cruise ship so that she can leave the world in her own unconventional way – and give the O'Neill clan an unforgettable summer of dreams-come-true in the process.
Soon, Maddie is on the trip of a lifetime with her over-the-top family. As they travel the globe, Maddie bonds with other passengers and falls for Enzo, who is processing his own grief. But despite the laughter, headiness of first love, and excitement of glamorous destinations, Maddie knows she is on the brink of losing Gram. She struggles to find the strength to say good-bye in a whirlwind summer shaped by love, loss, and the power of forgiveness.
197. The Museum of Heartbreak by Meg Leder (6/7): Welcome to the Museum of Heartbreak.
Well, actually, to Penelope Marx's personal museum. The one she creates after coming face to face with the devastating, lonely-making butt-kicking phenomenon known as heartbreak.
Heartbreak comes in all forms: There's Keats, the charmingly handsome new guy who couldn't be more perfect for her. There's possibly the worst person in the world, Cherisse, whose mission in life is to make Penelope miserable. There's Penelope's increasingly distant best friend Audrey. And then there's Penelope's other best friend, the equal-parts-infuriating-and-yet-somehow-amazing Eph, who has been all kinds of confusing lately.
But sometimes the biggest heartbreak of all is learning to let go of that wondrous time before you ever knew things could be broken.
198. * The Vanishing Throne by Elizabeth May (6/7): Aileana Kameron, the Falconer, disappeared through the portal that she was trying to close forever. Now she wakes up in the fae world, trapped and tortured by the evil Lonnrach. With the help of an unexpected ally, Aileana re-enters the human world, only to find everything irrevocably changed. Edinburgh has been destroyed, and the few human survivors are living in an uneasy truce with the fae, while both worlds are in danger of disappearing altogether. Aileana holds the key to saving both worlds, but in order to do so she must awaken her latent Falconer powers. And the price of doing that might be her life.

199. The Way to Game the Walk of Shame by Jenn P. Nguyen (6/7): Taylor Simmons is screwed.
Things were hard enough when her single-minded dedication to her studies earned her the reputation of being an Ice Queen, but after getting drunk at a party and waking up next to bad boy surfer Evan McKinley, the entire school seems intent on tearing Taylor down with mockery and gossip.
Desperate to salvage her reputation, Taylor persuades Evan to pretend they're in a serious romantic relationship. After all, it's better to be the girl who tames the wild surfer than just another notch on his surfboard.
200. True Letters From a Fictional Life by Kenneth Logan (6/7): If you asked anyone in his small Vermont town, they'd tell you the facts: James Liddell, star athlete, decent student and sort-of boyfriend to cute, peppy Theresa, is a happy, funny, carefree guy.
But whenever James sits down at his desk to write, he tells a different story. As he fills his drawers with letters to the people in his world–letters he never intends to send–he spills the truth: he's trying hard, but he just isn't into Theresa. It's a boy who lingers in his thoughts.
He feels trapped by his parents, his teammates, and the lies they've helped him tell, and he has no idea how to escape. Is he destined to live a life of fiction?
201. Tumbling by Caela Carter (6/7): Grace lives and breathes gymnastics—but no matter how hard she pushes herself, she can never be perfect enough.
Leigh, Grace's best friend, has it all: a gymnastics career, a normal high-school life… and a secret that could ruin everything.
Camille wants to please her mom, wants to please her boyfriend, and most of all, wants to walk away.
Wilhemina was denied her Olympic dream four years ago, and she won't let anything stop her again. No matter what.
Monica is terrified. Nobody believes in her—and why should they?
By the end of the two days of the U.S. Olympic Gymnastics Trials, some of these girls will be stars. Some will be going home with nothing. And all will have their lives changed forever.
202. What Happens Now by Jennifer Castle (6/7): Ari Logan is battling to win her war against depression and the dark night she hurt herself on purpose. It's not easy: her best friend is drifting away, her mom's emotionally checked out, and she spends her days playing caregiver to her handful of a half-sister, Danielle. But it's summer, and anything is possible…
That's when Camden Armstrong steps onto the beach of Ari's local swimming lake.
At first, Ari quietly longs for Camden from afar, seeing in him everything she wants to be. When the two discover a true connection the following summer, Ari lets herself fall not just for the quirky and self-assured Camden but also his friends, tumbling into their world of independence, adventure, and shared sci-fi fandom. As Ari's romantic dreams come true, she must unlock the mysteries of the very real and troubled boy behind her infatuation, while also struggling with her own demons, obligations, and loyalties.
203. With Malice by Eileen Cook (6/7): Eighteen-year-old Jill Charron wakes up in a hospital room, leg in a cast, stitches in her face and a big blank canvas where the last 6 weeks should be. She comes to discover she was involved in a fatal accident while on a school trip in Italy three days previous but was jetted home by her affluent father in order to receive quality care. Care that includes a lawyer. And a press team. Because maybe the accident…wasn't an accident. Wondering not just what happened but what she did, Jill tries to piece together the events of the past six weeks before she loses her thin hold on her once-perfect life.
204. You Know Me Well by David Levithan and Nina LaCour (6/7): Mark and Kate have sat next to each other for an entire year, but have never spoken. For whatever reason, their paths outside of class have never crossed.
That is until Kate spots Mark miles away from home, out in the city for a wild, unexpected night. Kate is lost, having just run away from a chance to finally meet the girl she has been in love with from afar. Mark, meanwhile, is in love with his best friend Ryan, who may or may not feel the same way.
When Kate and Mark meet up, little do they know how important they will become to each other — and how, in a very short time, they will know each other better than any of the people who are supposed to know them more.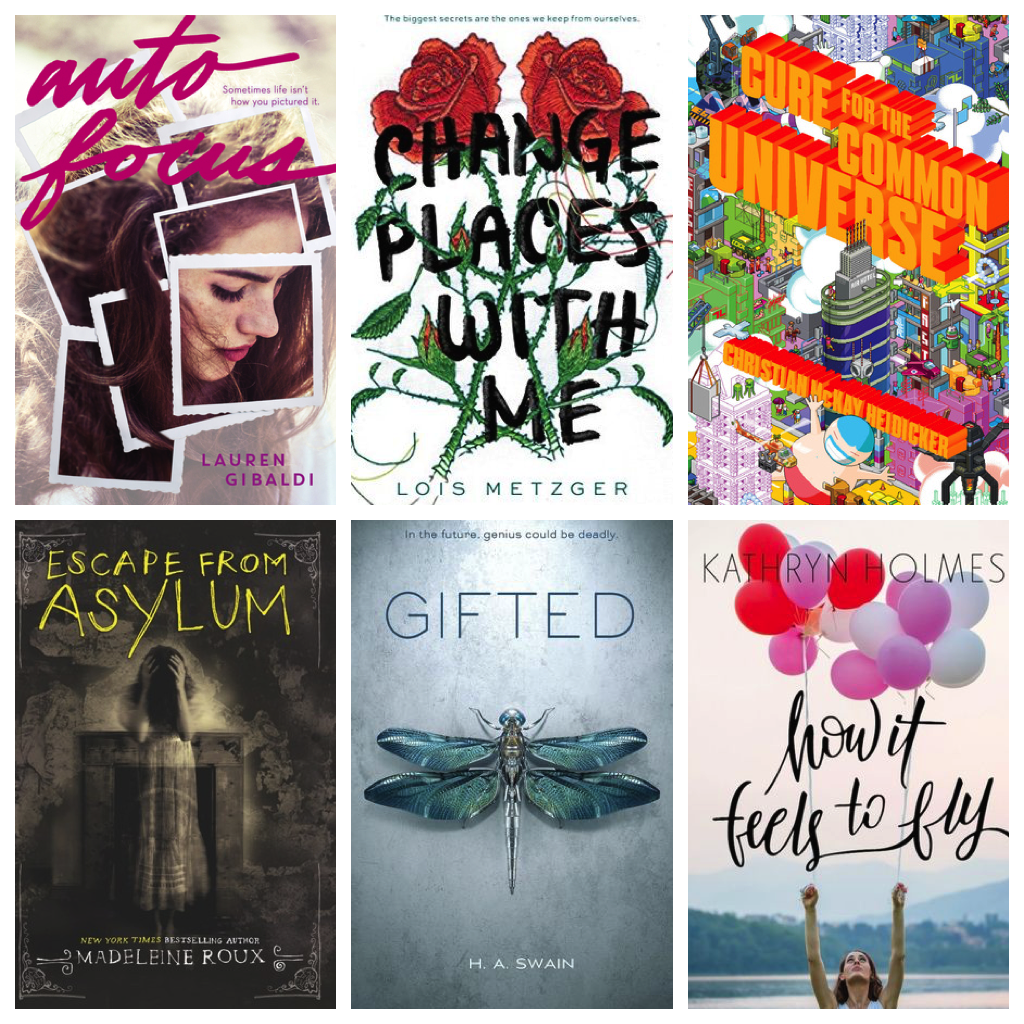 205. Autofocus by Lauren Gibaldi (6/14): Family.
It's always been a loaded word for Maude. And when she is given a senior photography assignment—to create a portfolio that shows the meaning of family—she doesn't quite know where to begin. But she knows one thing: without the story of her birth mother, who died when Maude was born, her project will be incomplete.
So Maude decides to visit her best friend, Treena, at college in Tallahassee, Florida, where Maude's birth mother once lived. But when Maude arrives, she quickly discovers that Treena has changed. With a new boyfriend and a packed social calendar, Treena doesn't seem to have time for Maude—or helping Maude in her search.
Enter Bennett, a cute guy who lives in Treena's dorm. He understands Maude's need to find her mother. And as Bennett helps Maude in her search, she starts to find that her mother's past doesn't have to define her own future.
206. Change Places With Me by Lois Metzger (6/14): Rose has changed. She still lives in the same neighborhood with her stepmother and goes to the same high school with the same group of kids, but when she woke up today, something was just a little different than it was before. The dogs who live upstairs are no longer a terror. Her hair and her clothes all feel brand-new. She wants to throw a party—this from a girl who hardly ever spoke to her classmates before. There is no more sadness in her life; she is bursting with happiness.
But something still feels wrong to Rose. Because, until very recently, Rose was an entirely different person—a person who is still there inside her, just beneath the thinnest layer of skin.
207. Cure for the Common Universe by Christian McKay Heidicker (6/14): Sixteen-year-old Jaxon is being committed to video game rehab . . .
ten minutes after he met a girl. A living, breathing girl named Serena, who not only laughed at his jokes but actually kinda sorta seemed excited when she agreed to go out with him.
Jaxon's first date. Ever.
In rehab, he can't blast his way through galaxies to reach her. He can't slash through armies to kiss her sweet lips. Instead, he has just four days to earn one million points by learning real-life skills. And he'll do whatever it takes—lie, cheat, steal, even learn how to cross-stitch—in order to make it to his date.
If all else fails, Jaxon will have to bare his soul to the other teens in treatment, confront his mother's absence, and maybe admit that it's more than video games that stand in the way of a real connection.
Prepare to be cured.
208. * Escape from Asylum by Madeleine Roux (6/14): The nightmare is just beginning.
Ricky Desmond has been through this all before. If he could just get through to his mother, he could convince her that he doesn't belong at Brookline. From the man who thinks he can fly to the woman who killed her husband, the other patients are nothing like him; all he did was lose his temper just a little bit, just the once. But when Ricky is selected by the sinister Warden Crawford for a very special program—a program that the warden claims will not cure him but perfect him—Ricky realizes that he may not be able to wait for his mom a second longer. With the help of a sympathetic nurse and a fellow patient, Ricky needs to escape now.
209. Gifted by H. A. Swain (6/14): In Orpheus Chanson's world, geniuses and prodigies are no longer born or honed through hard work. Instead, procedures to induce Acquired Savant Abilities (ASAs) are now purchased by the privileged. And Orpheus's father holds the copyright to the ASA procedure.
Zimri Robinson, a natural musical prodigy, is a "plebe"–a worker at the enormous warehouse that supplies an on-line marketplace that has supplanted all commerce. Her grueling schedule and her grandmother's illness can't keep her from making music–even if it is illegal.
Orpheus and Zimri are not supposed to meet. He is meant for greatness; she is not. But sometimes, rules are meant to be broken. Here is a thriller, love story, and social experiment that readers will find gripping–and terrifying.
210. How It Feels to Fly by Kathryn Holmes (6/14): For as long as Samantha can remember, she's wanted to be a professional ballerina. She's lived for perfect pirouettes, sky-high extensions, and soaring leaps across the stage. Then her body betrayed her.
The change was gradual. Stealthy.
Failed diets. Disapproving looks. Whispers behind her back. The result: crippling anxiety about her appearance, which threatens to crush her dancing dreams entirely. On her dance teacher's recommendation, Sam is sent to a summer treatment camp for teen artists and athletes who are struggling with mental and emotional obstacles. If she can make progress, she'll be allowed to attend a crucial ballet intensive. But when asked to open up about her deepest insecurities, secret behaviors, and paralyzing fears to complete strangers, Sam can't cope.
What I really need is a whole new body.
Sam forms an unlikely bond with Andrew, a former college football player who's one of her camp counselors. As they grow closer, Andrew helps Sam see herself as he does—beautiful. But just as she starts to believe that there's more between them than friendship, disappointing news from home sends her into a tailspin. With her future uncertain and her body against her, will Sam give in to the anxiety that imprisons her?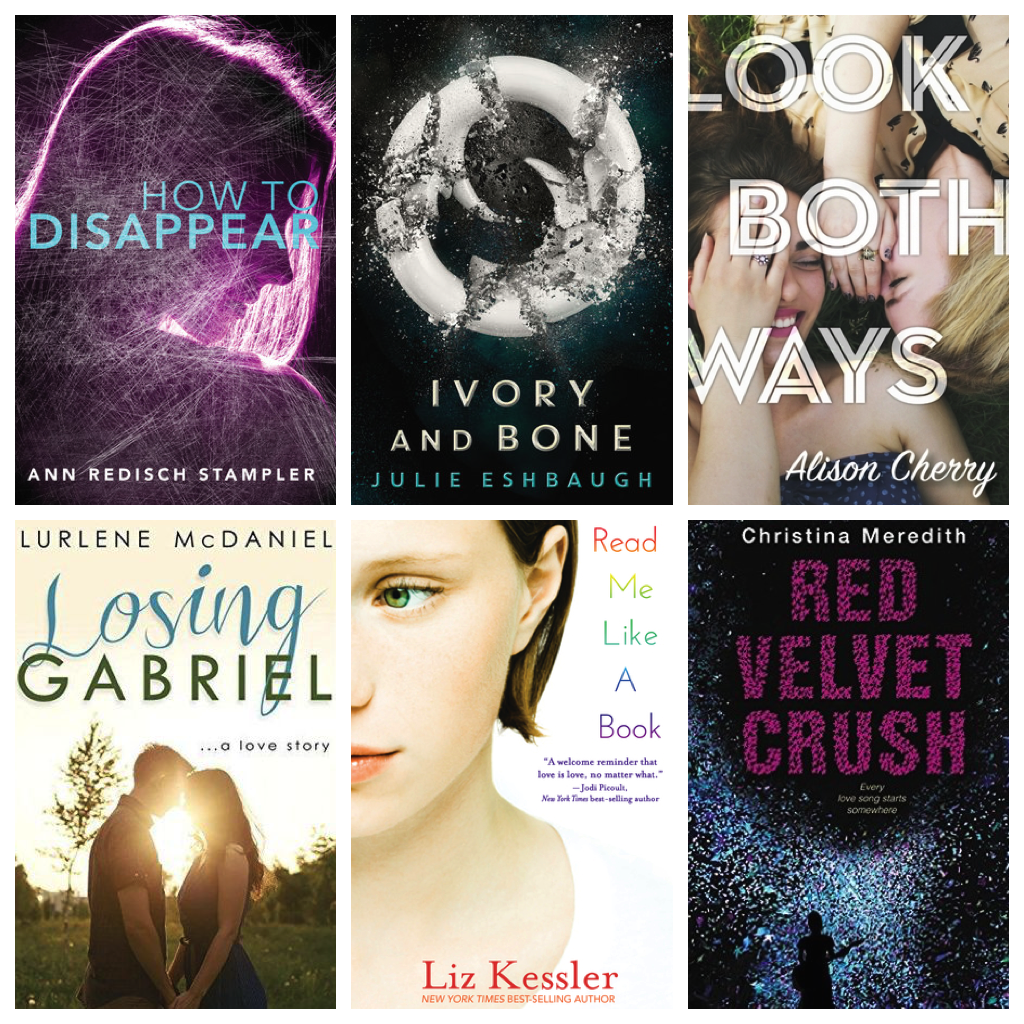 211. How to Disappear by Ann Redisch Stampler (6/14): Nicolette Holland is the girl everyone likes. Up for adventure. Loyal to a fault. And she's pretty sure she can get away with anything…until a young woman is brutally murdered in the woods near Nicolette's house. Which is why she has to disappear.
Jack Manx has always been the stand-up guy with the killer last name. But straight A's and athletic trophies can't make people forget that his father was a hit man and his brother is doing time for armed assault. Just when Jack is about to graduate from his Las Vegas high school and head east for college, his brother pulls him into the family business with inescapable instructions: find this ruthless Nicolette Holland and get rid of her. Or else Jack and everyone he loves will pay the price.
As Nicolette and Jack race to outsmart each other, tensions—and attractions—run high. Told in alternating voices.
212. * Ivory and Bone by Julie Eshbaugh (6/14): Hunting, gathering, and keeping his family safe—that's the life seventeen-year-old Kol knows. Then bold, enigmatic Mya arrives from the south with her family, and Kol is captivated. He wants her to like and trust him, but any hopes of impressing her are ruined when he makes a careless—and nearly grave—mistake. However, there's something more to Mya's cool disdain…a history wrought with loss that comes to light when another clan arrives. With them is Lo, an enemy from Mya's past who Mya swears has ulterior motives.
As Kol gets to know Lo, tensions between Mya and Lo escalate until violence erupts. Faced with shattering losses, Kol is forced to question every person he's trusted. One thing is for sure: this was a war that Mya or Lo—Kol doesn't know which—had been planning all along.
213. Look Both Ways by Alison Cherry (6/14): A summer away from the city is the beginning of everything for Brooklyn Shepard. Her theater apprenticeship at Allerdale is a chance to prove that she can carve out a niche all her own, surrounded by people who don't know anything about her or her family of superstar performers.
Brooklyn immediately hits it off with her roommate, Zoe, and soon their friendship turns into something more. Brooklyn wants to see herself as someone who's open to everything and everyone, but as her feelings for Zoe intensify, so do her doubts. She's happier than she's ever been—but is it because of her new relationship? Or is it because she's finally discovering who she wants to be?
214. Losing Gabriel by Lurlene McDaniel: Lani Kennedy has dreamed of becoming a nurse since her cousin Arie died of leukemia. Nothing will stop her from getting into the local nursing program.
Dawson Burke hasn't dealt with his mom's death, and he's angry at his dad for moving them to Windemere right before senior year. He grudgingly accepts that he must wait till graduation before he leaves.
Sloan Quentin can belt out a song and knows that her band is her ticket to fame and fortune. When she discovers that her boyfriend—the band's lead guitarist—is cheating on her, she finds comfort—and revenge—in someone else's arms.
When the lives of Lani, Dawson, and Sloan become entangled in unexpected ways, reality hits harder than anyone could have imagined.
215. Read Me Like A Book by Liz Kessler (6/14): Ashleigh Walker is a mediocre student with an assortment of friends, a sort-of boyfriend, and no plans for the future. Then a straight-from-college English teacher, Miss Murray, takes over Ash's class and changes everything. Miss Murray smiles a lot. She shares poetry with curse words in it. She's, well, cool. And she seems to really care about her students. About Ashleigh. For the first time, Ash feels an urge to try harder. To give something — someone — her best. Before she knows it, Ashleigh is in love. Intense, heart-racing, all-consuming first love. It's strong enough to distract her from worrying about bad grades and her parents' marriage troubles. But what will happen if Miss Murray finds out Ashleigh is in love with her?
216. Red Velvet Crush by Christina Meredith (6/14): Teddy Lee's mother ran off when she was in second grade. And ever since, Teddy Lee, the often-overshadowed middle kid, has tried to keep her family together. But her older brother Winston usually keeps himself busy with smoking, drinking, and girls, and who knows what else. Her younger sister Billie is occupied with her shoplifting habit and boys . . . and who knows what else. So when Teddy Lee finally takes the songs she's always written and forms a band, maybe it'll bring everyone closer together, maybe it'll be her time to shine. Unless Billie steals the spotlight—and the boy—just like she always does. Christina Meredith explores the complicated relationship of sisters—both the unconditional love and the unavoidable resentments—in a novel full of music, urgency, the first blushes of love, and the undeniable excitement of hitting the road.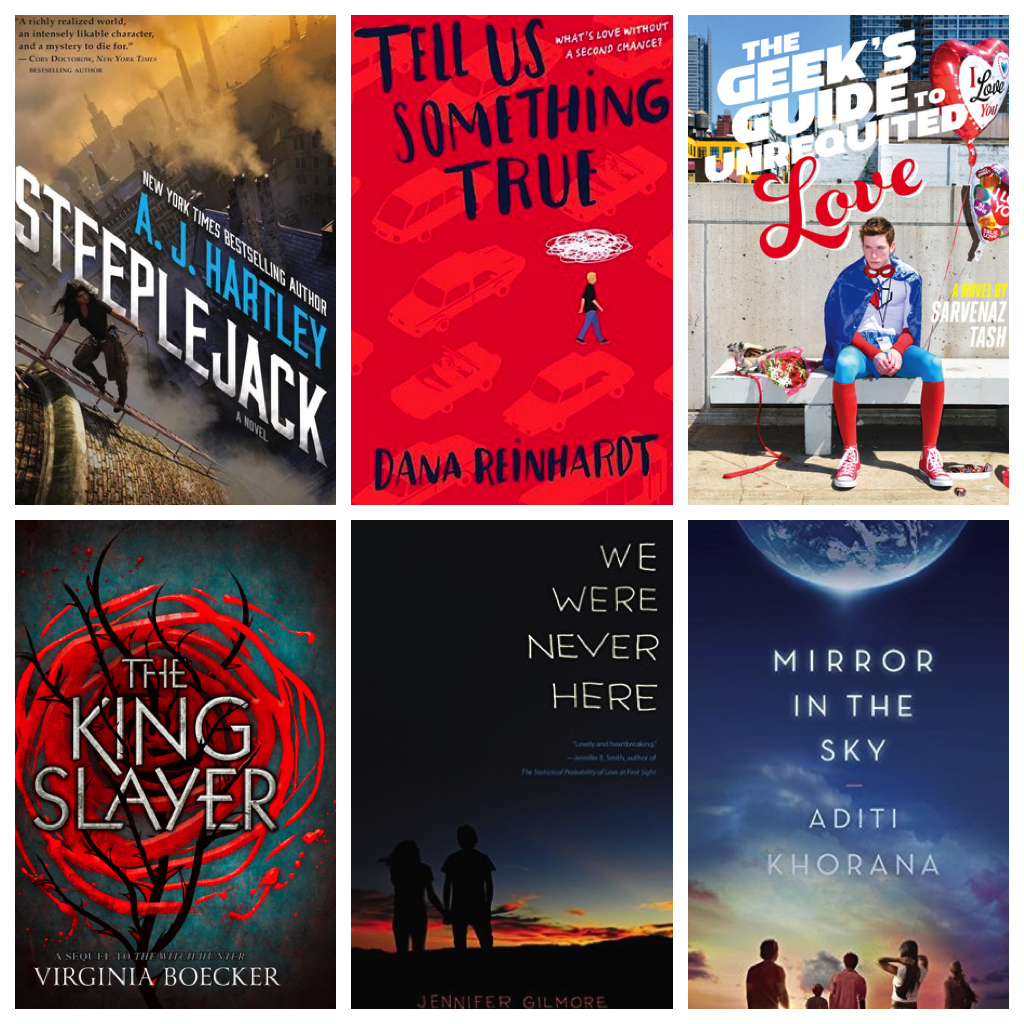 217. * Steeplejack by A. J. Hartley (6/14): Seventeen-year-old Anglet Sutonga, Ang for short, repairs the chimneys, towers, and spires of Bar-Selehm, the ethnically-diverse industrial capital of a land resembling Victorian South Africa. The city was built on the trade of luxorite, a priceless glowing mineral. When the Beacon, a historical icon made of luxorite, is stolen, it makes the headlines. But no one cares about the murder of Ang's new apprentice, Berrit—except for Josiah Willinghouse, an enigmatic young politician, who offers Ang a job investigating Berrit's death. On top of this, Ang struggles with the responsibility of caring for her sister's newborn child.
As political secrets unfold and racial tensions surrounding the Beacon's theft rise, Ang navigates the constricting traditions of her people, the murderous intentions of her former boss, and the conflicting impulses of a fledgling romance. With no one to help her except a savvy newspaper girl and a kindhearted herder from the savannah, Ang must resolve the mysterious link between Berrit and the missing Beacon before the city is plunged into chaos.
218. Tell Us Something True by Dana Reinhardt (6/14): Seventeen-year-old River doesn't know what to do with himself when Penny, the girl he adores, breaks up with him. He lives in LA, where nobody walks anywhere, and Penny was his ride; he never bothered getting a license. He's stuck. He's desperate. Okay . . . he's got to learn to drive.
But first, he does the unthinkable—he starts walking. He stumbles upon a support group for teens with various addictions. He fakes his way into the meetings, and begins to connect with the other kids, especially an amazing girl. River wants to tell the truth, but he can't stop lying, and his tangle of deception may unravel before he learns how to handle the most potent drug of all: true love.
219. The Geek's Guide to Unrequited Love by Sarvenaz Tash (6/14): Graham met his best friend, Roxana, when he moved into her neighborhood eight years ago, and she asked him which Hogwarts house he'd be sorted into. Graham has been in love with her ever since.
But now they're sixteen, still neighbors, still best friends. And Graham and Roxy share more than ever—moving on from their Harry Potter obsession to a serious love of comic books.
When Graham learns that the creator of their favorite comic, The Chronicles of Althena, is making a rare appearance at this year's New York Comic Con, he knows he must score tickets. And the event inspires Graham to come up with the perfect plan to tell Roxy how he really feels about her. He's got three days to woo his best friend at the coolest, kookiest con full of superheroes and supervillains. But no one at a comic book convention is who they appear to be…even Roxy. And Graham is starting to realize fictional love stories are way less complicated than real-life ones.
220. * The King Slayer by Virginia Boecker (6/14): Former witch hunter Elizabeth Grey is hiding within the magically protected village of Harrow, evading the price put on her head by Lord Blackwell, the usurper king of Anglia. Their last encounter left Blackwell ruined, but his thirst for power grows stronger every day. He's readying for a war against those who would resist his rule–namely Elizabeth and the witches and wizards she now calls her allies.
Having lost her stigma, a magical source of protection and healing, Elizabeth's strength is tested both physically and emotionally. War always means sacrifice, and as the lines between good and evil blur once more, Elizabeth must decide just how far she'll go to save those she loves.
221. We Were Never Here by Jennifer Gilmore (6/14): Did you know your entire life can change in an instant?
For sixteen-year-old Lizzie Stoller that moment is when she collapses, out of the blue. The next thing she knows she's in a hospital with an illness she's never heard of.
But that isn't the only life-changing moment for Lizzie. The other is when Connor and his dog, Verlaine, walk into her hospital room. Lizzie has never connected with anyone the way she does with the handsome, teenage volunteer. However, the more time she spends with him, and the deeper in love she falls, the more she realizes that Connor has secrets and a deep pain of his own . . . and that while being with him has the power to make Lizzie forget about her illness, being with her might tear Connor apart.
222. Mirror in the Sky by Aditi Khorana (6/21): For Tara Krishnan, navigating Brierly, the academically rigorous prep school she attends on scholarship, feels overwhelming and impossible. Her junior year begins in the wake of a startling discovery: A message from an alternate Earth, light years away, is intercepted by NASA. This means that on another planet, there is another version of Tara, a Tara who could be living better, burning brighter, because of tiny differences in her choices.
As the world lights up with the knowledge of Terra Nova, the mirror planet, Tara's life on Earth begins to change. At first, small shifts happen, like attention from Nick Osterman, the most popular guy at Brierly, and her mother playing hooky from work to watch the news all day. But eventually those small shifts swell, the discovery of Terra Nova like a black hole, bending all the light around it.
As a new era of scientific history dawns and Tara's life at Brierly continues its orbit, only one thing is clear: Nothing on Earth–and for Tara–will ever be the same again.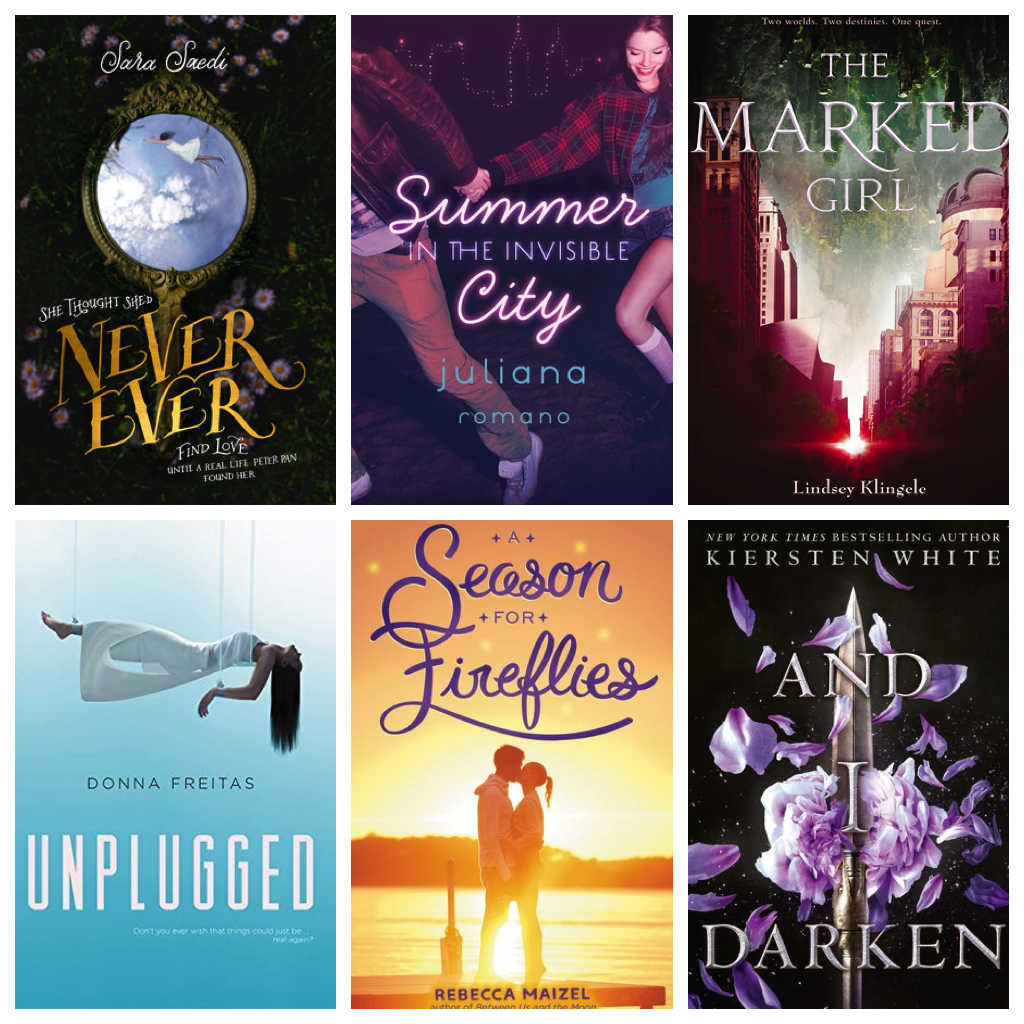 223. Never Ever by Sara Saedi (6/21): When Wylie encounters Phinn—confident, mature, and devastatingly handsome—at a party the night before her brother goes to juvie, she can't believe how fast she falls for him. And that's before he shows her how to fly.
Soon Wylie and her brothers find themselves whisked away to a mysterious tropical island off the coast of New York City where nobody ages beyond seventeen and life is a constant party. Wylie's in heaven: now her brother won't go to jail and she can escape her over-scheduled life with all its woes and responsibilities—permanently.
But the deeper Wylie falls for Phinn, the more she begins to discover has been kept from her and her brothers. Somebody on the island has been lying to her, but the truth can't stay hidden forever.
224. Summer in the Invisible Cityby Juliana Romano (6/21): Seventeen-year-old Sadie Bell has this summer all figured out: She's going to befriend the cool girls at her school. She's going to bond with her absentee father, a famous artist, and impress him with her photography skills. And she's finally going to get over Noah, the swoony older guy who was her very first mistake.
Sadie wasn't counting on meeting Sam, a funny and free-thinking boy who makes her question all of her goals. But even after a summer of talking, touching, and sharing secrets, Sam says he just wants to be friends. And when those Sadie cares about most hurt her, Sam's friendship may not be enough. Sadie can see the world through her camera, but can she see the people who have loved and supported her all along?
225. * The Marked Girl by Lindsey Klingele (6/21): Once upon a time, in a land far, far away (Los Angeles)…
When Cedric, crowned prince of Caelum, and his fellow royal friends (including his betrothed, Kat) find themselves stranded in modern-day L.A. via a magical portal and an evil traitor named Malquin, all they want to do is get home to Caelum—soon. Then they meet Liv, a filmmaker foster girl who just wants to get out of the system and on with her life. As she and Cedric bond, they'll discover that she's more connected to his world than they ever could've imagined…and that finding home is no easy task.
226. * Unplugged by Donna Freitas (6/21): Humanity is split into the App World and the Real World—an extravagant virtual world for the wealthy and a dying physical world for the poor. Years ago, Skylar Cruz's family sent her to the App World for a chance at a better life.
Now Skye is a nobody, a virtual sixteen-year-old girl without any glamorous effects or expensive downloads to make her stand out in the App World. Yet none of that matters to Skye. All she wants is a chance to unplug and see her mother and sister again.
But when the borders between worlds suddenly close, Skye loses that chance. Desperate to reach her family, Skye risks everything to get back to the physical world. Once she arrives, however, she discovers a much larger, darker reality than the one she remembers.
227. A Season for Fireflies by Rebecca Maizel (6/28): A year ago, Penny Berne was the star of her high school's theater department, surrounded by a group of misfit friends and falling in love for the first time. Now her old friends won't talk to her, her new best friend is the most popular girl in school, and her first love, Wes, ignores her. Penny is revered and hated. Then, in a flash, a near-fatal lightning strike leaves Penny with no memory of the past year—or how she went from drama nerd to queen bee.
As a record number of fireflies light up her town and her life, Penny realizes she may be able to make things right again—and that even if she can't change the past, she can learn to see the magic where she never could before.
228. * And I Darken by Kiersten White (6/28): NO ONE EXPECTS A PRINCESS TO BE BRUTAL.
And Lada Dragwlya likes it that way. Ever since she and her gentle younger brother, Radu, were wrenched from their homeland of Wallachia and abandoned by their father to be raised in the Ottoman courts, Lada has known that being ruthless is the key to survival. She and Radu are doomed to act as pawns in a vicious game, an unseen sword hovering over their every move. For the lineage that makes them special also makes them targets.
Lada despises the Ottomans and bides her time, planning her vengeance for the day when she can return to Wallachia and claim her birthright. Radu longs only for a place where he feels safe. And when they meet Mehmed, the defiant and lonely son of the sultan, who's expected to rule a nation, Radu feels that he's made a true friend—and Lada wonders if she's finally found someone worthy of her passion.
But Mehmed is heir to the very empire that Lada has sworn to fight against—and that Radu now considers home. Together, Lada, Radu, and Mehmed form a toxic triangle that strains the bonds of love and loyalty to the breaking point.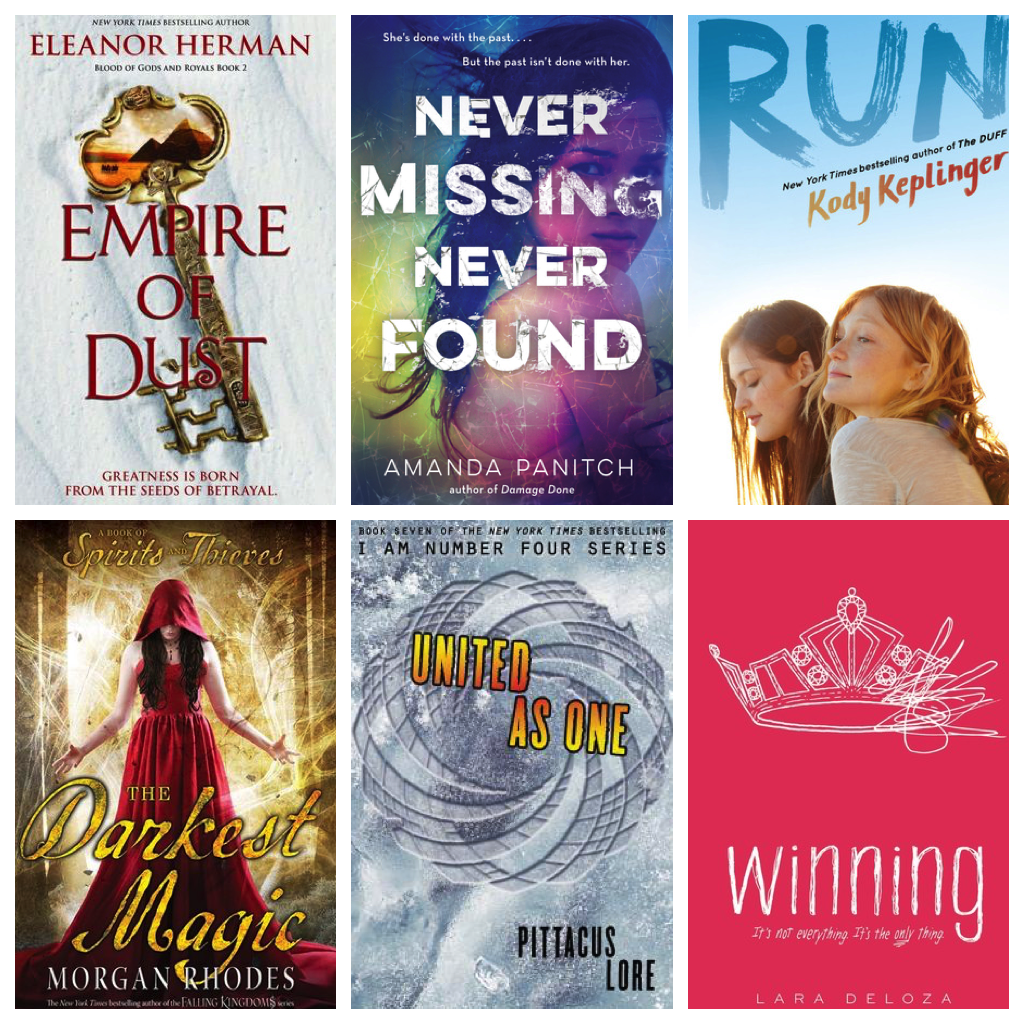 229. * Empire of Dust by Eleanor Herman (6/28): In Macedon, war rises like smoke, forbidden romance blooms and ancient magic tempered with rage threatens to turn an empire to dust
After winning his first battle, Prince Alexander fights to become the ruler his kingdom demands—but the line between leader and tyrant blurs with each new threat.
Meanwhile, Hephaestion, cast aside by Alexander for killing the wrong man, must conceal the devastating secret of a divine prophecy from Katerina even as the two of them are thrust together on a dangerous mission to Egypt.
The warrior, Jacob, determined to forget his first love, vows to eradicate the ancient Blood Magics and believes that royal prisoner Cynane holds the key to Macedon's undoing.
And in chains, the Persian princess Zofia still longs to find the Spirit Eaters, but first must grapple with the secrets of her handsome—and deadly—captor.
230. Never Missing, Never Found by Amanda Panitch (6/28): Some choices change everything. Scarlett chose to run. And the consequences will be deadly.
Stolen from her family as a young girl, Scarlett was lucky enough to eventually escape her captor. Now a teen, she's starting a summer job at an amusement park. There are cute boys, new friends, and the chance to finally have a normal life.
Her first day on the job, Scarlett is shocked to discover that a girl from the park has gone missing. Old memories come rushing back. And now as she meets her new coworkers, one of the girls seems strangely familiar. When Scarlett chose to run all those years ago, what did she set into motion? And when push comes to shove, how far will she go to uncover the truth . . . before it's too late?
231. Run by Kody Keplinger (6/28): Bo Dickinson is a girl with a wild reputation, a deadbeat dad, and a mama who's not exactly sober most of the time. Everyone in town knows the Dickinsons are a bad lot, but Bo doesn't care what anyone thinks.
Agnes Atwood has never gone on a date, never even stayed out past ten, and never broken any of her parents' overbearing rules. Rules that are meant to protect their legally blind daughter — protect her from what, Agnes isn't quite sure.
Despite everything, Bo and Agnes become best friends. And it's the sort of friendship that runs truer and deeper than anything else.
So when Bo shows up in the middle of the night, with police sirens wailing in the distance, desperate to get out of town, Agnes doesn't hesitate to take off with her. But running away and not getting caught will require stealing a car, tracking down Bo's dad, staying ahead of the authorities, and — worst of all — confronting some ugly secrets.
232. * The Darkest Magic by Morgan Rhodes (6/28): Modern-day Toronto: Sisters Crystal and Becca Hatcher are reunited after reclaiming the Bronze Codex and narrowly escaping death. They have no one to trust but each other, and the only thing keeping them safe is the book that sent Becca's spirit to Ancient Mytica–the same book that their enemies would kill them for.
Ancient Mytica: Maddox grapples to keep his newly discovered powers under control, while the ruthless goddess Valoria hunts him down.
Modern-day Toronto: Farrell embraces his dark side as he unwittingly falls further under the spell of Markus, the mastermind leader of the nefarious Hawkspear Society, who will stop at nothing to find Crys and Becca–and the remarkable book in their possession.
233. * United As One by Pittacus Lore (6/28): The Mogadorian invasion has come to Earth, and they have all but won the battle for our planet. Their warships loom over our most populous cities—like New York City, Tokyo, Moscow, Beijing, and New Delhi—and no army will risk making a move against them. The Garde are all that stand in their way . . . but they are no longer alone in this fight. Human teens from across the globe, like John Smith's best friend, Sam Goode, have begun to develop Legacies of their own.
The Garde have always known there is power in numbers. If they can find these new allies and join forces with them, they just might be able to win this war. The time has come for the Garde to make their final stand.
234. Winning by Lara Deloza (6/28): Whoever said being nice would get you to the top?
Certainly not Alexandra Miles. She isn't nice, but she's more than skilled at playing the part. She floats through the halls of Spencer High, effortlessly orchestrating the actions of everyone around her, making people bend to her whim without even noticing they're doing it. She is the queen of Spencer High—and it's time to make it official.
Alexandra has a goal, you see—Homecoming Queen. Her ambitions are far grander than her small town will allow, but homecoming is just the first step to achieving total domination. So when peppy, popular Erin Hewett moves to town and seems to have a real shot at the crown, Alexandra has to take action.
With the help of her trusted friend Sam, she devises her most devious plot yet. She'll introduce an unexpected third competitor in the mix, one whose meteoric rise—and devastating fall—will destroy Erin's chances once and for all. Alexandra can run a scheme like this in her sleep. What could possibly go wrong?