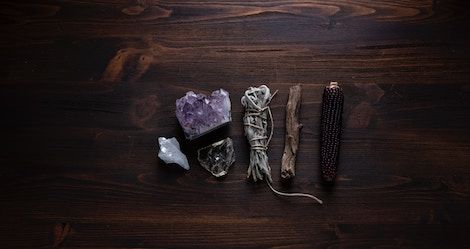 Horror
25 Must-Read YA Books About Witches To Add Magic and Curses To Your Reading Life
This content contains affiliate links. When you buy through these links, we may earn an affiliate commission.
Some believe witch season is only once a year. I tend to fall in a different camp: witch season is every season, no matter what. Along with witch season comes the deep fascination with and desire to read YA books about witches.
Find below a wide array of excellent YA books about witches. What I love about witch stories is that for readers who are sometimes put off by either horror books or by supernatural/fantasy reads, witch books are often grounded enough in reality—a witch is often human, after all—to make them easy to access. The young adult books with witches below span those titles which lean more heavily toward realistic than fantasy, as well as those which are far more toward the fantastical than realistic side. In other words: there's something here for every kind of witchy reader.
Descriptions come from Goodreads. Some of your favorites are probably missing from this list, since I kept it fairly short. If you'd like even more books about witches after you fly through these 25 picks, make sure you check out these 100 must-read books about witches. I'd also love if you dropped your favorite YA books about witches into the comments!
I've included a * next to the book titles which are part of a series, so that you can plan to fall deeply into a multiple-book world of witches.

YA Books About Witches
Sunny Nwazue lives in Nigeria, but she was born in New York City. Her features are West African, but she's albino. She's a terrific athlete, but can't go out into the sun to play soccer. There seems to be no place where she fits in. And then she discovers something amazing—she is a "free agent" with latent magical power. And she has a lot of catching up to do.
Soon she's part of a quartet of magic students, studying the visible and invisible, learning to change reality. But just as she's finding her footing, Sunny and her friends are asked by the magical authorities to help track down a career criminal who knows magic, too. Will their training be enough to help them against a threat whose powers greatly outnumber theirs?
Lena Duchannes is unlike anyone the small Southern town of Gatlin has ever seen, and she's struggling to conceal her power, and a curse that has haunted her family for generations. But even within the overgrown gardens, murky swamps and crumbling graveyards of the forgotten South, a secret cannot stay hidden forever.
Ethan Wate, who has been counting the months until he can escape from Gatlin, is haunted by dreams of a beautiful girl he has never met. When Lena moves into the town's oldest and most infamous plantation, Ethan is inexplicably drawn to her and determined to uncover the connection between them.
In a town with no surprises, one secret could change everything.
It starts off simply.
Draw a circle…place a dead leaf in the center…sprinkle some salt…recite a little Latin…add a drop of blood…
Maybe that last part isn't exactly simple. Yet somehow it feels right to Silla Kennicott. And nothing in her life has felt remotely right since her parents' horrific deaths. She's willing to do anything to uncover the truth about her family—even try a few spells from the mysterious book that arrived on her doorstep…and spill some blood.
The book isn't the only recent arrival in Silla's life. There's Nick Pardee, the new guy next door who may have seen Silla casting a spell. She's not sure what he saw and is afraid to find out. But as they spend more time together, Silla realizes this may not be Nick's first encounter with Blood Magic. Brought together by a combination of fate and chemistry, Silla and Nick can't deny their attraction. And they can't ignore the dark presence lurking nearby—waiting to reclaim the book and all its power.
Let me be clear: I never intended to raise my brother from his grave, though he may claim otherwise. If there's anything I've learned from him in the years since, it's that the dead hide truths as well as the living.
When Tea accidentally resurrects her brother from the dead, she learns she is different from the other witches in her family. Her gift for necromancy means that she's a bone witch, a title that makes her feared and ostracized by her community. But Tea finds solace and guidance with an older, wiser bone witch, who takes Tea and her brother to another land for training.
In her new home, Tea puts all her energy into becoming an asha—one who can wield elemental magic. But dark forces are approaching quickly, and in the face of danger, Tea will have to overcome her obstacles…and make a powerful choice.
Everybody thinks Cate Cahill and her sisters are eccentric. Too pretty, too reclusive, and far too educated for their own good. But the truth is even worse: they're witches. And if their secret is discovered by the priests of the Brotherhood, it would mean an asylum, a prison ship—or an early grave. Then Cate finds her mother's diary, and uncovers a secret that could spell her family's destruction. Desperate to find alternatives to their fate, Cate starts scouring banned books and questioning rebellious new friends, all while juggling tea parties, shocking marriage proposals, and a forbidden romance with the completely unsuitable Finn Belastra. But if what her mother wrote is true, the Cahill girls aren't safe—not even from each other.
It all began with a ruined elixir and a bolt of lightning.
Iolanthe Seabourne is the greatest elemental mage of her generation—or so she's been told. The one prophesied for years to be the savior of The Realm. It is her duty and destiny to face and defeat the Bane, the most powerful tyrant and mage the world has ever known. This would be a suicide task for anyone, let alone a reluctant sixteen-year-old girl with no training.
Guided by his mother's visions and committed to avenging his family, Prince Titus has sworn to protect Iolanthe even as he prepares her for their battle with the Bane. But he makes the terrifying mistake of falling in love with the girl who should have been only a means to an end. Now, with the servants of the tyrant closing in, Titus must choose between his mission—and her life.
On the eve of her sixteenth birthday, the young sorceress Sabrina Spellman finds herself at a crossroads, having to choose between an unearthly destiny and her mortal boyfriend, Harvey. But a foe from her family's past has arrived in Greendale, Madame Satan, and she has her own deadly agenda. Archie Comics' latest horror sensation starts here! For TEEN+ readers. Compiles the first six issues of the ongoing comic book series Chilling Adventures of Sabrina.
Chime by Franny Billingsley
Before Briony's stepmother died, she made sure Briony blamed herself for all the family's hardships. Now Briony has worn her guilt for so long it's become a second skin. She often escapes to the swamp, where she tells stories to the Old Ones, the spirits who haunt the marshes. But only witches can see the Old Ones, and in her village, witches are sentenced to death. Briony lives in fear her secret will be found out, even as she believes she deserves the worst kind of punishment.
Then Eldric comes along with his golden lion eyes and mane of tawny hair. He's as natural as the sun, and treats her as if she's extraordinary. And everything starts to change. As many secrets as Briony has been holding, there are secrets even she doesn't know.
*The Connelly Boys by Lily Velez
The Connelly boys are practically royalty at St. Andrew's Prep. Popular, wealthy, and devastatingly beautiful, the four brothers have long cast a spell over their classmates and over the sleepy seaport town of Rosalyn Bay, Ireland.
There's just one problem: they're also cursed.
…Or so the rumors say.
Seventeen-year-old newcomer Scarlet Monroe has never been one for rumors, but when she inadvertently banishes a demon while trying to help eldest brother Jack Connelly, the most breathtaking of the boys and the one to whom she feels inexplicably drawn, she quickly discovers there may be more to the local superstitions and folklore than she originally thought.
Before long, the Connellys pull her into a dark and mysterious world filled with ancient magic, powerful spells, kidnapped souls, and deadly enemies. But none of it compares to discovering the truth of who she really is…or what she'll have to become to defeat a rising evil older than humankind itself before she loses everyone she loves—that is, of course, if she can survive the world of the Connellys long enough.
Everyone said the Graces were witches.
They moved through the corridors like sleek fish, ripples in their wake. Stares followed their backs and their hair.
They had friends, but they were just distractions. They were waiting for someone different.
All I had to do was show them that person was me.
Like everyone else in her town, River is obsessed with the Graces, attracted by their glamour and apparent ability to weave magic. But are they really what they seem? And are they more dangerous than they let on?
This beautifully-written thriller will grip you from its very first page.
*Hex Hall by Rachel Hawkins
Three years ago, Sophie Mercer discovered that she was a witch. It's gotten her into a few scrapes. Her non-gifted mother has been as supportive as possible, consulting Sophie's estranged father—an elusive European warlock—only when necessary. But when Sophie attracts too much human attention for a prom-night spell gone horribly wrong, it's her dad who decides her punishment: exile to Hex Hall, an isolated reform school for wayward Prodigium, a.k.a. witches, faeries, and shapeshifters.
By the end of her first day among fellow freak-teens, Sophie has quite a scorecard: three powerful enemies who look like supermodels, a futile crush on a gorgeous warlock, a creepy tag-along ghost, and a new roommate who happens to be the most hated person and only vampire student on campus. Worse, Sophie soon learns that a mysterious predator has been attacking students, and her only friend is the number-one suspect.
As a series of blood-curdling mysteries starts to converge, Sophie prepares for the biggest threat of all: an ancient secret society determined to destroy all Prodigium, especially her.
Wanted by no one.
Hunted by everyone.
Sixteen-year-old Nathan lives in a cage: beaten, shackled, trained to kill. In a modern-day England where two warring factions of witches live amongst humans, Nathan is an abomination, the illegitimate son of the world's most terrifying and violent witch, Marcus. Nathan's only hope for survival is to escape his captors, track down Marcus, and receive the three gifts that will bring him into his own magical powers—before it's too late. But how can Nathan find his father when there is no one safe to trust, not even family, not even the girl he loves?
Half Bad is an international sensation and the start of a brilliant trilogy: a gripping tale of alienation and the indomitable will to survive.
Five boys attacked her.
Now they must repay her with their blood and flesh.
Bethan is the apprentice to a green healer named Drina in a clan of Welsh Romanies. Her life is happy and ordered and modest, as required by Roma custom, except for one thing: Silas, the son of the chieftain, has been secretly harassing her.
One night, Silas and his friends brutally assault Bethan and a half-Roma friend, Martyn. As empty and hopeless as she feels from the attack, she asks Drina to bring Martyn back from death's door. "There is always a price for this kind of magic," Drina warns. The way to save him is gruesome. Bethan must collect grisly pieces to fuel the spell: an ear, some hair, an eye, a nose, and fingers.
She gives the boys who assaulted her a chance to come forward and apologize. And when they don't, she knows exactly where to collect her ingredients to save Martyn.
Salem, Massachusetts is the site of the infamous witch trials and the new home of Samantha Mather. Recently transplanted from New York City, Sam and her stepmother are not exactly welcomed with open arms. Sam is the descendant of Cotton Mather, one of the men responsible for those trials and almost immediately, she becomes the enemy of a group of girls who call themselves The Descendants. And guess who their ancestors were?
If dealing with that weren't enough, Sam also comes face to face with a real live (well technically dead) ghost. A handsome, angry ghost who wants Sam to stop touching his stuff. But soon Sam discovers she is at the center of a centuries old curse affecting anyone with ties to the trials. Sam must come to terms with the ghost and find a way to work with The Descendants to stop a deadly cycle that has been going on since the first accused witch was hanged. If any town should have learned its lesson, it's Salem. But history may be about to repeat itself.
Jinx by Meg Cabot
It's not easy being Jinx.
Jean Honeychurch hates her boring name (not Jean Marie, or Jeanette, just…Jean). What's worse? Her all-too-appropriate nickname, Jinx. Misfortune seems to follow her everywhere she goes—even to New York City, where Jinx has moved to get away from the huge mess she caused in her small hometown. Her aunt and uncle welcome her to their Manhattan town house, but her beautiful cousin Tory isn't so thrilled…
In fact, Tory is hiding a dangerous secret—one that could put them all in danger. Soon Jinx realizes it isn't just bad luck she's been running from…and that the curse she has lived under since the day she was born may be the only thing that can save her life.
I was chosen by the Deos. Even gods make mistakes.
Alex is a bruja, the most powerful witch in a generation…and she hates magic. At her Deathday celebration, Alex performs a spell to rid herself of her power. But it backfires. Her whole family vanishes into thin air, leaving her alone with Nova, a brujo she can't trust, but who may be Alex's only chance at saving her family.
The Near Witch is only an old story told to frighten children.

If the wind calls at night, you must not listen. The wind is lonely, and always looking for company.

And there are no strangers in the town of Near.
These are the truths that Lexi has heard all her life.
But when an actual stranger—a boy who seems to fade like smoke—appears outside her home on the moor at night, she knows that at least one of these sayings is no longer true.
The next night, the children of Near start disappearing from their beds, and the mysterious boy falls under suspicion. Still, he insists on helping Lexi search for them. Something tells her she can trust him.
As the hunt for the children intensifies, so does Lexi's need to know-about the witch that just might be more than a bedtime story, about the wind that seems to speak through the walls at night, and about the history of this nameless boy.
You don't know what you must give up to become a witch.
Avery Roe wants only to claim her birthright as the witch of Prince Island and to make the charms that have kept the island's sailors safe at sea for generations, but instead she is held prisoner by her mother in a magic-free life of proper manners and respectability.
Avery thinks escape is just a matter of time, but when she has a harrowing nightmare, she can see what it means: She will be killed. She will be murdered. And she's never been wrong before.
Desperate to change her future, Avery finds a surprising ally in Tane—a tattooed harpoon boy with magic of his own, who moves her in ways she never expected. But as time runs out to unlock her magic and save herself, Avery discovers that becoming a witch requires unimaginable sacrifice.
Avery walks the knife's edge between choice and destiny in Kendall Kulper's sweeping debut: the story of one girl's fight to survive the rising storm of first love and family secrets.
Everyone knows what happens in the end. A mermaid, a prince, a true love's kiss. But before that young siren's tale, there were three friends. One feared, one royal, and one already dead.
Ever since her best friend, Anna, drowned, Evie has been an outcast in her small fishing town. A freak. A curse. A witch.
A girl with an uncanny resemblance to Anna appears offshore and, though the girl denies it, Evie is convinced that her best friend actually survived. That her own magic wasn't so powerless after all. And, as the two girls catch the eyes—and hearts—of two charming princes, Evie believes that she might finally have a chance at her own happily ever after.
But her new friend has secrets of her own. She can't stay in Havnestad, or on two legs, unless Evie finds a way to help her. Now Evie will do anything to save her friend's humanity, along with her prince's heart—harnessing the power of her magic, her ocean, and her love until she discovers, too late, the truth of her bargain.
Toil and Trouble edited by Jessica Spotswood and Tess Sharpe (8/28/18)
Are you a good witch or a bad witch?
Glinda the Good Witch. Elphaba the Wicked Witch. Willow. Sabrina. Gemma Doyle. The Mayfair Witches. Ursula the Sea Witch. Morgan le Fey. The three weird sisters from Macbeth.
History tells us women accused of witchcraft were often outsiders: educated, independent, unmarried, unwilling to fall in line with traditional societal expectations.
Bold. Powerful. Rebellious.
A bruja's traditional love spell has unexpected results. A witch's healing hands begin to take life instead of giving it when she ignores her attraction to a fellow witch. In a terrifying future, women are captured by a cabal of men crying witchcraft and the one true witch among them must fight to free them all. In a desolate past, three orphaned sisters prophesize for a murderous king. Somewhere in the present, a teen girl just wants to kiss a boy without causing a hurricane.
From good witches to bad witches, to witches who are a bit of both, this is an anthology of diverse witchy tales from a collection of diverse, feminist authors. The collective strength of women working together—magically or mundanely–has long frightened society, to the point that women's rights are challenged, legislated against, and denied all over the world. Toil & Trouble delves deep into the truly diverse mythology of witchcraft from many cultures and feminist points of view, to create modern and unique tales of witchery that have yet to be explored.
*Triple Moon by Melissa de la Cruz
After they cause a terrible accident at their old high school, twin witches Mardi and Molly Overbrook are sent to live with their "aunt" Ingrid Beauchamp in North Hampton, on Long Island's mist-shrouded East End. Because the twins cannot control their powers, their father begs Ingrid to tame them over the summer, before the White Council exiles the girls to Limbo.
Trouble continues to bubble and boil when the girls meet the younger Gardiner boys, who are just as handsome and sexy as their older kin. But all is not as it seems. As Ingrid helps the girls learn to control their magical impulses, Mardi and Molly have just this summer to figure out how to grow up, how to love, and how to be a family.
In a continent on the edge of war, two witches hold its fate in their hands.
Young witches Safiya and Iseult have a habit of finding trouble. After clashing with a powerful Guildmaster and his ruthless Bloodwitch bodyguard, the friends are forced to flee their home.
Safi must avoid capture at all costs as she's a rare Truthwitch, able to discern truth from lies. Many would kill for her magic, so Safi must keep it hidden—lest she be used in the struggle between empires. And Iseult's true powers are hidden even from herself.
In a chance encounter at Court, Safi meets Prince Merik and makes him a reluctant ally. However, his help may not slow down the Bloodwitch now hot on the girls' heels. All Safi and Iseult want is their freedom, but danger lies ahead. With war coming, treaties breaking and a magical contagion sweeping the land, the friends will have to fight emperors and mercenaries alike. For some will stop at nothing to get their hands on a Truthwitch.
Mila Flores and her best friend Riley have always been inseparable. There's not much excitement in their small town of Cross Creek, so Mila and Riley make their own fun, devoting most of their time to Riley's favorite activity: amateur witchcraft.
So when Riley and two Fairmont Academy mean girls die under suspicious circumstances, Mila refuses to believe everyone's explanation that her BFF was involved in a suicide pact. Instead, armed with a tube of lip gloss and an ancient grimoire, Mila does the unthinkable to uncover the truth: she brings the girls back to life.
Unfortunately, Riley, June, and Dayton have no recollection of their murders, but they do have unfinished business to attend to. Now, with only seven days until the spell wears off and the girls return to their graves, Mila must wrangle the distracted group of undead teens and work fast to discover their murderer…before the killer strikes again.
To everyone who knows them, best friends Miel and Sam are as strange as they are inseparable. Roses grow out of Miel's wrist, and rumors say that she spilled out of a water tower when she was five. Sam is known for the moons he paints and hangs in the trees, and for how little anyone knows about his life before he and his mother moved to town. But as odd as everyone considers Miel and Sam, even they stay away from the Bonner girls, four beautiful sisters rumored to be witches. Now they want the roses that grow from Miel's skin, convinced that their scent can make anyone fall in love. And they're willing to use every secret Miel has fought to protect to make sure she gives them up.
Welcome to the cursed town of Sparrow…
Where, two centuries ago, three sisters were sentenced to death for witchery. Stones were tied to their ankles and they were drowned in the deep waters surrounding the town.
Now, for a brief time each summer, the sisters return, stealing the bodies of three weak-hearted girls so that they may seek their revenge, luring boys into the harbor and pulling them under.
Like many locals, seventeen-year-old Penny Talbot has accepted the fate of the town. But this year, on the eve of the sisters' return, a boy named Bo Carter arrives; unaware of the danger he has just stumbled into.
Mistrust and lies spread quickly through the salty, rain-soaked streets. The townspeople turn against one another. Penny and Bo suspect each other of hiding secrets. And death comes swiftly to those who cannot resist the call of the sisters.
But only Penny sees what others cannot. And she will be forced to choose: save Bo, or save herself.
Ann Putnam Jr. is the queen bee. When her father suggests a spate of illnesses in the village is the result of witchcraft, she puts in motion a chain of events that will change Salem forever.
Mercy Lewis is the beautiful servant in Ann's house who inspires adulation in some and envy in others. With her troubled past, she seizes her only chance at safety.
Margaret Walcott, Ann's cousin, is desperately in love. She is torn between staying loyal to her friends and pursuing a life with her betrothed.
With new accusations mounting against the men and women of the community, the girls will have to decide: Is it too late to tell the truth?
Tiffany Aching is a trainee witch—now working for the seriously scary Miss Treason. But when Tiffany witnesses the Dark Dance—the crossover from summer to winter—she does what no one has ever done before and leaps into the dance. Into the oldest story there ever is. And draws the attention of the Wintersmith himself.
As Tiffany-shaped snowflakes hammer down on the land, can Tiffany deal with the consequences of her actions? Even with the help of Granny Weatherwax and the Nac Mac Feegle—the fightin', thievin' pictsies who are prepared to lay down their lives for their "big wee hag."
*W.I.T.C.H. by Elisabetta Gnone
W.I.T.C.H. is a comic book magazine about five ordinary girls with five extraordinary powers. Their mission is to protect the world from the evil forces of the Metaworld. To succeed, the girls have magical powers that can control the forces of nature: air, water, fire and earth.
In this first issue we get introduced to each of the W.I.T.C.H. girls, and they gain their powers.
Witchtown by Cory Putman Oakes
When sixteen-year-old Macie O'Sullivan and her masterfully manipulative mother Aubra arrive at the gates of Witchtown—the most famous and mysterious witch-only haven in the world—they have one goal in mind: to rob it for all it's worth.
But that plan derails when Macie and Aubra start to dig deeper into Witchtown's history and uncover that there is more to the quirky haven than meets the eye.
Exploring the haven by herself, Macie finds that secrets are worth more than money in Witchtown.
Secrets have their own power.
If she sink, she be no witch and shall be drowned.
If she float, she be a witch and must be hanged.
Meg Lytton has always known she is different; that she bears a dark and powerful gift. But in 1554 England, in service at Woodstock Palace to the banished Tudor princess Elizabeth, it has never been more dangerous to practice witchcraft. Meg knows she must guard her secret carefully from the many suspicious eyes watching over the princess and her companions. One wrong move could mean her life, and the life of Elizabeth, rightful heir to the English throne.
With witchfinder Marcus Dent determined to have Meg's hand in marriage, and Meg's own family conspiring against the English queen, there isn't a single person Meg can trust. Certainly not the enigmatic young Spanish priest Alejandro de Castillo, despite her undeniable feelings. But when all the world turns against her, Meg must open her heart to a dangerous choice.