This content contains affiliate links. When you buy through these links, we may earn an affiliate commission.
This list of YA books about teen writers is sponsored by Girls of Paper and Fire by Natasha Ngan.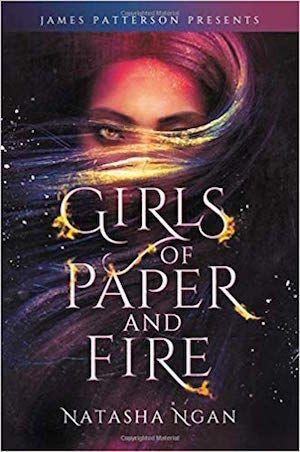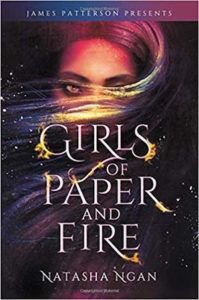 Lei is a member of the Paper caste, the lowest and most persecuted class in Ikhara. Even so, rumors of her golden eyes have piqued the king's interest, and she is ripped from her home and taken to the opulent but oppressive palace, her life now beholden to his every whim. But Lei, dreaming of escape, does the unthinkable — she falls in love. Her forbidden romance, enmeshed with an explosive plot that threatens the king's reign, will force Lei to decide just how far she's willing to go for justice and revenge.
---
November is National Novel Writing Month, aka NaNoWriMo! It's a month-long event where writers, no matter their backgrounds or experience, strive to write the first draft of a novel in a month. This is no small feat, and to celebrate I thought we'd focus on some YA books about teen writers! Hopefully they provide some inspiration for those of you participating in NaNo this year—keep going! You're halfway there!
Laila lives vicariously via her work, writing epic fantasy. She's always encouraged by her writing teacher, who believes she's got real talent. When he's replaced suddenly by a critical, award-winning writer, suddenly nothing Laila writes is good enough. Laila tries to measure up, taking bigger and bigger risks—and not just on the page, but in her real life. But at some point, Laila will have to choose between perfection and her own sanity.
Choi's debut novel is about Penny Lee, who is excited to finally go off to college to study writing, but finds that it's not quite what she expects. When she meets Sam, a down-on-his-luck loner, they strike up an unlikely friendship that is mostly based in text messages. While the focus of this novel isn't primarily Penny's writing, it is a pretty big element, and I really loved how Choi revealed so much about Penny's emotional arc and her relationships through the short story Penny grapples with throughout the semester.
Fangirl by Rainbow Rowell
When her twin sister dumps her for an unfamiliar roommate and new social life their first year of college, Cath is left floundering. She only leaves her dorm room to attend class, and spends all of her free time writing fan fiction for Simon Snow, a Harry Potter–like fantasy series. But when her roommate and one very cute guy conspire, Cath must step outside of her comfort zone—which just might be the best thing for her life, and her writing.
Eliza is secretly the creator of a wildly popular webcomic called Monstrous Sea. Online, she's popular. Offline, no one really knows who she is. But when a new guy named Wallace transfers to her school and Eliza's secret is revealed, everything that Eliza's created is at stake as she struggles to figure out what makes a meaningful connection, both online and off.
When Darcy is just eighteen, she sells her debut YA novel, Afterworlds (written during NaNoWriMo!). She defers her college admission and moves to New York City, where she is thrown head first into the messy, dizzying world of publishing and writing. Darcy's story is spliced with excerpt from Darcy's novel, and Darcy's chapters include loads of fun details and insider knowledge about living the YA writer life.
Want more "3 On A YA Theme" posts? Gotcha covered.