Sponsored
3 on a YA Theme: YA Books About Reproductive Freedom
This content contains affiliate links. When you buy through these links, we may earn an affiliate commission.
"3 On A YA Theme: YA Books About Reproductive Freedom" is sponsored by Flatiron Books.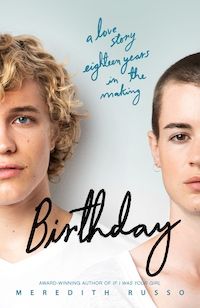 From the award-winning author of If I Was Your Girl, Meredith Russo, comes a heart-wrenching and universal story of identity, first love, and fate. Six years of birthdays reveal Eric and Morgan's destiny as they come together, drift apart, fall in love, and discover who they're meant to be—and if they're meant to be together.
---
The issue of reproductive freedom has recently come under fire in the U.S., with certain states attempting to limit access to safe and legal abortions, and one banning them outright. When debates get heated, it often becomes very easy to overlook the human aspect, and the heart wrenching situations that pregnant people find themselves in. These three YA books about abortion feature various characters dealing with an unplanned pregnancy and considering or seeking out their options.
When Genesis and her boyfriend Peter find themselves with an unwanted pregnancy, they make the difficult decision to have an abortion. But when Peter abandons Genesis in the waiting room at Planned Parenthood, the betrayal forces her to take a closer look at their relationship and rediscover a dream that she had forgotten.
Unpregnant by Jenni Hendricks and Ted Caplan
When Veronica finds herself unexpectedly pregnant while on the cusp of beginning college, she makes the decision to get an abortion. The only problem? The closest clinic is over half a day's drive away, and she doesn't have a car. So she turns to the only person she can trust in this impossible situation: her ex–best friend Bailey. What should be a straightforward trip turns into anything but as she's forced to confront what broke up her relationship with Bailey. Out September 10, 2019.
In the summer of 1972 (the year before Roe vs. Wade ruled that women have the right to choose whether or not to have an abortion in the U.S.), four teen girls from the rural South to Chicago grapple with the reality of an unplanned pregnancy on the cusp of massive social change. Out October 29, 2019.
Want more "3 On A YA Theme" posts? Gotcha covered.