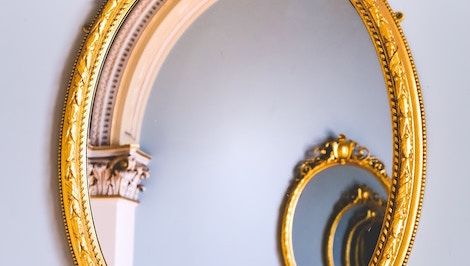 This content contains affiliate links. When you buy through these links, we may earn an affiliate commission.
The first season of Star Trek: Discovery has hinged on the existence of the Mirror-verse: a universe that looks a lot like but is in many ways crucially different from the one the characters come from. It's no surprise that the idea of parallel worlds has appeared in most of the Star Trek series. It's fun to watch beloved characters appear with an often-evil new twist, and it makes us think about the possibilities of worlds beyond our own.
Here are some novels that explore this same dichotomy, as characters deal with parallel worlds.
It's Lark's seventeenth birthday, and everything is perfect—until Lark hears the screams. Annabelle, a little girl she used to babysit, is drowning in the nearby reeds. When her boyfriend, Alec, goes to save her, he hits his head on a rock. Alec and Annabelle are drowning. And Lark can save only one of them. Lark chooses, and in that moment she becomes the anchor of two parallel worlds. As Lark finds herself going down more than one path, she has to decide: Which life is the right one?
Ida by Alison Evans
Ida can shift between parallel worlds, allowing her to follow alternative paths. One day she sees a shadowy, see-through doppelganger of herself on the train. She starts to wonder if she's actually in control of her ability, and whether there are effects far beyond what she's considered. How can she know, anyway, whether one universe is ultimately better than another? And what if the continual shifting causes her to lose what is most important to her, just as she's discovering what that is, and she can never find her way back?
Tara's junior year at an academically rigorous prep begins in the wake of a startling discovery: A message from an alternate Earth, light years away, is intercepted by NASA. This means that on another planet, there is another version of Tara, a Tara who could be living better, burning brighter, because of tiny differences in her choices. As everyone gets used to the existence of parallel worlds, Tara's life begins to change. Only one thing is clear: nothing will ever be the same again.
Every time someone makes a choice, a new parallel world is spun off the existing one. Eating breakfast or skipping it, sneaking out instead of staying in bed—every decision creates an alternate universe in which an Echo self takes the road not traveled. As a Walker who can navigate between parallel worlds, Del is training to help keep the dimensions in harmony. When she secretly starts to investigate other dissonant worlds, she get tangled up with an Echo of her longtime crush. She knows she shouldn't keep seeing him. But as Del persists, she uncovers a truth that the Council of Walkers is trying to hide—a secret that threatens the entire multiverse.
Natalie's last summer in her small Kentucky hometown is off to a magical start…until she starts seeing the wrong things. They're just momentary glimpses at first—her front door is red instead of its usual green, there's a pre-school where the garden store should be. But then her whole town disappears for hours, fading away into rolling hills and grazing buffalo, and Nat knows something isn't right. That's when she gets a visit from the kind but mysterious apparition she calls "Grandmother," who tells her: "You have three months to save him." The next night, under the stadium lights of the high school football field, she meets a beautiful boy named Beau, and it's as if time just stops and nothing exists. Nothing, except Natalie and Beau.
Looking for more Star Trek book inspo? Check out our list of the best Star Trek books, literary moment in Star Trek: The Next Generation, and book recommendations for the crew of the original Enterprise.