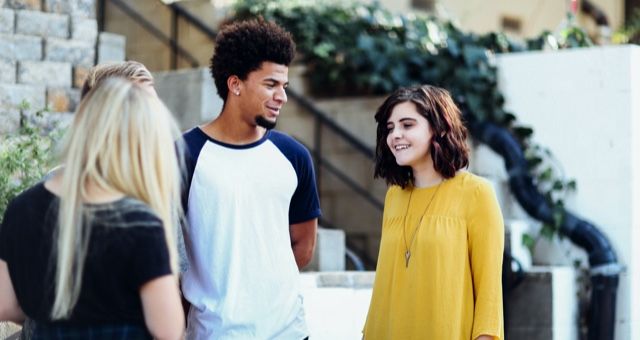 Sponsored
YA Books About Interracial Dating Drama
This list of YA books about interracial dating is sponsored by Read Harder Journal, a reading log brought to you by Book Riot.
Created by Book Riot, this smartly designed reading log consists of entry pages to record stats, impressions, and reviews of each book you read, and is a GREAT GIFT for readers this holiday season. Evenly interspersed among these entry pages are 12 challenges inspired by Book Riot's annual Read Harder initiative, which began in 2015 to encourage readers to pick up passed-over books, try out new genres, and choose titles from a wider range of voices and perspectives. Indulge your inner book nerd and read a book about books, get a new perspective on current events by reading a book written by an immigrant, find a hidden gem by reading a book published by an independent press, and so much more. Each challenge includes an inspiring quotation, an explanation of why the challenge will prove to be rewarding, and five book recommendations that fulfill the challenge. Get one for yourself or for the readers in your life at bookriot.com/readharderjournal.
---
Dating drama is practically a hallmark of most YA books, but what about interracial dating drama? Back in June we highlighted some books that featured interracial romantic relationships in order to commemorate the anniversary of the Supreme Court ruling on Loving vs Virginia, but the books below deal a bit more directly with the trials and triumphs of interracial dating. From logistics to cultural differences to the realities of moving throughout the world, these three YA books offer an updated spin on dating drama.
It's Not Like It's a Secret by Misa Sugiura
When Sana's family makes the move from Wisconsin to Northern California, Sana is less than thrilled. She knows no one in California, and she's certain the reason for her family's move is her dad's mistress. But the first person she meets in her new home is Jamie Ramirez, and Sana is smitten. The only problem is that she has no idea if Jamie even likes girls, much less returns her feelings. As Sana gets closer to Jamie, befriending her Mexican American friend group, she finds that Jamie's friends aren't that enthused about her—and Sana's own Asian American friend group can't fathom why Sana wants to hang out with Jamie. As Sana and Jamie's friendship deepens into romance, they'll also have to contend with complicated feelings and mindsets about race, stereotypes, and relationships.
Frankly in Love by David Yoon
Frank Li knows firsthand what happens when you're a kid of a Korean immigrant who tries to date outside of the Korean-American community—his older sister was disowned and shunned for marrying a Black man. But that doesn't stop his attraction to Brit, who is funny and nerdy and attractive, and oh yeah, white. So Frank concocts a plan with fellow Korean American Joy Song, whose parents would disapprove of her Chinese boyfriend: fake dating. With their parents thrilled at their so-called relationship, Frank and Joy are free to date whomever they choose…but of course, matters of the heart are never quite so simple, especially when you're dating in secret.
Color outside the Lines edited by Sangu Mandanna
This anthology includes stories about what it means to be in a romantic relationship from someone whose differences appear front and center, and how those differences both don't matter and can have an impact on the relationship. This collection includes stories from Samira Ahmed, Elsie Chapman, Lauren Gibaldi, Lydia Kang, Michelle Ruiz Keil, Lori M. Lee, Sangu Mandanna, L.L. McKinney, Anna-Marie McLemore, Danielle Paige, Rioter Karuna Riazi, Caroline Tung Richmond, Adam Silvera, Tara Sim, Rioter Eric Smith, and Kelly Zekas & Tarun Shanker.
---
What are some of your favorite books about interracial dating drama? Let us know on social media!
Want more "3 On A YA Theme" posts? Gotcha covered.