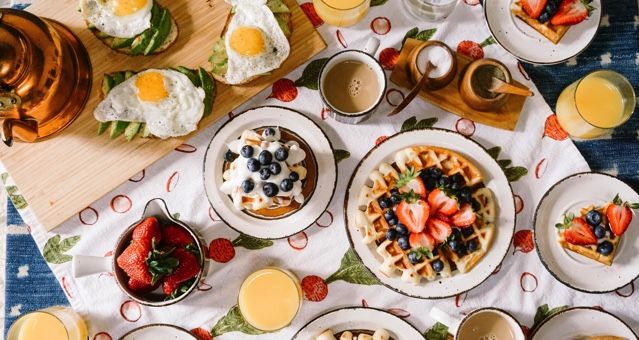 Sponsored
3 on a YA Theme: YA Books About Food
This list of YA books about food is sponsored by Libro.fm.

Libro.fm lets you purchase audiobooks directly from your favorite local bookstore. You can pick from more than 100,000 audiobooks, including New York Times best sellers and recommendations from booksellers around the country. With Libro.fm you'll get the same audiobooks, at the same price as the largest audiobook company out there (you know the name), but you'll be part of a much different story, one that supports community. In June, Libro.fm is launching their Kids Club and YA Club, which will offer select audiobooks priced under $10 each month, as well as their Summer Listening Challenge–each person to finish will get free audiobook credit and the chance to win free audiobooks for a year! Sign up here to get three audiobooks for the price of one.
---
Great food writing is powerful. I've definitely ordered a pizza while reading a book about a girl working in a pizza restaurant, and I've been inspired by various baked good descriptions in fiction to run to the kitchen and immediately start experimenting. If you're looking for a mouth-watering reading experience, then check out one of these four YA books about food, baking, love, and everything in between!
With the Fire on High by Elizabeth Acevedo
National Book Award and Printz Award winner Elizabeth Acevedo returns with a second novel about teen mom Emoni, who is hustling every day to go to school, work, and care for her daughter while being a good granddaughter. Her solace when life gets tough is food, and her passion is cooking, but with so much responsibility resting on her shoulders, she doesn't believe that cooking is a viable career choice. But she's got a talent that won't be denied, and if she's willing to take a risk, she might be able to live her dreams.
Bloom by Kevin Panetta and Savanna Ganucheau
Ari has just graduated from college and can't wait to leave his hometown for a bigger, better life in the city. The only problem? His family runs a bakery, and he's expected to work there, especially since business hasn't been so great. Then, Ari finds the perfect solution in Hector. Hector is easygoing and has a passion for baking, making him the perfect place to take Ari's place. But the more time they spend together in the bakery, Ari finds his feelings for Hector growing. And walking away from a family business is never simple.
Hungry Hearts edited by Elsie Chapman and Caroline Tung Richards
This anthology features interconnected stories from Elsie Chapman, Caroline Tung Richmond, Sandhya Menon, S. K. Ali, Rin Chupeco, Anna-Marie McLemore, Rebecca Roanhorse, Sara Farizan, Jay Coles, Adi Alsaid, Sangu Mandanna, Phoebe North, and Rioter Karuna Riazi! All of the stories are set in Hungry Hearts Row, a fictitious neighborhood populated with indie restaurants and cafe. The authors focus on the intersection of food, identity, and love, and like all good dishes, they even have a bit of magic thrown in for good measure.
The Summer of Jordi Perez (and the Best Burger in Los Angeles) by Amy Spalding
When Abby finds the perfect summer internship program at her favorite boutique, she's over the moon. When she finds out she has to share the internship with Jordi Perez, a photographer who isn't really interested in fashion, she's less than thrilled. But Jordi Perez is pretty intriguing and Abby falls hard for her, while at the same time befriending an unlikely guy over the pursuit of the best burger in L.A. for his dad's burger app.
Want more "3 On A YA Theme" posts? Gotcha covered.