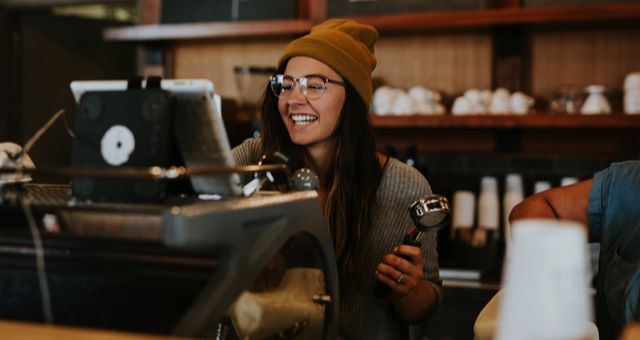 Sponsored
3 on a YA Theme: YA Books About Family Businesses
Shop summer reading favorites and Book Riot's best books of the year so far in our Amazon storefront.

---
Family businesses are often an entire family affair, and teens aren't exempt from the work, drama, and even financial worries that come with owning and operating a small business. I think that these stories are so rich because they often feature teens figuring out their place within or outside a family unit, and the family business. Here are three novels featuring family businesses that I've recently read or acquired!
This Time Will Be Different by Misa Suguira
Set in a flower shop, this book follows CJ, who doesn't quite match up to her mom's ideals of a straight-A student with high ambitions. The only time CJ feels like she's good at something is when she's helping her aunt Hannah arrange flowers in the family's shop, and while it's not what her mom dreams of, she's pretty great at it. But when CJ's mom decides to sell the shop to the family that swindled her grandparents and other Japanese American families during WWII, CJ has to stand up to her family and in her community to fight for what she wants.
Bloom by Kevin Panetta and Savanna Ganucheau
Ari has just graduated from high school and he can't wait to leave behind his small town and family bakery to start a new life in the city. The only problem? His family's bakery is really struggling, and he can't leave until he finds his replacement to help his parents. Enter Hector: gorgeous, loves baking, and is extremely enthusiastic about learning the ropes. The more time the two spend together, the stronger their bond and attraction, leaving Ari to wonder what it is that he really wants out of life. This beautiful graphic novel celebrates how special family businesses can be–but also how restricting they can feel.
Charlotte Cuts It Out by K.A. Barson
Charlotte and her best friend Lydia have a plan: they'll both study cosmetology in high school and get their licenses once they graduate, then work their way through college to snag business degrees before finally opening their own salons. Charlotte is very entrepreneurial, thanks to growing up in her family's grocery store, but her mom has different ideas for her–she wants Charlotte to go straight to a four-year college and do something else. When Charlotte makes a bet with her mom that she can win the school's talent showcase, the stakes are high–but when Lydia backs out, winning suddenly seems impossible. This is a great story about how working in a family business has shaped a teen and her ideals, and how navigating family businesses with family can be tough!
What's your favorite YA book about family businesses? Let us know on social media!
Want more "3 On A YA Theme" posts? Gotcha covered.