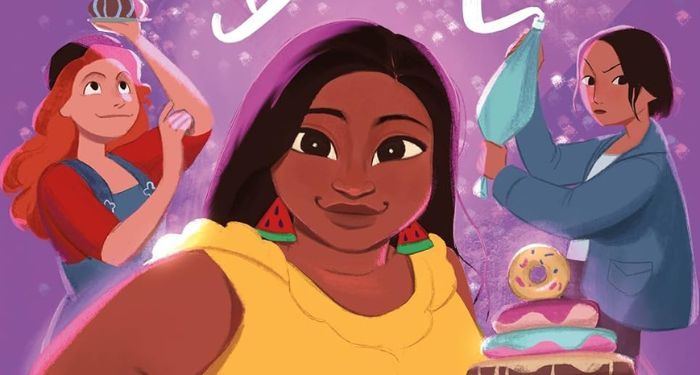 This content contains affiliate links. When you buy through these links, we may earn an affiliate commission.
Food-inspired literature is always a delectable treat for the senses, and these types of books have been in high demand in YA for the past few years. There are lots of fun sub-genres and various exciting setups foodie lit — everything from feuding restaurants (A Pho Love Story by Loan Le), food truck shenanigans (With or Without You by Eric Smith), characters falling in love while working at a restaurant (Somewhere Between Bitter and Sweet by Laeken Zea Kemp), saving the family restaurant (The Christmas Clash by Suzanne Park), food self-discovery novels (like With the Fire on High by Elizabeth Acevedo), and of course, the cooking and baking competition novel!
Cooking and baking competition novels are probably the most popular sub-genre, thanks to the demand for TV shows like The Great British Baking Show and Top Chef, and some of these books are definitely inspired by those real-life shows. Adding an element of competition, whether it's a local bake-off, a school cooking contest, or a high-stakes televised cooking show, also raises the stakes in these delightful novels and adds some delicious tension — especially if the protagonist is falling for a fellow competitor! Enjoy these books and bon appétit!
Hungry for more? Here are some great queer cooking and baking romances for your TBR!