Lists
Breaking Up Is Hard To Do: 21 YA Books About Heartbreak and Breakups
This content contains affiliate links. When you buy through these links, we may earn an affiliate commission.
YA books feature a lot of love, a lot of romance, and, as it should be expected, YA books about heartbreak aren't a small portion of the shelf space, either. What is it with YA books about breakups and heartbreak being so appealing?
Given that so many YA books feature love in many forms, it's only natural we're curious and interested in the not-so-glamorous side of romantic relationships, too. Likewise, knowing that we've all experienced heartbreak in some capacity makes these YA books about breakups and the pain that comes with them comforting to us in our saddest and angriest moments. Maybe we've never had the sort of romantic heartbreak rendered in these stories, but we all know what a destroyed heart feels like.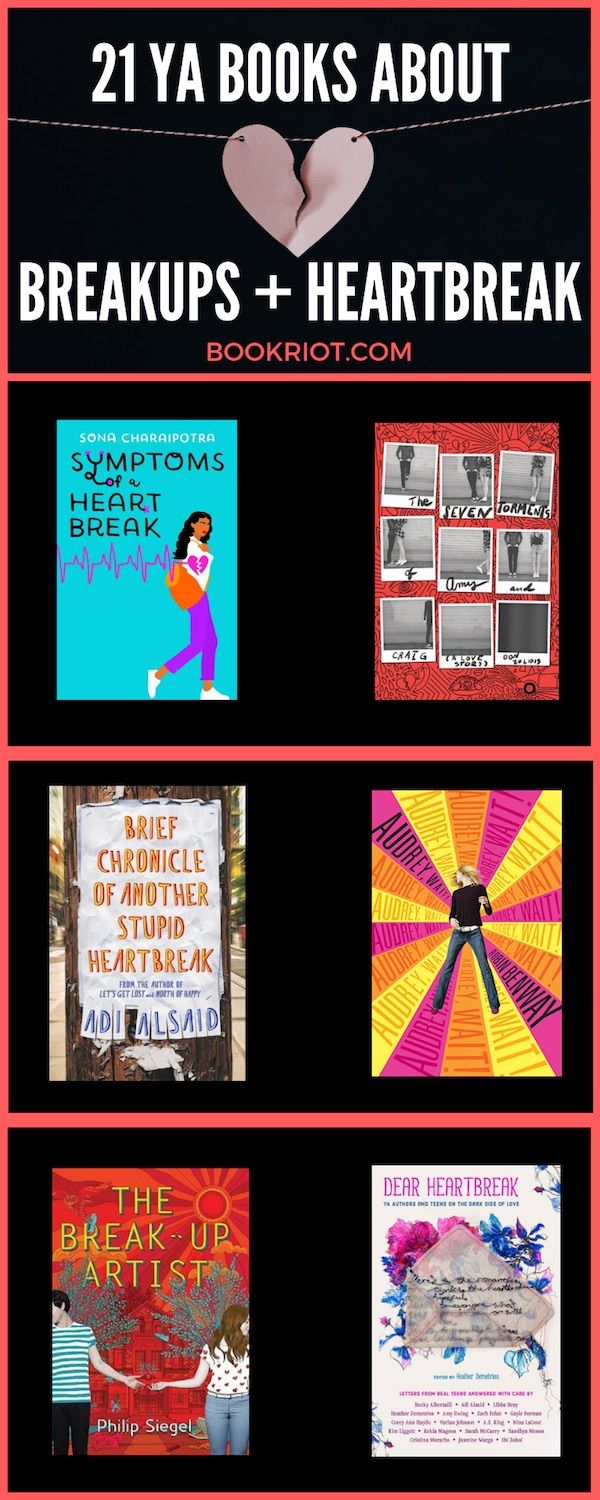 Find below a wide range of YA books about breakups and YA books about heartbreak. Keep tissues by your side for the moments you know are coming. But never fear: as much as this is a list about the sad times, many of these books are also quite funny. Some of the books feature breakups as the thrust of the book while others include it as a smaller—but still important—part of the story.
This list of YA books about breakups includes new books as well as older ones, and it includes a couple of titles that'll hit shelves this year. That means you've got plenty of time and plenty of titles to choose from whenever you need a punch to your feelings.
Have any other YA books about breakups or YA books about heartbreak you'd add? I'd love to hear about 'em in the comments!
YA Books About Breakups
What happens when everyone is singing a song called "Audrey, Wait?" and it sounds…eerily familiar to a story you're a part of?
Audrey's life post-breakup with her boyfriend—lead singer of the song about their relationship ending—will never be the same.
But now, she's telling her side of the story.
For the right amount of money, Becca Williamson's job is to break up couples. She's in the business of ending love and making a pretty penny doing so.
But when she's tasked with the mysterious offer to break up the most popular couple in school, she'll go to extremes to get the job done.
This collection of stories is about love—but it's also about what happens when love doesn't end nicely.
Two stories in one book!
Before heading to college, Lu's work is rocked when her boyfriend unexpectedly breaks up with her. She's unable to cope well and struggles to write anything (her former passion turns into a chore). But then she scores a column at a trendy online magazine.
While working there, she meets Cal, whose girlfriend Iris is considering breaking up with him because she doesn't want a long distance relationship once college starts. So what does Lu do? She chronicles the last month of their relationship in her column.
Jude is the youngest sister, and if she's learned anything from her older sisters it's that she's to avoid the Vargas brothers at all costs. They're heartbreakers.
Now, though, Jude is the only sister living at home and she happens to be falling for Emilio Vargas. It wouldn't hurt if she went for it, right? It's not like her sisters would ever find out.
Told in vignettes, this coming-of-age story follows Taja Brown from her young teens through her older teens as she navigates first loves, first heartbreaks, family, church, and more in her tightly knit black American family.
Mia's mother dies two weeks after she's been diagnosed with cancer. She, her father, and her sister struggle with immeasurable grief, and it's through his period of grief that Mia learns how troubled her parents' relationship was, feelings she's developed for a boy, and her own experiences of hypochondria.
This one's been compared to Aristotle and Dante, so if you're itching for a queer read about heartbreak, look no further!
Evan's mother is strict and abusive, and he finds solace in drawing inside an abandoned local church. He's falling for his best friend, but…perhaps that's not the best person to be head-over-heels for. Or is it?
This nonfiction anthology has a fabulous premise: teens have written letters asking about the dark side of love—breakups, abuse, cheating, betrayal—and a huge array of YA authors have answered those letters. Think of it like the best teen magazine advice column, answered by awesome teen authors.
Dumplin' by Julie Murphy
We all know the premise of this one: fat girl Willowdean enters the local pageant to show the world she deserves to be there as much as any other person does. The breakup though? Well. Of course, it's the boy at her job that she's wondering whether or not to go for.
Unlike the film adaptation, the book digs into Bo and Willowdean's relationship much more and thus is a great heartbreak-related read.
A girl with a rare disease making her allergic to the world falls in love with the new boy next door, Olly. But, given the protections around her, can she even have this relationship?
In this riff on Alice in Wonderland, Meyer offers up a girl named Catherine, one of the most sought-after girls in Wonderland. She wants to be a baker, though, rather than deal with being courted again and again.
That is, until she meets Jest, the court joker. She undertakes a secret relationship she knows will anger her parents. But love always comes at some costs.
The companion to How To Rock Braces and Glasses, this story follows Kacey after she's fallen down her middle school social ladder and crawls her way back up. After making up with her best friend, everything seems peachy…until her best friend's ex-girlfriend comes to town.
Rather than get to know Stevie, who seems to have it all, Kacey decides to go mean girl on her, and there are social consequences for it.
This little intersectional powerhouse of a book is perfect for readers wanting a story with an older protagonist. Juliet leaves her home in the Bronx to intern with her favorite feminist author in Portland, Oregon. Juliet's just come out as lesbian to her family and isn't sure that her family will ever accept her. This summer, surrounded by what she believes will be incredible open and accepting people, brings her to a reckoning with her own beliefs, feminism, and relationships.
What if a memory-altering procedure could help you overcome the sadness, the challenges, and the trauma in your life? Aaron Soto, struggling in the wake of a family tragedy, might just find out.
What makes Leder's book on heartbreak a special one is that it explores not just heartbreak of the romantic kind, but also the heartbreaks that come along with friendship and growing up. Penelope keeps hold of the memories related to every heartbreak in her life, but over the course of living and reliving those experiences, she begins to understand that real power comes in letting go of the things that no longer serve her.
Ella's plan is to get over her ex-boyfriend and graduate high school. But then she meets Matt, with whom she spends an entire night saying "yes" to every whim they can imagine.
When Matt leaves town, Ella's heart is broken, even though they're nothing more than simply two people who had one fun night. But when he comes back a year later, Ella's struggling to decide whether recreating that night is worth it to her own heart.
Told nonlinearly, Zolidis's debut novel follows Amy and Craig as they navigate through seven distinct breakups in their blue collar town of Janesville, Wisconsin, in 1994. Hilarious, heartwarming, and heartbreaking, the voices of these two characters are unforgettable. Craig's your average Dungeons and Dragons nerd, while Amy is the beautiful, feminist, intelligent student body president. What did they think would happen (seven times, no less!).
Colby's life has been a series of heartbreaks: her mother died two years ago, her girlfriend just dumped her for some dude, she's struggling with school, and her father—who is a truck driver—is gone more than he's at home.
But when a stray dog comes across her path after nearly dying on a busy street, Colby takes him in, and despite all of the walls she's built around her heart, finds herself letting her heart have what it really wants.
A rare, but fabulous, book set amid a trailer park and struggling economic conditions, Bigelow nails it when it comes to the power of animals to heal hurting hearts.
Saira is like Doogie Howser—she's a 16-year-old medical genius and her first job is treating young people with cancer. Sure, many of the adults around her are skeptical, but she knows she's brilliant and will prove it to them.
Then, she falls in love with a patient. It's a teen boy who has cancer. Should she risk her career for him? More…should she risk her heart?
A bucket-list style story follows Jaycee on the one-year anniversary of her brother's death. She's honoring his memory by breaking into the place he loved to spend time: the local insane asylum, which is in ruins. She and four of her classmates discover a map and series of dares her brother didn't get to finish before he died, and now, Jaycee is going to finish those things to remember him.
Itching for the other side of things? Here are 50 must-read young adult romance books and, if you want to toss out love all together, here are 100 YA books with little or no romance.