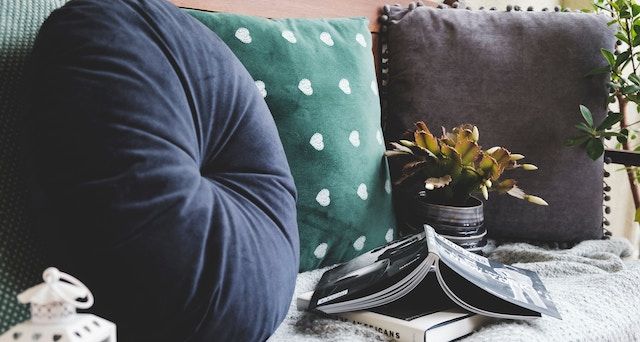 This content contains affiliate links. When you buy through these links, we may earn an affiliate commission.
We're in the midst of a boom in young adult anthologies. From fiction to nonfiction, spanning a huge array of genres, topics, and concepts, YA anthologies are taking up more space on bookshelves and reaching more readers than ever before. But why have YA anthologies seen such phenomenal growth over the last five years or so, and what does the future of YA anthologies look like?
Early Anthologies in YA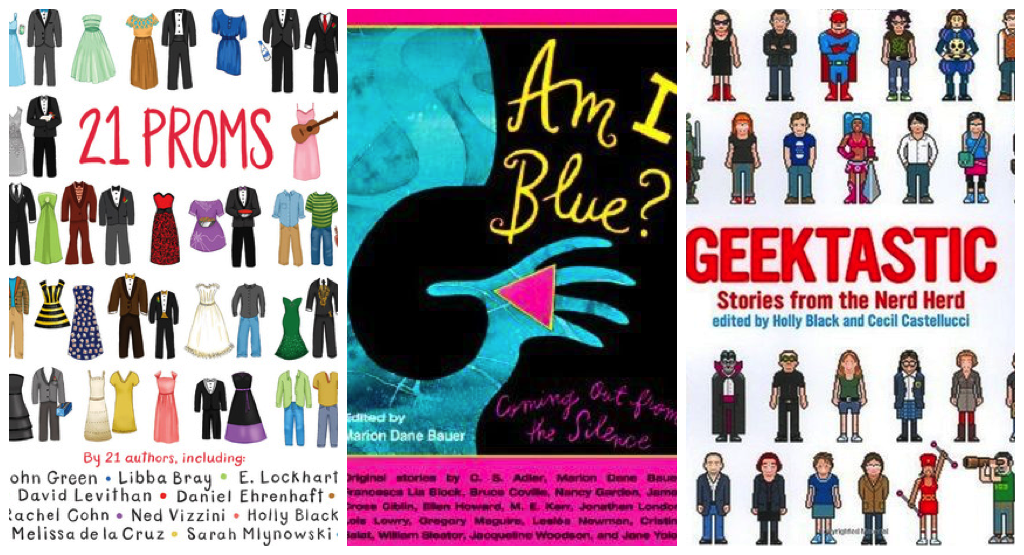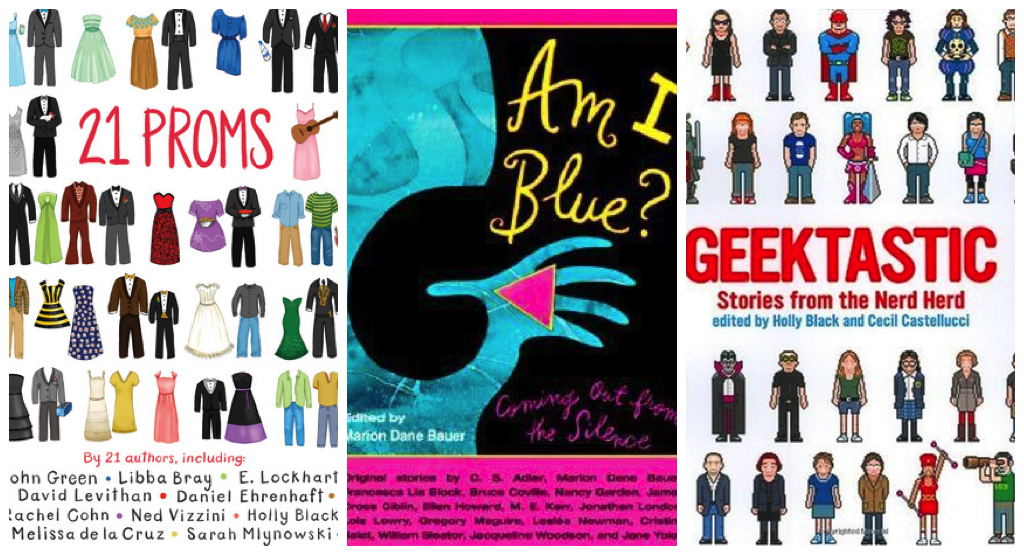 There are two clear divisions when it comes to anthologies for teen readers. There are curated collections that bring together the work of several authors, and there are collections of a single author's short works. In YA, while there have been a number of the latter—authors like Margo Lanagan, Holly Black, Vivian Vande Velde, and most recently, Veronica Roth are among those with them other—the majority of YA anthologies fall under the former.
Anthologies have been part of young adult literature for decades, but like with any style, format, or theme in the category, they've come and gone in popularity. One of the earliest titles to emerge published in 1995, Am I Blue? Coming Out From The Silence edited by Marion Dane Bauer. The anthology featured stories about gay and lesbian main characters or young people growing up with gay or lesbian parents. Contributors included authors who are still well-known and beloved: Francesca Lia Block, ME Kerr (author of Spring Fire under the name Marijane Meaker, considered to be the first lesbian pulp novel), Jacqueline Woodson, Nancy Gardner, Jane Yolen, and Gregory McGuire, among others. This collection emerged at the same time more media attention turned to LGBTQ rights, but it also emerged at a time when the anthology hit a heyday in the public eye more broadly.
In 1993, Jack Canfield and Mark Victor Hansen made the decision to bring together 101 inspirational stories that they'd used as part of their motivational talks into a single book: Chicken Soup for the Soul. They'd been asked about the stories they'd shared and whether those had been published, and it dawned on them that publishing a collection might be successful. According to their company's history, the original book was turned down by nearly every publisher, until a small health and wellness publisher took a chance on it. The rest is, as they say, history. The Chicken Soup for the Soul series has seen nearly every imaginable manifestation and continues to publish new titles in its series each year.
More YA anthologies followed Bauer's in the '90s, including Working Days, edited by Anne Mazer, a collection about teens who work; Queer 13, a collection of short stories by queer authors writing about 7th grade; and Tasteberries, a riff on the Chicken Soup format with short, inspirational stories for teen readers.
The late '00s saw an uptick in anthologies, around the time YA itself entered a golden age. The "Short Stories From Hell" series of collections included YA superstars like Marissa Marr, Libba Bray, Meg Cabot, and Stephanie Meyer; collections like Geektastic brought together authors like Holly Black, Sara Zarr, Cynthia Leitich Smith, and John Green; and writers like David Levithan, Ann Angel, Michael Cart, and Ellen Datlow curated several collections each for teen readers. The bulk of these collections feature short fictional stories around a single topic, ranging from prom dates to beauty, from friendships to geekiness, and from LGBTQ+ stories to stories that targeted specific gender readers.
The last half decade has once again seen a rise in YA anthologies, as well as increased visibility of these books. Where anthologies in the past have allowed for a variety of voices to share perspectives on a topic, this current boom in anthologies tracks alongside larger realities in the broader scope of YA books: there is far more community in YA thanks to social media, and there's far more inclusivity—and demand for inclusivity.
"I believe that the boom in anthologies is coming from the increasingly interlinked sense of community in the children's world," said Jim McCarthy, agent and Vice President at Dystel, Goderich & Bourret. "I also think that with the profound efforts of marginalized writers to stand up and demand to be heard in publishing, anthologies that are linked by identity can be a celebration of community and a way for authors to stand among their peers proudly and joyfully."
Why YA Anthologies Are Trending Now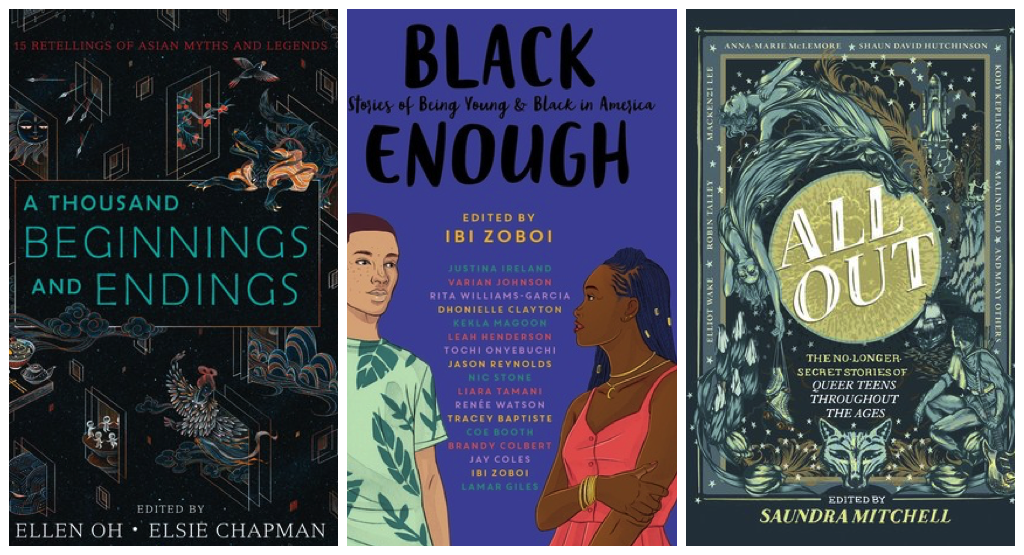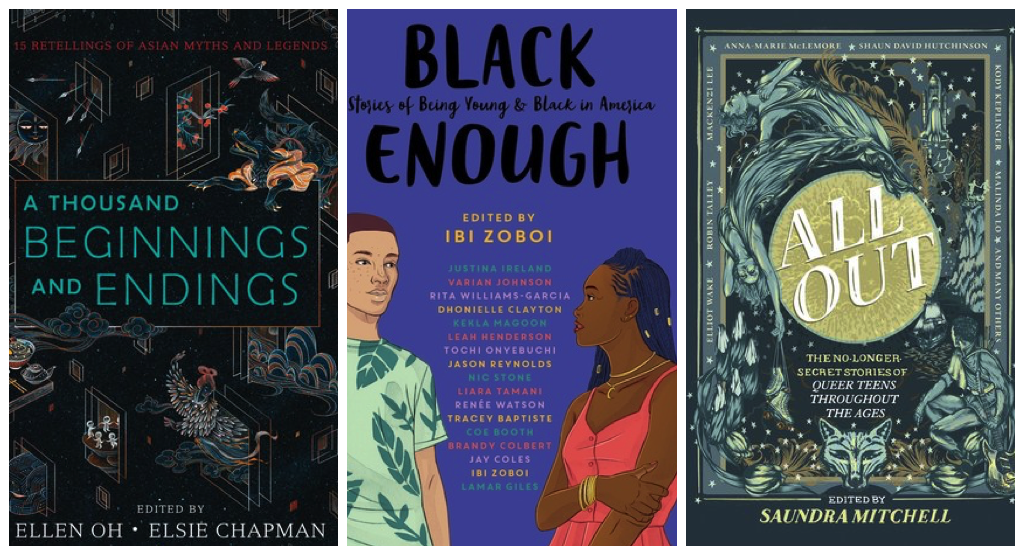 Indeed, the YA anthologies emerging now are far more diverse in scope and content than they've been previously. Anthologies exploring diverse female experiences through history by diverse authors like editor Jessica Spotswood's A Tyranny of Petticoats and The Radical Element sit alongside editor Ibi Zoboi's Black Enough, short stories about growing up black in America. Sangu Mandanna's recently edited a collection of stories about interracial romances titled Color Outside the Lines, which shares shelf space with Marieke Nijkamp's Unbroken, stories by disabled authors about disabled teens, as well as editor Katherine Locke and Laura Silverman's It's A Whole Spiel: Love, Latkes, and Other Jewish Stories. Collections of fantasy and magic focusing on identity and cultural pride include Ellen Oh and Elise Chapman's A Thousand Beginnings and Endings and A Phoenix First Must Burn, a forthcoming collection from Patrice Caldwell, 16 stories of black girl magic.
There's also been more YA nonfiction anthologies. I've edited two, Here We Are: Feminism for the Real World and (Don't) Call Me Crazy: 33 Voices Start The Conversation About Mental Health, with a third anthology, Body Talk, due in August. Those sit alongside editor Amy Reed's Our Stories, Our Voices: 21 YA Authors Get Real About Injustice, Empowerment, and Growing Up Female in America; Hope Nation: YA Authors Share Personal Moments of Inspiration edited by Rose Brock; and editor Maureen Johnson's How I Resist: Activism and Hope for a New Generation.
"I really believe that [anthologies] are a natural reflection of a more engaged community outside the simple act of reading," said Daniel Ehrenhaft, Vice President Soho Press, Editorial Director Soho Teen. He, too, notes the rise in YA anthologies mirrors the desire for more diverse voices in YA, as well as the growth in the ways that the YA community is more social now thanks to tools like Twitter. "[There is] rising demand for new and diverse voices and a desire on the part of both authors and their readers to be more active about issues that matter to them, particularly social justice, and also with each other. (Per the latter, the YA scene while hardly monolithic is undeniably social; we've seen the dark side of that in all the media attention on YA Twitter and cancel culture.)"
For YA anthology editors, Twitter has been helpful for developing project ideas, as well as finding a diverse array of writers interested in such a project. This is what inspired author and editor Dahlia Adler's first anthology.
"The anthology theme for His Hideous Heart actually came about on Twitter, when I asked people who they'd match up if they could have a certain author retell any particular story, and a woman named Jaclyn said she'd love to see a Poe anthology with certain authors," she said. "I quote-RTed how much I'd love to see that, but with two other authors in mind, and they both responded that they'd be into it. Then a few more authors I love and knew would be great replied that they'd be interested as well, and when I realized I'd be trying to actually make this happen, I jumped off of Twitter and quickly contacted the rest of the authors I thought would be fantastic for this."
Following His Hideous Heart, Adler realized there was an opportunity to bring modern twists to Shakespeare, too. She knows Poe makes for an excellent choice for teachers to use in classrooms, and she wanted her next project to be similarly classroom-friendly.
"For my next anthology, That Way Madness Lies, after all my excitement about how wonderful it would be to be able to use a Poe anthology in the classroom, I really wanted to create something else along those same lines. The only author I think might be read in American high schools more than Poe is Shakespeare, so it was a very natural choice," she said.
Another potential reason YA anthologies are having a moment? The short form itself is gaining in popularity.
Kendra Levin, Editorial Director at Simon and Schuster Books for Young Readers, says that often the trends seen in adult fiction—in this case an interest in short fiction, as well as the ways in which information is simply enjoyed in shorter bursts—trickle to YA.
"[S]hort fiction is having a renaissance in general—we've seen a number of stories (Cat Person) and books (Her Body and Other Parties) become wildly popular and even viral on the adult side, and what happens on adult often trickles over to teen (and vice versa)," she said. " I think short formats of content consumption, like social media, are prompting an interest in shorter and more digestible forms of storytelling."
What Makes YA Anthologies Appealing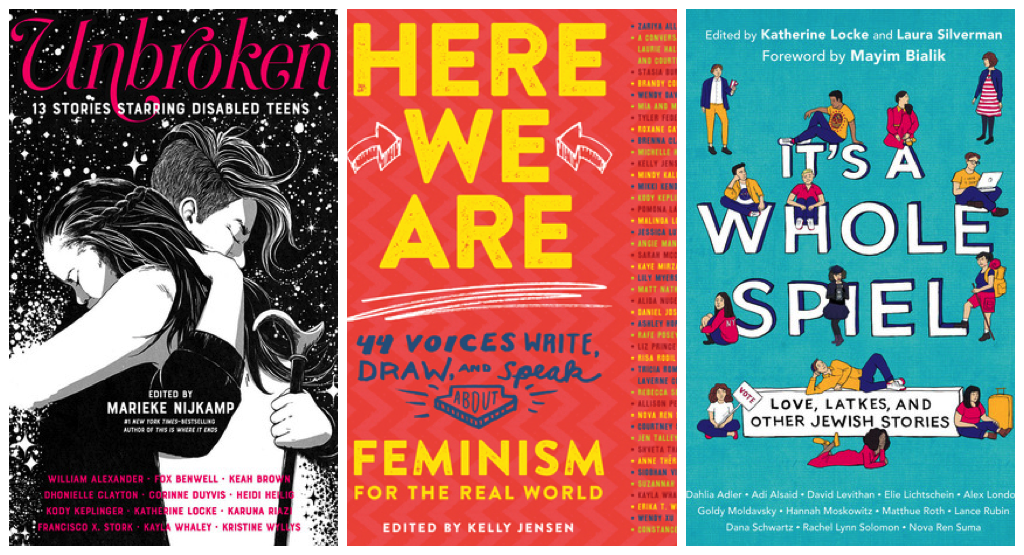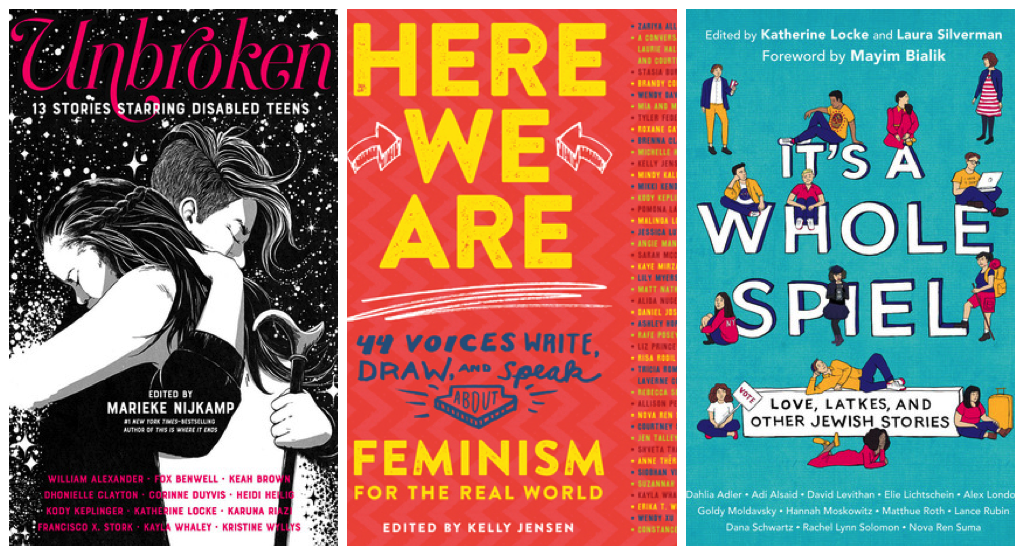 The rise of YA anthologies allows writers and editors to help publishing push toward more inclusive narratives. The demand has been there forever, but anthologies are an opportunity to work toward better meeting it.
"Teens want books that mirror the conversations they are having right now; publishing is (finally) meeting that need," said Tina Dubois*, agent at ICM Partners. "Similarly, with some of the fiction anthologies coming out now, we are getting stories and experiences that have been absent from the market; readers are telling us—have been telling us forever now—that they want to read these stories."
Anthologies are unique from traditional novels or works of nonfiction in that they can bring together a wide array of voices, both new and familiar. This allows for tremendous discoverability for readers: authors who they may not have read before might catch their attention, and voices of writers who may otherwise not published before can be experienced by readers, too.
Hilary B. Van Dusen, Executive Editor at Candlewick, sees this as one of their biggest appeal factors. Their length is also a consideration.
"The collections are also great showcases for fantastic writers. Readers can be introduced to writers they have never read before and then go on to read their other books. Perhaps short stories are appealing to readers who don't have the time or the inclination to read an entire novel," she said.
Likewise, the majority of anthologies can be read in bits and pieces, as well as out of order (of course, some anthologies, including Violent Ends and Feral Youth, both edited by Shaun David Hutchinson, are purposefully designed to be read in order). This makes anthologies appealing for a wide array of readers, from those who may be more hesitant to pick up longer books, to those who don't have time to consume a whole book, and even those who want to push themselves to read more widely.
"I think anthologies offer something for everyone. The form might be appealing to reluctant readers or even eager readers who struggle to find the time to devote to longer books," said Kaylan Adair, Executive Editor at Candlewick, who recently acquired her first anthology, Rural Voices: Stories About Growing Up in Rural Communities edited by Nora Carpenter and due in Fall 2020. "Anthologies are also a wonderful way to discover new and new-to-you voices. And in cross-genre collections like Rural Voices, anthologies can be a great way to sample genres you might not have had as much exposure to."
Teachers and librarians are using YA anthologies, too—though some are finding them more challenging to integrate both into collections and into the hands of young readers. Others, like Pernille Ripp, a Wisconsin middle school teacher, find them to be powerful classroom tools.
"Having these anthologies edited around certain topics or marginalized voices allows me to expand the world views of my students, as well as immerse them in rich text. The stories are often the perfect length; long enough for a commitment to the story to be developed, while short enough to be discussed and studied by all," she said.
How YA Anthologies Are Made
Every YA anthology comes together differently and experiences a different process from start to finish. But broadly speaking, most YA anthologies are edited by an individual or a team, who solicit contributions to the collection. Those editors then send their anthologies—either as a proposal or a finished product—to their agents for potential sale to an editor at a publisher. If sold, those acquiring editors help finesse the collections once the work of the anthology's editor is complete. In some cases, acquiring editors are fairly hands off in the process. In others, they might play a significant role in shepherding the book to its final shape.
"Each deal is a little different, but typically the main driving force on the editorial and conceptual side is done by the author in conjunction with their editor," Ammi-Joan Paquette, Senior Agent at Erin Murphy Literary Agency, explains. "the anthologies I've represented have been spearheaded by my clients who were passionate about a certain subject, and had a vision to bring it about."
For acquiring editors, YA anthology projects can be a change of pace. They have the opportunity to work with a wide variety of writers, as well as an author-as-editor, and they can help bring shape to a collection on a topic they're passionate about.
Levin never saw herself acquiring an anthology as an editor. But she fell in love with a proposal that came her way from Patrice Caldwell, and she knew she wanted to be part of bringing First A Phoenix Must Burn to bookshelves.
"As an editor who's used to working on longer pieces like novels I found it a real pleasure to get to work on short fiction for a change. It was easier to wrap my head around the whole piece in one sitting, and satisfying to be able to complete an edit for a story much more quickly than one can for a novel. It's also satisfying to see how the separate pieces fit together in concert with one another," she said. "I also loved getting to work with the anthology's editor, in this case Patrice—I love collaborating, so it was fun to have someone to bounce ideas off of who was just as invested in the project."
As for the collection editors, working on a YA anthology means getting the chance to put together a book around a topic or theme that is one they're passionate about while also being able to work with fellow writers whose work they admire. It's a chance to explore a topic from a wide lens, as well as a chance to really craft a collection in a way to tell a story through a fresh perspective.
Eric Smith, YA author as well as literary agent at PS Literary (and contributing editor at Book Riot), has been a part of YA anthologies in a number of ways. He's edited a collection of his own titled Welcome Home about adopted teens from the voices of authors who were adopted; he was the agent behind Mandanna's Color Outside The Lines, and he's contributed to a number of anthologies himself. His next anthology project has him teaming up with Lauren Gibaldi to edit Battle of the Bands, due in 2021.
Being able to work with a number of authors is what draws him to these projects—and it's what makes them stand apart.
"There's the opportunity to work with a bundle of authors I admire, for one. And then there's the unique chance to tackle something specific through multiple lenses," he said. "If it's an anthology on one specific topic or theme, you get to see over a dozen authors' takes on whatever that might be. And that's such a special thing."
For their anthology, Smith and Gibaldi reached out to find contributors who had written about music before or who were themselves involved in the music scene in some capacity.
"We looked for authors who we knew were passionate about music, either playing it or writing about it. Authors like Jeff Zentner and Justin Courtney Pierre are fantastic musicians, while writers Katie Cotugno and Sarvenaz Tash have written about music plenty in their past books. We sent a bundle of awkward emails, and now here we are," he said.
The process was similar for Jessica Spotswood when it came to finding contributors for her pair of historical fiction anthologies. For her, part of the process involved thinking specifically about the kinds of authors who might help draw otherwise reluctant readers to pick up a collection of historical fiction short stories, a genre that isn't always the easiest sell for young readers.
"I asked authors whose work I admire who were known for writing top-notch historical fiction and fantasy—or whom I knew had amazing world-building skills because of their success in fantasy or science fiction and might bring new readers to the genre," she said. "I love the opportunity to collaborate with authors whose books I admire, and solicit new work from them on a theme that interests me as a reader."
Making YA Anthologies Appealing and Successful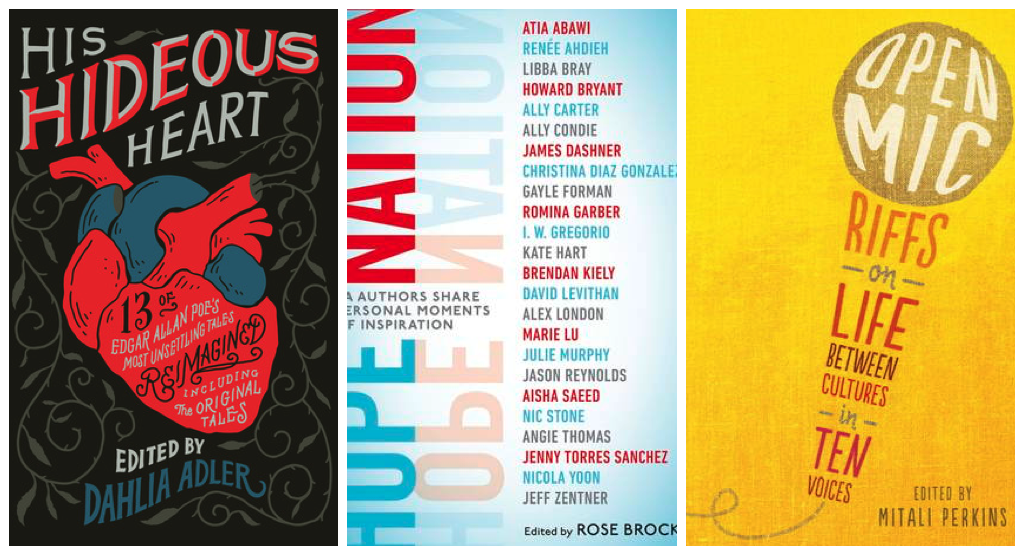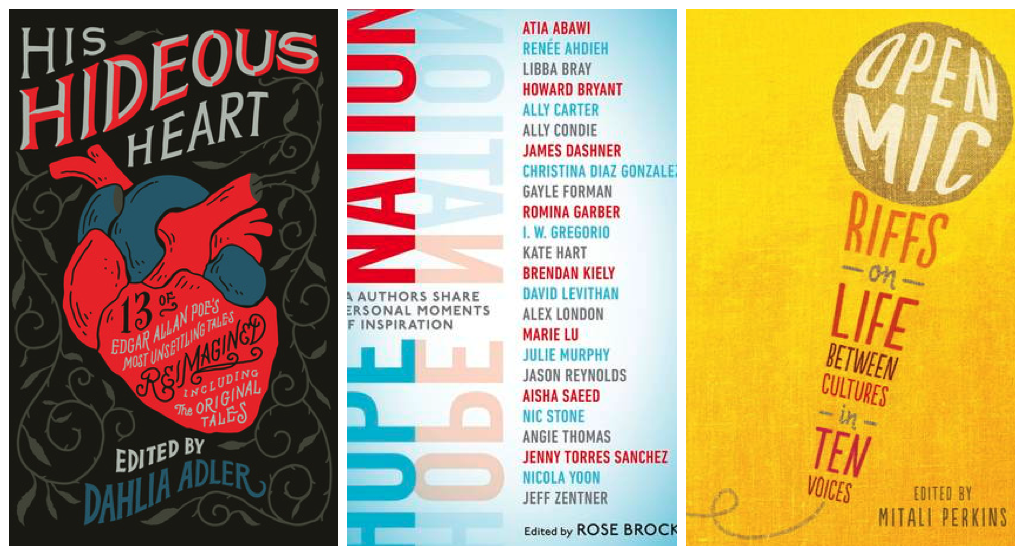 The same elements that make anthologies great for editors and writers, as well as for readers, can be the exact elements which make those collections potentially difficult to sell to readers. YA anthologies don't typically have large budgets behind them for marketing or publicity, meaning that the reach they receive in the media isn't anywhere near blockbuster YA books, even if the collection features star authors.
That doesn't mean, though, they don't appeal broadly or find themselves becoming well-loved collections beyond the mainstream reading world.
Both Adler and Smith note that teachers and classrooms can be benefitted by YA anthologies in a number of ways.
"I've done events at schools where classes were assigned an anthology by a visiting author, and classes were split up, reading different stories and discussing them. It made for SUCH a great visit and discussion," Smith said. Anthologies also make for a tool to bring classic stories into more contemporary times. "Imagine reading a bundle of stories inspired by say, The Canterbury Tales, as a way of discussing that book? Well you can, with Feral Youth edited by Shaun David Hutchinson. [It's] such a great tool."
Adler notes that one of the challenges in promoting an anthology for teens is, in fact, reaching the teens themselves. She took advantage of the fact her collection is great for classrooms by reaching out to teachers, who then have the capacity to expose teen readers to it.
"I offered classroom sets of bookmarks to teachers, and a bunch took me up on it, and both my publisher and I specifically did outreach to teachers and librarians with ARCs, so they could consider them for classroom use and also have a copy for their classrooms. I'm also doing a bunch of events around release, and […] a panel at NCTE on using anthologies in the classroom," she said.
Spotswood agrees, noting, too, that teen-focused book events have been helpful in getting her anthologies into the hands of teen readers.
Expanding the view, though, what it is that makes anthologies popular to create and publish is also precisely what can make them successful. They're inclusive; they explore a wide variety of themes and topics; and they are appealing to a range of readers.
"The strong themes that have been anchoring recent anthologies attract readers and review attention," said Van Dusen.
Dubois emphasizes that the success of an anthology begins even before a book has been published.
"It starts at the development stage, with inclusivity. The contributor's list needs to be vetted for bias and disproportionate representation of dominant voices. We have too many anthologies of straight white men. Period," she said. The look of a collection needs to reflect the fact the book is meant to be enjoyed, too—the covers and the interior pages matter. "The design/package is another important factor, especially with nonfiction. It has to look good; it can't feel like a textbook, like homework."
The focus of the collection matters as well. McCarthy says in his experience, YA anthologies with a specific theme tend to do better than those with a broad theme. This makes perfect sense, as well as reflects what's been seen historically when it comes to YA anthologies: the ones that have staying power or have left an impact or are still picked up and enjoyed today tend toward a specific theme, as opposed to a general topic like "stories for girls/boys" or "stories for teens."
What's Missing—and What's Next—in YA Anthologies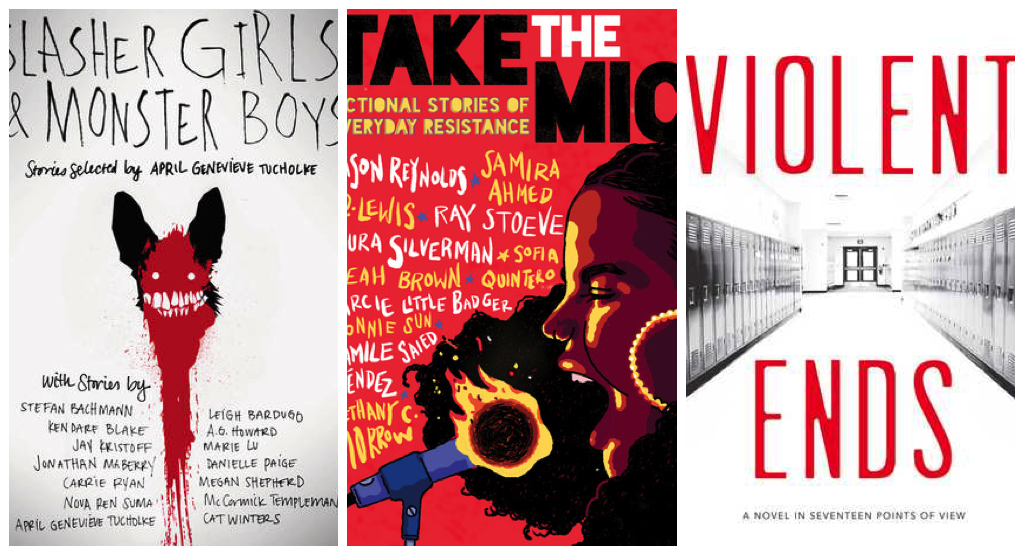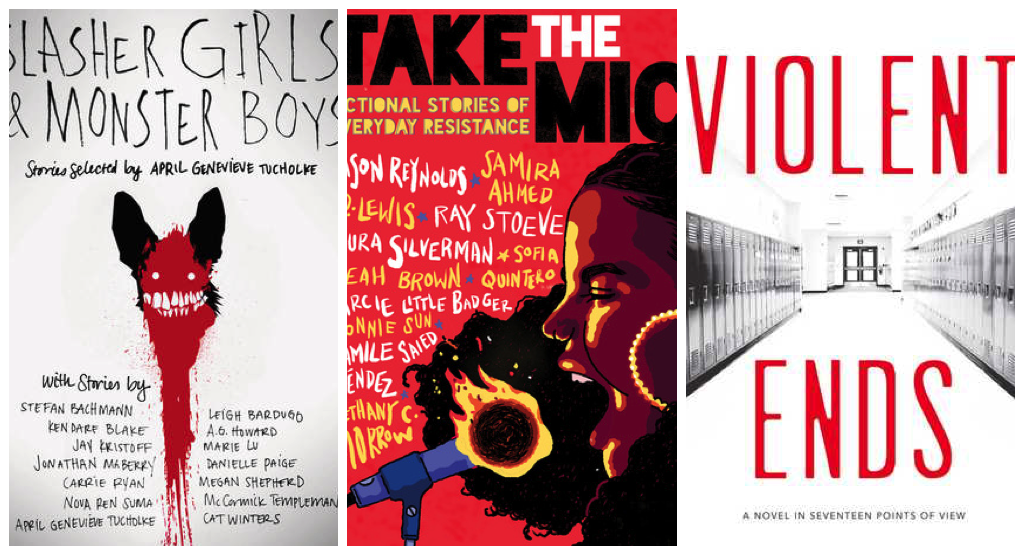 The trending YA anthology isn't going away any time soon. A number of exciting projects, both fiction and nonfiction, are on deck well through 2022. But even with a nice slate of topics coming, there are still holes and spaces that many see as potential opportunities.
"I'd love to see an anthology comprised entirely of stories by YA authors who live in a place that isn't the US—specifically places that have known violence, such as Colombia, Nigeria, or Afghanistan," said Ehrenhaft.
Adler sees the excitement around anthologies promising, even if the role of anthologies in the YA world now doesn't solve some of the bigger issues surrounding inclusivity in publishing and the book world more broadly.
"[I]n some ways they're band-aids, covering up gaping holes in literature that should be filled by a hundred authors writing a hundred novels," she said. "but the teen window is a small one, and making sure something is there while they're still the target audience and while YA is still building itself up on the inclusivity front is hugely important."
As it stands, McCarthy believes that current YA anthologies remain popular and haven't yet oversaturated the market. There's still interest in publishing them and an eager audience for them.
"[A]s with all things in publishing, I hope that we don't start to overpublish [anthologies], thus flooding the market so badly that we kill off a whole genre," he said. "If heaps of anthologies come out every week, the novelty will wear off. We're not there. We're still in the boom. And I hope to do my part to keep us here for as long as possible."
And despite what has historically been seen as a format that can be difficult to sell—as seen above—Levin and others are optimistic about how readers are taking to them.
"I'm always encouraged when a category that the conventional so-called wisdom claims 'never sells' has some big hits, and I've been really happy to see that with anthologies," she said. "I also serves as a reminder that any kind of book has the potential to work—it just needs the right creators, a willing audience, and a little bit of luck."
Whether you're a teen, have a teen, or simply enjoy reading young adult books as an adult, there's a YA anthology out there for every type of reader. And with these books showcasing the talent of writers across a huge range of themes and styles, it's hard not to imagine the ways that these books impact a reader's knowledge, passion, and curiosity.
"I know it's common to say I'd have wanted these books as a kid—and I would have. But I also want them as an adult. I've learned so much about myself, about other people, and the world at large. There are so many ways of looking at any given subject or approaching any given theme, and it's a gift to have access to so many in one place, in a book," Dubois said.
---
*This agent represents the author of this article.