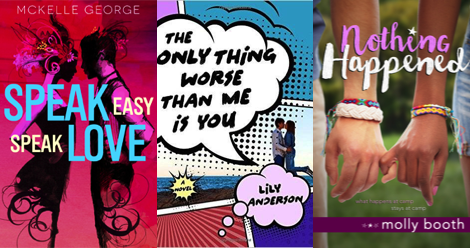 This content contains affiliate links. When you buy through these links, we may earn an affiliate commission.
Much Ado About Nothing is my favorite of Shakespeare's plays. It's one of the best comedies, with top-notch banter ("'I can see he's not in your good books,' said the messenger. / 'No, and if he were I would burn my library.'"), plenty of hijinks, and a love story that has me sighing happily every time. Of all of Shakespeare's plays, it's also one of the most dynamic, making it ripe for retelling. If you've watched the 1993 Kenneth Branagh and 2013 Joss Whedon movie versions too many times to count, sigh no more! Here are three must-read YA adaptations of Much Ado About Nothing to binge in celebration of the Bard's birthday!
I adore when authors take Shakespearean stories and plop them into interesting settings, so this retelling of Much Ado set in Prohibition Era is definitely in my wheelhouse. Benedick is an aspiring novelist and prep school runaway, and Beatrice is a future doctor and orphan. They meet at Hey Nonny Nonny, a Long Island speakeasy owned by Bea's Uncle Leo and run by her cousin Hero. While this novel takes a little time to get rolling, I was hooked once Bea and Ben collided. George does a brilliant job recasting their banter in 1920s slang while ramping up the romantic tension at every turn. She also plays around with the plot, putting her own spin and a minor correction on one of the problematic aspects from the original text. Also, Dogberry is a Prohibition agent! I mean, come on, you need this book.
If there were a statute of limitations on how many times I could recommend a single book, I would be in trouble when it came to Lily Anderson's novels. (Thank God no one is counting.) Anderson's debut plops Shakespeare's characters in an Oregon high school for geniuses, where competing for class rankings is the norm. Trixie and Ben are sworn enemies, and have been tied for third place their entire high school career. At the beginning of senior year, Trixie is dead set on beating Ben, but her plans are derailed when her best friend falls for Ben's best friend and a cheating scandal sweeps the school, threatening everyone's academic ranks. If you come to Much Ado because you love the enemies to lovers trope, Anderson's book is for you. Trixie and Ben's mutual dislike for each other smolders in the beginning of the book, making their eventual romance all the more sizzling! Also, this book is spectacularly nerdy.
Mark your calendars, because on May 15thwe can look forward to adding another Much Ado retelling to our libraries! Nothing Happened is about sisters Bee and Hana, who spend their summers as camp counselors at Camp Dogberry. I'm always down for a good summer camp novel, so I can't wait to read about counselor drama and romance, and BONUS! Hana falls for fellow counselor Claudia, a twist that makes my heart so happy. Shakespeare's work is especially suitable for gender-bending and reimagining, so allow me to take this opportunity to publicly wish for all the queer Shakespeare retellings. Early reviews of Nothing Happened have been really positive, especially in regards to the portrayal of mental health, so I can't wait to snag a copy when it releases!
Want more Shakespeare and YA mashups? We've got you covered.
What's your favorite Shakespeare retelling?