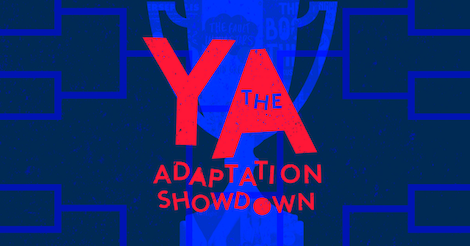 Welcome to Day 5 of Book Riot's first official YA Adaptation Showdown. This week-long event invites members of the YA community to share their thoughts on two adaptations and select one as the winner of their bracket. Details about how brackets and titles were selected can be found in the official kickoff announcement for the YA Adaptation Showdown.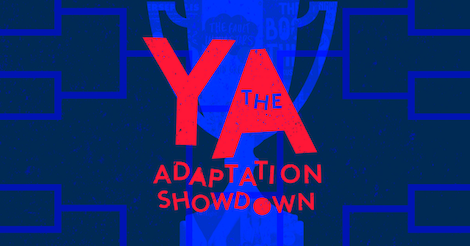 Today we crown the official YA Adaptation Showdown winner as selected by you, the readers. A call for votes and arguments went out in November, allowing for nearly two months of selections to be made. The votes have been tallied, with a selection of compelling arguments included below. Will the readers' choice selection be the same as the official bracketology winner?
Let's find out. Again: selections were limited to titles released prior to September 1, thereby eliminating a few other standout titles that may be contenders in future showdowns.
(The Readers Choice had a space for "include any other titles you loved" with a date of "out before September 1," but The Hate U Give managed to have a fine showing there—the most mentioned title outside of the pre-set brackets, even though it wasn't qualified)
The Readers' Choice Best YA Adaptation Discussion…
"To All The Boys I've Loved Before—It gave me all the feels" —Jenny Lynn
"Beautiful Creatures—It's a severely underrated series and movie" —Ivy Farrand
"The Fault In Our Stars—I absolutely loved the book and I felt the movie adaptation was able to capture the quirkiness and relationship between Augustus and Hazel in the perfect way." —Frau Rollin
"Love, Simon—Even though I read the book (loved it) I still found myself crying at the end of the movie…and I knew what was going to happen! It touched on everything that makes YA so special." —A. Hiou
"Persepolis—That movie shook me more than any I'd ever seen. I feel like I can close my eyes and watch a film reel of Persepolis. It's rare a movie hits me harder than a book, but I feel like this one came so close, and it did so in a way that felt faithful to the art, tone, and love within the book."
"To All The Boys I've Loved Before—I think TATBILB best captured the spirit of what YA fiction tries to be and managed to put that into a movie. It's interesting because since it was released on Netflix, perhaps it didn't face the same struggles that other movies did in trying to make it have 'broad appeal.' In doing so, they just made a great, fun teen movie that actually does appeal to everyone and can't help but make you smile!"
"Twilight—Catherine Hardewick's direction brought a book that was not well written into something magical" —Sienzo
"The Book Thief—It made me feel emotions. I cried at the end, and I rarely cry in movies. Also, it stayed true to the book fairly well."
"Love, Simon is an amazing book that kind of explains everyday life for many teens." —Riley Kinzie
"The Fault In Our Stars—It stayed as close to the book as possible and the acting was AMAZING!" —Christina Larrechea
"To All The Boys I've Loved Before—This adaptation felt the most true to the original story. I saw a lot of my younger self in Lara Jean and loved seeing her so well represented on screen. Teenage girls need to see more of these kinds of books and shows, yes with girls of all races, cultures, and backgrounds, but also just normal girls living the ups and downs of daily life." —Liane Bastion
"I tried three times to read The Book Thief, and just couldn't get into it, which is bizarre for me since I'm a middle school librarian. Then the movie came out, and I absolutely adored it. With a frame of reference, I could then read the book and love it even more. I was amazed and happy afterwards with the adaptation. It was such a true representation, with terrific acting and attention to detail. Never did I feel it shortchanged as I did with the others." —Clare O'Neill
"Love, Simon—I made the choice I did because on top of being groundbreaking (i.e. the first YA m/m movie made by a major motion picture company) it was completely true to the spirit of the book. Becky Albertalli had so much input and her love for it rung so true before it even came out that I never worried for an instance about the movie. The story has spoken to so many queer youth (and adults!) It inspired me to come out and I truly believe Love, Simon is the best adaptation of the year." —Nick
A Few Titles Also Mentioned as Great Adaptations…
"I think the Hunger Games deserves some recognition too."
"The Maze Runner series—best adaptation ever, in my opinion! It's Kind of a Funny Story & The Spectacular Now."
"Whip It because I loved the book but Drew Barrymore did a fantastic job with adapting the book Derby Girl by Shauna Cross into the movie that made me want to try and fall in love with the sport of roller derby."
"I adore the The Perks of Being a Wallflower adaptation with all my heart."
"Every Day by David Levithan was really quite good—I thought the screenwriter (YA author Jesse Andrews!) did a great job taking a very interior story and writing it for screen. On that note, I really enjoyed the movie adaptation of Me and Earl and The Dying Girl, too! Oh, and I just saw the miseducation of cameron post, which literally just released on digital platforms this week and so couldn't be included, but was so, so good!"
"The Hunger Games movies have great adaptations; I think Catching Fire is one of the greatest book-to-movie adaptations ever."
Oh, and The Hate U Give came up 30% of the time in this free-for-all space, even though it came out after the brackets were set. But here's to multiple shout outs because it deserves them.
The Readers' Choice Best YA Adaptation Winner…

The readers and the judges agree: it's To All The Boys I've Loved Before by just mere percentage points. Following closely is Love, Simon.
Persepolis, which made it to the final round in the judging brackets, tied with Twilight in last place, at a mere one percent. Maybe it hasn't been viewed as much as the other titles?
____________________
Thanks to the huge number of you who voted and shared your picks for best YA adaptation. Thanks, too, to our judges who wrote and filmed such thoughtful looks at adaptations in the YA world and who helped share their love of this category of story telling with all of us.
Want more YA adaptation talk? Here's a look at 2019 YA books to movies, as well as the ultimate guide to YA movie adaptations.