This content contains affiliate links. When you buy through these links, we may earn an affiliate commission.
This is a guest post from Rachel Howzell Hall. Rachel is a New York Times bestselling author of seven novels, including The Good Sister by Rachel Howzell Hall, co-written with James Patterson, and the critically acclaimed Detective Elouise Norton series. Lou was included in The Guardian's Top 10 Female Detectives in Fiction. Rachel's upcoming novel, They All Fall Down, debuts on April 9th from Forge.
---
Got a riddle for you. Ready? What's brown and gray and found beneath 13 stories of concrete, steel and glass? Me, in the front seat of my sedan at my day job's underground parking garage.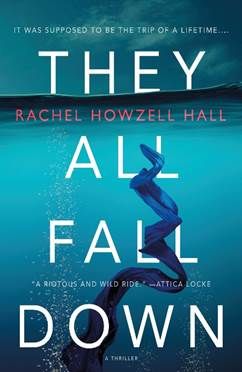 Welcome to my mobile office, the place where I'm now writing this and where I wrote my popular LAPD Homicide Detective Lou Norton mystery series—and my newest thriller, They All Fall Down.
Once upon a time, I wrote at an Arts & Crafts–style oak desk. Back then, in that once upon a time, my life had been ordered. I was young, married, had no kids. Clean, flat spaces as far as my eye could see. I'd published my first novel, A Quiet Storm, and had been called "a talented new voice" by O Magazine. On the cork board above that desk, I'd pinned a full-page blurb sent from phenomenal Nikki Giovanni. A spectacular debut…The poets wish you well.
Despite that success, I had problems landing another book deal. Editors didn't get my voice. I wasn't too this or too that. I was young, though. Only 33 years old. I had time to figure out my next steps. My husband David and I were expecting our first child anyway, and writing would be there. I would be there. I'd get to it. Meanwhile, there were names to pick out, parenting magazines to subscribe to, transforming my office into a nursery. I had to buy a maternity bra!
That June, during my second prenatal visit, my ob-gyn felt a lump in my right breast. Pregnant boobs are lumpy, though. Right? Still, Dr. C. sent me to a radiologist. "Just in case."
A week later, I became that lone woman in the waiting room, clutching the neck of her hospital gown, waiting for the radiologist to check my results with a doctor. I was eventually sent home, but that ultrasound turned into a needle core biopsy which then resulted in a surgical biopsy at four months pregnant until…
I'd been sitting at my desk at work, still bandaged from the biopsy just days before, when my phone rang. "Can you spell that for me?" I asked my now-oncologist doctor during the call.
"P-h-y-l-l-o-d-e-s sarcoma." A rare breast tumor, mine malignant and was now being fed by the estrogen created during my pregnancy. "We can try to wait until the baby is viable, but it has to come out—it's growing quickly."
Three months before I was due to give birth, I underwent surgery to remove the 5-centimeter tumor.
The operation was a success—and that February, my baby girl was born healthy.
She had his eyes and my nose. She loved playing in the water. She couldn't pronounce 'vanilla.'
Three years after that surgery, an MRI caught the early stages of a lump forming in my left breast—this wasn't a sarcoma. No, this time, my body decided to shake things up with atypical ductal hyperplasia. Because of my history, I underwent surgery a second time.
At 37 years old, cancer and I had become bosom buddies. Cancer was now the unwanted house guest who ate all of the cereal and never put up the toilet seat. With cancer in my life, I realized that I may not reach retirement age after all. Hell, I may not get to celebrate my 50th birthday.
After enrolling in the high-risk program at my hospital and filling my prescription for a five-year regimen of the anti-cancer drug Tamoxifen, I decided to do that thing I'd always dreamed about: writing a crime novel. Before, I'd thought of making this attempt, but there was so much to know in order to write a procedural—police work, forensics, the style, the patter…Fear had kept me from writing. Now though, I understood true fear. I'd lived it. For me, writing a book wasn't even close to the threat of dying.
With my husband onboard for active daddy-duty, I attended mystery-writing conventions and seminars across the country. On Sunday mornings, he took care of our daughter and I drove to Starbucks, bought a caramel macchiato and wrote in my car for an hour and a half. Land of Shadows and Lou Norton were born in the front seat of my E350 Mercedes-Benz (another life-gift to myself).
Today, my car is still my office. It's neat, clean, and free from distractions. I arrive to work before dawn to write, 15-20-30 minutes at a time, and then my lunch hour. It's all I have—I'm a soccer mom who still works a day job as a fundraising writer.
My writer's desk now lives in the garage. I don't need it—cancer helped reveal the person I was always meant to be: a mystery writer.