Fiction
Write Place, Write Time: Kathleen Alcott
After years of bookshelves I thought less than beautiful, I finally did something right. These are old library ladders with the support side sawed off that I mounted inexpertly to the wall with twine and nails. I like how they lean in different directions. Also pictured: an old wheel a friend found in her backyard, a hat that is too ridiculous to wear almost anywhere, and a print of a jellyfish on an old encyclopedia page. On the desk proper are some sculptures of barnacles, because the ocean makes me feel safe. Not pictured are awfully messy stacks of books that don't fit on the ladders. I am, ever, in need of more shelving.
This is a 60's telephone table, a horse, and some flowers. I often buy roses to combat the smell of all the cars going by my street-side window, and to feel better when various late night carousers are going through the garbage cans less than two feet from where I'm sleeping. (It's an odd lullaby, but I guess it's mine.)
I keep this wooden airplane over my bed, not for any reasons like "It helps my spirit fly!" but rather: I am a god-damn child and this seems like some airy, adult way of getting away with a wooden toy. Like, wow, she must be whimsical.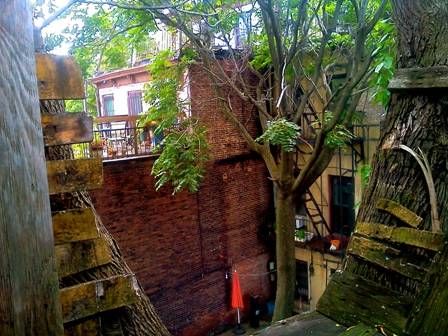 There is a treehouse in my backyard, and this is the view. It's a little weathered (read: unsafe and tetanus-y), but I do scramble up here and think or jot sometimes.
Oh, so this is essential. I keep this coffeemaker by my bed that magically wakes me up by grinding beans at the juncture in the a.m. I've specified. So it beckons me into the conscious world with both the sound and then the smell of fresh coffee. I am big into dreamland and also work for myself, and so this helps me get my ass out of bed. And, yeah, I guess above there you can see a bit of the rollerskates hanging on the wall. Nb: god-damn child.
Kathleen Alcott's debut novel, The Dangers of Proximal Alphabets, published just this past month. Her short fiction and essays appear or are forthcoming in American Short Fiction, Five Chapters, Slice, Vol. 1 Brooklyn, Explosion Proof, The Rumpus, and elsewhere. A native of Northern California and a resident of Brooklyn, she is at work on her second novel.