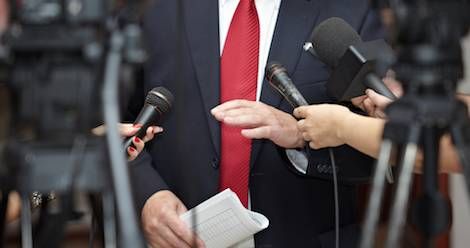 Nonfiction
How to Write Your Mid-Career Political Memoir
This content contains affiliate links. When you buy through these links, we may earn an affiliate commission.
For better or worse (probably worse), election cycles in the United States now are essentially constant. The 2016 Presidential campaign has been going on so long that Wikipedia has a whole timeline devoted to the U.S. 2016 Presidential Election. By contrast, Britain recently selected a new Prime Minister, and they could fit the timeline into a tweet: "Brexit = Cameron resignation > Boris betrayed > Gove learns no one likes him > Leadsom shoots herself in ALL the feet > May meets QEII." Done.
As long as our news cycles are constant and ongoing, national political figures have to be campaigning even when they're writing their memoirs. Unless you're retired and can burn whatever bridges you want (hey, Robert Gates!), there are certain rules your memoir has to follow to be politically palatable.
So for you, rising stars of American politics who have some time to write a book since you aren't burdened by being part of a national ticket, I read a few mid-career political memoirs published in the last few years. Then I teased out the formula America's rising political stars use when they draft their self-reflective publications.
To be fair, the authors whose books I read, Senator Cory Booker (D-NJ), Speaker of the House of Representatives Paul Ryan (R-WI), and Senator Elizabeth Warren (D-MA), seem like dedicated public servants doing their best to serve the people who sent them to Washington D.C. But each one also wrote her or his book like a politician who's interested in staying an elected official. So, with an assist from those three, here's everything you need to know about writing your political memoir:
Build your title from meaningless buzzwords. Quick quiz: Which of the elected officials mentioned above wrote which of the following books?
A. United
B. The Way Forward
C. A Fighting Chance
Did you guess that United is by Senator Booker, The Way Forward is by Speaker Ryan, and A Fighting Chance is by Senator Warren? Probably not. But it doesn't matter. The titles are not designed to be memorable. Frankly, I'm guessing there's a political memoir title generator full of words like "liberty," "progress," "together," and "future." At least it's bi-partisan.
Make sure to hit the non-partisan American trifecta of God, sports, and family. The mentions of athletic activity, scripture verses, and the tremendous impact of family in these books are so consistent that it's amazing that none of the book jackets feature a photo of a pious politician sitting in a pew wearing a letter jacket and surrounded by supportive parents/spouses/offspring.
Make it clear that your political career is completely unexpected. Another quiz: Which memoirist wrote which of the following quotes demonstrating her or his hesitation at running for office?
A. "I really didn't want to run. I'd had enough of Washington."
B. "I gave it all up to be something I once considered a suspect profession: a politician."
C. "I didn't aspire to run for office. I wanted to be a doctor like my grandfather.''
Did you guess A – Warren, B – Booker, and C – Ryan? If so, congratulations! If not, don't worry. It really, really doesn't matter.
Show that you play well with others. The American people hate how divisive governing has become. Don't worry, though. There are some elected officials who wouldn't dream of putting politics ahead of getting good work done for the American people. Warren's Congressional Oversight Panel was better because it was an "eclectic, nonpartisan team." Paul Ryan managed to hammer out a budget with Sen. Patty Murray despite the fact that she is both a Democrat AND a Seahawks fan. And Cory Booker has support from Sen. Rand Paul on his justice system reform measures. Rand Paul, you guys!! He's, like, the craziest one!
Honor your elders. Okay, one last quiz. This one's easy, I swear. Match Booker, Ryan, and Warren with the experience below:
A. Admired Ronald Reagan as a child and was mentored by "bleeding-heart conservative" Jack Kemp.
B. Had breakfast with Congressman John Lewis the day s/he was sworn in to the federal legislature. Breakfast which Lewis served. As national icons do.
C. Successfully lobbied Senator Ted Kennedy (no big deal) to work against harmful finance legislation.
If you guessed anything other than A – Ryan, B – Booker, and C – Warren, you are probably not reading this post of your own free will.
Admit your mistakes, but not in a way that anyone will hold them against you. There's careful humility in each of these three books, but we have to focus on Cory Booker. By virtue of his experiences, Booker takes this concept to a whole other level. He spends most of his book admitting places where he messed up, but his mistakes are practically aspirational for anyone else. Booker wishes he'd been more thoughtful about chasing down and apprehending a guy wielding a knife outside of Newark city hall. He admits it was wrong to burden his security team by allowing unemployed men on the verge of homelessness to stay in the security headquarters underneath his apartment. He regrets losing his temper as a city councilman after being worn down by months of harassment and threats by the sitting mayor. His book could have been called My Mistakes are More Impressive Than the Stuff You Did on Purpose.
Well, not really. The title generator would never have come up with something that straightforward.
Help Julian Castro and Joni Ernst out and add your political memoir tips to the comments below.