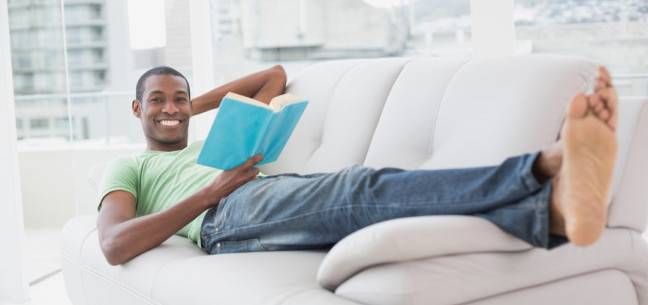 Pop Culture
Wreck These Rules: "Laws" of Reading You Can Totally Break
Every person gets to choose where, how, when, and the quantity/quality of their own individual reading lives. That's part of what makes the reading life great. No on can dictate what you do. Only you do.
That said, for some reason, many people like to think there are "rules" or "laws" related to reading that they must follow. But here's a secret: there are no rules or laws when it comes to reading. It's time to write yourself a permission slip to break these "laws" of reading.
Destroying books for art is okay.
You buy the book, you get to choose how you use the book. Want to create some rad book art? Do it. Want to make blackout poetry between the pages of a book? Grab yourself some markers or pens or paint and do it.
The book is not a sacred, living object. A book is mere paper, glue, and ink. Sure, there are books you shouldn't destroy or books that have real value to them, but the common books you find in bookstores or in library book sales? Worth very little.
Go to town. Destroy a book. The best part of doing this is if you decide you regret your decision? You can buy another copy.
It's liberating when you choose to decide books aren't alive. They're physical objects created by machines. You can't destroy are the words and ideas inside, even if you decide to make the book into a rad piece of art.
You can watch the movie first.
Let's be even more radical: you can watch the adaptation of a film without EVER picking up the book from which it was inspired. Sometimes you aren't interested in the book. Sometimes, the movie is satisfying in its own right.
We're all book lovers here, but we don't have to be elitist about it. Sometimes — GASP! — the movie is better. Or it's enough on its own.
You don't owe it to anyone to read a book because it's been made into a movie. This works in reverse, too: you don't owe it to anyone to watch the film inspired by a book. Literary snobbery is not a nice look on anyone.
You don't need to find a lesson in your reading.
This is a hard one, especially for those readers who dedicated so many years of their lives either studying literature or teaching it in some capacity. You don't need to find a message or a lesson in everything you read. Sometimes, you can read a book for no reason other than to enjoy the book.
Reading is an activity, and not all activities require some kind of moral takeaway to them. You can sit down and love what you're reading and…leave it at that.
Too frequently, people feel the need to seek a takeaway or talk about a book as though the message is more important than the purpose of storytelling. But the purpose, as it was created so long ago, was for entertainment. It's okay if the only thing you "get" from a book is an enjoyable time reading it.
Fun matters. We belittle it too much and we reach too hard for making something "mean" more than it needs to. Loosen up. Tell a kid to read that book because it's fun, not because it's going to change their life.
You never know if fun is the key to improving their life. Or yours.
You can enjoy not reading.
Sometimes you're not feeling like reading. Sometimes all you want to do is marathon a show on Netflix or sink hours into catching up on your favorite reality TV. That's okay.
It's okay to permit yourself freedom from reading, as much as it's okay to find freedom in reading. Revel in not reading if you want to — if it's been three weeks or three months, you're totally allowed to enjoy taking a reading break.
Readers, when they come back from a period of not reading, always find their swing again. It's not something you lose, and it's not something that will disappear from your life.
There are no "guilty pleasures."
Last, but certainly not least, is accepting that there's no such thing as a guilty pleasure. If something brings you pleasure in your reading, there's nothing to feel guilty about.
Pick up that comic book. Pick up that picture book. Grab yourself a stack of zombie young adult novels. Order that erotica. Snag one or many of all of these, plus your non-fiction and your literary fiction and read them with reckless abandon. Carry them openly and proudly on your commute. Stare down people who raise an eyebrow.
This is your reading life, and you can choose to enjoy it however, wherever, and whenever you want to. Read what you love and love what you read. Feel no guilt about it.